10 Terrific Food Travel Experiences in Paris
We won't ever be able to get to every restaurant, bakery, wine cave, food tour, or all the rest of the culinary experiences that thrive in the city of light. But we're sure gonna try. On our last visit we had a delicious time in Paris, France and wanted to share all the spots we think are worth a visit on your next trip to Paris.
10 Terrific Food Travel Experiences in Paris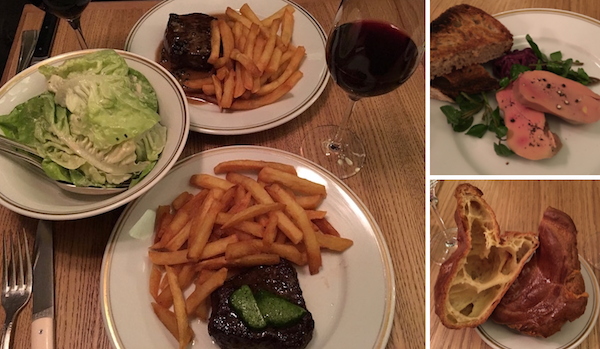 1. La Bourse et La Vie Bistro
One of our favorite foods to eat in Paris is steak frites and you can get this famous dish at almost any corner bistro. But if you're looking for a superior, classic, memorable steak frites go to La Bourse et La Vie, the latest restaurant of Chef Daniel Rose. Everything about our meal was perfect. From the crispiest, tastiest frites to the huge yet airy cheese gougéres starter. You won't want to eat it all for fear of ruining your dinner but will finish every bite. You must. It's that good.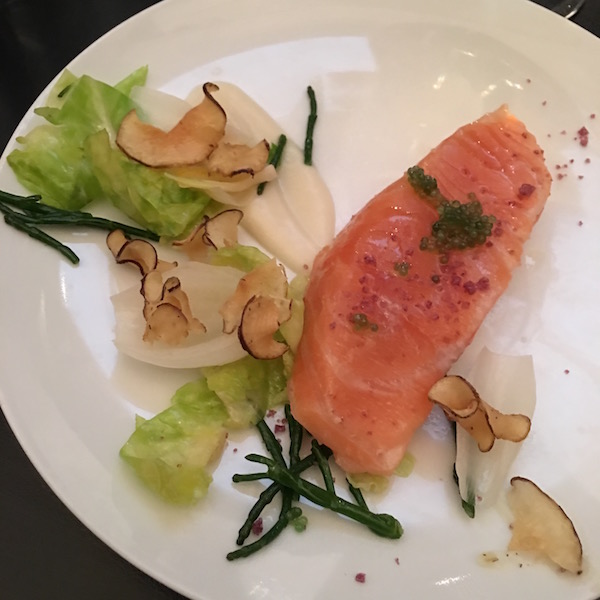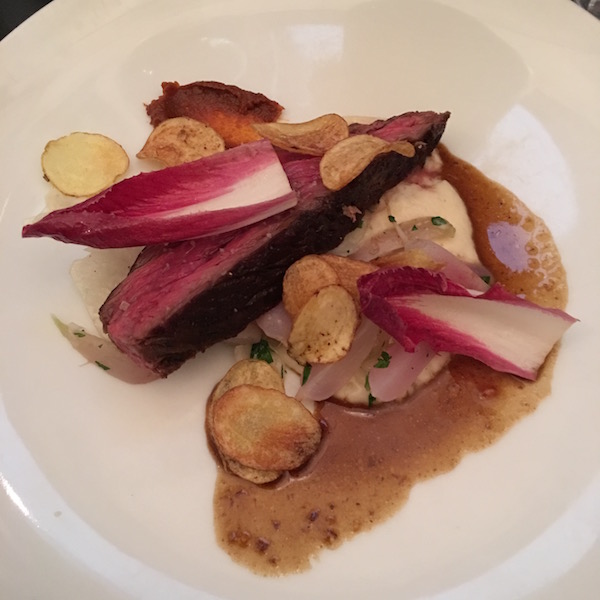 2. Pierre Sang Bistro
A Top Chef semifinalist Pierre Sang Boyer cooks up some delicious French-Korean fusion food in Paris. We were treated to a very special lunch, enhanced with periodic visits from the chef and enjoyed every bite.  The fun of the meal was that we were not told of the ingredients, but had to guess what they were, and get the 411 after each dish. The salmon with mashed cauliflower, Brussel sprouts, sea aspargus, tobiko (flying fish roe) and pickled onions was my favorite. The Waygu Beef with mushroom gravy was very good as well, with its secret ingredient of Jerusalem artichoke chips almost stumped us — almost!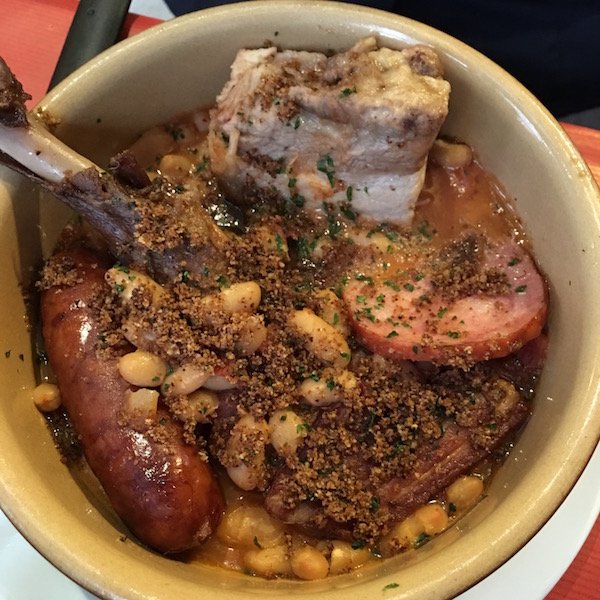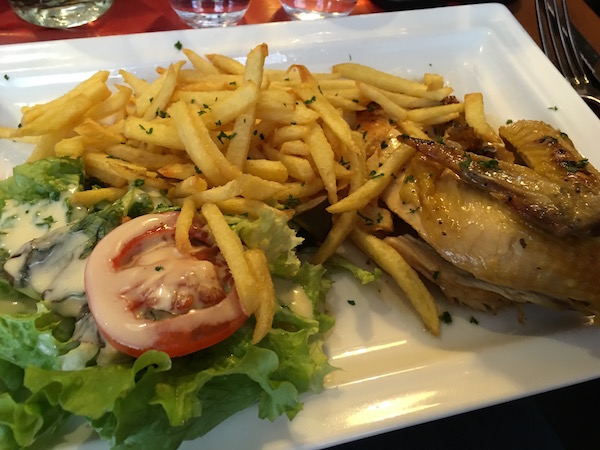 3. Le Monte Carlo Brasserie
When we landed in Paris after a quick check in at the sumptuous Hotel Napoleon we just had to have something to eat. A quick walk on the busy side streets and we found ourselves at Le Monte Carlo Brasserie. I love simple food to help recover from jet lag so the Poulet frites lunch special for me and the cassoulet of the day for Diana were just what the travel doctor ordered. Located a few blocks off the Champs Elysées this brasserie is a little gem. If you get there at lunchtime you might have to wait a few minutes. The locals jammed this place during their work breaks for ample portions of homemade dishes and desserts. They're open 7am to 10pm.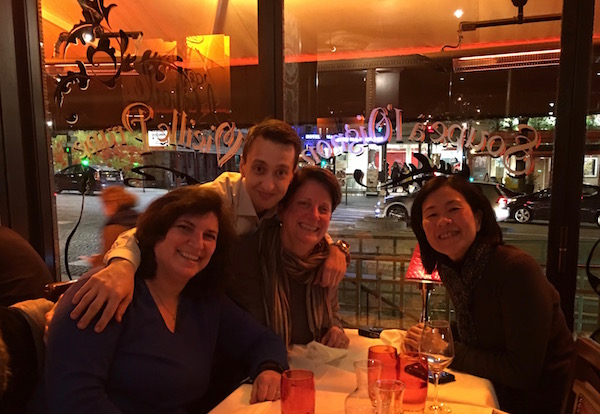 4. L'Etoile Brasserie 1903
Americans sometimes have the impression that the French people are unwelcoming and the food is too rich. We've found time and time again that these misconceptions are simply not true. We met up with our friend Janice from France Travel Tips at L'Etoile 1903 a corner bistro nearby and had a fun dinner with playful waiter, who insisted on being in our photo! He was adorable and made sure we enjoyed the local humor. The L'Etoile 1903 menu is deep and the wine list long. This spot is very affordable and just steps away from several Metro stops. Open from 7am to 2am, it would also make a great spot for a late night get together.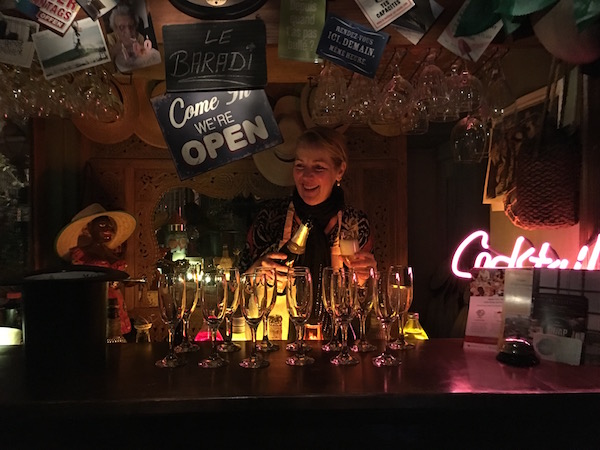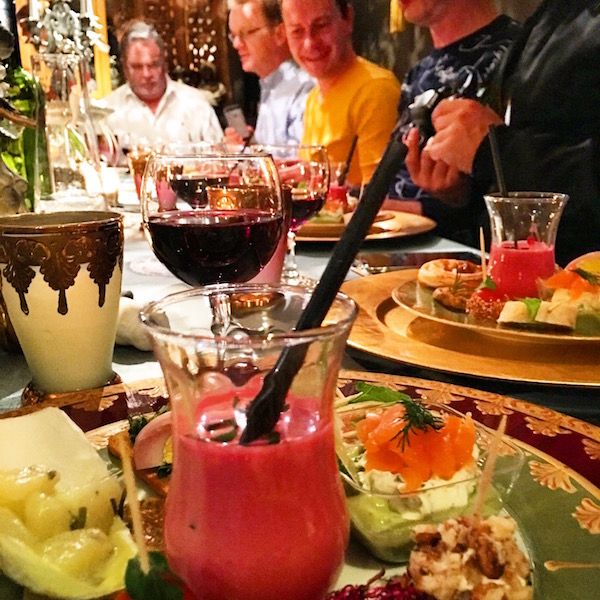 5. Viz Eat
One of the best thing about traveling is getting the chance to meet locals. Viz Eat makes it easy to eat at the home of a local and gather with other people who love to learn more about the local culture through food. We had the chance to dine in the beautiful home of Diane, herself a world traveler, was a perfect host. Her Parisian home was so special and unique, multilevel with a rooftop garden and terrace, and incredible views of the Eiffel Tower and Sacre Couer. After a champagne aperitif on the rooftop we experienced a delicious multi-course meal lovingly prepared by Diane. The night was full of great stories and fun. She even raises bees on her rooftop and took us through a honey tasting after dinner.  Viz Eat hosts meals at local homes in more than 60 countries. It's a perfect way to enjoy an authentic local, home cooked meal. Check out their website for more information vizeat.com.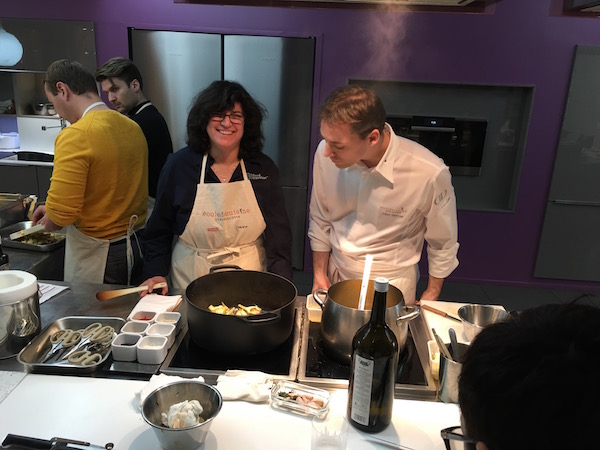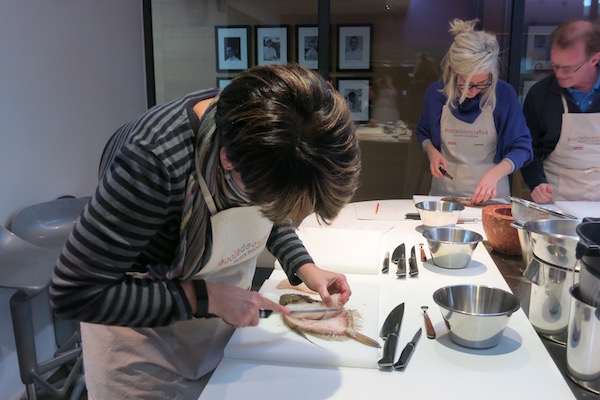 6. Alain Ducasse Cooking School
What a treat! To be able to take a class at Michelin-starred chef Alain Ducasse's L'école de Cuisine. When we first heard we would be attending a class I thought I'd be taking pictures and eating (that is what I do best). When I was told to don an apron and get some knives I knew this would be a different kind of food experience for me. From filleting fish to trimming artichokes we did it all. And then got to taste the fruit of our efforts, which turned out to be very good. The school is warm and makes you feel at home. Our chef-teacher was patient (especially with me – I ask a million questions!) and thorough but fun with his lessons. They have several classes from which to choose. Find out more on their website alain-ducasse.com.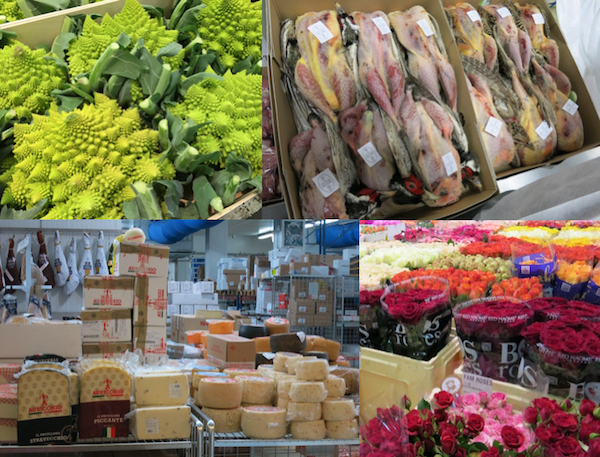 7. Rungis International Market
This stop is for the hardcore foodie. Do you want to know where all the food in Paris comes from? Most of it comes from the Rungis International Market located just outside of Paris. And did you know it's the largest fresh produce market in the world? You can't even imagine just how big the Rungis International Market is. The complex covers 573 acres and 13,000 people work there every day.  Companies deliver over 1.5 tons of foodstuffs and 50 million flowers and plants annually.  The wholesale markets represent 2,260 permanent operators, 4,300 producers, 4.5 million tons of diverse food products, with 50,000 vehicles per day. The huge number of markets  are set up in 5 "Worlds" including fish, meats, fruit & vegetables, dairy products and flowers. It's literally like a city of markets. Over 24,000 professionals enter every single day from producers to buyers. More than 18,000 visitors (like us!) a year come making Rungis Market one of the most visited trade sites in France. Tours are available for those willing to make the trek. They start early at 5am and you'll see each market and experience a Rungis-style breakfast at the end of the tour.  This is a wonderful tour for chefs and foodies to learn more about food sourcing in the area.  Check out their website rungismarket.com for more information on scheduling a tour.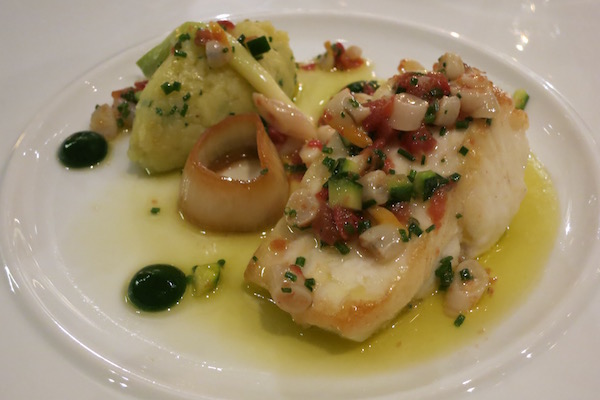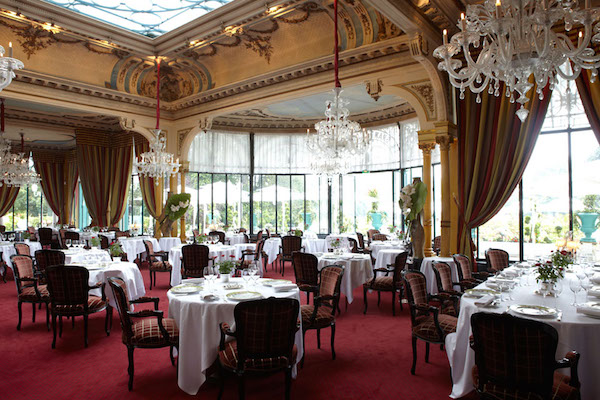 8. La Grande Cascade
Dining at a Michelin-starred restaurant in Paris is always a treat and dining at the storied La Grand Cascade is just that. What's truly unique about this restaurant is that it wasn't always a restaurant. It was originally the lodge in Bois de Boulogne where Napoleon III would come to rest after hunting trips. The beautiful interior and exterior of the building have been maintained and are exquisite. I only wish we could have experienced the outdoor terrace, which looks like it would be a bit of an escape from the hustle and bustle on the busy streets of Paris. I can only imagine a gourmet meal here served to perfection on a glorious spring or summer day with a glass (or two) of champagne.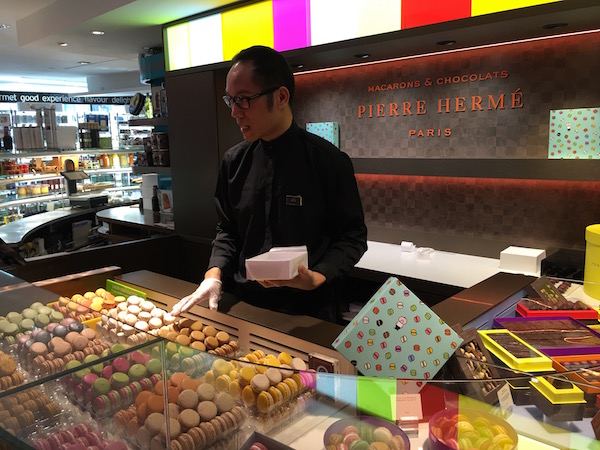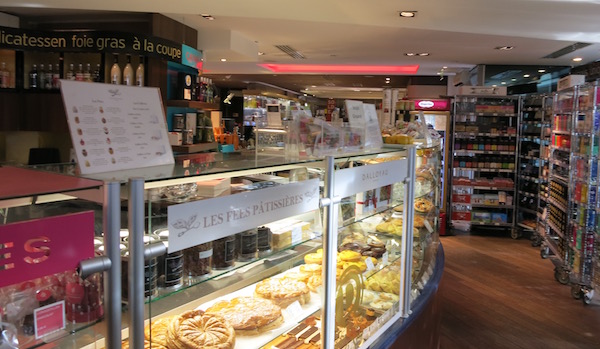 9. Publicis Drugstore
Don't let the name fool you. may be a place to find all your pharmaceutical needs (including a late night pharmacy) but it's so much more. Located in the bottom of the Publicis building on the end of the Champ Elysées this very trendy store has it all. A large bookstore, wine store, cigar room, and enough fashion brands to make your head spin. Need a Pierre Hermé macaron? They've got those too. Open from 8am to 2am every day of the year it may be a perfect shop for all those hard-charging advertising executives right upstairs. We love the pre-made sandwiches, large assortment of cheeses and wines, and fresh baked bakery shop inside. There's more food than you can imagine – foie gras, caviar, sushi, salads, every snack imaginable. It's perfect for creating your own picnic. There's also Michelin-starred L'Atelier de Joel Robuchon located in the basement, which chef Eric Ripert called "the best restaurant in the world." But you can decide for yourself. Full disclosure: I spent many years working at Starcom, which is owned by Publicis Groupe, so it still holds a special place in my heart.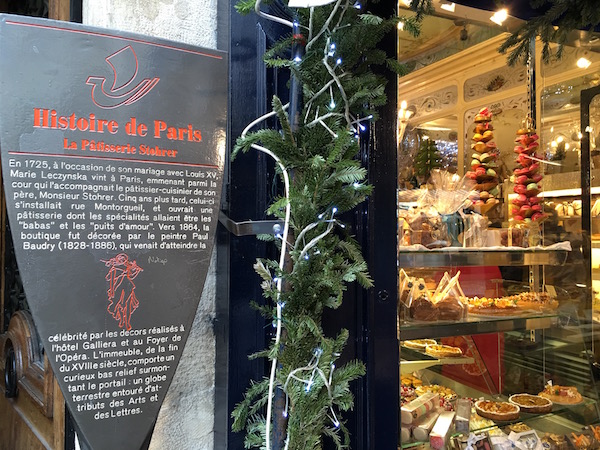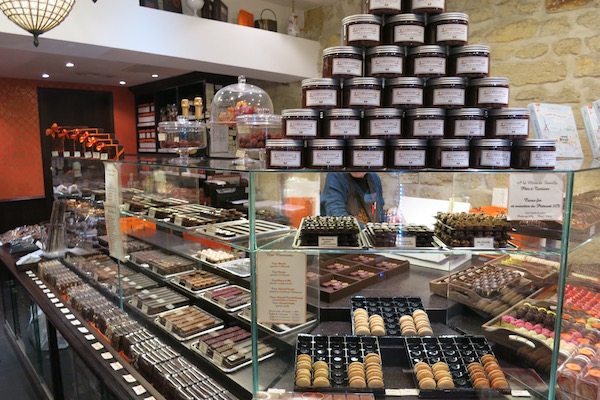 10. Walking Food Tour
One of the things that makes a trip to Paris fun is walking everywhere. You will likely find a culinary surprise around every corner when you're off exploring. We spent several hours in "The Belly of Paris" with our friends at Meeting The French in the Les Halles-Montorgueil area. On their Gourmet Food Tour you'll go from Stohrer, the oldest pastry shop in Paris, to specialty shops featuring cheese, chocolate and so much more. Of course the tour includes tastings of pastries, bread, cheese, charcuterie and wine.
This is just the tip of the culinary scene in Paris. We encourage you to try these gastronomic finds but also to discover and find your own special hidden gems. Paris is a foodie's wonderland so start the day early and be sure to wear your smart comfortable shoes so you don't miss a thing.
A huge thank you to our friends at Atout France, who hosted our trip to Paris, and to all the companies, restaurants and hotels we visited. We were not financially compensated and all opinions are our own. You can learn even more about Paris and France by checking out their website france.fr.
THE QUICK BITE: These 10 Terrific Food Experiences in Paris will have you wandering the streets of Paris and discovering why foodies return again and again.