9 Places To Eat That Will Make You Want to Visit Oklahoma City
Oklahoma City may be one of those undiscovered hidden gems when it comes to the diversity of dining options available. There's something to suit every taste. And we should know. We tasted some of everything! It's a tough job scoping out the culinary scene of a unique destination like Oklahoma City, but we are here for you. We tried everything from chef-driven dining to unique local eats, from cocktails with a view to classic cowboy vittles. And here is our list of 9 places that we think will make you want to pack your bags and head on over to Oklahoma City for some fabulous eats in "The Big Friendly."
I wrote this post after our media trip hosted by See Oklahoma City. All suggestions and endorsements are solely personal. Our policy is to only recommend what we personally like and experience. 
Flavors of the Southwest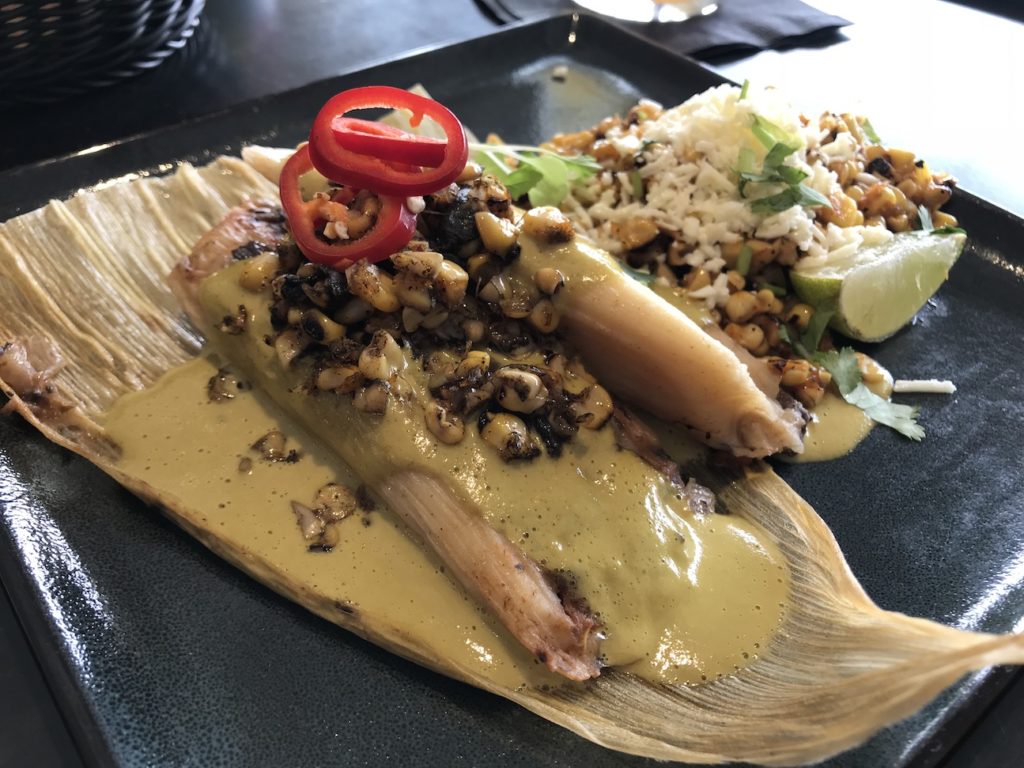 It's easy to forget that Oklahoma City is officially part of the Southwest United States. But when it comes to tasty south of the borders flavors, there's no forgetting Barrio restaurant. Their stylish and modern  Mexican-ish menu is well worth seeking out. We started out with fresh delicately salted tortilla chips and green and red salsas. That was a wonderful starting point but we tried to make sure we didn't over-indulge. We had the opportunity to taste the fabulous seasonal wild mushroom tamales. Earthy and hearty, these yummy little masa mushroom combos were both flavorful and filling. Topped with a delicious poblano cream and roasted corn, you'll enjoy every single bite.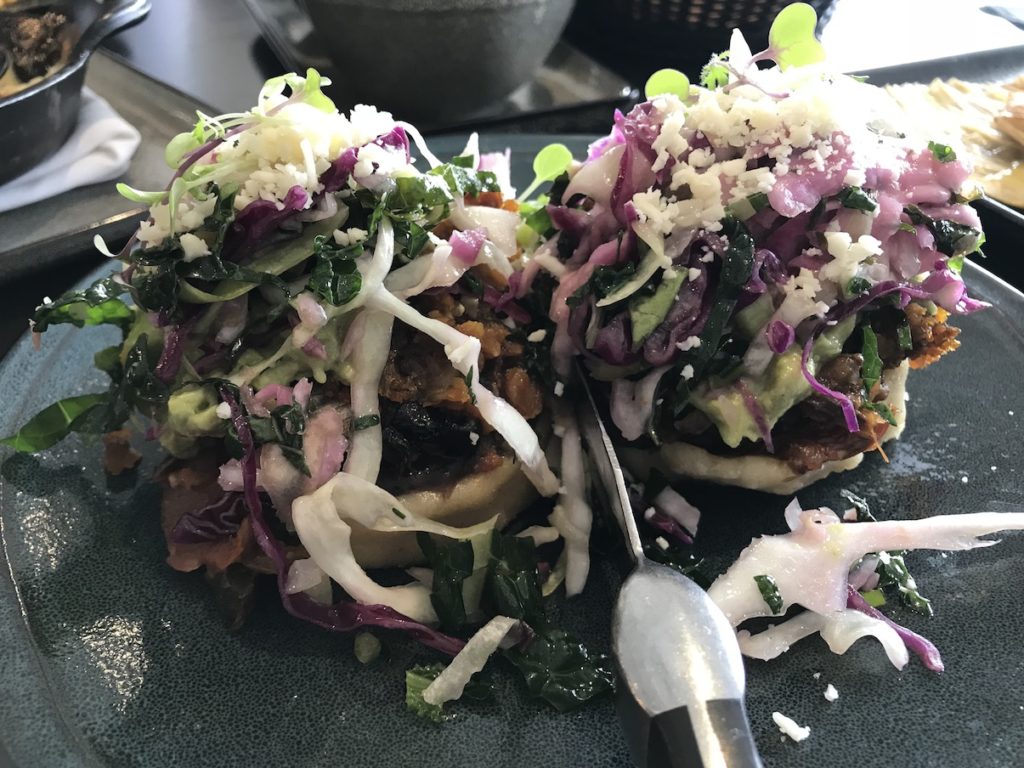 We also loved the sweet potato soffrito and mushroom hopes with kale. These little chubby darlings were so filling they would have worked for a dinner entree. There was literally nothing missing from the plate on this one. And this is from a vegetarian entree that would leave you completely satisfied without the meat. Not to worry though. Though we opted for these seasonally-inspired dishes, they have plenty of classics like the popular chicken enchiladas and the huge nachos platter that was another favorite of the happy crowd.
In Love with Ludivine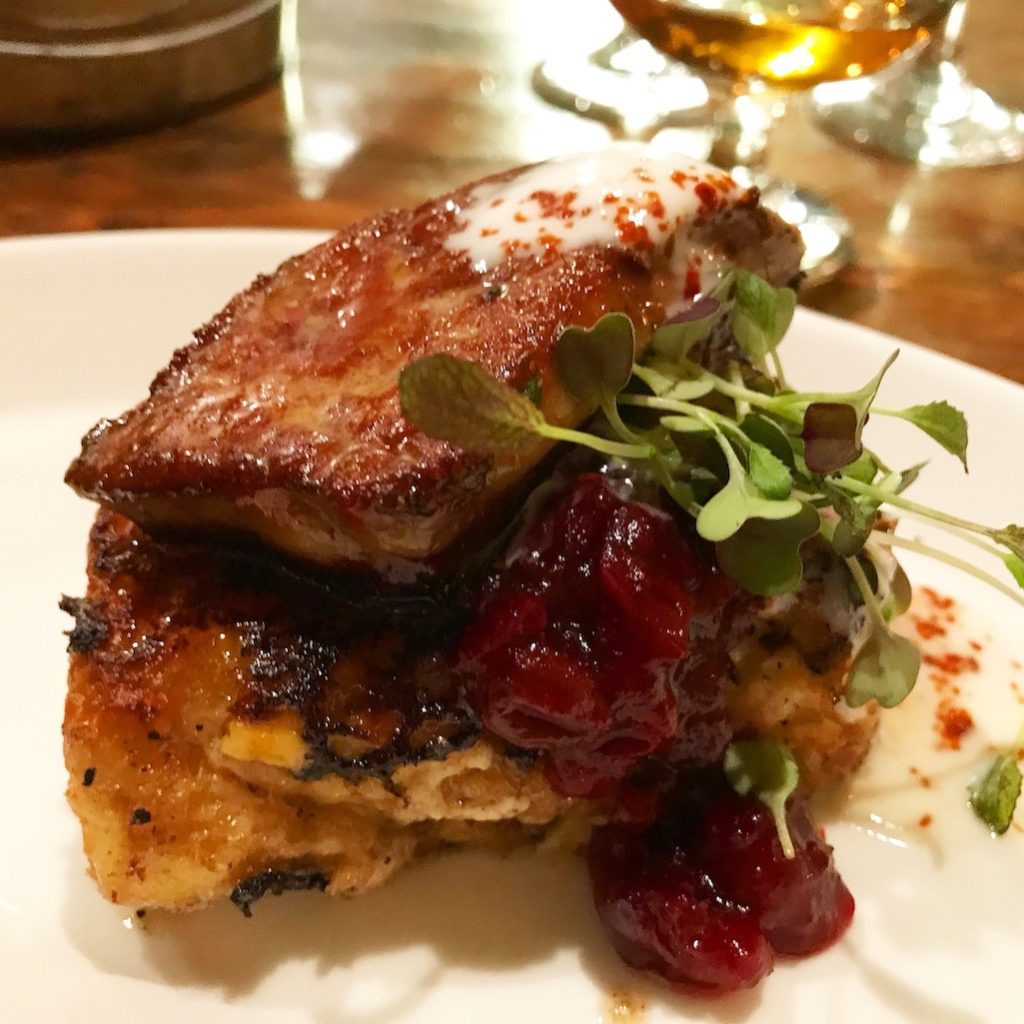 The dining scene in Oklahoma City also includes its fair share of chef-driven restaurants. We had dinner in one of the very best, Ludivine. Chef Russ Johnson has created a winning combination of low-key ambiance with some of the best fine dining we've had anywhere. The menu changes daily to ensure the freshest seasonal ingredients are put to good use. For example, we started with a seared foie gras that literally danced in our mouths. The portion was ample enough to share, but we wouldn't blame anyone if you kept it to yourself. You are treated to a toasty complement, but they also provide a basket of house-baked bread, biscuits, and muffins to get you started.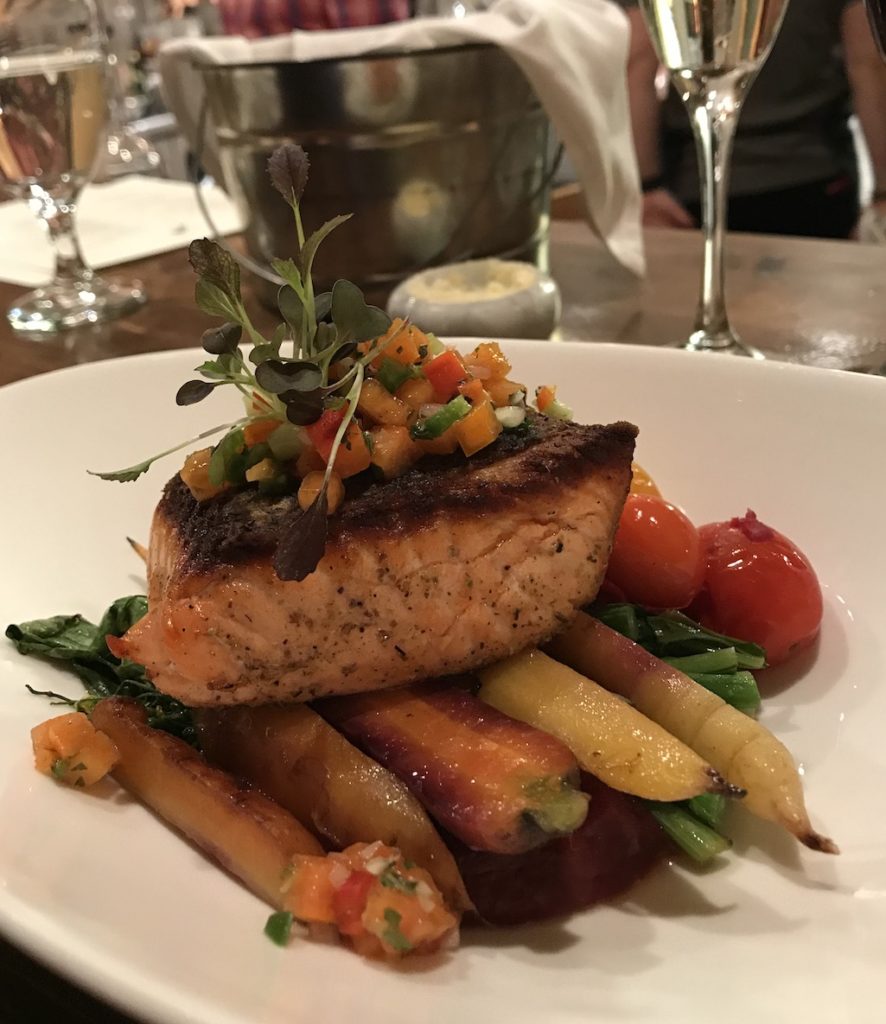 While we had an incredibly tasty and authentic cassoulet with duck confit and the wagyu beef dishes went flying out of the kitchen, we were most pleased by the fish offering. We were informed that Chef Russ is extremely particular about any seafood that comes into the restaurant and it shows. This line caught Ora King Salmon was inspired. So fresh and expertly prepared to bring out all the natural flavors while complemented by just the right fresh vegetables, this was a dish to remember and seek out again…and again. We would never have thought that Oklahoma City was a place to get a great fish dish, but we would have been wrong. At Ludivine, you would not be disappointed.
Boom!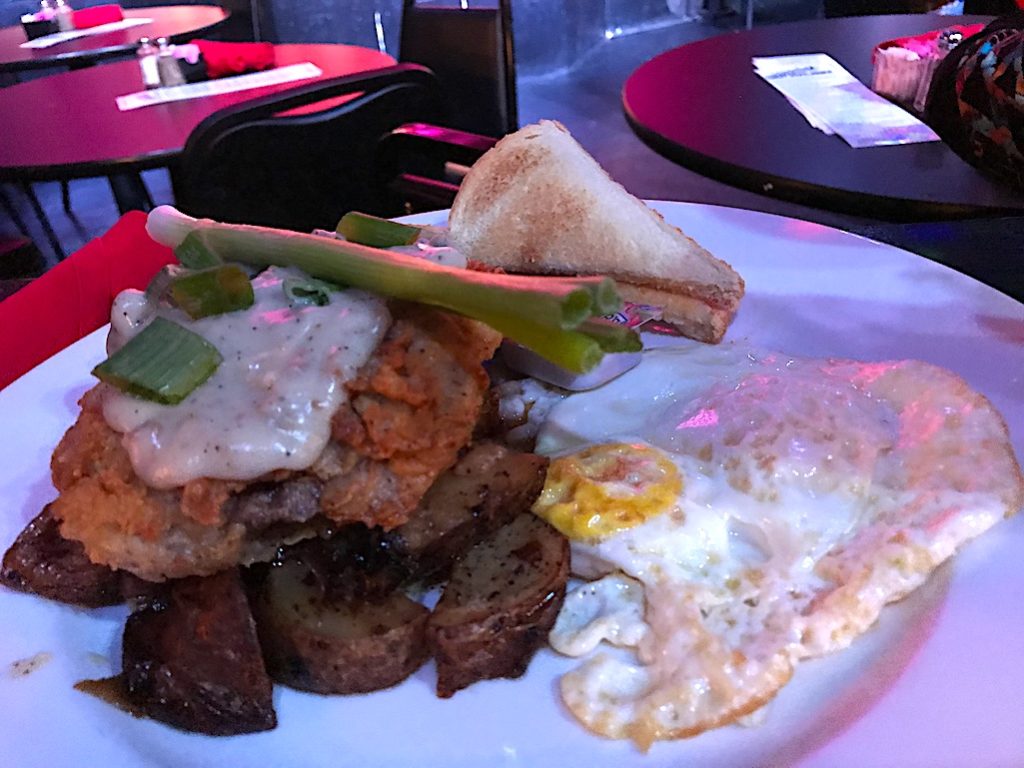 After some serious eats, we thought we'd go for a little levity. And what's more likely to bring a smile to your face than a gospel musical drag show brunch? Exactly. That's where The Boom comes in. The show is ridiculous and fun. The cocktails include their famous Bloody Mary bar where you can make your own the way you like as well as Mimosas and Poinsettias (champers and cranberry). And, one dish you'll likely encounter all over Oklahoma City – chicken fried steak – is worth indulging in there. In fact, we'd venture to say that half the happy crowd had ordered it. The hearty steak portion comes with roasted potatoes, eggs, and gravy so go hungry, laugh yourself silly, and just have a crazy fun time.
Breakfast of Champions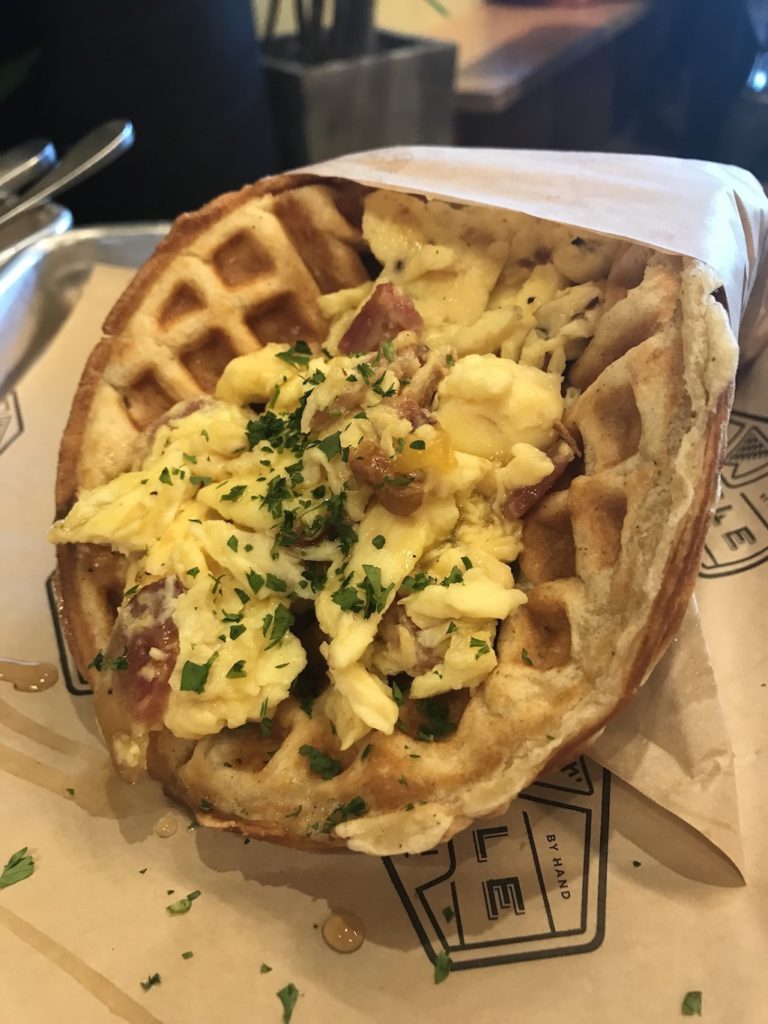 Eating in Oklahoma City is a 24-hour affair. Breakfast food fans rejoice. One of the newer kids on the block is a concept that started out as a food truck and now has a brick-and-mortar shop where hungry folks come and line up around the block. Waffle Champion offers a unique take on the all-in-one breakfast sandwich. They offer Belgian-style liege waffles, regular waffles or waffle fries (potatoes) that you can stuff or smother with a wide variety of satisfying fare. You can choose whether you want to go sweet or savory too. Some of their most popular options include buttermilk fried chicken, cheeseburger Mac, and ancho bbq pulled pork. We tried a traditional eggs and bacon breakfast waffle.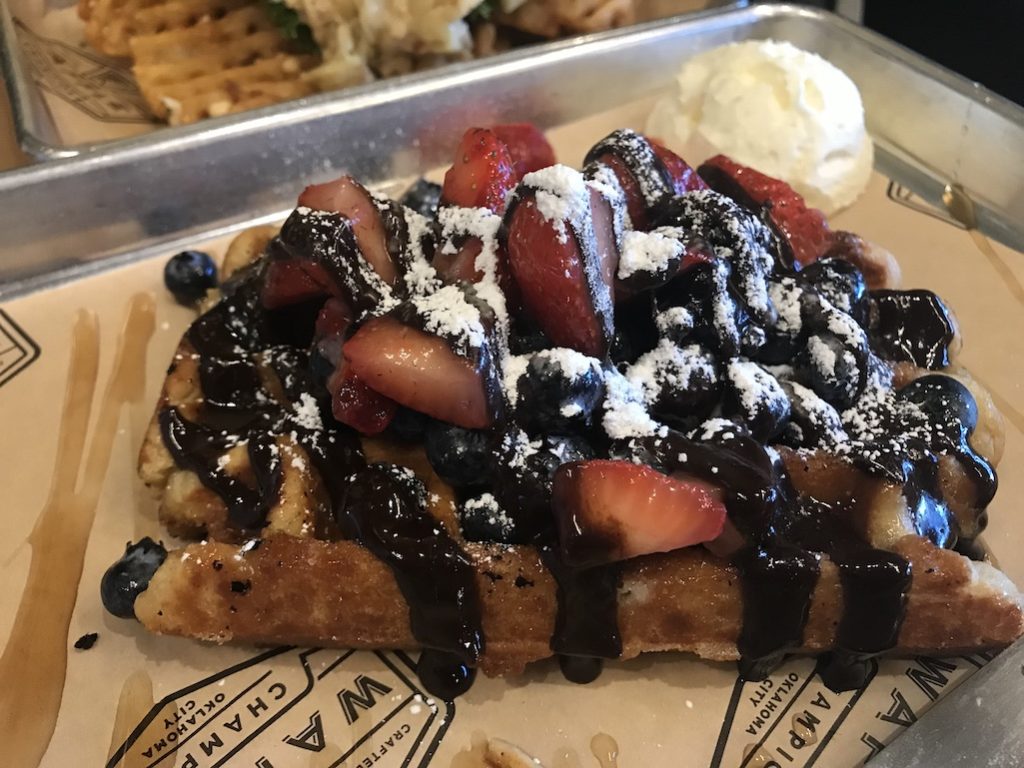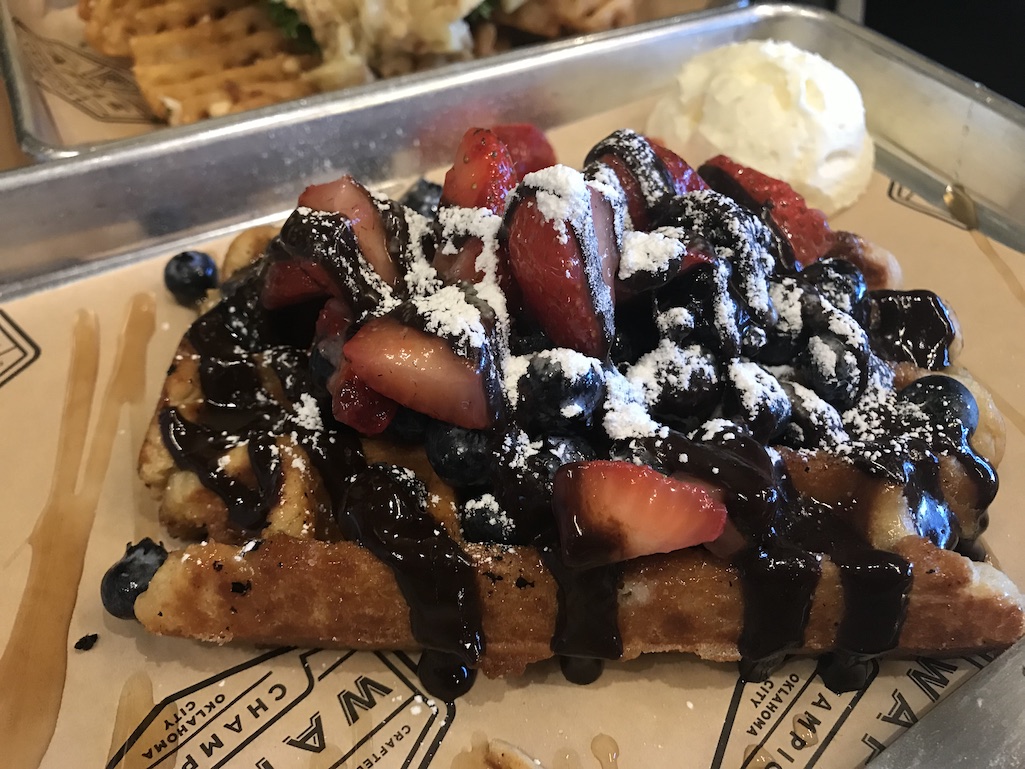 But of course, our sweet tooth got the best of us and we do love a good Liege waffle. So, we couldn't resist getting a sweet one with berries and chocolate ganache. What a way to start the day! But if you're not a breakfast person, don't worry. They're also open for lunch, and we're sure that everything tastes just as good for lunch.
Top O' The World Ma!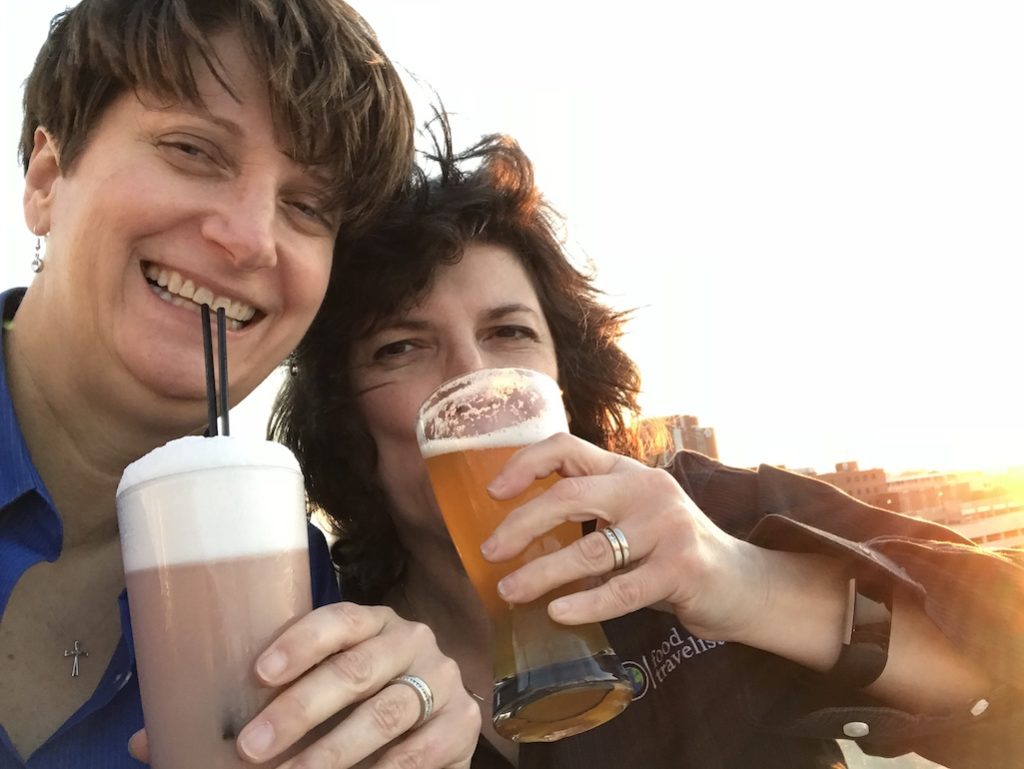 Although Oklahoma City has plenty of plains, you can certainly find a nice view. And one way we enjoy watching a beautiful sunset is from a rooftop with a tasty cocktail in hand. O Bar offers a lovely penthouse terrace located at the top of the Ambassador Hotel. There's ample space outside if the weather is pleasant to sit and enjoy a beverage and snack. We had fun unwinding with a local brew and a specialty cocktail while the sun slipped below the horizon. Sometimes the best way to gear up is to chill out. The O Bar is a great place to do just that.
Assemble A Great Time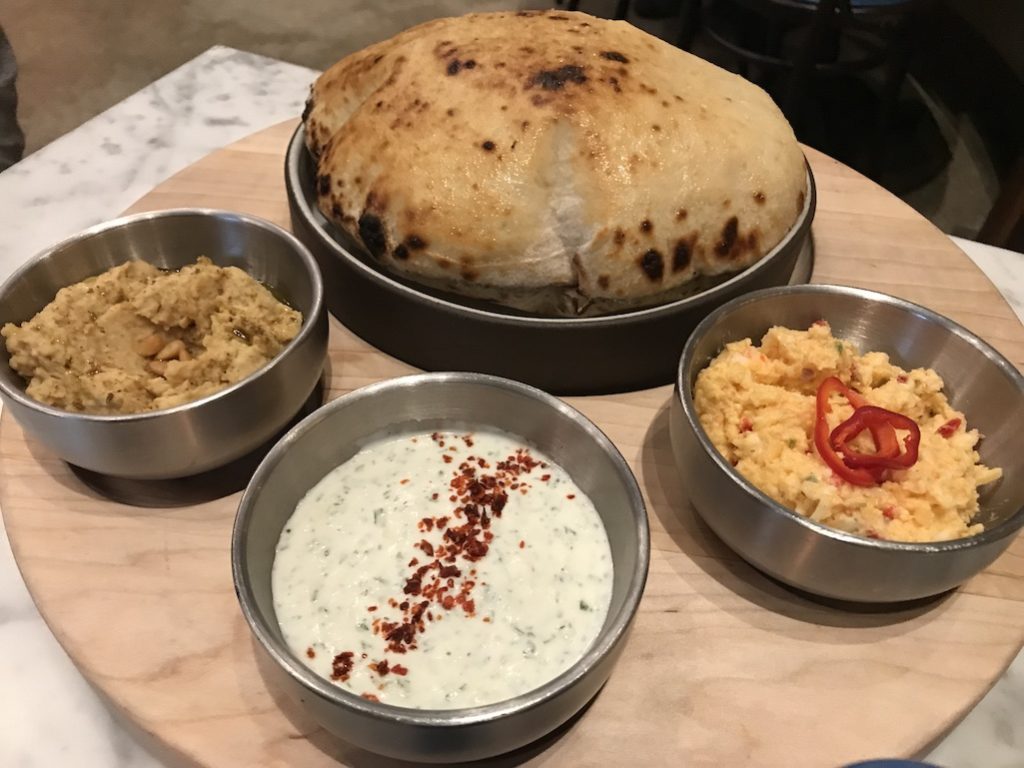 Folks in Oklahoma City are creative. We found an abundance of creativity all over the city. And one of the most creative concepts we encountered was at The Jones Assembly. In historic Film Row, this venue gives you an opportunity to assemble your own perfect combination of food, drinks, and music. The place has a great wide-open character, with many places you can sit and have a drink and eat. There is fun shareable food options like the pita with multiple dips that you can enjoy with a beverage, as well as a full menu. The place itself changes character when it wants to get its music on, converting from a restaurant to a complete music venue where concerts take place. Check the schedule to see what top acts are performing and join in as you like in this fun, rotating super chill hangout.
Pizza With Character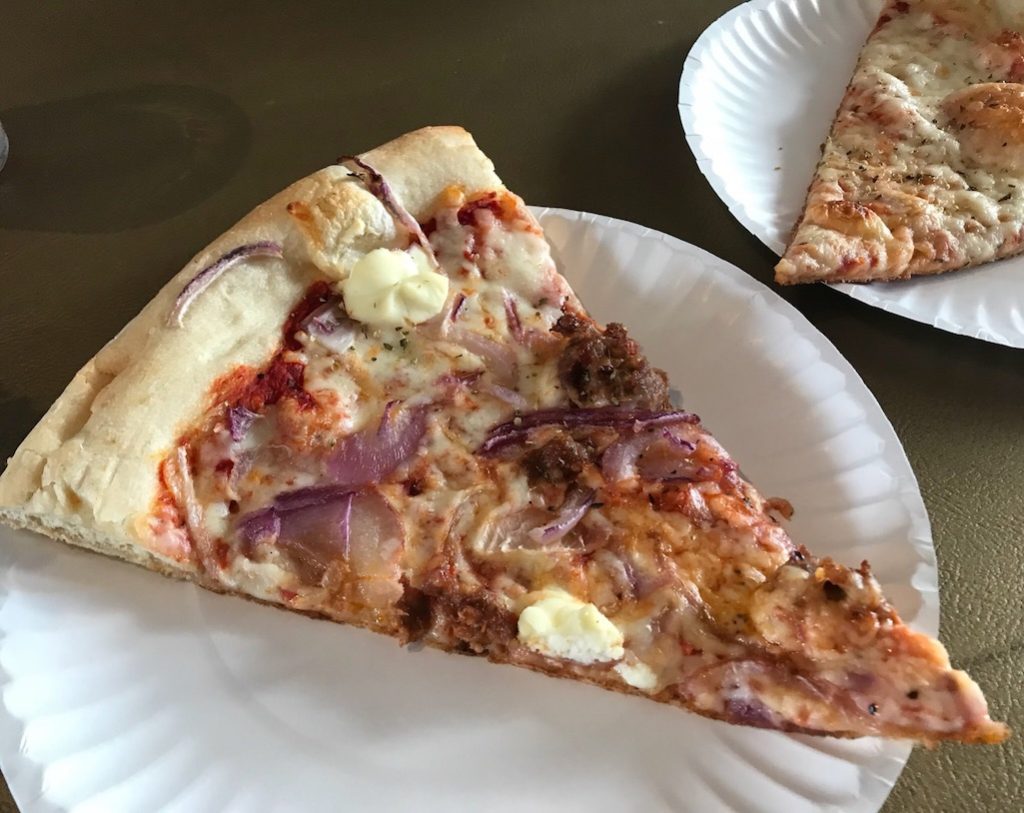 As representatives of Chicago, we feel compelled to try out local pizza joints whenever we have the chance. And, Oklahoma City seems to have its fair share of popular spots. One we tried offered a tasty pie while characters from many of your favorite cartoons appear on the walls to watch you enjoy your eats. Popular with students and lovers of the hearty portions, Empire Slice House lets you choose from a variety of daily offerings as well as some classics. The pies are big, big, and so are the slices that you can order individually. Their funny slogan is "It's like Frank Sinatra and David Bowie had a pizza baby." That gives you just a hint of the fun and funky nature of this spot in the emerging Plaza District. You can make your own pizza combo and the pre-ordained pizzas have fun names like Joezilla and Notorious P.I.G. We opted to try the Fungus Among Us (yes, lots of mushrooms) and the classic Fat Tony with red onion, ricotta, and house Italian sausage. They have plenty of salads, apps, and, of course, lots of local brews from which to choose.
Classic Meets Creative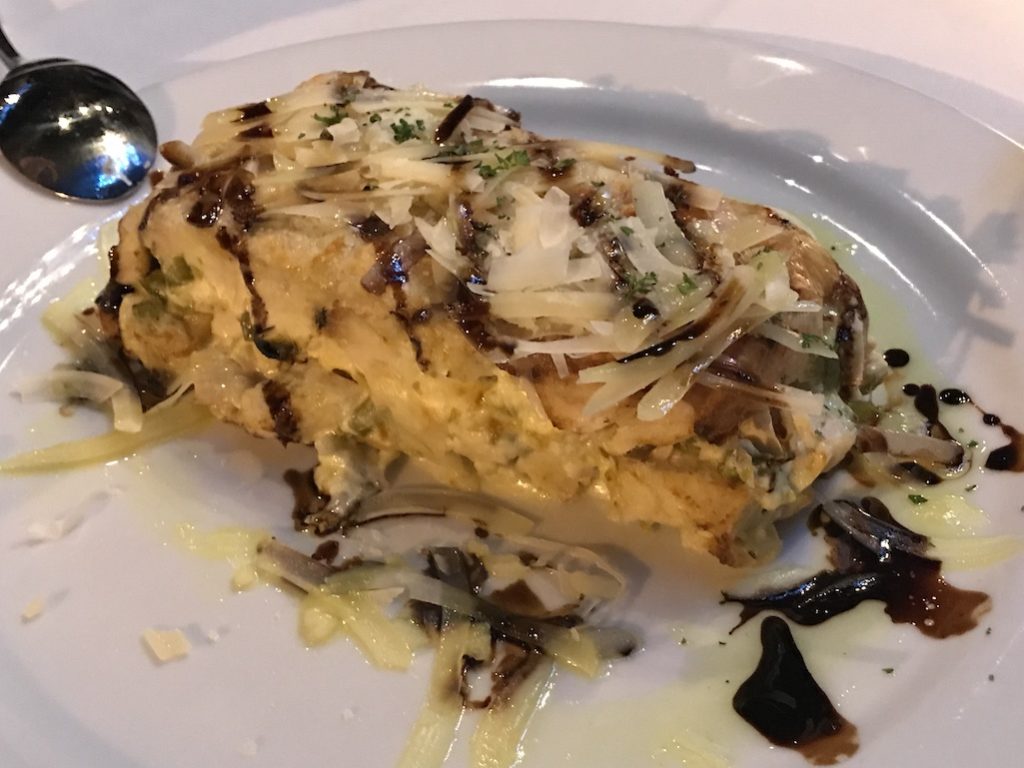 Ask any local about an Oklahoma City classic dining destination and they're bound to mention Cheever's Cafe. What once served as a Victorian house and flower market before becoming a restaurant, this cozy venue retains a flower case from its former identity for displaying wines and desserts. The cuisine here ranges from classic to creative. You'll find something tasty to satisfy you here no matter what your mood. We tried the imaginative roasted chicken and pepper jack strudel.  The combination of flavors and textures was so good we could have made a meal of just that.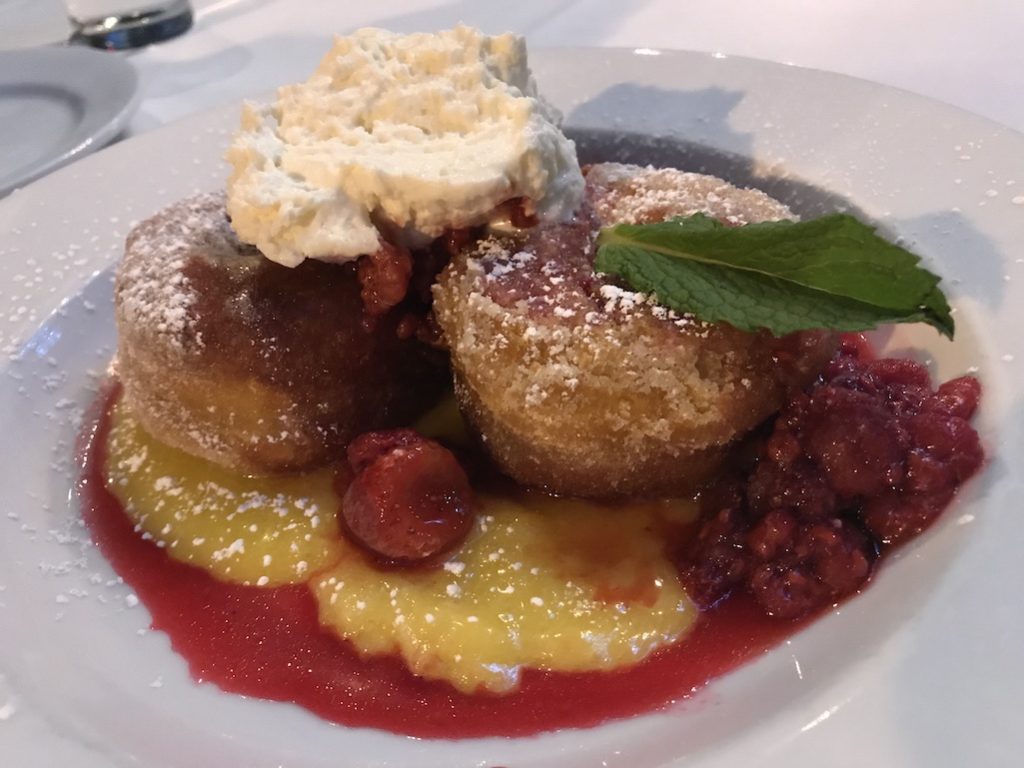 If you've got a sweet tooth and a little room after all the yummy entrees, you can easily reward your restraint. In addition to some ridiculously huge portions of layer and carrot cakes, Cheever's has some specialties all their own. We tried the strawberry sweet biscuits. These are deliciously donut-like tasty morsels. Lemon curd, macerated berries, and fresh whipped cream complement them wonderfully. They offer a perfect way to end a delightful meal with a charming ambiance.
Cowboy Chow
A visit to Oklahoma City just wouldn't be complete without a stop at the famed Cattlemen's Steakhouse in Stockyards City, the heart of Oklahoma City's Western cowboy scene. The area feels like you've stepped back in time to the wild, wild west, complete with parades of longhorn cattle down the street and staged cowboy "shootouts" for entertainment. There are a variety of shops including a sarsaparilla store and one of the largest emporiums of western wear we've ever seen.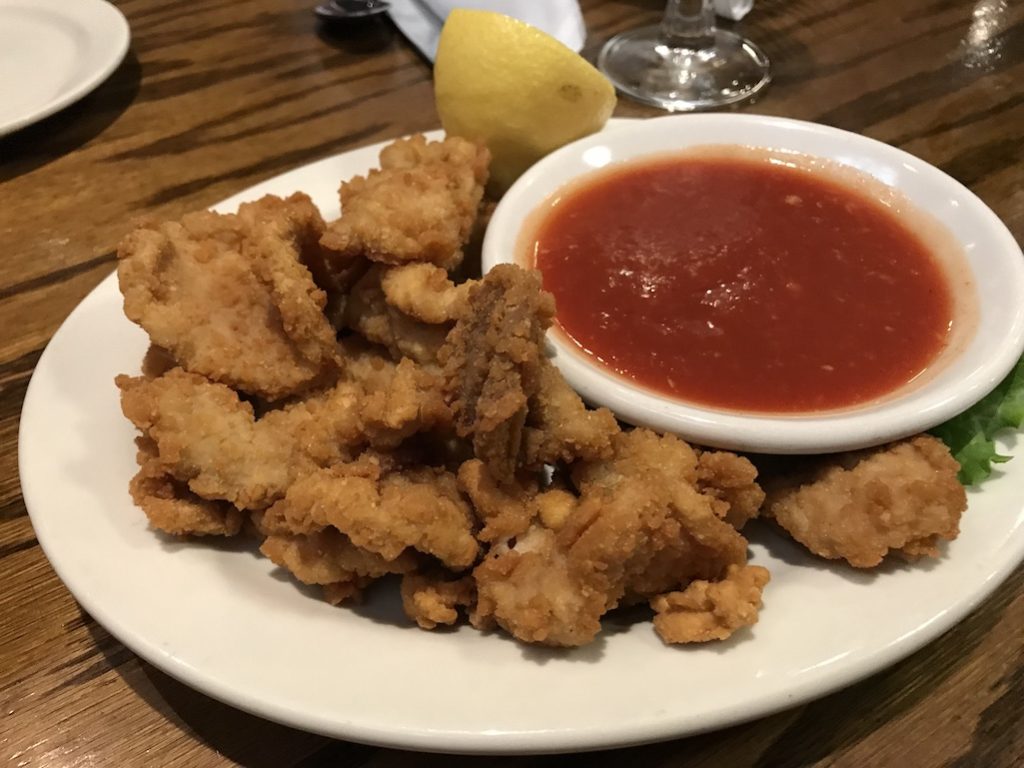 Cattlemen's Steakhouse is the oldest continuing restaurant in Oklahoma City, having opened in 1910 to feed hungry ranchers, cowboys, and others. It still retains its old west character and many of the recipes, including its secret salad dressing, that has made it famous. "Lamb fries" is one of the most popular dishes just about everyone orders. We won't share the exact details, but if you're familiar with "Rocky Mountain oysters"  you will understand the lamb-based dish offered here.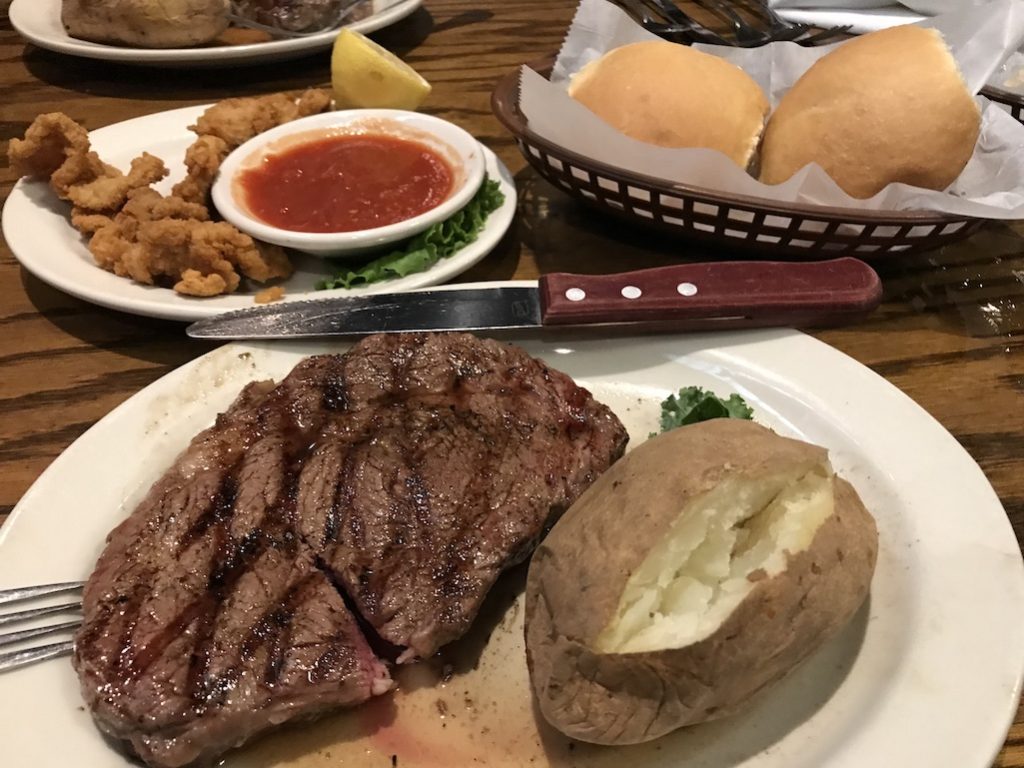 Of course, the main event at Cattlemen's Steakhouse is, well, the steak. Offered in many shapes and sizes, we tried one of their most popular offerings, the ribeye. Served with a baked potato on the side we're sure that cowboys, cowgirls, and city slickers like us will all feel happily full when they've finished their meal.
BONUS: Best Nite Bite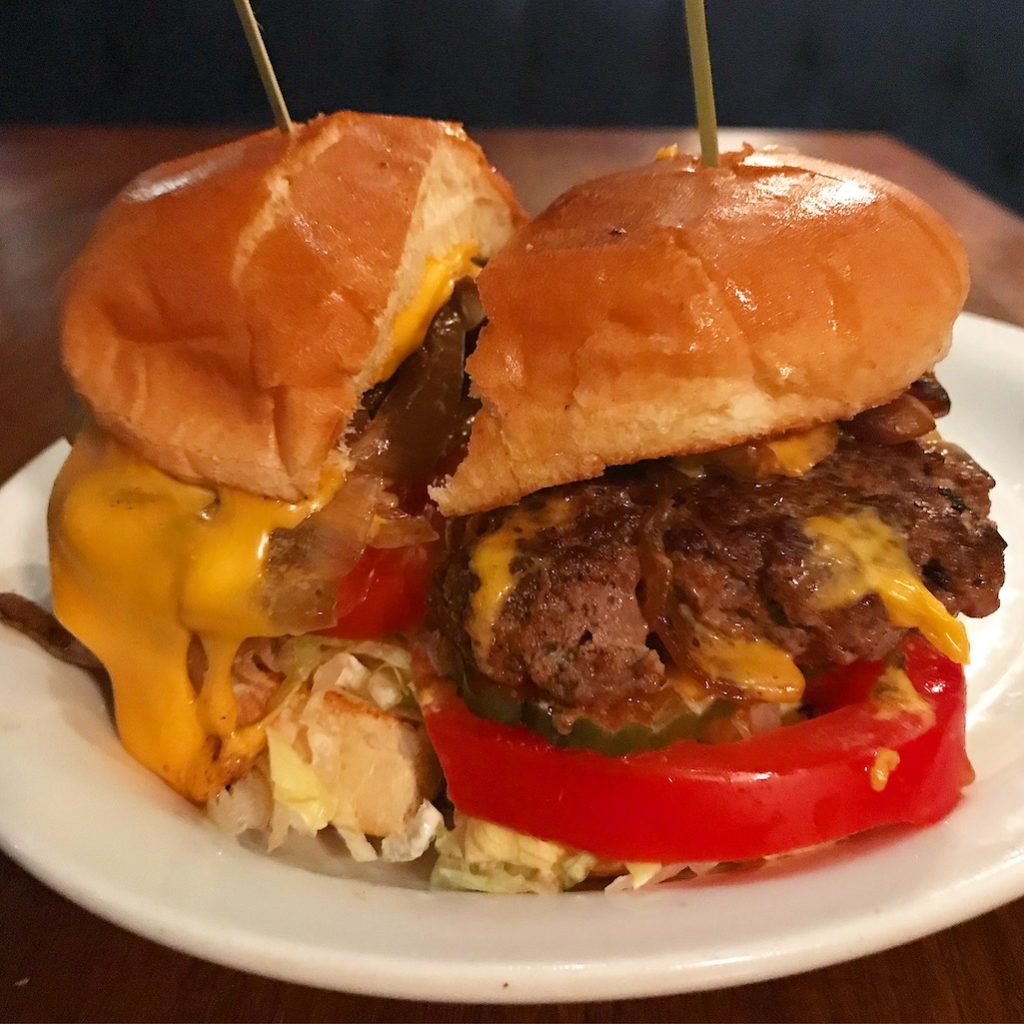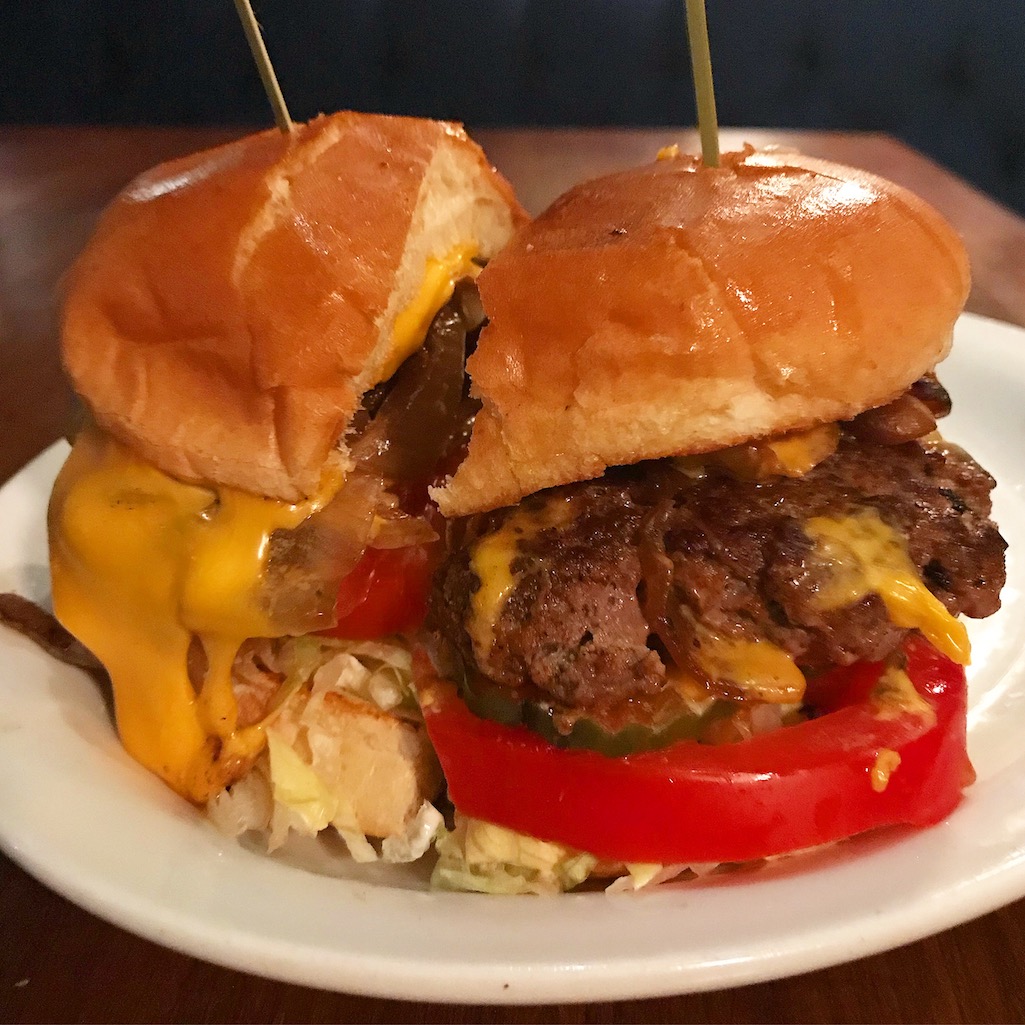 There are just so many good places to eat in Oklahoma City, we couldn't fit them all in here. There are great options for pie, local breweries, German beer halls, fine dining,
breakfast, ethnic eats, even a specialty grilled cheese spot, and much, much more. But, as you know, we love a good cheeseburger and we just couldn't resist telling you about this fabulous burger served in a speakeasy-like lounge in the basement of Nic's Place Diner and Lounge. The original Nic's Grill has fans around the world, including celebrity fans who tout it as their favorite. But the new Nic's in Midtown area is a worthy addition for a quiet place to go for a late nite bite. The lounge is in the basement of the restaurant above, which is a
more proper. And it has the same great menu. After a long day of sightseeing, we really enjoyed talking with the amiable barman and finishing off the night with this incredible cheeseburger. We couldn't resist the huge stack of crispy onion rings on the side either.
There's much more to explore in Oklahoma City, but we'll have to leave it there. If you've ever wondered whether you've missed out on a delicious destination that will surprise and delight you, Oklahoma City might just be the one!
For more information about Oklahoma City and plan your own visit check out their website visitokc.com.
Pin It For Your Own Food Travel Trip to Oklahoma City