It's that time of year, awards season. Golden Globes, People's Choice, Grammys and the mother of them all the Oscars. The 89th Academy Awards hosted this year by Jimmy Kimmel on ABC will be another glamorous star-studded fun event.
Even if you haven't seen the nominated movies it's still fun to watch the red carpet and see all the stars come out in their finery. I have to confess that we don't typically get out to all the movies before the Oscars so watching the clips is always fun for us.
It will be no surprise that the highlight of the evening for us is our menu. We've planned Oscar parties in the past that have been casual, fancy and everything in between. One year Diana even prepared the same menu that Wolfgang Puck planned for the Governors Ball the Academy's office after-party. It was delicious but we sure had a ton of leftovers!
Who Will You Be Wearing Drinking?
Along with great food planning, considering the cocktails we'll be serving is also high on our Oscar party list. This year we're going to drink like Oscar stars and sip on Piper-Heidsieck Cuvée Brut just like the Oscar winners do at the Governors Ball.
Piper-Heidsieck Brut is a perfect pairing for any Oscars party. Piper-Heidsieck has a long and storied history with the movies and Oscars. For the third year their champagne will be the only one poured at Academy Award events in Los Angeles, New York, and London.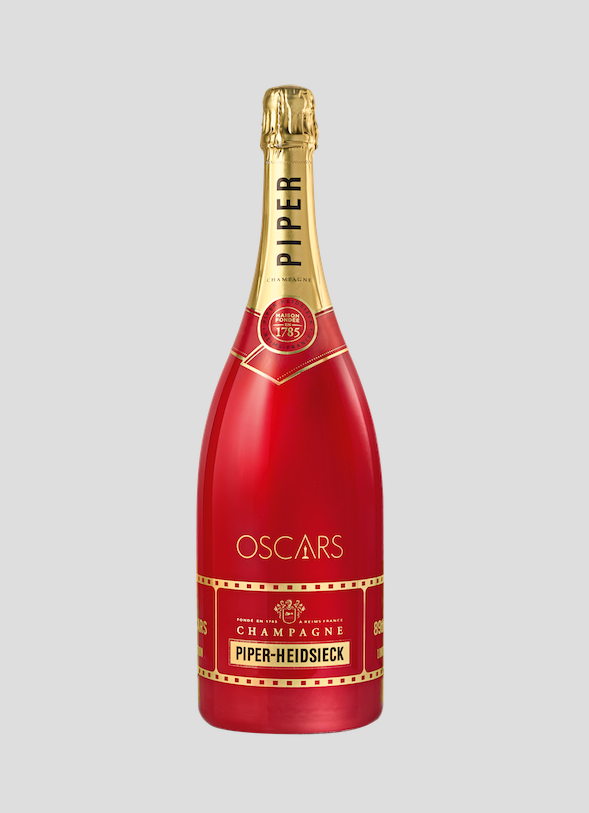 This limited-edition magnum bottle will be poured exclusively at the ceremony and Governors Ball. This special bottle of Piper-Heidsieck Cuvée Brut is covered in gold and red and features a gold film design around the bottle.
While these exclusively designed bottles are only available at the Oscars, that doesn't mean that you can't enjoy their Cuvée Brut at your own Oscar party. If you're enjoy champagne like we do you'll love the light tiny bubbles filled with the aromas of almond and hazelnut, essences of pear and apple and just a hint of citrus. Nothing makes you stop and savor the day like a fine glass of champagne.
Oscar Trivia
Here are a few fun bits of trivia about what the stars will be eating at Oscar night festivities:
1,400 bottles of Piper-Heidsieck will be served, that's more than 12,000 glasses of Champagne including: Limited Edition Magnums of Brut NV, Rare Millésime 2002, Rare Millésime 1998 Magnums.
10 kilos of American farm-raised caviar
7,500 individual US Shrimp
250 Maine Lobster
800 stone crab claws
15 pounds winter black truffles from Burgundy
1000 assorted chocolate movie theater flavor bonbon
20 gallons housemade gelato
1,050 handmade waffle cones
1,000 individual plated desserts
2,000 assorted cookies
30 pounds edible gold dust
7,000 mini chocolate Oscars
Sounds like it will be quite the feast! We'd love to get our hands on one of those little mini-chocolate Oscars.
Let's Get This Oscar Party Started
To make the event even more special we'll be trying this fancy cocktail made with our Piper-Heidsieck Brut.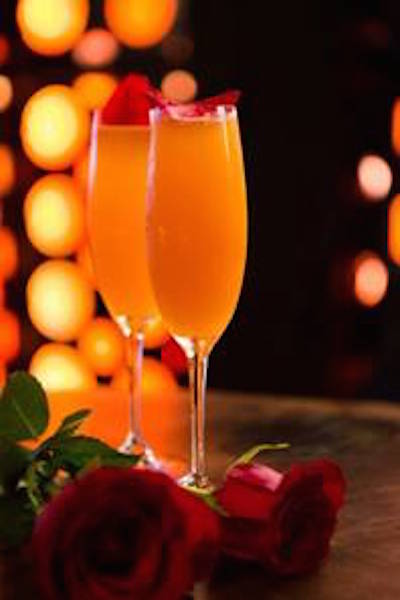 THE SEDUCTRESS*
Makes: 1 4 oz. cocktail
INGREDIENTS
Chilled champagne flute
Piper-Heidsieck Cuvée Brut Champagne, 4oz.
Passion fruit purée, chilled ½ oz.
Ginger syrup, chilled ½ oz.
Aperol, chilled 1 oz.
Red rose petal (garnish)
PROCESS
Chill a champagne flute
Fill with 4 oz. Piper-Heidsieck
Add chilled passionfruit purée, ginger syrup, and aperol. Gently stir.
Top with a red rose petal.
*Recipe courtesy of iPic TheatresⓇ
Whether you enjoy watching the Academy Awards show or just watching a great movie this tasty cocktail will make the evening sparkle.
Special thank you to our friends at Piper-Heidsieck for sending along a Oscar party package to Food Travelist. We were not compensated for this review. As always, all opinions are our own and reflect our experiences.