Book Review Authentic Food Quest Argentina
We have to admit that we haven't been to Argentina – yet. But after reading Authentic Food Quest Argentina by Rosemary Kimari and Claire Rouger we need to change that. In learning about all the delicious and varied foods, wines, farmers markets and restaurants, we've been inspired to plan a trip ASAP.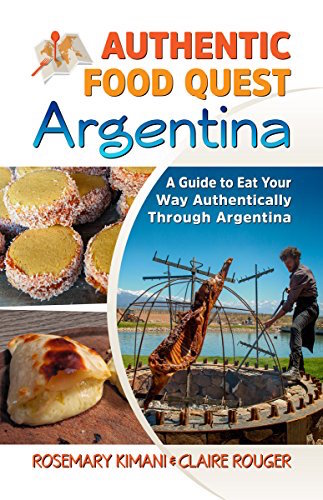 This is no simple food guide. It contains over 300 pages describing more than 50 authentic food recommendations for all four main regions of Argentina. The book also goes beyond restaurant recommendations and offers suggestions for wineries and farmers markets as well.
Authors Rosemary and Claire have spent extensive time traveling in Argentina where they had the tough job of tasting local dishes, desserts, beverages, street food and unique local produce. As if that weren't enough they also cover local cooking classes and food tours.
To make this comprehensive book even more useful, they've also included travel tips that will make your journey to Argentina just a bit easier, from practical matters like visa information and money tips to details about transportation and communication.
We recently had the chance to interview Rosemary & Claire. Read on to learn why these fearless food travelers chose Argentina for their first book on culinary travel.
What inspired you to quit your jobs and travel the world?
Authentic Food Quest: Ever since our childhoods, food has played an important role in connecting us to new places or regions. After leaving Chicago where we met, we moved to France for a couple of years and then later to Los Angeles. Every time we move to a new city, the easiest way for us to connect and immerse ourselves into the local culture is through food.
Our dream for many years was to start our own business. We were seeking independence from our corporate jobs and seeking the opportunity to lead our own projects. When we were in Los Angeles, Rosemary was frustrated with the "politics" at the advertising agency where she worked and later decided to quit her job. She began working on a plan that would allow us to combine our love for food and passion for travel.
At the same time, two unforeseen events pushed us forward. Claire unexpectedly lost her dad at the beginning of 2015. And later in the Spring, her sales/engineering position was suppressed. That's when we took a step back to do some soul searching and evaluate the purpose of life. We decided to get off the corporate track and pursue our dream. That's when we took a leap of faith and created Authentic Food Quest with the goal of inspiring people to travel through authentic food.
We started off in South America, spending 6 months discovering and writing about the authentic foods of the region on authenticfoodquest.com.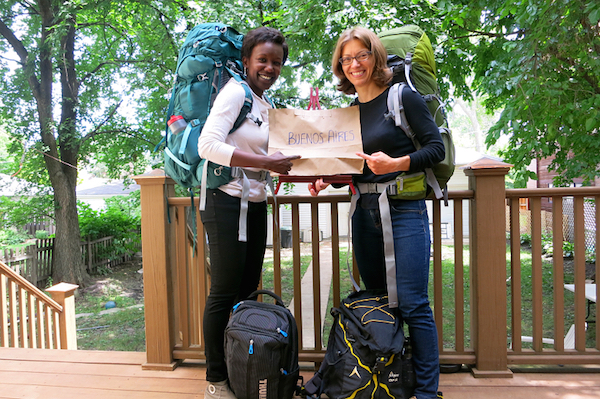 We know that culinary travel is important to you. What is the first dish you ate in another country that made you want to explore more?
RK: I've had a "love-affair" with France for as long as I can remember. It was when I was living in Nice, in the South of France that I ate the most delicious food ever. The first time I went to Nice, I remember walking around the market and indulging in socca, a simple and delicious chickpea pancake. I recall fondly sitting at a restaurant overlooking the Mediterranean Sea, sipping some of the best Rosé wine. One of my favorite dishes was a classic Niçoise dish called farcis, which is made with vegetables (tomatoes, eggplant, and zucchini) stuffed with ground meat, garlic, and breadcrumbs. The entire experience of the food, wine and amazing views fueled my desire to keep exploring….through food!
CR: For me, it is part of my upbringing. Born and raised in France, every summer my parents would take us on vacation to different regions of France. Tasting and enjoying the local specialties was an inherent part of every trip. I have countless memories around cheese. Wherever we traveled to, we would always bring back the local cheese specialty. That "tradition" stayed and wherever I went I always explored the local specialties.
What country would you like to go to just for the food?
They are so many countries that we want to explore for their cuisine. Our next trip is to Southeast Asia to discover the authentic foods of the region. We are looking forward to learning about the local cuisine.
However, two of our favorites dishes are sushi and couscous. We would love to go to Japan for the incredible fish market and culture around food. The other country we can't wait to explore is Morocco; to get lost in the Marrakech souk markets and enjoy delicious couscous.
If you could give our audience just one tip on food travel what is it?
Be Open, Be Curious! To enjoy the food on your travels, you want to remain curious. You want to leave your habits and expectations behind. It is about opening up to new cultures, new tastes and flavors. This is so important that we dedicated a chapter in our free ebook on "the 5 best way to find authentic food while traveling".
To illustrate this point, let's share a story from Argentina. We were in Tilcara, a remote village in the Andean Northwest. It was lunch time and we were famished. We decided to avoid the tourist restaurants on the main street and eat at the local farmers market.
On the outskirt of the market, we spotted a lady cooking food with pots and pans on a rudimentary barbecue. We asked her what she was preparing, while at the same time surveying the place. We were a little hesitant about the place and the level of cleanliness. However, upon seeing locals eating and enjoying their food, we put our fears aside.
The lady was open and friendly and invited us to take a seat at a rundown table in the back. She offered us fried empanadas and then served us chicken that was simmering in a pan. We ended up having a great meal and chatted with a local man who was so impressed to see foreigners eating at his usual lunch table.
When you open yourself up, you run into unexpected moments. This was one example of how we sparked conversation and connected with locals around food.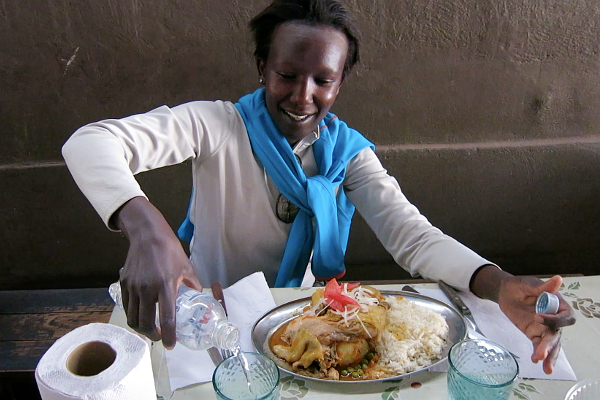 What is the best meal you've ever had (so far)?
This is a really tough question to answer. As travelers, we have visited over 29 U.S. states and 27 countries, each time sampling the local cuisine. We can recount many great experiences and outstanding meals.
Though there is one experience that stands out from our quest for authentic food in South America. We were in Santiago, Chile and had the opportunity to explore Chilean cuisine with Chile's top chef, Rodolfo Guzmán. In a country that is not well-known for its culinary tradition, Guzmán stands out for cooking with indigenous Chilean ingredients. His restaurant Boragó was named #2 in Latin America's 50 best Restaurants 2015 by San Pellegrino.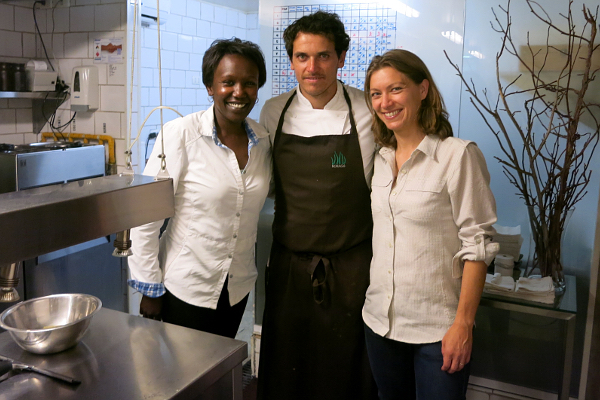 What made this experience so unique is that we had the privilege of spending the afternoon with Rodolfo at his organic farm in El Monte, which is about 50km south of Santiago. Here, we learned how Rodolfo incorporates the native ingredients used by the Mapuches Indians (native population from Chile) in his cuisine. Guzmán is known to be a pioneering chef who uses ingredients from all over Chile.
At his restaurant that evening, we had one of the most creative meals ever. Every dish had a story to tell. The food was presented with original products, such as cow horns or earth elements such as rocks, trees and shrubs.
Not only was the presentation outstanding, the fusion of flavors was delectable. We had dishes with ingredients from the Atacama Desert in the north of Chile. Others used herbs and berries from the Andes Mountains, rare seaweeds or prune flowers, paired with venison or the freshest fish and seafood. An amazing and incredible experience!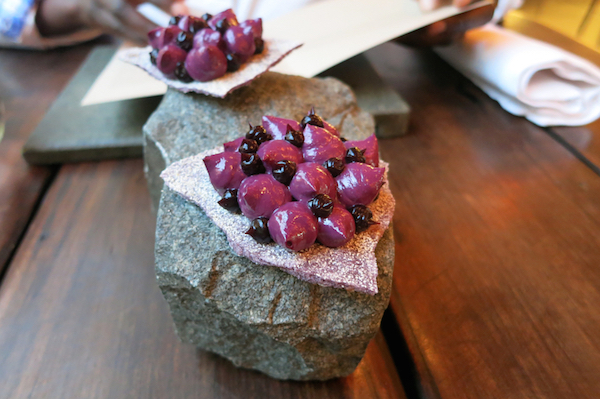 What country have you enjoyed visiting the most?
Each country that we visited in South America was unique in its own way. Argentina was one country that we really enjoyed for a variety of reasons. First, we spent the most time in Argentina, almost 3 months. This gave us a chance to really understand the local culture and cuisine. We also traveled slow, staying with locals, which allowed us to forge deep connections. Finally, we found the people to be very warm and friendly and open to sharing their unique stories with us.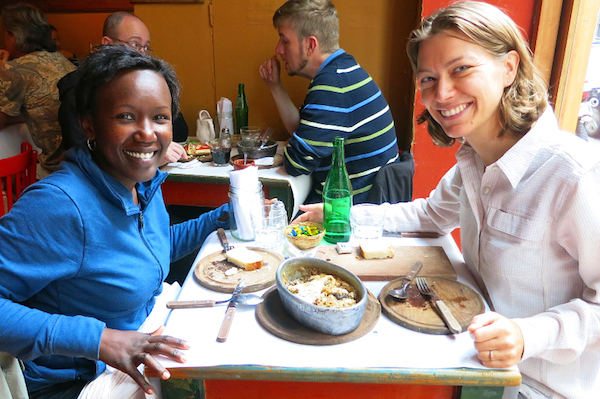 Why did you pick Argentina for your first book?
To start, Argentina is a very popular destination and it is the most visited country in South America. One of the biggest misconceptions about the food in Argentina is that it is limited to beef and Malbec wines. As we traveled through the country, we found varied and distinctive cuisines that mirror the natural resources and the regional diversity
So, in the book we take the reader on a journey through food into four main regions of Argentina: Buenos Aires, Mendoza & the Wine Regions, the Andean Northwest, and Patagonia & the Lake Region. In each region, we present the iconic dishes & beverages, farmers markets and local food stores not to miss. We also share unique local restaurants, wineries and food festivals to experience the local delights. We aim to provide travelers everything they need to launch their own food adventures in Argentina.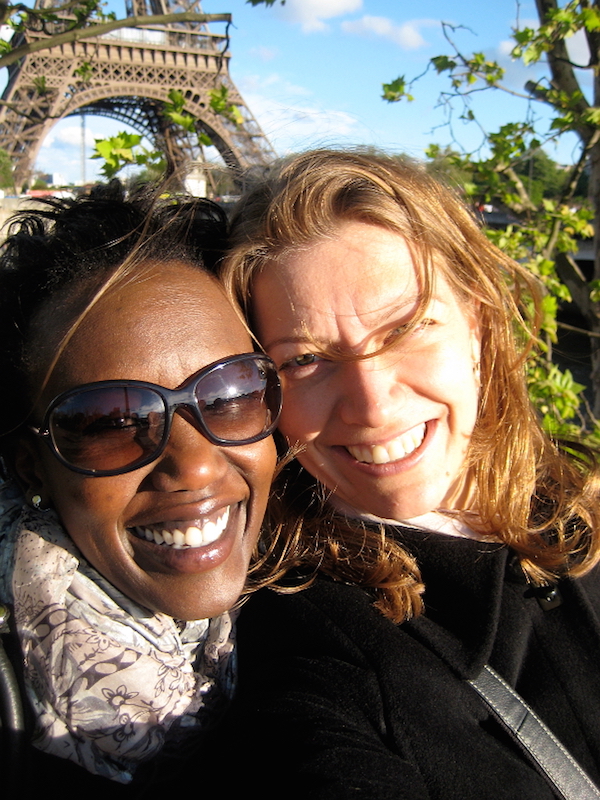 A Little More About The Authors
Claire and Rosemary are co-founders of Authentic Food Quest. They aim to inspire people to travel through authentic food. Join to follow their adventures here.
They have just published their first book Authentic Food Quest Argentina: A Guide To Eat Your Way Authentically Through Argentina. Get your copy on Amazon Kindle today.
THE QUICK BITE: Authentic Food Quest Argentina is a comprehensive overview of Argentinean food & culture. If you're looking to learn more about culinary travel in Argentina this is the one book you'll need.