Best Ever Food Travel Sweets And Snacks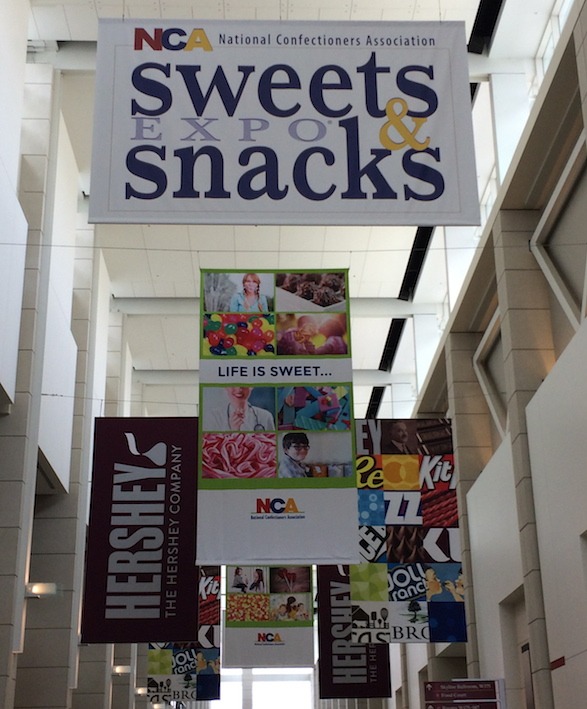 Food Travelists love to have their favorite sweets & snacks handy, at home and when traveling. And, we're always on the lookout for new great tastes that are good when you're on the go, great at crushing cravings, and sometimes even good for you! That's why we love attending the National Confectioners Sweets And Snacks Expo in Chicago, an annual event filled with the latest sweet and savory offerings from companies large and small all over the world.
This year we found a few noteworthy trends, some great new products and some spins on familiar tasty treats we know you're going to love. We'll show you some of the many highlights from the 2015 expo in Chicago.
Best Ever Food Travel Sweets and Snacks
Sweets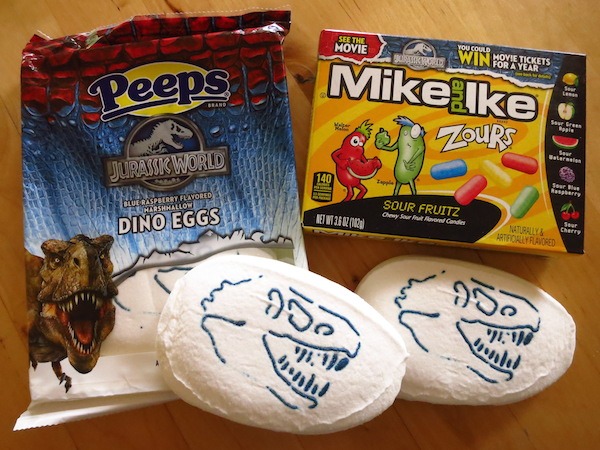 It probably goes without saying that we are huge fans of Mike and Ike. Last year, we were treated to the biggest box of M & I we've ever seen and we savored every fruity, chewy bit of its contents. This year, Just Born, the folks who bring us both M & I and Peeps had some fun sweets to show off. To go along with the ginormous box office thunder of the Jurassic World film release, the jumbo-sized eggs shown above are just Peeps in dino clothing! There's also a special Mike & Ike Jurassic World Tropical Fruits mix that comes with mystery dino eggs inside! And aside from all the dino-fury, M & I also has Mike & Ike Zours, for lovers of the puckery sour blend of fruity and chewy.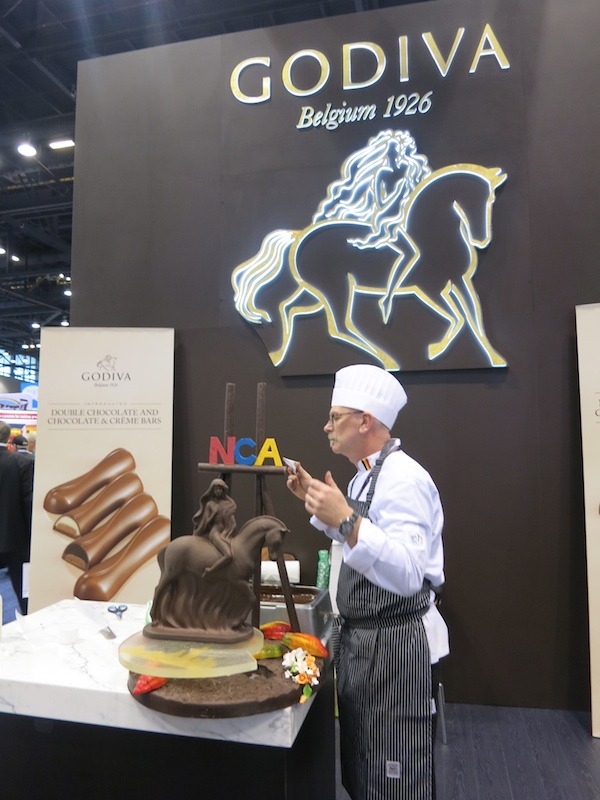 The folks at Godiva have been working on quite a few special tastes and we were treated to a great behind-the-scenes tour up close and personal by Chief Chocolatier Theirry Muret. After watching Chef Thierry painstakingly create a sculpture masterpiece of chocolate and sugar work, we sampled some of the exquisite offerings of this world- famous chocolate house that spends countless hours developing, testing and refining some of the best chocolates in the world. Our favorite bite was the dark chocolate blood orange bar combining the rich dark Belgian chocolate with Italian blood orange. The delicate crunch that we detected added depth and dimension – and showed off superbly Thiery's early background as a crystals engineer!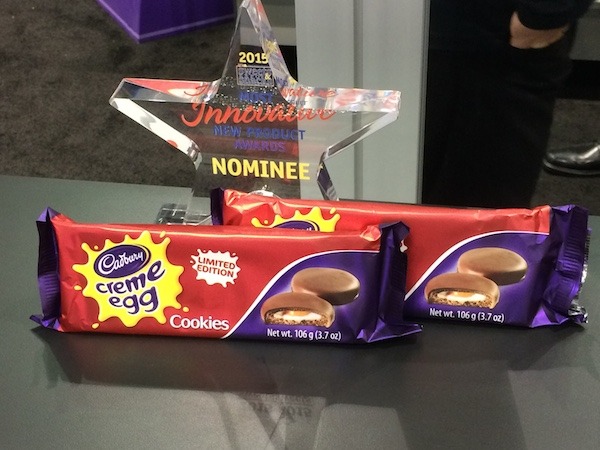 Are you a fan of those delicious Cadbury creme eggs that magically show up every spring? Well, we are! So you can imagine our excitement when we learned about Cadbury's plans to release a new creme egg cookie – with the same delicious Cadbury flavors but in a new flat, easy to sneak away in a travel pack or purse form! Add the crunch of a little tasty cookie bottom and you have a perfect sweet treat to stave off any craving.
Salty & Savory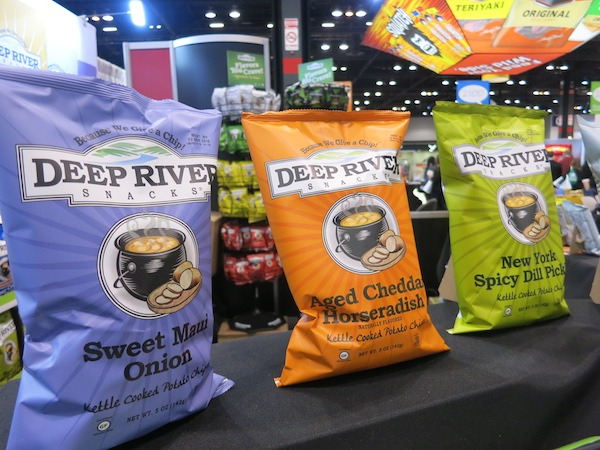 If you're a fan of salty snacks, check out Deep Riverepic Snacks chips. Their flavors are just amazing. From Sweet Maui Onion to tangy Aged Cheddar Horseradish and New York Spicy Dill Pickle, they've got many delicious and unique flavors to please your tastebuds. We had a chance to taste their newest flavor, Ninja Ginger and it was incredible! We might even say it's our new favorite spicy tangy chip.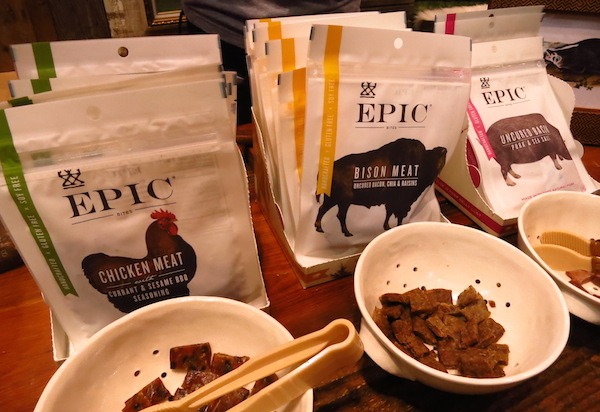 For those trying to watch carbohydrate intake, you'll be thrilled to know that there is a new trend in snacking – meat bars! That's right, you can get your protein from meat that's not jerky but is, well, meaty! The first, and we think one of the best, to introduce meat bars is Epic. The Epic meat bars come in Bison, Turkey, Beef or Lamb – grass fed and perfect for Paleo eaters too. Epic also has more traditional jerky meats too – and we loved everything we tasted!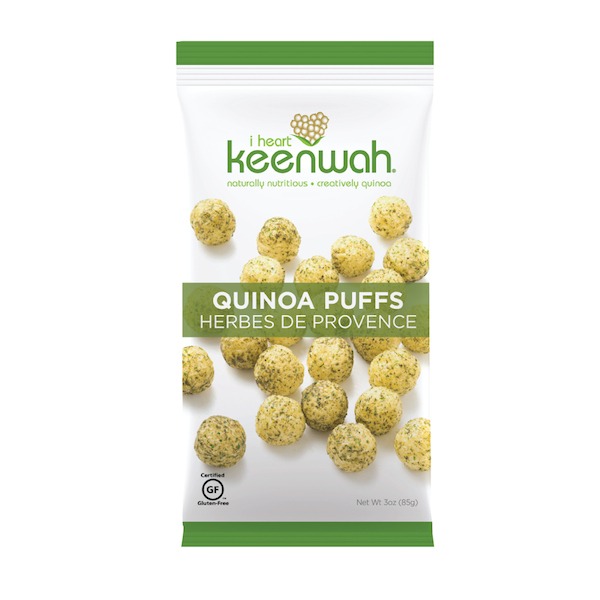 If you're looking for healthier snacks in the grain category, you might just be thrilled to learn about tasty, crunchy Quinoa Puffs from I Heart Keenwah. These addictive little crunch balls made from the mad about you hearty grain of quinoa come in a variety of unique flavors like Herbs de Provence, Sea Salt Truffle, Sweet Chili and our favorite Aged Cheddar. These are perfect for that layover or just hanging around whenever you want to indulge in a savory crunch without any of that bad stuff that sometimes comes along with it.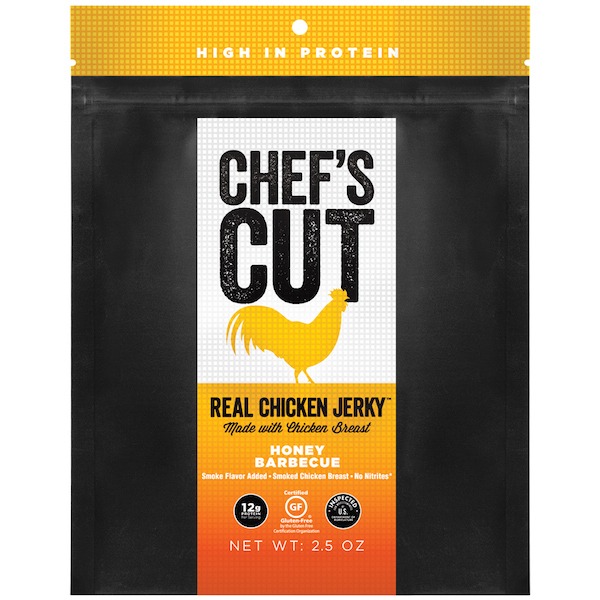 Meat snacks are definitely a hot trend, and while beef jerky has been around for a long time, newer flavors are popping up with increasing regularity. Turkey jerky, bacon jerky, salmon jerky and chicken jerky are making their appearance. One of the things we love to find is jerky that isn't leathery hard – no matter what the protein source. And our top pick for soft, chewy and tasty good jerky is Chef"s Cut. Their honey barbecue chicken jerky is one that we will definitely keep in our travel bags wherever we go.
Sweet & Salty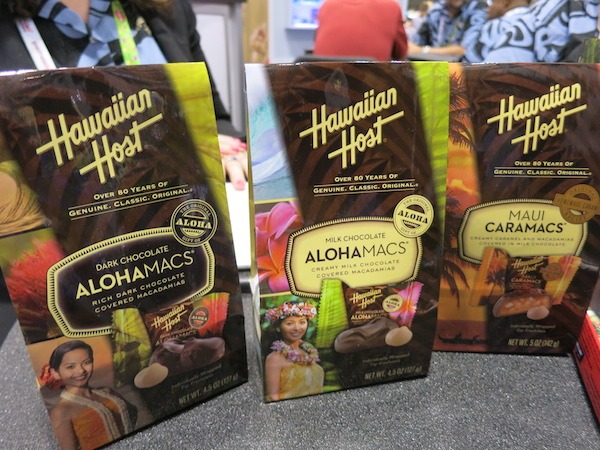 Macadamia nuts all by themselves make us feel like we're on vacation. And Hawaiian Host is one of the best at making us feel like we're on vacation with macadamia nuts in chocolate! Their new packaging lifted us up on a wave of delight. And, they're extending their reach too with new tropical fruit bites, including pineapple, coconut and banana bites covered in their delicious chocolate. You'll also be seeing some exciting new holiday boxes when it's time for season's greetings, with Peppermint MacNut Crunch, Aloha Macs and Maui Caramacs in ready-to-give holiday boxes. We love their new island bag packaging as well!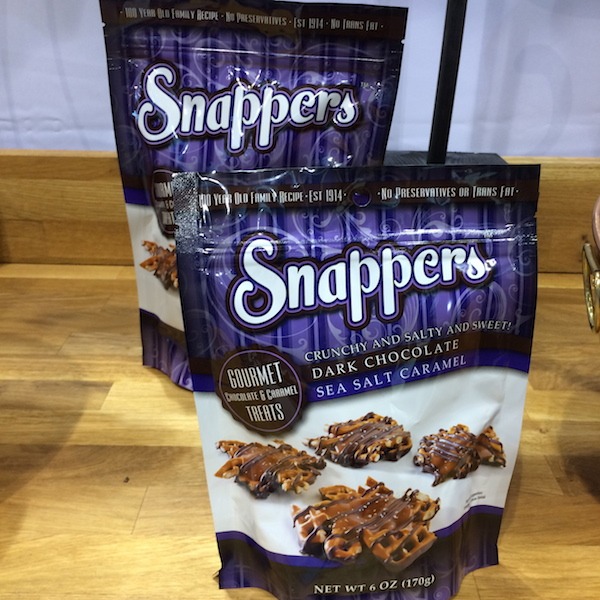 The sweet and salty trend was also evident in entirely new products like Snappers. These tasty little clusters of pretzels and chocolate come in winning combinations like dark chocolate caramel sea salt and their latest award-winning milk chocolate peanut. Scrumptious bites for when you just can't decide how to deal with the sweet or salty debate – just have both in one bite!
Healthy & Tasty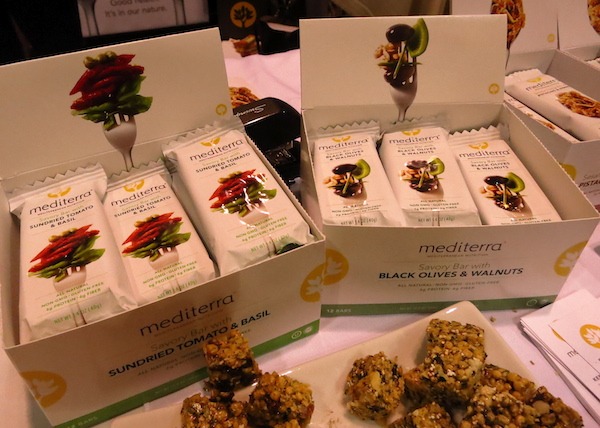 While we love to indulge when the mood strikes us, we also know how important it is to have tasty snacks with ingredients that are on the plus side of the equation too. An interesting twist to the healthy bars we found were these new somewhat savory flavored bars from Mediterra. Made with such delicious Mediterranean ingredients as sun dried tomatoes & basil or black olives & walnuts, these hearty bars provide an alternative to the sweeter bars that are out there with wonderful flavors that nature provides.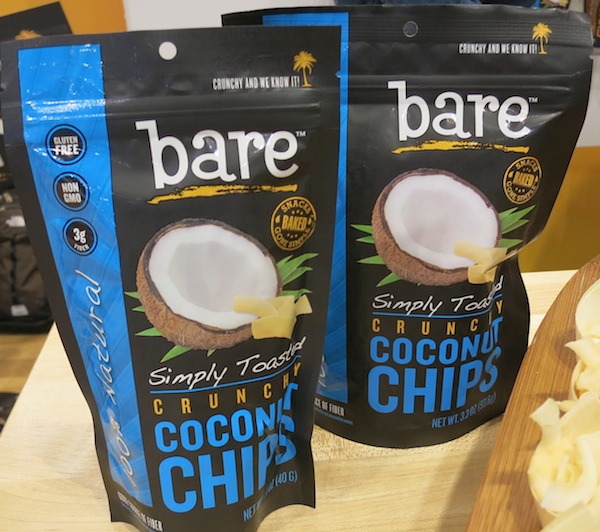 Another interesting trend we noted was coconut. Lots and lots of coconut. But not the coconut you usually think of, that kind of mealy sweet sugary coconut. No, this coconut tastes like, well, real coconut! We found it in snack mixes, in bars, in various treats, and like here, simply toasted and crunchy like little coconut chips. We found them to have a satisfying crunch and a flavor that didn't feature artificial ingredients. Must be the reason they come from Bare!
New Favorites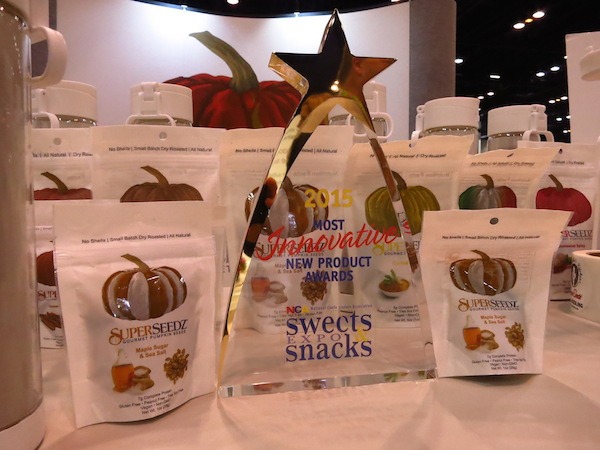 As always, we found a few unique taste treats that we thought you should know about. The first is a very clever use for the nutritious pumpkin seed (just the tasty inside part of the seed) called SuperSeedz. These tasty little crunchers come bathed in a variety of delicious flavors such as Cinnamon & Sugar, Tomato Italiano, Curious Curry, Somewhat Spicy, Super Spicy and their latest Maple Sugar & Sea Salt. Depending on your mood, you can satisfy your craving for sweet or savory or both without breaking the calorie bank.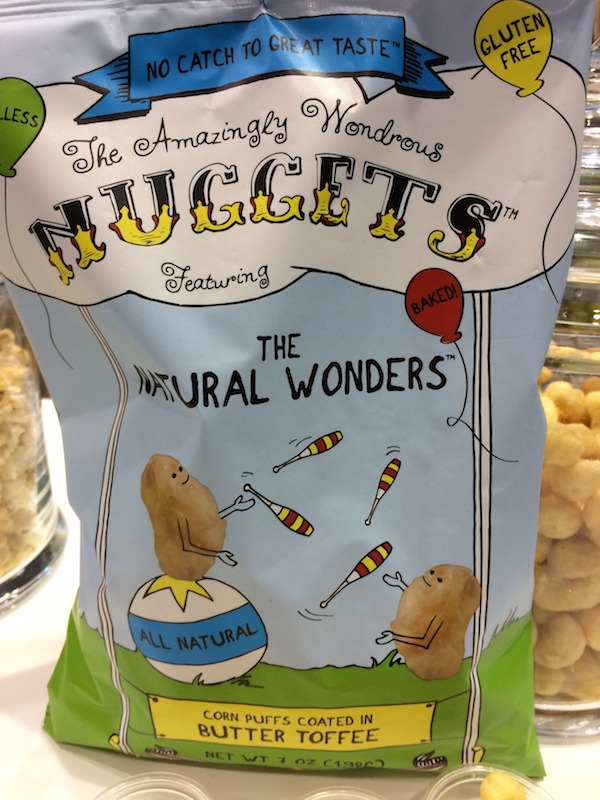 Gluten Free products are now just about everywhere, but they are not all created equal. One of our new discoveries stands out for its delicious crunch and sweet & salty flavor. Amazing Wondrous Nuggets Butter Toffee Corn Puffs will meet all of your snacking needs. These crunchy little puffs pack a lot of flavor in every nugget. Sweet, salty and gluten free. What more could you want?
And Still Favorites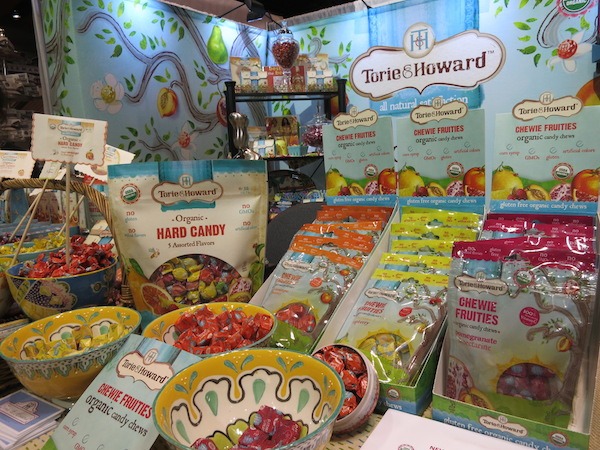 We previously shared our love of Torie And Howards elegant organic hard candies. So we were very excited to see their new line of Chewie Fruities this year. They were everything and more than we had hoped for them to be. Both chewy and fruity, these organic sweets come in a variety of thoughtful flavors, including our new favorite, Meyer Lemon Raspberry. Need we say more? Didn't think so!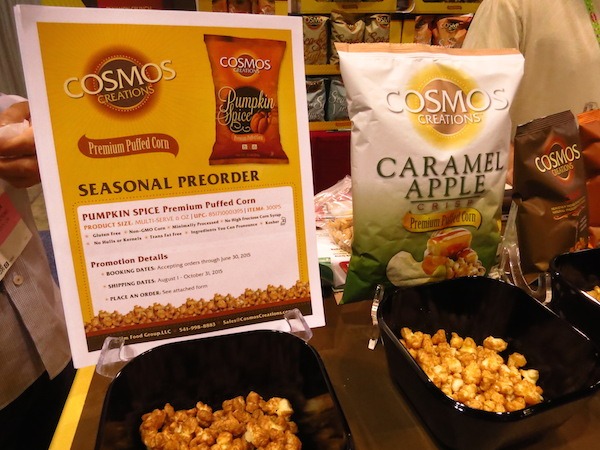 We're also fans of Cosmos Creations crunchy little baked corn puffs of delight. They were way ahead of the coconut curve, having Coconut Crunch along with some of their other great flavors like Sea Salt & Butter, Salted Caramel and Cinnamon Crunch. But we got excited all over again when we saw their new Caramel Apple and seasonal Pumpkin Spice flavors. Pumpkin Spice, really? We're in love.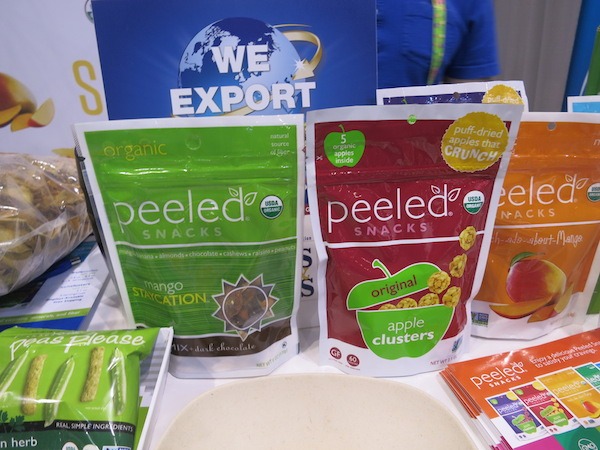 We've also expressed our undying love of Peeled organic, no sugar added snacks, especially their Much Ado About Mango that we discovered in an airport convenience store once upon a time. Well, now they've got more to love with their introduction of the organic Peas Please crunchy baked pea snacks. These are the only organic pea snack out there now, and they're delicious, crunchy and guilt-free. They come in sea salt, southwest spice and garden herb flavors.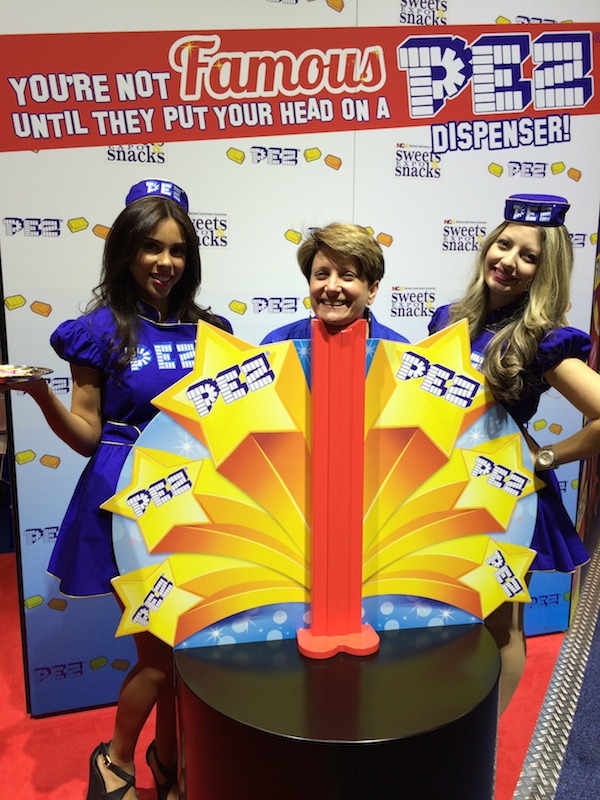 And just to prove that once-in-a-while we can put away our cameras, notepads, and crazy working schedules to have just a bit of fun, we couldn't resist taking a pic with one of our heads on a giant Pez dispenser. Don't be surprised if there's a huge demand and you start seeing Sue-Pez dispensers raging all around next year's Sweets And Snacks Expo! And, if not, at least you know we'll be running around trying to find you what's the hottest new trends and products that you can enjoy whether you're heading out on a flight, sitting through a layover or just hanging around the hotel room. Happy snacking!
THE QUICK BITE: Check out our picks for some of the best treats and hottest trends for satisfying snacks at home or away appearing at the National Confectioners Association Sweets And Snacks Expo this year.