Best Travel Snacks at Sweets & Snacks Expo 2016
Every year we attend the Sweets and Snacks Expo in Chicago scouring the more than 750 exhibitors for the best Travel Snacks being offered. We always carry snacks when we travel and what better place to find all the latest in mobile munching than amid 4 acres of candy and snacks.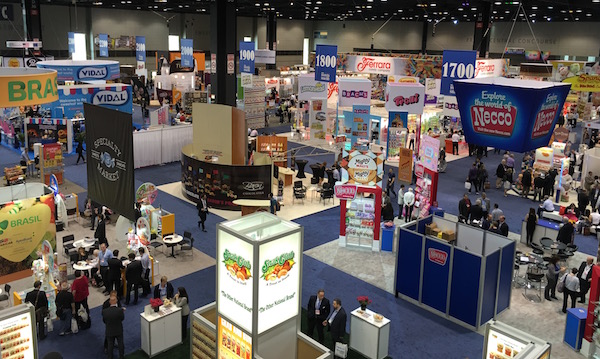 Did you know that confectionary items account for $35 billion in retail sales? 7 billion of that is in seasonal candy sales. That's a lot of business. No wonder this show is 3 days long!
What's Trending?
Coconut and plenty of it. If you haven't heard about all the health benefits of coconut, it's time you do. The snack industry sure got that memo. It's on and in everything this year from chips to trail mixes and chocolates. You couldn't miss it.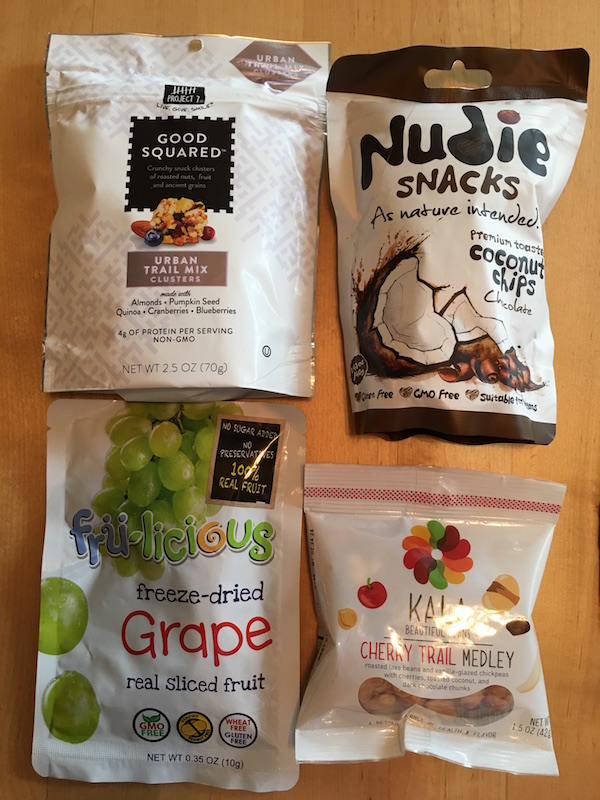 Healthy, Organic and Gluten-Free – consumers are actually reading labels and concerned about what they're putting in their body. So it's no surprise that we saw huge call-outs to natural ingredients as well as no artificial colors or flavoring on many, many product offerings. Chick peas, red beets, kale, carrot, sweet potato and even parsnip chips. Many interesting healthy snack mixes including fruits, veggies, meats and nuts were very popular this year. Dried cherries, apricots and cranberries together with dried chicken, turkey, veggies and nuts make for great travel snacks. Gluten-free options are here to stay as more and more people look to eliminate or reduce the amount of gluten in their diets. The good news is that the GF products are getting better and better with many more choices.
International & New Flavors – people are looking for more flavor, more spices. Sriracha is still a popular flavor for chips, popcorn and other snacks. This year we saw a new fascination with Korean BBQ flavors especially in the jerky world.. There were international and unique flavor offerings such as fire roasted sweet corn, jalapeno cheddar and hot sauce cheddar popcorn. Stroopwafels, those thin tasty, carmel sandwiches from Holland made an appearance as well. One of the more unusual tastes came all the way from Latvia – white chocolate with cheddar cheese in an orange colored chocolate bar. Unique in both look and taste.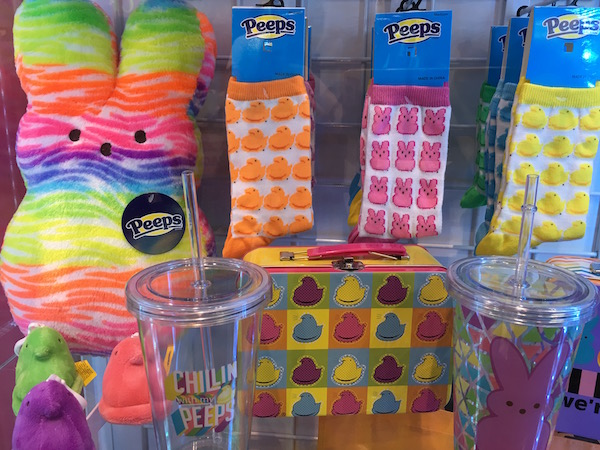 But not to fear – some of our old favorites are still around and going strong. In fact the overall confectionary category was up 3.2% in 2015. Fruit and gummy candies also increased by almost 4%.
Best Travel Snacks for 2016
Sweet, salty, tasty, healthy – we've got you covered.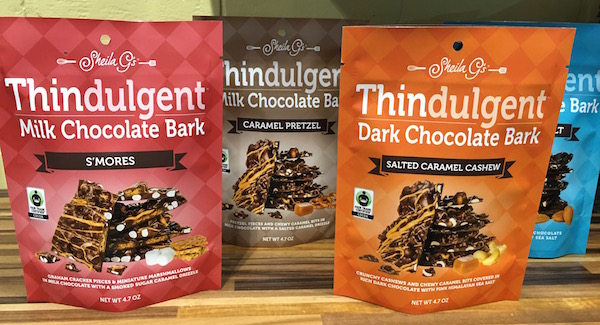 Thindulgent from Sheila G. We love her Brownie Brittle especially the new organic variety and now Sheila is extending her line with chocolate bark. We had a chance to taste them at the expo and they are delicious! Look for them in stores this fall. You can find all her products, made with care and love, at browniebrittle.com.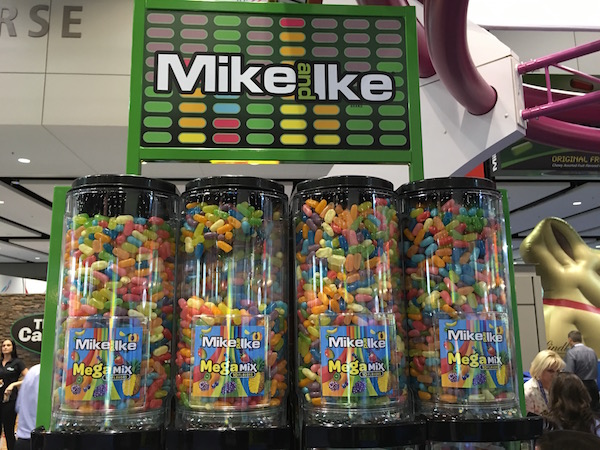 Mike & Ike Mega Mix we're not gonna lie, Diana is a big, no HUGE, fan of Mike & Ike so having all these flavors in one box is her candy paradise. We also saw some limited edition retro flavors such as Cherry Coke and Popcorn, that we can't wait to give a try too. These folks are clever and we love it! Our friends at Just Born also make Peeps, Hot Tamales and much more check them out at justborn.com.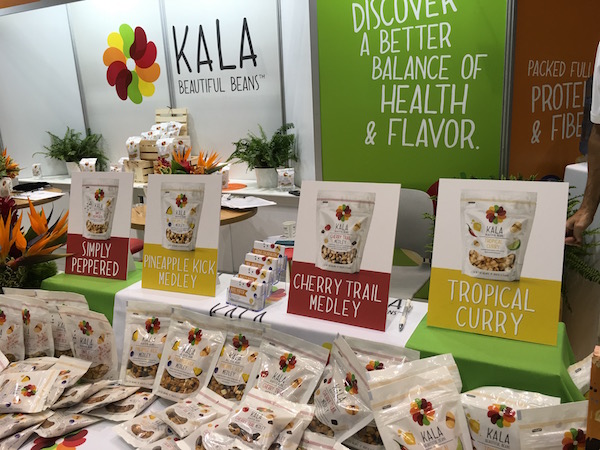 Kala Cherry Trail Medley Looking for a healthy snack that is high in fiber, low in fat and full of protein? Try Kala Cherry Trail Medley from Kala Beans. This unique blend of roasted fava beans and vanilla glazed chickpeas with cherries, toasted coconut and dark chocolate chunks may be just the ticket for you. They have several other flavors that are quite tasty too. You'll be surprised by all the flavor they've packed into these little snacks. You can learn more at kalabeans.com.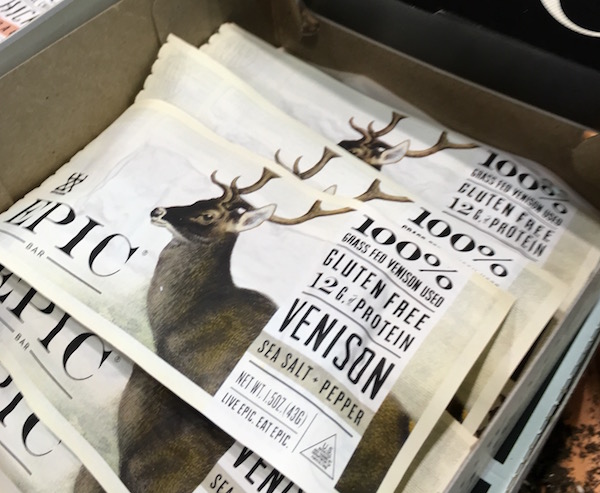 EPIC Bars We met EPIC Bar last year when we were really starting to explore meat snacks. Their high quality and tasty meat bars and bites made us fans of their delicious, paleo-friendly products. This year we loved their wild game line which includes salmon, venison and wild boar. But don't forget to try their chicken, beef, bison, lamb or pulled pork. We also love their motto – Feed others as you wish to be fed. Check out all their products at epicbar.com.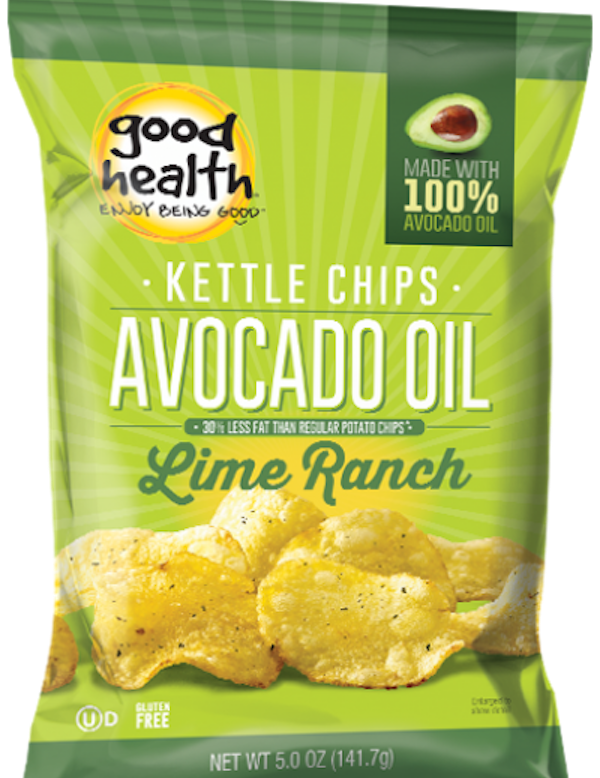 Good Health Kettle Chips are made using the Omega-3, antioxidant and monosaturated fat-rich 100% high oleic avocado oil. There are three flavors – sea salt, barbecue and my favorite lime ranch. They also have lots of other tasty and healthy snacks so check them out at goodhealthsnacks.com.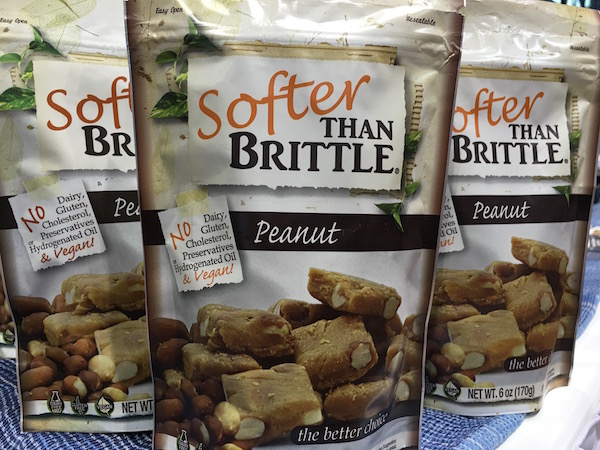 Softer Than Brittle Do you love the taste of peanut brittle but hate that it gets stuck on your teeth? Problem solved! You need to try Softer Than Brittle. It's just exactly true to its name. It's delicious, soft-cruncy, flaky and has only six to seven basic ingredients.  These sweet yummy treats contain no preservatives, cholesterol, gluten, dairy, or hydrogenated oils. And they're vegan. This one is one of Diana's absolute favorite bite-sized delights. The texture and flavor are so pleasing you'll be happy you discovered them and your teeth will thank you! You can find them at softerthanbrittle.com.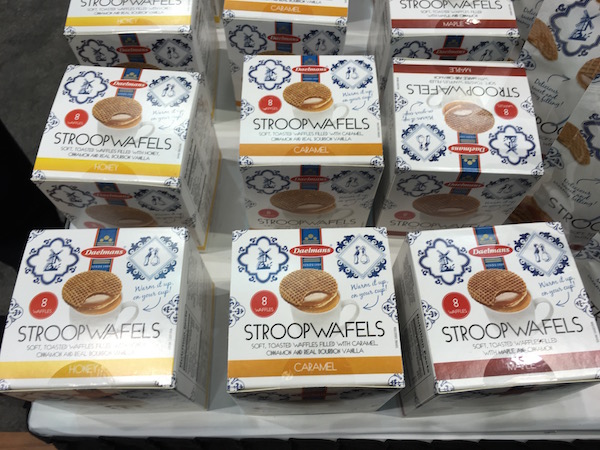 Stroopwafel You may have already tried these on a United Airlines flight. Straight from Holland these cookies are best when simply placed on top of your tea or coffee cup to warm them up a bit. Two thin waffles filled with caramel, the stroopwafel literally means "syrup waffle." Originally made in the Dutch city of Gouda, now you can bring the taste of the Netherlands to your home. There's also now a "mini" stroopwafel to enjoy in a handy convenience pack that would be great for travel too. They're available at many retail outlets or check them out at stroopwafelsbydaelmans.com.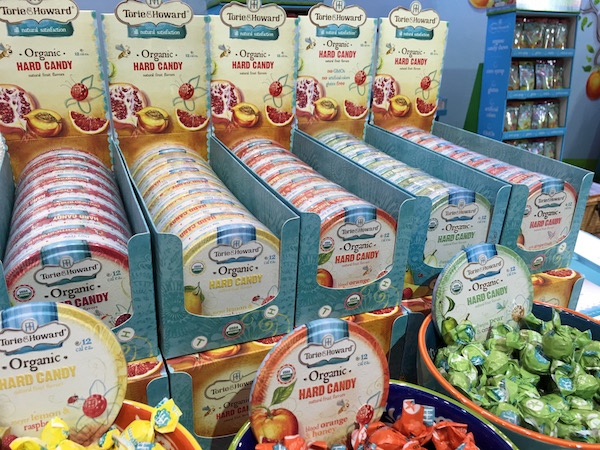 Torie &  Howard Organic Candy We first met Torie Burke when we attended our first Sweet & Snacks Expo several years ago. I just loved her unique hard candy flavors like blood orange and honey, pink grapefruit and tupelo honey and d'anjou pear and cinnamon. Her tasty products are organic and contain no additives, no artificial flavors or colors. They are elegant confections and simply delicious. Her products have shown up on many top lists including Oprah's favorite things. The fruit chews are the same top quality and flavors – dump those Starburst and get some real candy, that's much tastier and better for you. My new favorite flavor in the meyer lemon and raspberry – unbelievably good! You can find them at many retail locations and online at torieandhoward.com.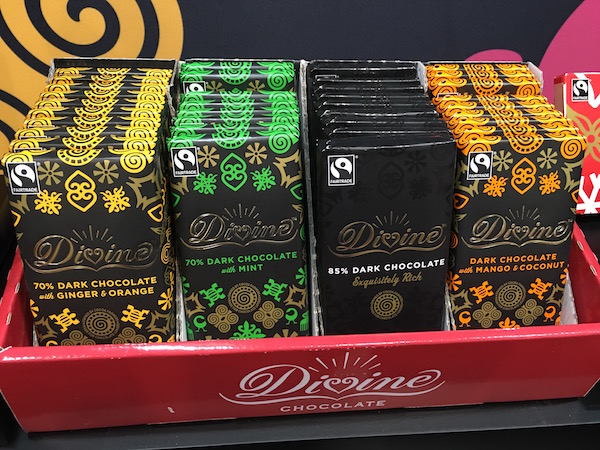 Divine Chocolate All the cocoa at Divine Chocolate is hand harvested, shade grown and slow fermented. It's co-owned by 85,000 farmers of Kuapa Kokoo in Ghana, who are an important part of the company. They share in the profits and a deep commitment to making a very delicious Fair Trade chocolate products. The beautiful packaging contains Adkinkra symbols from the Akan people of Ghana and Cote d'lvoire, West Africa and originally used for decoration on special occasions. They are now used everyday and add a beautiful unique touch to the products celebrating Ghanaian ownership. Learn more about them at divinechocolateusa.com.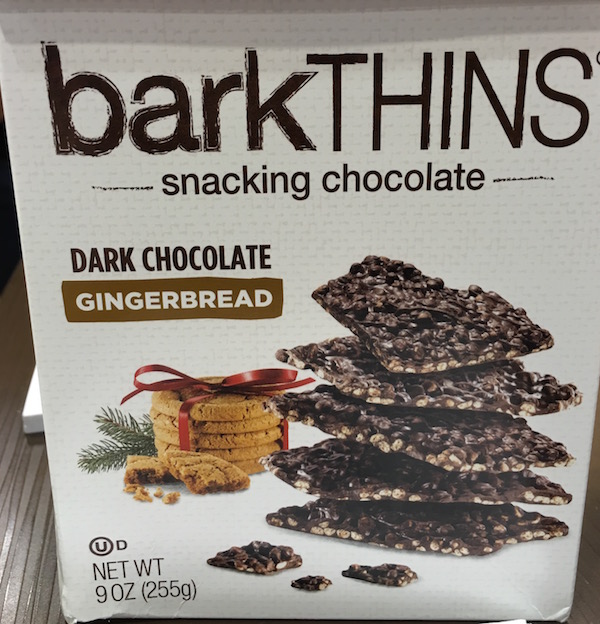 BarkTHINS Snacking Chocolate Despite the fact that BarkTHINS comes out with new flavors every so often I have to tell you that BarkTHINS dark chocolate pretzel with sea salt is still one of my all-time favorite snacks. I love the flavor of their Fair Trade dark chocolate. They already have terrific holiday flavors like dark chocolate mint and dark chocolate peppermint pretzel with sea salt. But get ready because dark chocolate gingerbread will be hitting the shelves before you know it. I just love ginger with dark chocolate and this one is terrific. You can find BarkTHINS at many retail locations (look for the GIANT bag at Costco) or check out their website barkthins.com.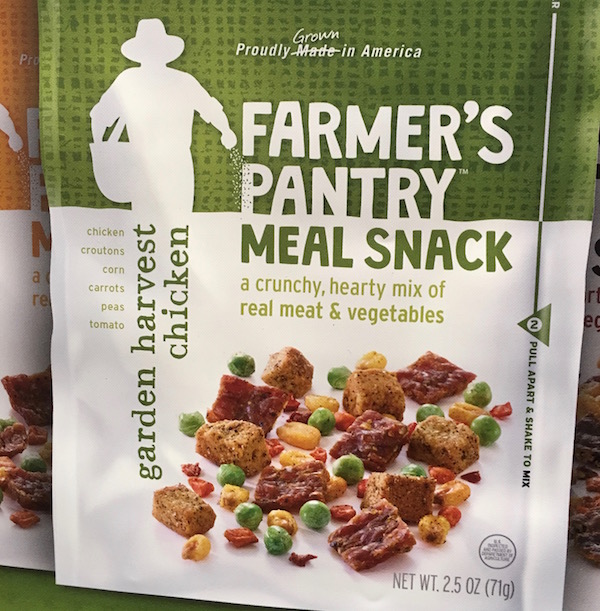 Farmer's Pantry Meal Snack a meal in a bag! Meat, veggies and croutons! We just loved all the flavor in this snack bag. Grown in the USA. Check them out at farmerspantry.farm. (Did you know there's a .farm? domain. Me neither).
A couple extra…
Sometimes brands send us samples throughout the year that we like that might not be at the expo. Here's a couple that we think are worth noting and giving a try.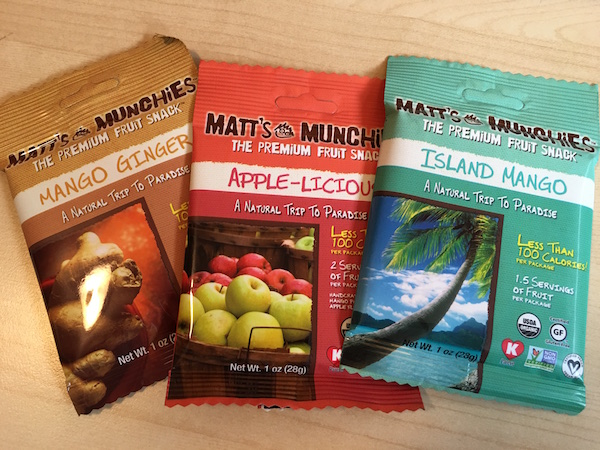 Matt's Munchies these remind me of the Fruit Roll Ups my Mom used to get for us when we were kids. Only they taste a lot better and are gluten-free, organic, vegan, non-GMO! My favorite flavor mango ginger contains organic mango puree concentrate, organic ginger powder and organic cinnamon. Less than 100 calories for 2 servings of fruit. That's it!!! It's a perfect travel snack size for your purse, backpack or bag. Find them at mattmunchies.com.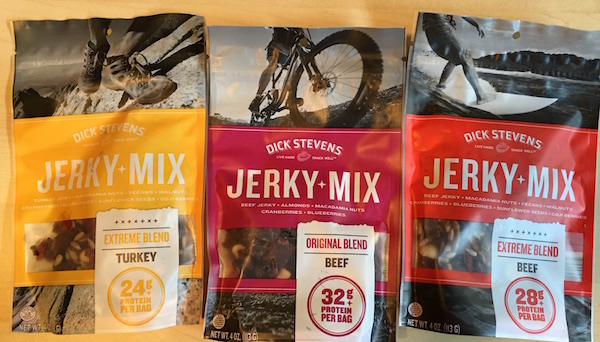 Dick Stevens Jerky Mix fits with a trend we noticed at the Expo by combining jerky with trail mix in one bag. Raw nuts, berries, seeds and all-natural jerky delivers a powerful snack for travelers of all types. If you enjoy the chewy texture type of jerky you'll love Dick Stevens. I like the macadamia nuts and blueberries, which you normally don't see in trail mixes. Learn more about the Dick Stevens brand and where to get them at dickstevens.com.
Giving Back
One of my other favorite things about the Sweets & Snack Expo is that every year they partner with a charity to give back to the community. This year they worked with Give Kids The World Village. Candy and snacks donated by show exhibitors will be distributed to bring a bit of joy to the children and their families during difficult times.
The 79-acre Village  in located in Central Florida and was designed as a place for families to experience a cost-free fantasy vacation place to enjoy their time together away from doctor visits and hospital stays. The donated candy and snacks will be shared with over 8,000 families.
Don't Forget Your Snacks
Hope you go out and try these tasty travel snacks for yourself. Remember – always travel with snacks because you just never know when you'll get stuck somewhere or when you might run into someone you can help out with just a little food. Please tell us about your favorite travel snacks in the comments below.
THE QUICK BITE: Travel snacks are an absolute must in our travel bags. From salty to sweet and everything in between here are our best travel snack picks of 2016.