As a long time fan of Fannie May I consider myself an ambassador. We were given samples of the candy described below. We were not financially compensated for this review. You can always be assured that our comments and reviews are our honest opinions and reflect our experience.
If you're like me you could use a little happiness right now. Seems that everywhere you turn there's disagreement, hostility and even hate.
Although I do not advocate sticking your head in the sand and hoping everything will get better on its own, I do believe that you have to actively bring happiness and joy into your life and the lives of others everyday.
Hereare a few things that I do to make my world a better place each day.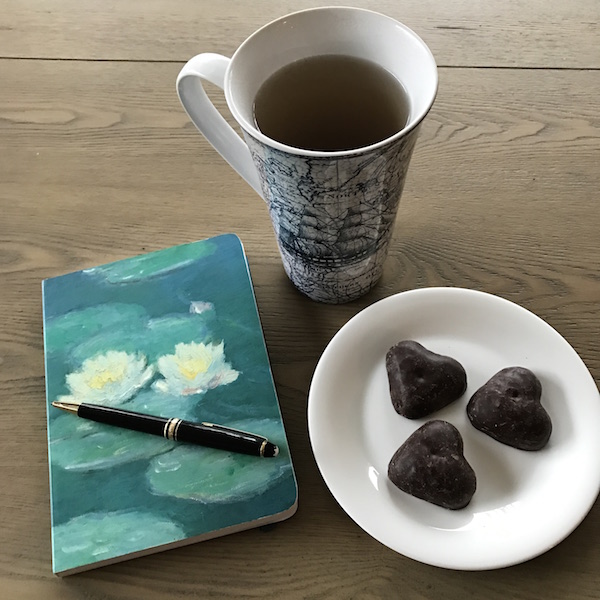 Gratitude List
Each morning before I start my day I take out a pretty little notebook, favorite pen and write down five things for which I'm grateful. Sometimes they're really simple and fun like, "I'm thankful for my kitties, who love me unconditionally." Other times their more serious like, "Thanks for my speedy recovery from pneumonia." Just taking the time to acknowledge all my blessings centers me for the day.
Say Thank You
I take the time to thank people when they help me. Sound simple? It is. Next time you're in the grocery store try saying thanks to your checker or bagger and see what happens. Typically they smile or start up a conversation. There's nothing better than unexpected connections and making someone's day just a little better.
Get Involved
Tired of all the complaining? Yours and everyone else's? Get active and do something to help. Volunteer at a homeless shelter, email your government officials or offer up your talents to help organize people to get something done. You'll be surprised how even the smallest effort will net big results and make you feel a bit better.
Share A Kindness
Open a door for someone who has their hands full, bring a pot of soup over to a sick neighbor, call a friend you've been thinking about lately. Making connections with people will restore your faith in mankind.
Valentine's Day is right around the corner. This "holiday" brings mixed emotions for a lot of people. The day is intended for people to express their love for their significant other. However, do you remember, like me, back in school days when you would bring cards and candy for your many school mates and friends. Picking out just the right card or candy was so much fun.
How about trying that again? Pick out some folks in your life that might need a little pick me up. Could be your mail delivery person, a neighbor or someone you don't see very often. Send them a card and a little treat. Think about the huge smile they will have on their face when they open their Valentine's Day surprise from you.
May I suggest including something sweet from my friends at Fannie May? I've been a Fannie May fan since I was a kid. Fannie May is a Chicago classic. Some of my favorite childhood memories are of my Grandmother traveling to our house. I would run to the bus stop to meet her. She'd be schlepping shopping bags filled with goodies from her local bakery and candy from Fannie May. I would squeal with delight when I opened my own little box of dark chocolate butter creams. Frankly, I still do.
Here are just a few goodies that you can order online and there's plenty more to choose from at FannieMay.com.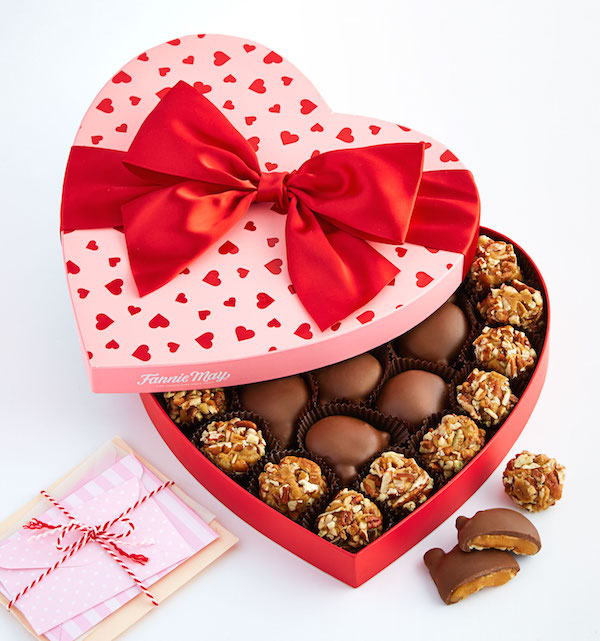 Fannie May Pixies and Dixies –
This delightful heart shaped box pairs two Fannie May's favorites. Pixies are crunchy pecans and caramel drenched in Fannie May's iconic milk chocolate.  Here they're paired with another perennial favorite, Dixies, which are Fannie May buttery caramels covered in fresh pecans.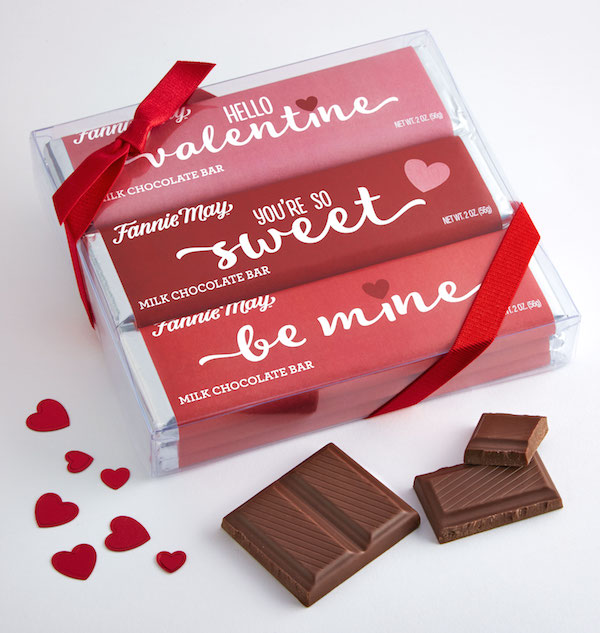 Chocolate Bar Gift Set
A gift of 9 premium Fannie May milk chocolate bars is a terrific way to show someone how special they are to you. Another way to spread the love around is to buy a set and hand a sweet chocolate bar to people you meet throughout the day, who could use a little sweetness or a kind and tasty reward.
No matter how you decide to celebrate Valentine's Day, be sure to take a moment and treat yourself. You can't make others happy unless you're happy too.
I hope you all have a Happy Valentine's Day! Let me know how you plan to bring a little joy into the world in the comments below.