Next time you're in Terminal 2 at the San Francisco airport be sure to check out the Iron Chef Cat Cora bar and restaurant. Known for her easy but elegant style, Cat Cora give you a civilized way to wait  for your flight. Enjoy the piano player who provides great ambiance and a soothing atmosphere while your meal is prepared. Then, when you're enjoying your meal, you can relax to the music and, depending on where you're seated, do a little people watching or plane spotting, as you prefer.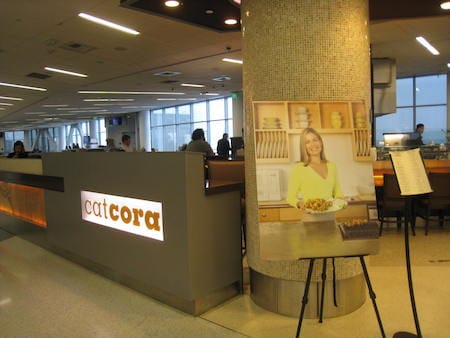 Cat Cora shows both her southern and Greek inspirations here.  The comfy range of items on the Cat Cora SFO menu include baked jalapeño poppers, spiced fresh tomato soup and grilled cheese, salt grilled avocado cobb salad, Greek fisherman stew (including ouzo butter crostino), lobster macaroni and cheese, chile-lime flank steak soft tacos, surf slider trio (fried oyster, grilled shrimp, crab cake) with house made chips or meat slider trio (wagyu beef, lamb burger, spicy pork) with sweet potato fries, among other fresh, organic and artisanal dishes.
The bar is full and comfortable, featuring specialty cocktails such as the Ouzotini, cucumber martini and farmer's market bloody Mary, draft & bottled beer, wine and other beverages. If you need something sweet to finish with, consider the pistachio baklava. This place has Cat Cora written all over it – and that's a good thing.
With lots of spots to plug-in, you won't need to spend time in the lounge because you'll be comfortable and functional enough just to relax, eat and do whatever you need to – all with a little lovely piano music in the background. SFO and Cat Cora make a great pair. We hope to see more such happy pairings.
THE QUICK BITE: Cat Cora bar and restaurant at San Francisco airport offers a great spot to relax, grab a tasty bite and enjoy some live piano music while still being able to plug in to work or power up before your flight.