If you plan on starting the new year right (or helping someone on your holiday list to do so) then spiralizing vegetables should be on your list. We love making healthier choices. Spiralizing veggies is a great way to cut down on pasta. It also helps create some innovative and delicious meals that help you get more veggies into your nutrition.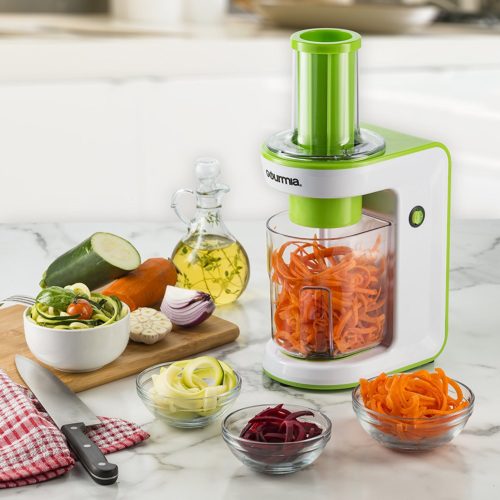 DISCLAIMER: We were provided with a sample of this product to test out for our review. We express our own opinions based on our experience. We received no financial compensation for this review.
Until now, though, we really hadn't found a great way to spiralize vegetables. We've tried the hand crank varieties with some success, but they are a lot of work. We've tried one that attaches to an existing small appliance in the kitchen, which was frankly, very disappointing and messy.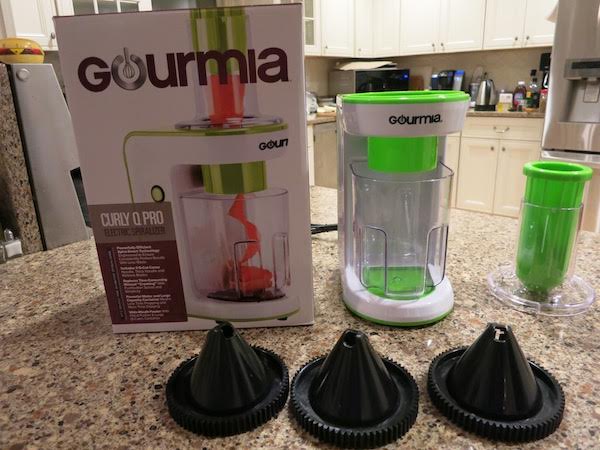 Gourmia's new Electric Super Spiralizer came to our rescue. This ingenius little kitchen wizard is the first one we found up to the task. There's no manual cranking. It's electric and works sort of like a food processor – but there's very little mess. It's so easy.
What you do is take a vegetable, say a carrot, zucchini, potato, whatever you like, flatten the ends and leave whole (or as large is you can to let it fit through the wide mouth. You then turn on the machine and use the pusher to push the vegetable through the blades. We tried sweet potatoes, zucchini, carrots and more – all worked great!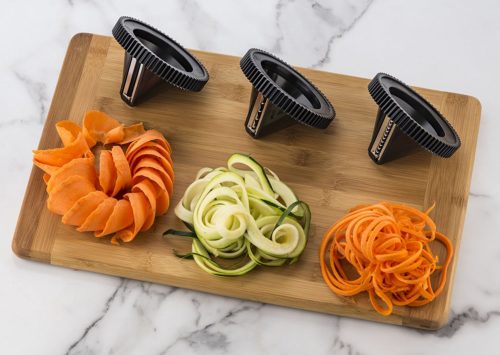 The Gourmia Electric Super Spiralizer comes with three blades so you can make thin or thick noodles or ribbons. You'll be able to create tasty, healthy dishes in no time. You can make those yummy curly fries, perfect for baking and skipping the deep fryer or using sweet potatoes for another delicious choice.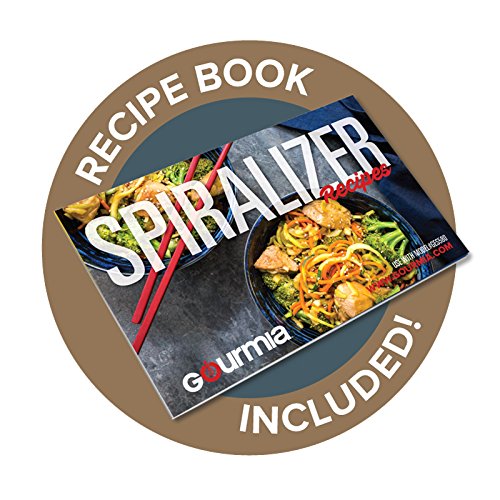 The spiralizer comes with a recipe book with ideas. that will give you tips on how to create some delicious meals. Whether you're saving calories, avoiding wheat or gluten, or simply looking for ways to add veggies to our diet, the Gourmia Electric Super Spiralizer is a great addition to your kitchen.
We're so happy to finally have found a spiralizer that actually works well and easily. The folks at Gourmia create excellent innovative kitchen appliances. We are truly impressed with the Gourmia Electric Super Spiralizer and know you will be too.
You can find the Gourmia Electric Super Spiralizer on Amazon as well as at retailers like Kohl's and BJ's. You can see more about all of Gourmia's innovative cooking tools on their website.