Endangered Species Chocolate Helping Animals
When we first heard about Endangered Species Chocolate and their passion for wildlife conservation and FairTrade chocolate farming we had to learn more about it. As it turns out their goals are simple. They promise. They promise to give back 10% of their net profits annually to support species and habitat conservation.  Every single purchase of a tasty Endangered Species Chocolate product helps protect wildlife and promote global change. Readers of Food Travelist know that we love animals and love companies who help animals.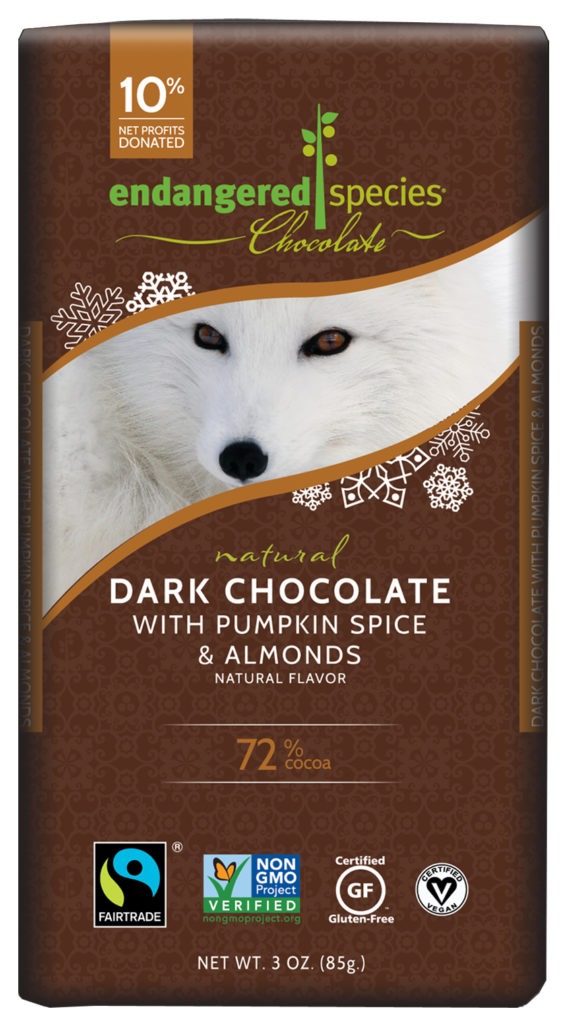 They support a variety of conservation organizations like the Rainforest Trust, Wildlife Conservation Network, Xerces Society, African Wildlife Foundation and many others. Each of their GiveBack Partners is guaranteed a minimum annual donation of $10,000.00. Each organization is free to spend the funds in the way they think best to help them grow. Over $1.2 million dollars has been raised over the past three years!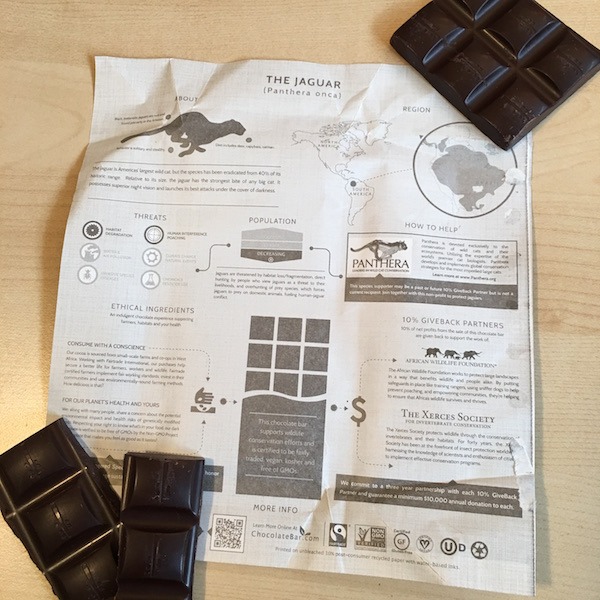 You'll notice right away on the packaging that there's a beautiful photo of an animal. One of the bars we had featured a jaguar. Inside the wrapper there was an in-depth story about jaguars, where they are in the world and what threatens them. There's also a description of Panthera, an organization that works exclusively on the conservation of wild cats and their ecosystems.  There are also several QR codes on the wrapper you can access to learn more. 
You might say, "That's great but how does Endangered Species Chocolate taste?" In our humble opinion, it's fantastic! They have many varieties of milk and dark chocolate. I'm a dark chocolate fan and their caramel and sea salt bar is simply delicious. The chocolate is rich, creamy and flavorful. We really like all the unique flavors from pumpkin spice with almonds to dark chocolate with blackberry sage. With many unique flavor combinations there's bound to be something for everyone. 
They have also unveiled a line of Cocoa Spreads – natural almond, natural hazelnut and natural chocolate. These velvety smooth spreads are a perfect snack when a chocolate craving comes calling.
Endangered Species Chocolate is also the first American-made chocolate using fully traceable Non-GMO Fairtrade cocoa from West Africa. Your purchase helps farmers to make a real living and invest in a bright future. This means ensuring fair pay and good working conditions, empowering farmers to grow their business, prohibiting forced labor and child labor and practicing environmentally sound farming.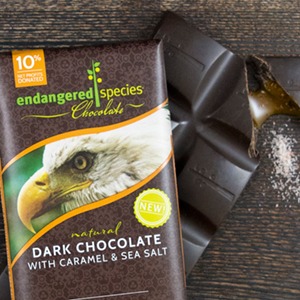 To be sure they make the best chocolate possible Endangered Species Chococolate products are also Certified Gluten-Free, Non-GMO Project Verifed, Kosher. Many dark chocolate selections are Certified Vegan by Vegan Action.
Doing Good & Making Delicious Chocolate
Helping animals? Helping farmers grow and prosper? Using environmentally sound farming practices? We really like what Endangered Species stands for and we really like their chocolate.
You can learn more about Endangered Species Chocolate and all their varieties of chocolate on their website chocolatebar.com. You can also find their chocolate on Amazon and at a number of retailers, including Whole Foods and the Vitamin Shoppe.
Endangered Species provided samples for Food Travelist to review. We were not financially compensated and, as always, all opinions are our own and based on our experience. 
THE QUICK BITE: Endangered Species Chocolate is helping animals and farmers and also tastes great. Eat wonderful chocolate and help save the planet.