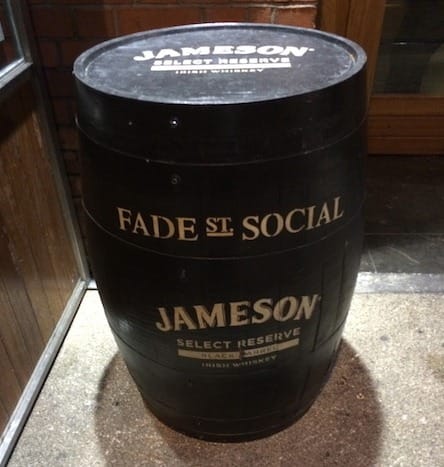 Whether you're looking for a great taste of "Irish tapas" ( you did know about Irish tapas didn't you? LOL) or just a fantastic meal of modern Irish culinary style, head over to Dublin's Fade St. Social.  Ireland Masterchef, restaurateur and all around great food guy Dylan McGrath has created a multifaceted dining establishment that is modern and inviting. It consists of a restaurant, gastro-bar, winter garden (when the weather is good) and bar that will provide just about anything you have a taste for whether libation or food.
We couldn't resist starting out with the "bag of bread" could you? It is literally a canvas bag full of bread. Imagine that? There was sourdough, nutty brown seed, brioche, rosemary focaccia and white flour crusty rolls accompanied by smoked and unsalted butter. What a start!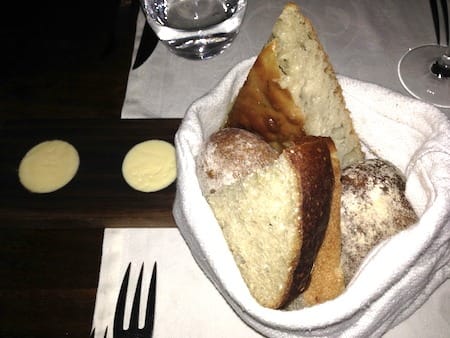 We then decided to sample a variety of tastes from the intriguing menu that in part characterizes dishes by their preparation, such as woodfired, braised or charred & smoked. There's a wood-burning oven you can see from anywhere in the restaurant, which really adds to the atmosphere.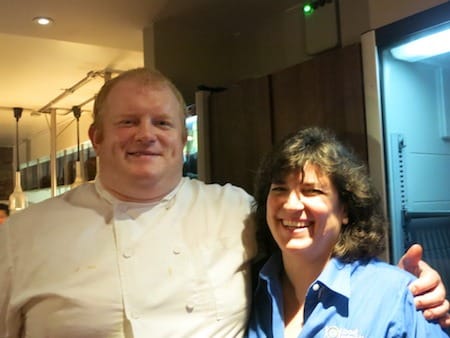 We filled our bellies happily with many bites prepared with great panache by sous chef Declan Horgan, including a surprise treat: a tasty scallop on a bed of creamy potatoes with a lovely cream sauce that dazzled us with its taste and refinement.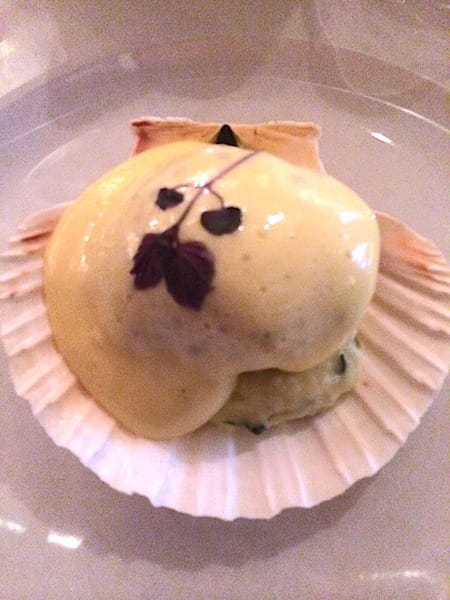 We followed that with the pork belly starter, roasted pork belly with lyonnaise, balsamic, crushed turnip, peppered bacon and crispy pork rillettes. Yummy! Pork belly, bacon and pork rillettes – what a trinity!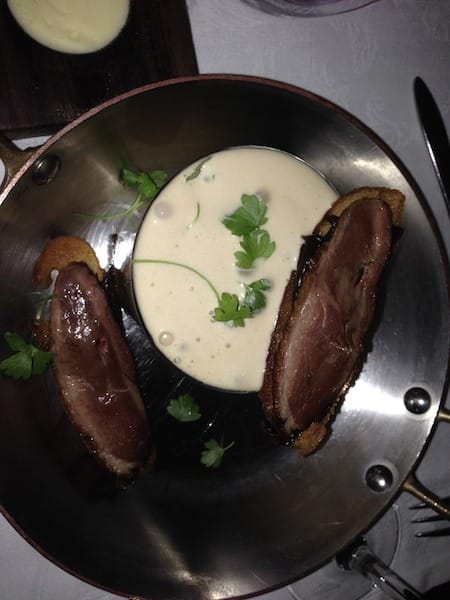 Of course, since we were in Ireland, we were obliged to taste some modern twists on famous traditional Irish dishes, such as Colcannon. Ours was a bright green combination of creamy mashed potatoes with creamed kale and spring onion foam.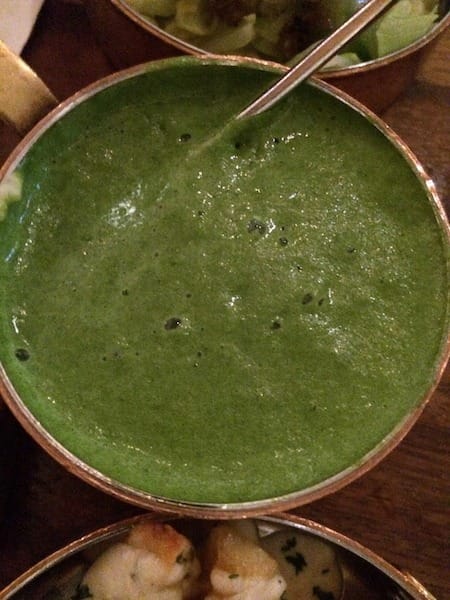 We also couldn't resist the seasonal cabbage, adorned accordingly for our season with a bit of crispy bacon lardons. More bacon – yay!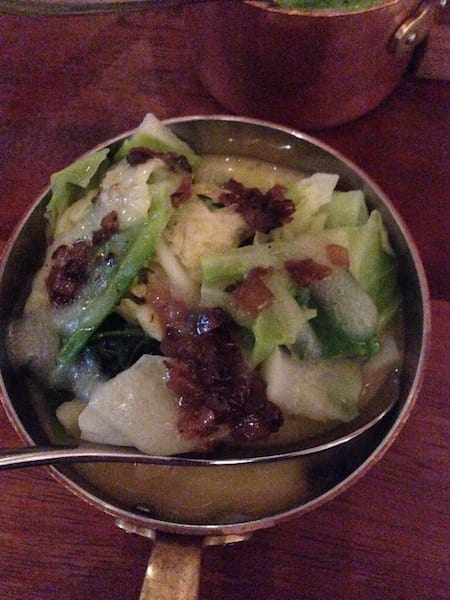 We sampled one of the wood-fired flatbreads, ours came with raw slices of beef, aged parmesan, rocket and truffle béchamel. Wow, wow, wow -was that good!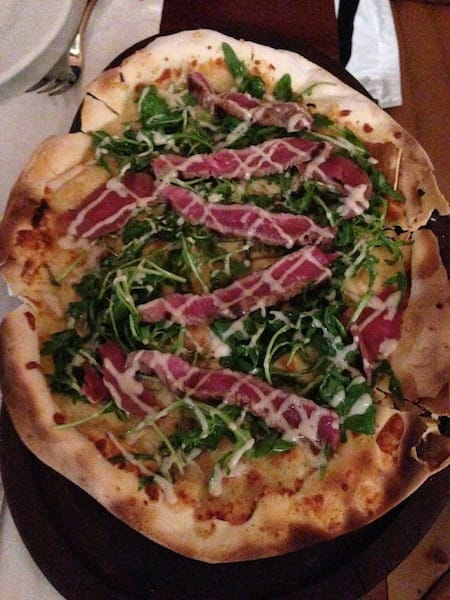 And, because we didn't yet have our fill of Irish potatoes, our "chunky chips" were hand cut potato wedges drizzled with garlicky cream, parsley and prosciutto.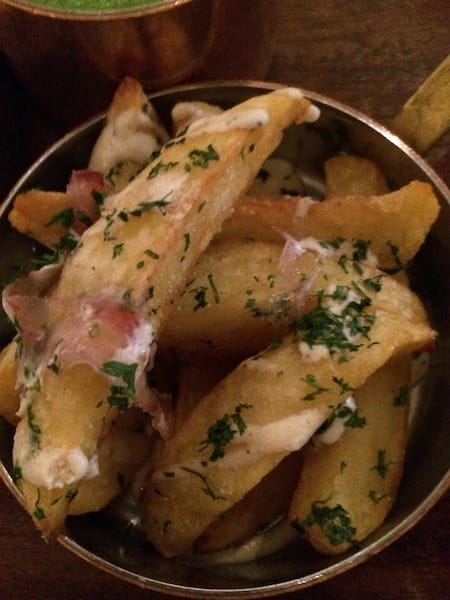 The atmosphere is chatty and energetic, and the open kitchen is fun to watch. The menu varies to suit the seasons and in the warmer months, there's an outside Winter Garden as well.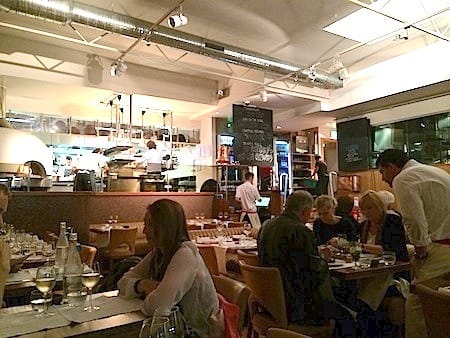 If you want to get more insights about Dublin or Fade St. Social, contact Food Travelist Diana @Diana.
THE QUICK BITE: For a great meal of modern Irish cuisine in a fun and lively atmosphere, visit  Fade St. Social in Dublin.