Fall Brazil Flavors Fogo de Chao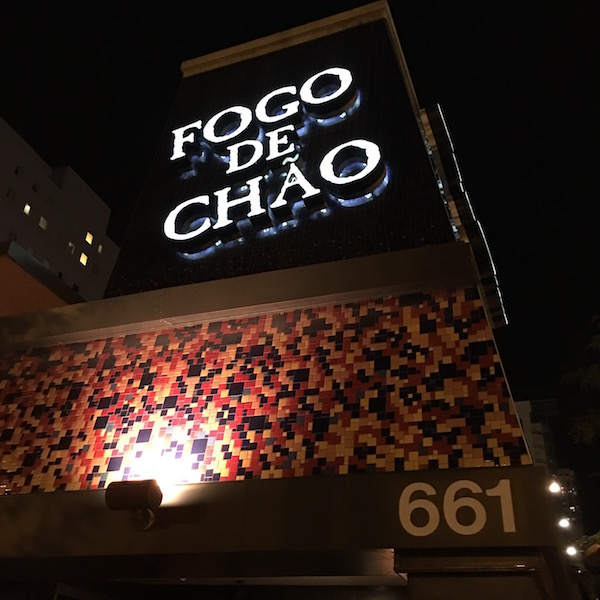 If you think of Brazil and its cuisine only for summer enjoyment, think again! Fall has come to the Brazilian churrasco experience at Fogo de Chao. If you've never treated yourself to churrasco dining with limitless grilled meats and market fresh options, you really need to do it now. And, with the new fall menu available at Fogo de Chao, you're going to be surprised by just how many new Brazilian taste treats you'll discover – with a distinctively fall flair.
Disclaimer: We were invited as guests of Fogo de Chao to taste their fall menu offerings. We were not financially compensated and, as always, the opinions expressed are our own based on our experience.
Churrascaria Starters
For those who've never been to a churrascaria, the initial proposition will be amazing. Your meal comes with unlimited dining on grilled meats that are brought to your table for your inspection and selection on large skewers. There's a round disk with a red side and a green side. When you want meat, you leave the green side showing. If you need a break, you turn it to red. You can start and stop as much as you want. There's also a huge market table that includes salads, vegetables, fruits, soups, charcuterie, and more. In addition, those tasty little cheesy bread rolls (pão de queijo) and some side dishes are brought to your table too. You can also select from several sauces such as horseradish, chimichurri and homemade hot sauce to complement your meats.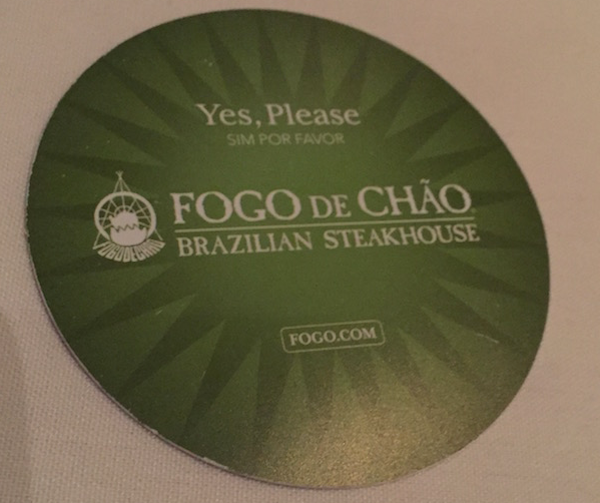 While Brazil and its beautiful beaches naturally come to mind for tasty summer travels, we discovered that the flavors of fall are perfectly matched to Brazilian cuisine as well. Here are just a few highlights to whet your appetite.
Fall Flavors
First, there's the Roasted Butternut Squash Salad. You may not know it but butternut squash is a winter staple in Brazil. Here it's roasted with cinnamon and honey and then tossed with tangy cranberries and mild feta cheese for a uniquely autumnal salad that you'll find on the market table.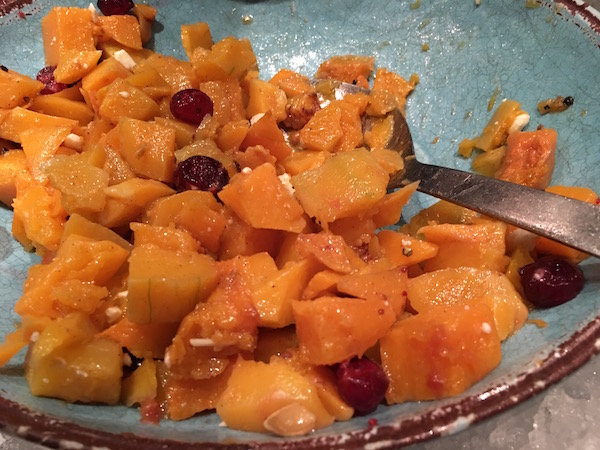 Then, the Pear & Endive Salad matches fresh seasonal pears with purple endive bleu cheese and candied bacon. This sweet and savory blend is dressed with a delicious pear vinaigrette, making it a memorable seasonal salad.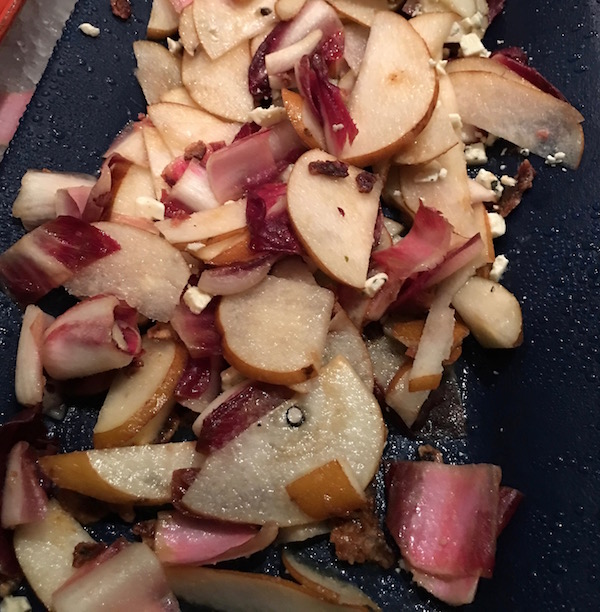 One of our favorites was the Butternut & Sweet Potato Soup, the combines creamy roasted butternut squash with sweet potatoes and winter spices. This rich but not too heavy soup is a real tummy warmer.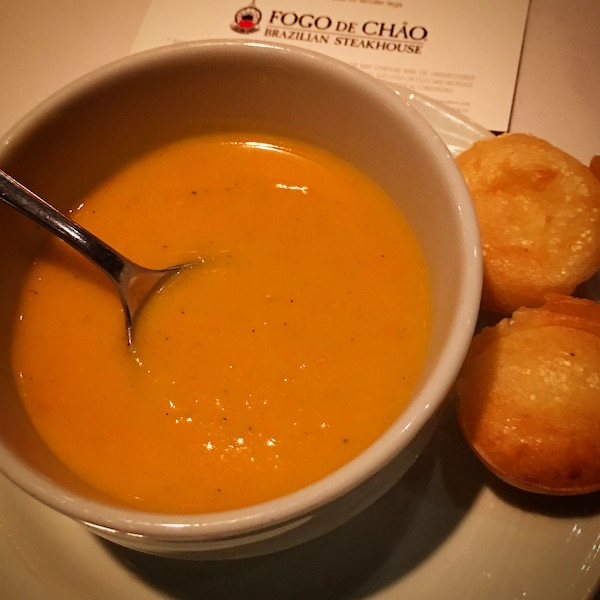 The Market Table
Of course there are many other delicious choices on the market table like hearts of palm (they are ubiquitous Brazilian delicacy), Brazilian kale and arugula salad, chicken salad, apple salad and fresh veggies. One of the unique and popular offerings is the black pepper candied bacon, oven roasted with brown sugar, black pepper and red pepper flakes, which makes a perfect accompaniment to the imported cheeses that are also available.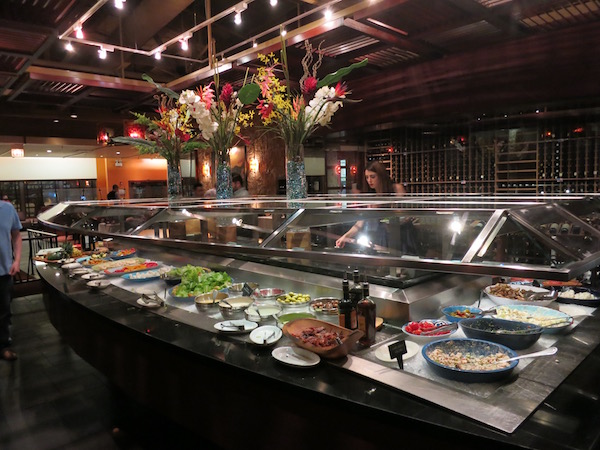 Delicious Craft Cocktails
Fogo de Chao doesn't skimp out when it comes to drinks either. There are a lot of craft cocktails available, using the flavors of Brazil. They have several twists on the Caipirhina including a passionate caipirinha and a bellini caipirini, fogo premium caipirinha and a Ketel caipiroska. For the fall they have a couple of unique cocktails too.
The Blackberry Azedo includes muddled fresh blackberries and mint with Hendrick's Gin, creme de cassis and lime sour. And the Whisky Jam Sour offers Monkey Shoulder Scotch Whisky shaken over ice with lemon sour, orange bitters and raspberry jam. These are great tastes to start you on the fall flavor trail.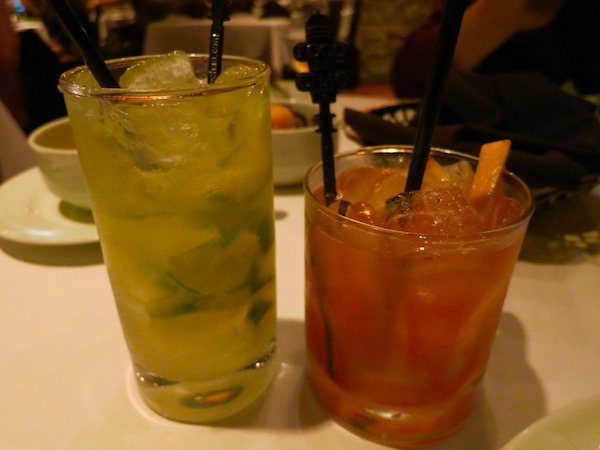 Meat, Meat, Meat!
The star of the show, of course is the meat. And Fogo de Chao has plenty of it. Their signature steak is the Picanha. It's the prime part of the top sirloin, seasoned with rock salt and sliced thin.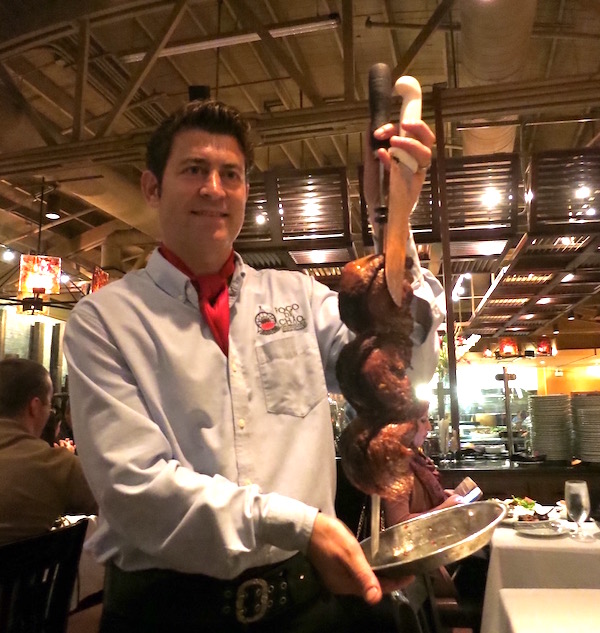 Other beef includes filet mignon, beef ancho, which is rib eye, Alcatra or top sirloin, Fraldinha or bottom sirloin and Costela, which are beef ribs. All are well-seasoned to bring out the best flavors in the beef as it is grilled.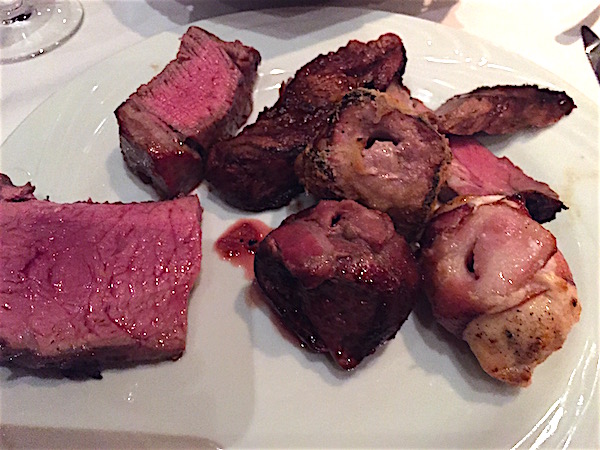 But beef is just the beginning of the meat selection. There are also lamb, chicken, and pork options, including pork ribs, pork loin and pork sausage. If you're not one for the red meat, not to worry. There's also seafood available, including smoked salmon mango Chilean sea bass, jumbo shrimp cocktail and grilled spiced shrimp skewers.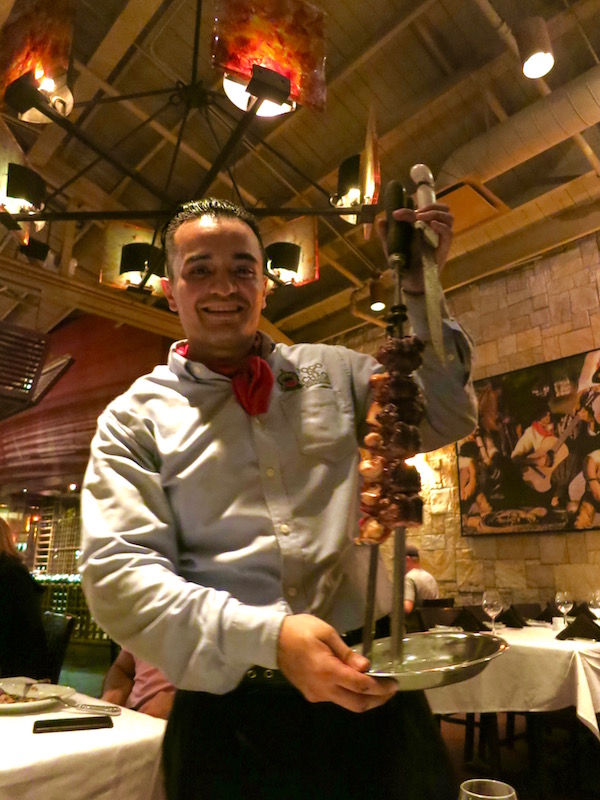 Something for Everyone
Truly, there is something for everyone. You'll also enjoy the sides that come with your meal too, such as garlic mashed potatoes, caramelized bananas and polenta. They even have Fogo Feijoada, a traditional black been stew with sausage served over white rice. And then there's farofa, a Brazilian staple of yucca flour that is sautéed with bacon, sausage and some seasonings. You can use it as a complement to everything on your plate.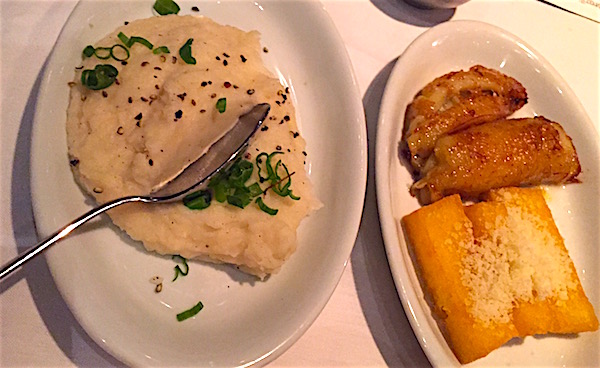 Tasty side dishes
Save Room for Dessert
We would be derelict in our duties if we didn't at least mention dessert. While managing your appetite is a challenge with so much outstanding food and that little red/green disk taunting you to keep it green, it is possible to save some room for dessert. Treat yourself to any of a variety of choices including papaya cream, South American flan, molten chocolate cake, crème brûlée or our personal favorite, caramelized pineapple. Sound good? It is – warm pineapple with a caramelized sugar coating served a la mode and drizzled with caramel. Yes, we enjoyed it with wild abandon.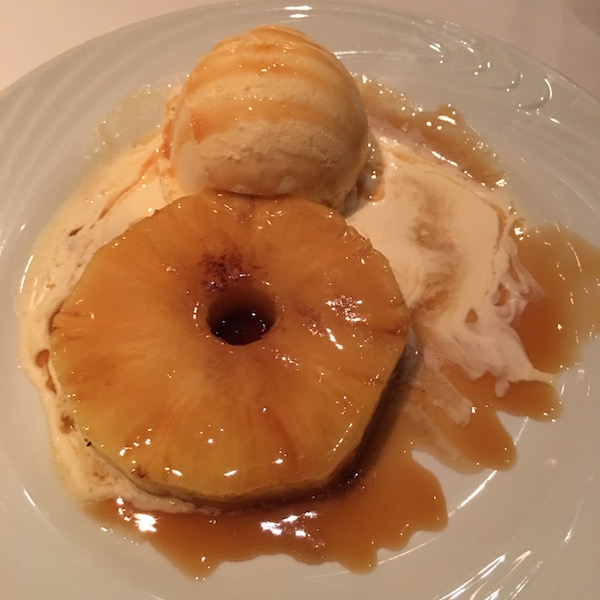 A Fogo de Chao Near You
In addition to the amazing food, Fogo de Chao offers a truly cultural experience. Because we have been to Brazil several times, we've enjoyed churrasco style dining there too and we find that the experience at Fogo de Chao is as authentic as it is tasty. So, if you're not going to get a chance to head to South America for the fall, Fogo de Chao will be a great option for you. While we visited Fogo de Chao in Chicago, they have lots of locations around the U.S. & Puerto Rico as well as Mexico and Brazil. Check out a map of locations on their website.
A Culture and Culinary Guide
One of the things we love best about Fogo de Chao is their enthusiasm for sharing Brazilian cuisine and culture, and the Fogo Guide To Brazilian Cuisine on their website offers history and cultural facts, etiquette and language lessons, and geography, culinary insights, grilling tips and recipes too!
But if you especially love some of the fall flavors, we've included a couple of the recipes here for you. Give them a try and let us know what you think!
Fall Dish Recipe
Roasted Butternut Squash Salad
Ingredients:
4 pounds of Butternut squash, peeled and cut into 1" cubes
2 tablespoons olive oil
2 tablespoons honey
1 teaspoon kosher salt
½ teaspoon ground black pepper
½ teaspoon granulated garlic
½ teaspoon ground cinnamon
¼ cup dried cranberries or craisins
¼ cup crumbled feta cheese
Sprinkle of fresh chopped parsley
Preparation:
Preheat oven to 400°F.
Mix all ingredients from squash through cinnamon in a large bowl.
Apply non-stick spray to a baking pan and lay squash pieces flat on tray.
Bake squash for 10 minutes. Then, flip squash for even browning and bake for 10-15 more minutes.
Remove from oven and cool in refrigerator for 1 hour.
Place chilled squash in a serving bowl and sprinkle cranberries and crumbled feta cheese over dish.
Garrnish with chopped parsley and serve.
Fall Cocktail Recipe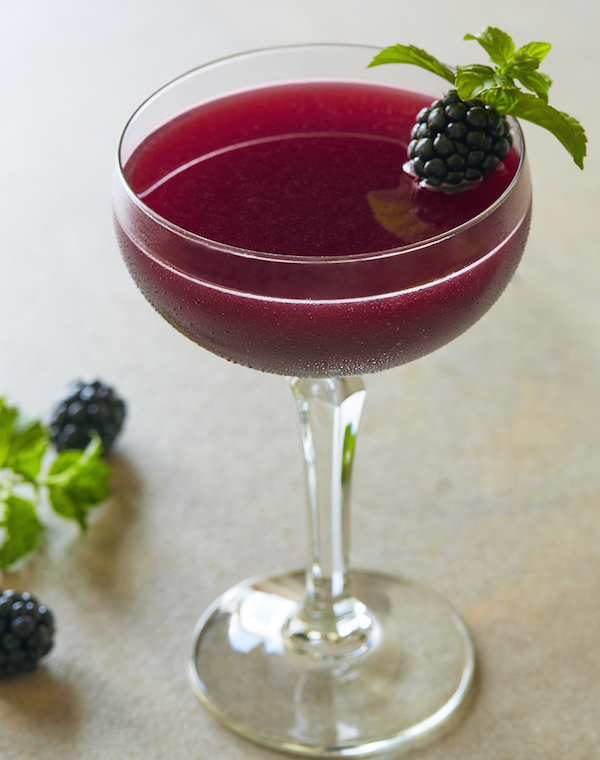 Ice
5 fresh blackberries
3 fresh mint leaves
1½ oz. Hendrick's Gin
½ oz. Crème de Cassis
3/4 oz. fresh lime juice
3/4 oz. fresh lemon juice
1 oz. simple syrup
1 fresh blackberry (garnish)
1 fresh mint sprig (garnish)
Directions:
1. Fill martini or coupe glass with ice to chill.
2. Muddle mint leaves and fresh blackberries in cocktail shaker.
3. Add gin, crème de cassis, lime juice, lemon juice, simple syrup, and ice from
the glass to cocktail shaker.
4. Cover with lid and shake vigorously for 10 seconds.
5. Strain drink into glass.
6. Top with skewered blackberry and mint sprig garnish.
Barware: Martini or coupe glass, cocktail shaker, muddler, jigger, strainer
So now that you can see how many wonderful fall flavors there are in Brazilian food and drink, we think you should head over to Fogo de Chao and get some of those great tastes to celebrate the season. We enjoyed the embarrassment of riches that characterizes the authentic churrasco experience. The only hint that we will give you is that you should come with a big appetite.  Even the heartiest eaters will enjoy a delicious, satisfying meal at Fogo de Chao.
THE QUICK BITE: 
The fantastic fall menu at
Fogo de Chao
brings authentic Brazilian seasonal flavors to churrasco style dining. You don't need to take a trip to South America to enjoy this hearty and delicious cultural experience.