Featured Food Travelist: Dion Lim
Our featured Food Travelist, Dion Lim, is the 5/6/11pm anchor at WTSP, the CBS station in Tampa Bay, Florida.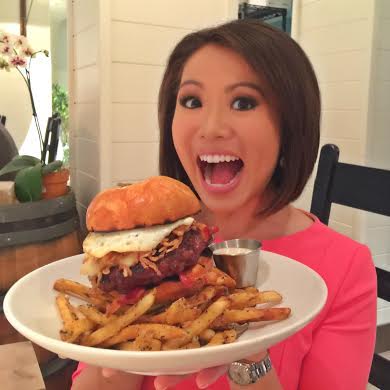 Her experience includes anchoring and reporting at the ABC affiliate in Kansas City, the NBC affiliate in Charlotte, North Carolina, and the CBS affiliate in Tampa Bay, along with stations in western Massachusetts and Hartford, Connecticut. Dion has done it all, from covering severe weather to breaking news to walking the red carpet with celebrities in Los Angeles to saving viewers thousands of dollars with her consumer reporting. 
In addition to anchoring and reporting for numerous Emmy award-winning newscasts, her "Q" (popularity) rating is often higher than many market veterans, which resulted in her being named Best Morning Anchor by her audience in the Midwest, and voted Best TV Personality by the viewers during her time anchoring and reporting in the Carolinas.
Dion has set herself apart from the rest of the anchors on TV by not just reading words on a teleprompter, but instead, she made it her mission to be accessible to her viewers and pass on the life lessons she learned being in the TV news business. 
Dion currently has a sushi roll named after her, the OMG Dion! at the Cowfish group of restaurants, a sushi/burgers bar concept with locations in Charlotte, North Carolina, Universal City Walk in Orlando, and soon to be Atlanta. She also has a taco named after her, called the Big Deal Dion at Taco Bus locations all across Tampa Bay. 
She's also the creator of the website Life During the Commercial Break, providing useful bits of advice and confidence builders to her audience, sharing her food adventures and fashion faux-pas.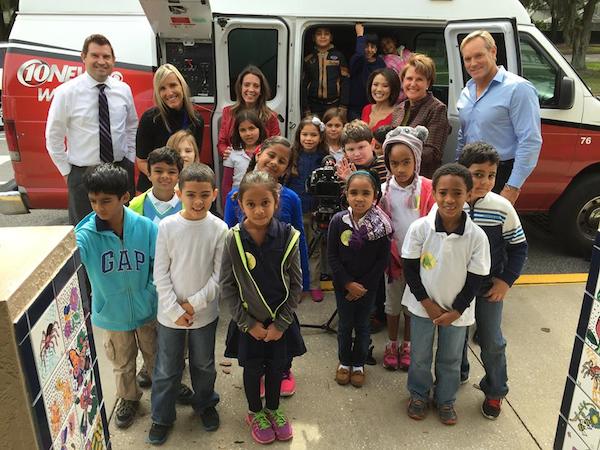 When she's not doing motivational speaking, or volunteering with groups like the American Heart Association and Working Women Tampa Bay, she and her husband, a professional poker player, are the proud parents of a mini dachshund named Frankie and a yorkie named Georgie, who also share their love of good food! 
FT: Hi Dion! Thanks so for taking the time to talk with us today. Most of your fans might know you as a television anchor and reporter but we also know you as a lover of food and travel from all your tweets on #foodtravelchat. Tell us a little about how you became such a dedicated Food Travelist?  
DL: Hi Food Travelist, thanks for having me!  TV news personalities are curious by nature and all day long we discover, uncover and cultivate stories, so I think that mentality, combines with my love of food, makes for one delicious adventure!  
Plus, having moving from city to city, one of the best ways to get involved in the community, is by discovering local food.  I grew up in New England, where the summer staples included fried whole-belly clams and lobster rolls.  When I moved to Kansas City, it was culture shock.  But I realized nothing got my integrated into my surroundings than sharing what the locals liked to eat.  I spent many days bonding with people over lip-smacking, sauce coated burnt ends, served to me on brown paper.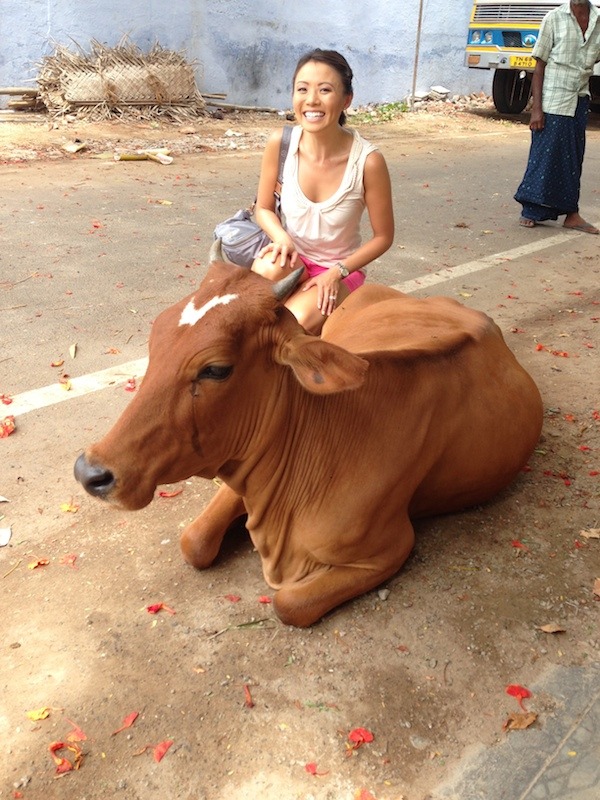 FT: What is one of your favorite food travel memories? 
 DL: It's a tie between staying at a traditional Japanese ryokan in Kyoto, where this teeny tiny grandma helped serve us this phenomenal multi-course, homemade kaiseki meal, and buying two kilos of piping hot churros, fresh from the churro man in Barcelona, eating them right there on the street, and not giving a damn how much fat and sugar I had just consumed. I'll include southern India in the mix too…not necessarily for the food itself, but for the culture shock of learning to eat curries served on a banana leaf with no utensils! Oh, wait, and drinking coffee made from coffee beans that passed through an elephant's digestive system…aka, POOP coffee in Thailand!
FT: How do you find the best places to eat when you travel? 
 DL: I do use Yelp and Foursquare for food recommendations, and more recently Google Maps, which shows you food recommendations within a certain radius of where you are, but am always cautious and follow up with reading reviews from trusted food professionals too.  Sometimes user generated reviews can be misleading, because everyone had their own agenda, their own preferences and tastes. 
I'd also include asking locals, like cabbies where they like to eat, but always keep in mind that if you're visiting a destination for food, that's very different from living somewhere and eating on a daily basis.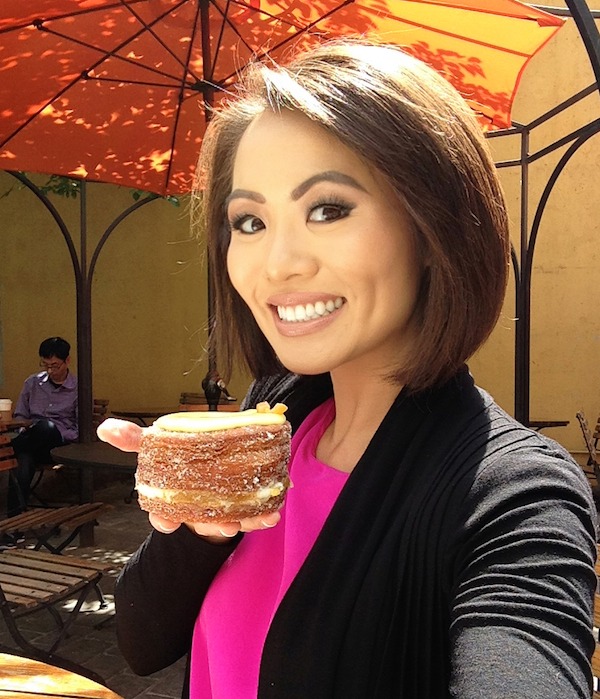 FT: What is your favorite comfort food? 
DL: Do baked goods count?  I'm an equal opportunity carb-hound. From crusty sourdough w/cultured butter and gray salt, to soft and rich Asian-style white bread loaves made with cream and whole milk, or Middle Eastern flatbreads, straight from the oven, pippinng hot, releasing steam when you tear it open.  Oh yes, there's nothing some good bread can't fix. 
FT: When you're in the kitchen what do you like to cook? 
DL: Total  Confession.  I use Blue Apron for a lot of my meals, because I don't have a lot of extra time to buy groceries every few days, and without it, I get stuck in ruts of making beef stew, grilled cheese and mushroom pot pies. Nothing wrong with that, but when you're cooking for only two people, buying a whole head of cabbage isn't very convenient or cost-effective, so meal prep services help a lot, and expand my menu options. Caramelized pork congee with crispy shallots and black garlic, anybody?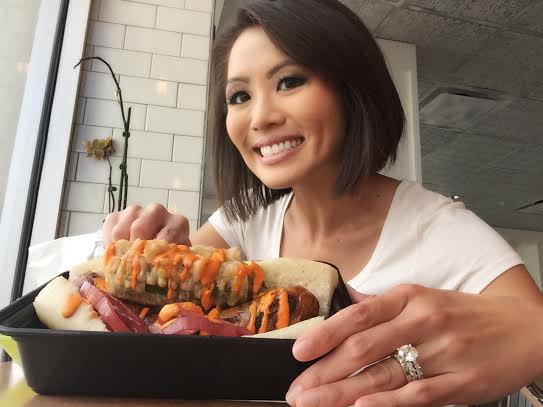 FT: What are some destinations you've traveled to and discovered great food?
DL: So many options to choose from! Austin, Texas is one of my more recent favorites, because the bar is set pretty high there, so restaurateurs and cooks need to produce a good product. Even the ingredients are chosen carefully, all natural, local, GMO-free, free range, all those buzzy words.  It's nice to know the quality of your breakfast tacos is as amazing as the taste…and still cheap. Oh, and here's a tip, all the buzz around Franklin BBQ are true, it's the best fatty brisket I've ever had, and that's saying a lot after living a few years in Kansas City! 
Always New York City. Sometimes my husband and I go, and eat all day.  No seeing tourist attractions, or Broadway shows.  In one day in NYC recently, we hit up 12 restaurants in one day, ordering just one or two dishes to maximize our eating time! Only in New York can you have a Cronut in the morning, cross the street to cold-pressed juice (it cancels out the fat and sugar, right!?), take the subway to a food festival featuring 100+ local vendors, selling Scotch eggs, lumpia and goat cheese roti, then top it off with soba noodles and black sesame creme brûlée, and then eat at one of the city's most exclusive sushi restaurants, all before 7pm.  Then the night shift begins!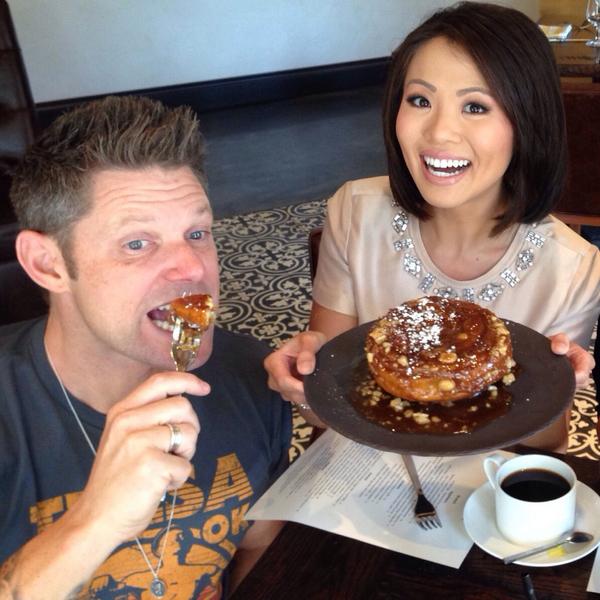 FT: Where would you like to travel to that you haven't visited yet? 
DL: I'm heading to Iceland this summer, which I'm excited to check out not only for the hot springs (yes, like the Blue Lagoon!) and try pylsur, the famous Icelandic hot dog, but to learn more about the Icelandic people and their cuisine since I don't know much about it.  Dare me to try the fermented shark and puffin?
I've been stalking The Kangaroo Sanctuary's Instagram account for a good 6 months and am pretty obsessed with the idea of visiting Alice Springs, Australia just to hang out with the joeys and full grown adult animals. Not to mention, I'm compiling a list of places I want to eat all over Australia! 
 Here in the US, I'm trying to find an excuse to visit Portland, Oregon for their vibrant food scene and beautiful outdoors.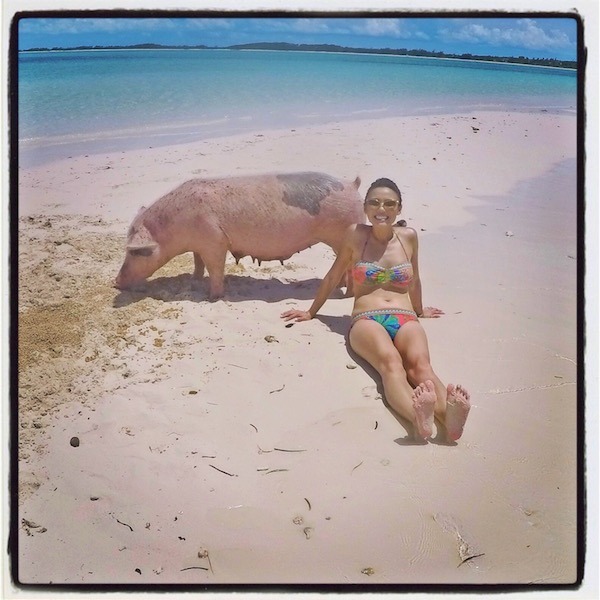 FT: What's the most exciting experience you had while traveling? 
DL: Believe it or not, one of the top 3, has got to be just this past weekend, to the pig beach in Exuma, Bahamas. It's an island, where about 25 pigs roam free, lay on the sand, swimming the Windex-blue waters and play with visitors.  There's something just hilarious about an island full of piggies, living the good life, being fed hot dogs by travelers from all over the world!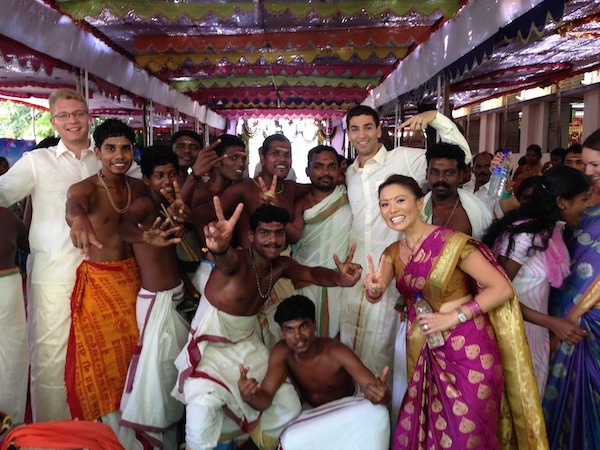 FT: What is the one thing you can't travel without?
DL: Just one? Oh boy…it's got to be my iPhone, and always an extra charging/power brick.  You'll never catch me with a dead phone! My runner up has got to be noise-canceling headphones.  They can be pricey, but being able to relax on a flight, tune out noise and chatter only helps get you ready for the food adventures that await at your destination!
THE QUICK BITE: We chat with our Featured Food Travelist Dion Lim and discover some of her food and travel favorites. You'll be surprised that this news anchor has quite an appetite for food and travel.