Feels Like Home At TownePlace Suites
This post is sponsored by TownePlace Suites.
Most of us travel for a long weekend, or a week-long vacation when traveling. But sometimes you need to stay a bit longer. Maybe you're on an assignment for work. Maybe your home is being renovated and you need a temporary place to stay. Perhaps something happens and suddenly you're looking for somewhere to stay for several weeks or longer.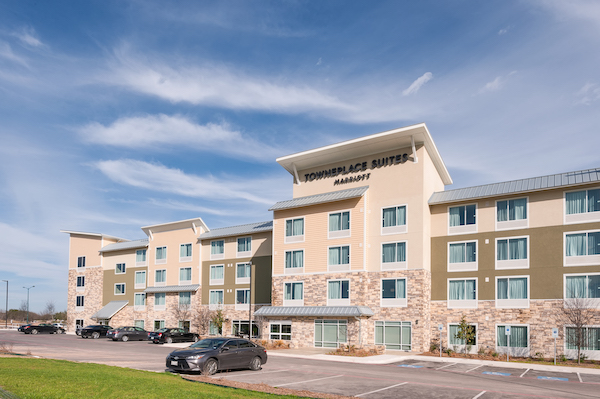 TownePlace Suites by Marriott may be the answer for you. I recently stayed at the TownePlace Suites North Austin/Tech Ridge, Texas. I stayed in a studio suite and was amazed not only by the spaciousness of the room but the practical design for those who intend to have a longer stay.
Workable Comfortable Space
If you need to stay a bit longer in a hotel it's key to have comfortable and workable surroundings. TownePlace Suites does an excellent job ensuring your accommodations will be just that.
From the moment I checked in to the moment I left the atmosphere felt like more of a community than a hotel. The front desk staff was friendly and pointed out all the amenities clearly and quickly. She didn't know that I was a travel writer until later so it was truly an honest and real interaction.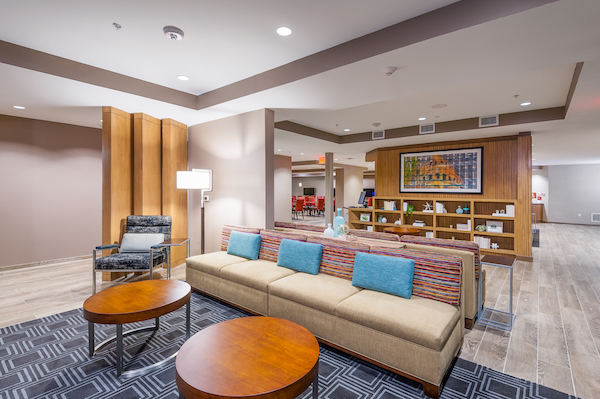 The lobby space is open and sectioned off into work and relaxing areas. Multiple large screen TVs were set on news stations and sports networks. Several people were working alone or in small groups. It was busy but not loud – a plus if you're trying to get something done.
This is an ideal space if guests want to get out of their room, still work and possibly meet a few new friends along the way.
Design & Comfort Really Matters for Extended Stays
As I mentioned the studio room was more than ample for one or two people. One of the features at the TownePlace Suites is that much of the furniture is movable. That way you can arrange the space to best fit your needs.
In my room, there was a large table that I used as a work space. It was ideal for me. I rolled it out from its little cubby and loaded it up with my laptop, paperwork and got to work. There were many convenient outlets in the room so keeping charged and going was super easy. I faced the large television and tuned it on to reruns of '80s shows. They have a large choice of stations to choose from, including HBO.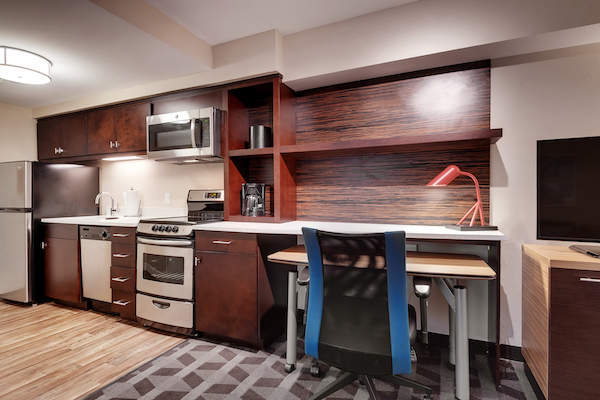 You can also stream your Netflix or Hulu account directly on the television, which is great if you want to continue watching The Crown or Girl Boss on Netflix. I highly recommend both. The TV pivots on the wall to face the working area or bed conveniently perfect.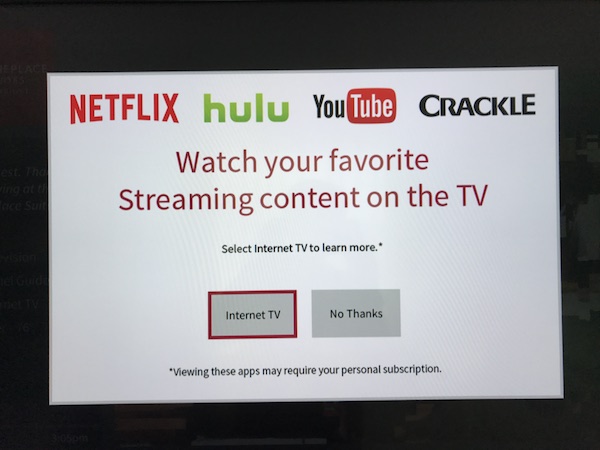 The bathroom has a large walk-in shower, which I always appreciate. No stepping into a tub or chance to slip and fall. The shower water was easy to adjust and turn on too. This seems like a no-brainer but I'm always surprised how many hotel showers are impossible to figure out.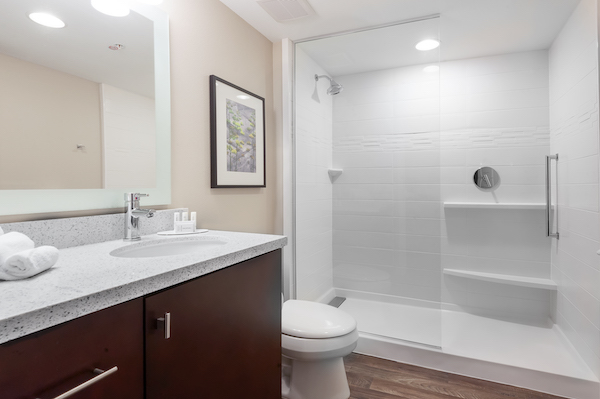 You may not normally pay much attention to a hotel closet. However, if you're staying a bit longer you will. All the closets at TownePlace Suites are outfitted with elfa® closet systems from the Container Store®. You can customize your closet easily and quickly just the way you like.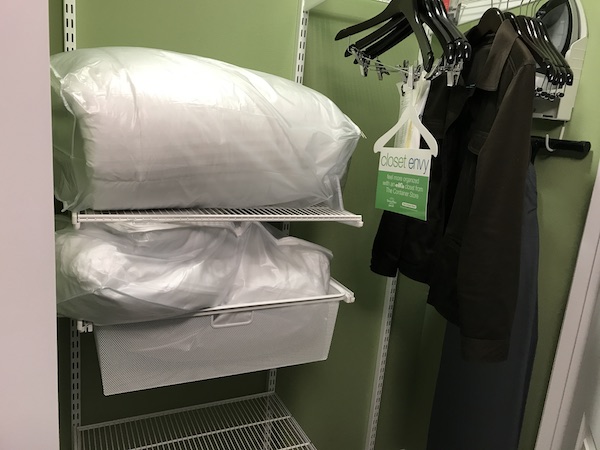 As a woman who frequently travels alone safety is always high on my must-have list. I was impressed with the safety lock on the door. The stiff metal stopper is not going to let anyone in the door. You're left to sleep soundly and worry-free.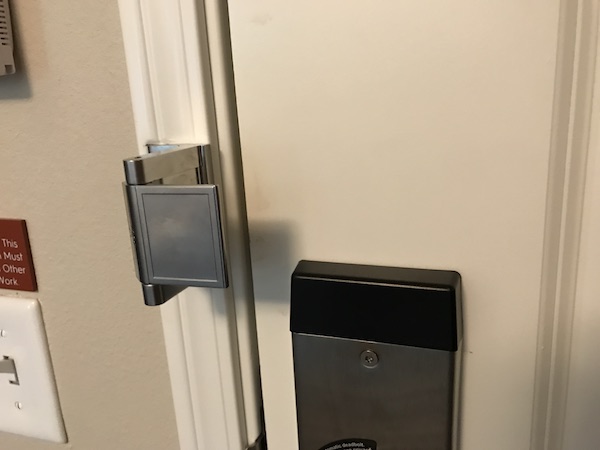 Where Are We Eating?
A common theme on our travels to be sure is where there is to eat. The answer at TownePlace Suites is wherever you like! They offer a free included breakfast in their communal eating area in the lobby. It's spacious enough to grab your breakfast and either work on the large tables or catch up on the latest news on the television screens.
Breakfast includes a mix of hot and cold foods. Eggs, sausage patties, your choice of English muffins, toast, muffins, and freshly made waffles (here, in the shape of Texas). There are also juices, cereals (hot and cold) and fresh fruit available.
All the rooms are suites that feature a full kitchen. It includes a standard size refrigerator, a stove top, oven, microwave, dishwasher, coffee maker and all the pots, pans, plates, glasses, silverware and kitchen gadgets you might need. For longer stays making your lunches and some dinners would really help out on your overall budget.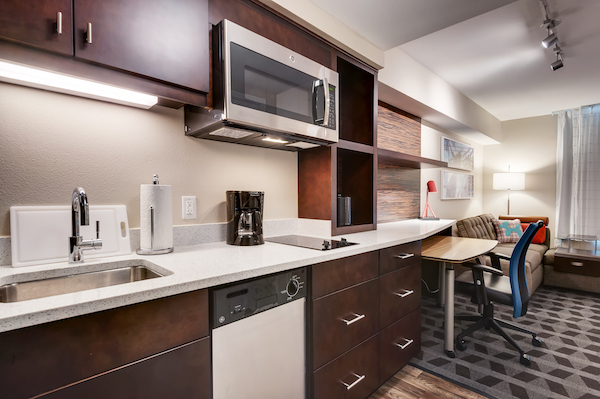 There's also a large Weber Grill outside for everyone to use. They have a BYOM (bring your own meat) policy, which is really fun if you want to fire up the grill throw on some burgers, steaks, chicken or veggies. I'm guessing you might just meet a few new friends once they get a whiff!
To entice your new friends, even more, try this grilled sangria recipe courtesy of our friends at Weber Grills and their Grill Master Kevin Kolman.
Grilled Sangria
Serves 2-4
Ingredients
1 bottle 750 ml Rose wine, chilled
2 tablespoons guava nectar or agave syrup
2 peaches, halved, seeds removed
8 oz. can pineapple rings (optional)
8 oz strawberries (optional)
2 limes, sliced (optional)
1 pitcher
Instructions:
1. Preheat the grill for 10-15 minutes on high, brush the grates clean. Then set up your grill for direct medium heat at 425-450.
2. Lightly coat fruit with the agave nectar (optional).
3. Grill fruit directly on the grates
    A. Pineapple 2-3 minutes per side
    B. Strawberries 2 minutes per side
    C. Limes 2 minutes per side
    D. Peaches 3-4 minutes per side
4. Remove fruit and let cool. Dice pineapple, strawberries, and peaches. Combine all fruit in a pitcher, add the Rose wine and add guava nectar or agave syrup.
5. Enjoy!
In the evening, folks were sitting in the common areas sipping on wine and beer. TownePlace Suites has the In A Pinch Market that carries handy bites and speedy foods if you really need a snack or quick fix meal. They have beer and wine for sale too. It's open 24 hours a day.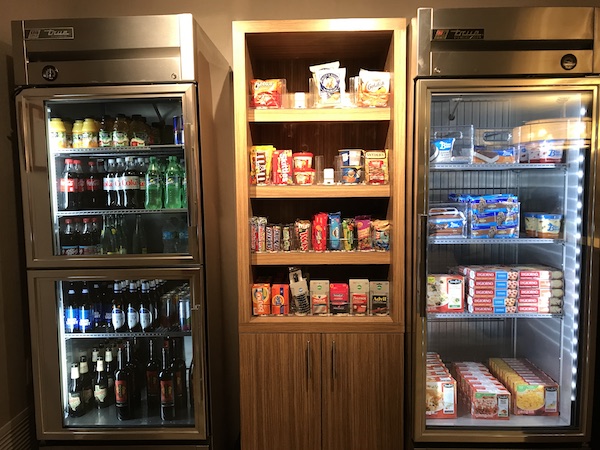 If you're looking to dine out they have a binder of local restaurants and joints you can visit or order delivery. Needless to say, you won't go hungry.
Other Amenities
To make the whole experience more homey the TownePlace Suites also offers a full fitness center, outdoor pool, on-site laundry facilities and a business center. If you're traveling with your pet you can bring them along too. Check with the location for pet fees that apply.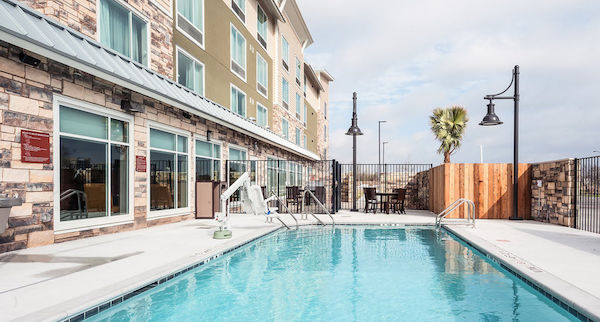 Sweet Endings!
One of my favorite things during my stay at TownePlace Suites was the fire pit for lounging and unwinding at the end of the day. They provided the makings for s'mores and left the rest to us. Folks came and went making their treat and chatting with other guests. Some staying for hours, others just stopping by for a delicious late-night snack.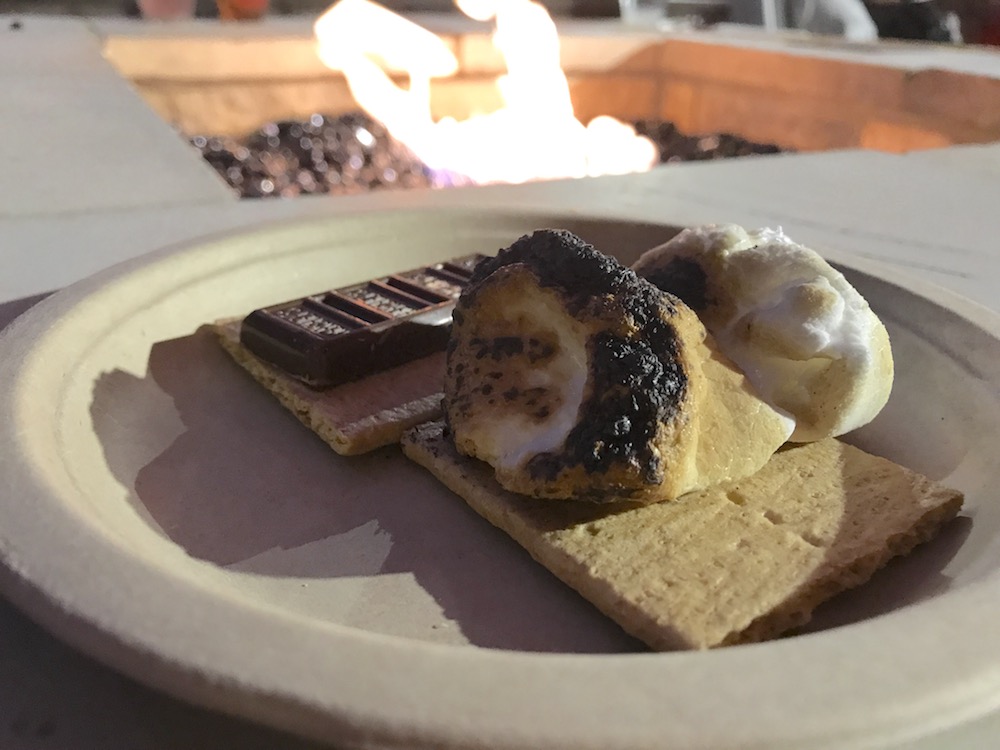 Happy 300th Location!
I was especially pleased to stay at the TownePlace Suites in Austin North/Tech Ridge. I was there for the grand opening of their 300th location! With locations around the US and Canada, you can be sure that there's one just about everywhere you want to go. Whether you're looking for a long term stay close to home or while visiting friends or relatives you will likely find one that works for you.
To find out more information about TownePlace Suites and book one for your next extended stay check their website at towneplacesuites.marriott.com.
Pin it!