This week on #FoodTravelChat we're talking Champagne Wishes and Caviar Dreams at 8 pm ET on Wednesday night. So get ready to share your dreamy tips with your #FoodTravelChat friends.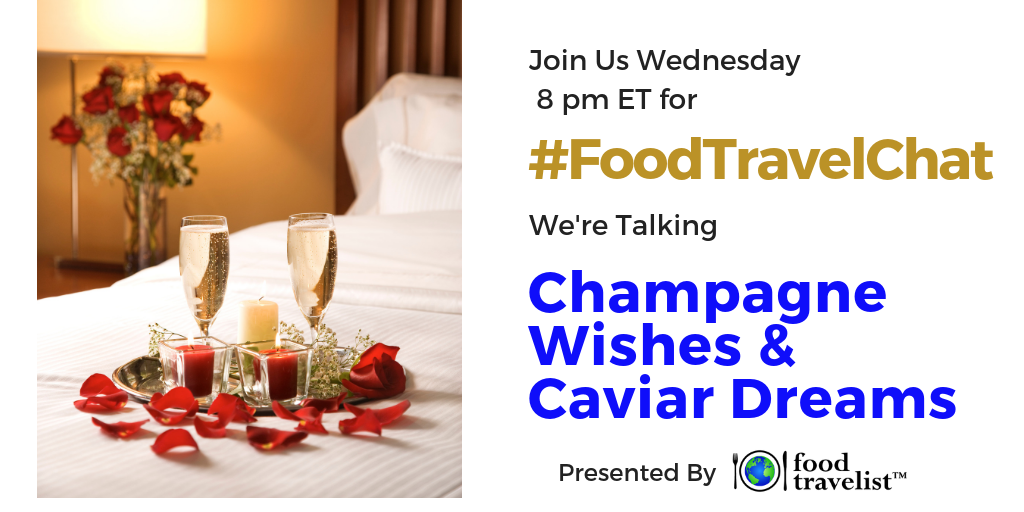 #FoodTravelChat Champagne Wishes and Caviar Dreams
Here are this week's questions:
8:05 pm What sparkling beverage did you start 2019 with? Show us the bubbles! #foodtravelchat
8:10 pm Q2. What luxurious hotel or resort do you want to stay in this year? #foodtravelchat
8:15 pm Q3. What's the fanciest meal you've ever cooked at home? #foodtravelchat
8:20 pm Q4. What type of private transportation would you like to experience? #foodtravelchat
8:25 pm Q5. What's the most expensive meal you've ever had? #foodtravelchat
8:30 pm Q6. What swanky restaurant do you hope to visit in 2019? #foodtravelchat
8:35 pm Q7. What's the most decadent dessert you've ever had or seen? Photos please. #foodtravelchat
8:40 pm Q8. What is the most indulgent food you've ever tried? #foodtravelchat
8:45 pm Q9. What celebrity, guru or mogul would you like to share a meal with? #foodtravelchat
8:50 pm Q10. If money were no object, where would you go and what would you eat on your dream food travel trip in 2019? #foodtravelchat
See you on Wednesday night at 8 pm ET.
Why Should I Participate in #FoodTravelChat
If you love food and travel you will meet many like-minded people on #FoodTravelChat. You'll find that the folks that participate on the chat are kind and willing to help you out. Especially if you're a newbie! You'll meet other people who travel, write about travel, are from travel destinations all looking for their next great meal. Plus, you'll find more Twitter accounts to follow and more people will follow you. Win. Win.
How Does A Twitter Chat Work?
Every Wednesday night at 8 pm ET/7pm CT/5pm PT we gather on Twitter for an hour under the hashtag #foodtravelchat to chat about all things Food Travel.
Haven't participated in a Twitter Chat? No worries. It's super simple. Just log onto your Twitter account and type in the hashtag #foodtravelchat in the search bar. You'll see all the tweets that have been sent with the #foodtravelchat hashtag.
It's a wonderful way to be part of the food travel community on Twitter. Follow other chatters, our moderators and sponsors so you can follow their tweets all week long.
When we begin at 8 pm ET/7pm CT/5pm PT we'll start asking questions. It will look like this:

Then tweeps that are participating will answer the questions something like this: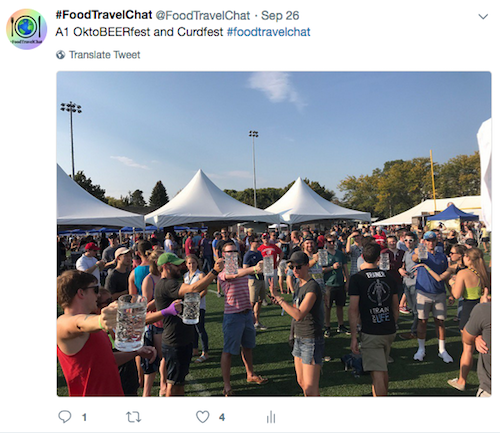 We will have 10 questions for the hour, giving about 6 minutes for each question. Have fun, be silly – it's all about learning and sharing during #foodtravelchat. 
Pro Tip: When Tweeting sharing photos, videos and GIFS will make it much more likely that people will engage with your tweet.
Be sure to include the answer number and the hashtag #foodtravelchat with your answer, otherwise, we won't find your tweet.
If you have trouble keeping up (the thread goes really fast) with the thread you can try using Tweet Chat which lets you pause the feed so you can answer any notifications you have and not miss a thing.
If we miss one of your tweets during the chat please feel free to tag us by adding @FoodTravelChat or @FoodTravelist to your tweet or "whos in photo" tag.
If you'd like a reminder about the chat, we're happy to include you on our reminder list. Just send us a tweet at @FoodTravelChat saying remind me with the hashtag #foodtravelchat.
Don't forget to use the hashtag #FoodTravelChat to be sure your tweet is visible to everyone on the chat. We'll be sure to check it out and share it with the chatters. We look forward to chatting with you!