This week we're talking Oodles of Noodles on #FoodTravelChat be sure to join us at 8 pm ET for this slurping good time.
This is a chat you surely won't want to miss.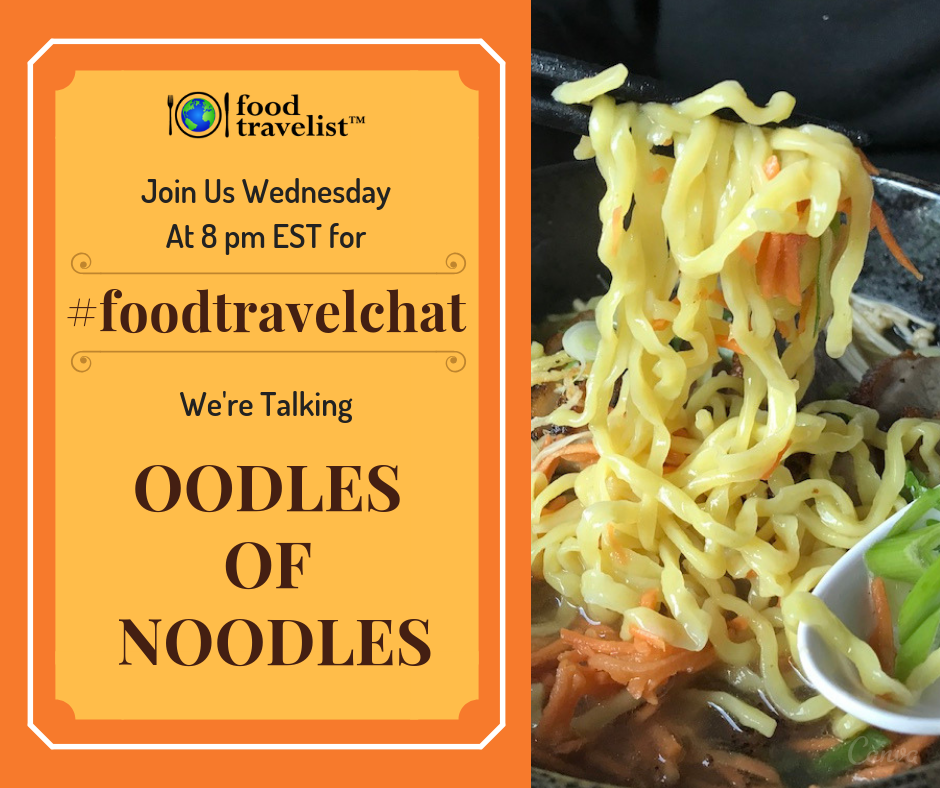 Here are this week's questions:
8:05 pm Q1. What noodle dish is your favorite and what country does it come from? Share a photo if you can! #foodtravelchat
8:10 pm Q2. What shape/style/texture of noodles do you like best? #foodtravelchat
8:15 pm Q3. What is one of your favorite food travel noodle memories? #foodtravelchat
8:20 pm Q4. What cuisine uses noodles in a way that you most enjoy? #foodtravelchat
8:25 pm Q5. What is one of your favorite noodle dishes to make at home? Photos please! #foodtravelchat
8:30 pm Q6. What destination surprised you with its great noodles? #foodtravelchat
8:35 pm Q7. What dessert or sweet treat made with noodles have you tasted? How was it? #foodtravelchat 7:40pm CT Q8. What restaurant, diner or food truck serves great noodles? #foodtravelchat
8:45 pm Q9. What is the most unique or unusual dish with noodles you ever tried? We'd love to see a photo if you have one! #foodtravelchat
8:50 pm Q10. Where would you like to travel just to taste the noodles? Is there a special dish you'd like to taste there? #foodtravelchat
See you on Wednesday night at 8 pm ET.
If you would like a little refresher on how a Twitter chat works please check out our post Join Us For #FoodTravelChat . 
If you'd like a reminder about the chat, we're happy to include you on our reminder list. Just send us a tweet at @FoodTravelChat saying remind me with the hashtag #foodtravelchat.
Don't forget to use the hashtag #FoodTravelChat to be sure your tweet is visible to everyone on the chat. We'll be sure to check it out and share it with the chatters. We look forward to chatting with you!