Whether you're planning a vacation, hanging out at the beach or just looking for some fun summer reading at home, we've found quite a few books that you might enjoy.
Italy, its cities and food are source of constant inspiration – and fun summer reading. We found 3 exceptional books to feed the passion for this incredible culinary country that you might enjoy.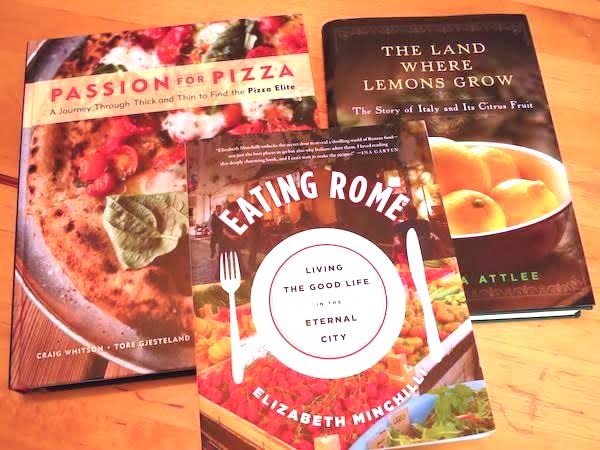 Eating Rome by Elizabeth Minchilli. This charming book provides culinary insights into the most Italian of cities that only come from experience. Which is easy to understand since she has been eating her way through Rome since she was 12 years old! She has a blog called "Elizabeth Minchilli in Rome" and this book is based on the experiences she shares about the culinary culture of Rome. This book makes for fun summer reading that includes recipes, favorite locales, and topics like "How to Eat Gelato Like A Roman" or "To Panino or Not To Panino? That is The Roman Question."
The Land Where Lemons Grow by Helena Attlee. If you're looking for fun summer reading that brings together history, culture and cuisine then this is the book for you. The history of citrus in Italy is the history of Italy itself. From its long journey starting in the Himalayan foothills to the Battle of the Oranges that continues in Ivrea even today, citrus crops play a pivotal and celebrated role in Italian culture. You'll be transported to the Medici gardens of Florence full of lemon trees, the perfumed fields of bergamot in Calabria, the comfortable gardens of Tuscany, the Mafia-controlled mandarin farms of Sicily, and more. You'll get an insider's tour of the citrus groves of Italy that will never forget.
Passion for Pizza by Craig Whitson and Tore Gjesteland. We love pizza. And along with the melding of flavors there are cultural influences that affect all aspects of one of the world's most celebrated foods. Subtitled A Journey Through Thick and Thin to Find the Pizza Elite, this new book blends cross-cultural exploration, travel tips and recipes into an irresistible combination.  The first half provides  a travelogue structure that spans pizzaioli in Naples and Rome to Chicago's deep dish, along with all the idiosyncrasies that make each one unique. The second half of the book is devoted to providing recipes, techniques and guidance on how to make you're own incredible pizza.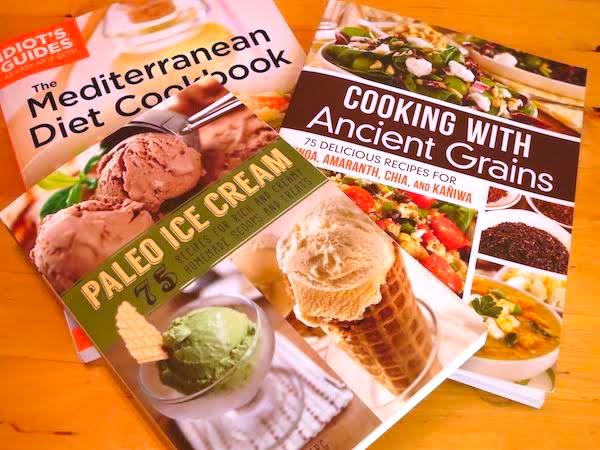 If you're looking for more techniques and tastes to try out at home, then the next 3 books might be fun summer reading for you.
Paleo Ice Cream by Ben Hirshberg. The concept of Paleo eating has been with us for awhile and is embraced by many who consider "eating like a caveman" a lot healthier than eating what has been created and modified, both in our food and in our lifestyles since that time. But the restrictions in the diet, which includes eliminating dairy, can seem overwhelming when faced with modern delights like ice cream. Not to worry! This innovative and clever book deals with the challenge head on and offers amazing flavor treats made from nutritious whole foods. Great flavors are abundant, from Chocolate Raspberry Swirl, Cookie Dough, Mint chip, Salted Caramel, Cherry Vanilla, Sweet Potato Pie, and more. There are also vegan options, sorbets and even some sauces. Yum!
Cooking With Ancient Grains by Maria Baez Kijac. If you love the idea of cooking with ancient grains, but aren't really sure how to do it, this clever guide gives you more than 75 recipes to get you going. From the much celebrated quinoa and chia to lesser known grains like amaranth and kaniwa, there are options for wholesome uses for breakfast, lunch, dinner, soups, appetizers, salads, sides, smoothies and desserts. The use of these wholesome grains provides added nutrients and proteins, and also helps keep you feeling satisfied. Some of the tantalizing recipes include Quinoa hummus, Nachos with Chia, Potato and Kaniwa torte, and Bell Peppers stuffed with Amarant/Quinoa and Turkey. Tasty and good for you!
The Mediterranean Diet Cookbook by Denise "DedeMed" Hazime. Part of the Idiot's Guides series, don't let that fool you. This book has over 200 recipes, complete coverage of the Mediterranean Diet's approach and key ingredients and advice on cooking the Mediterranean diet way. The Mediterranean way of eating has long been appreciated as a healthful approach. The author's large Lebanese family influenced her cooking and eating habits from an early age, and she shares all of that knowledge and experience in this comprehensive, easy-to-understand approach to one of the world's best eating styles. Meaty meals, vegetarian lunches, brunch bites, snacks, sauces, seafood, desserts and more are easy with this fun guide.
THE QUICK BITE: Whether you're planning a vacation, hanging out at the beach or just looking for some fun summer reading at home, we've found quite a few books that you might enjoy.