Go Ahead Have That Dessert
We were recently invited to sample the new mini indulgence dessert preview menu at Seasons 52.  We were not financially compensated for this review. The opinions shared are our own and based on the experience we had.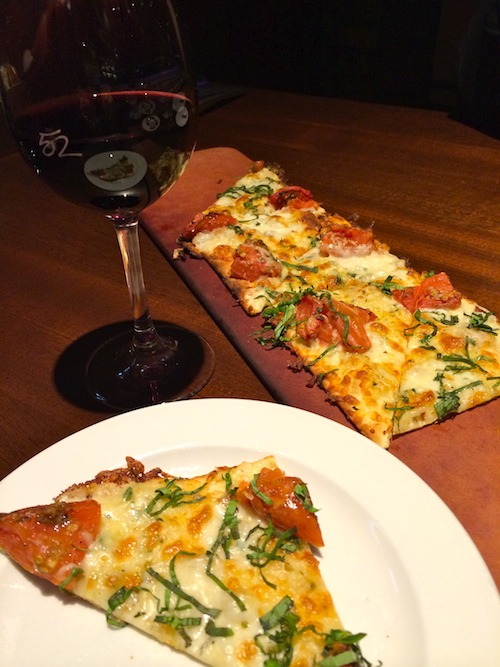 Sometimes when you're dining out, dessert is something that you just might not get to. You might fill up on your entree, or appetizers or bread basket. Everybody loves bread right? But at Seasons 52 their menu keeps things a little lighter with nothing on the menu over 475 calories. After eating a sensible and delicious meal you can still take a look a their inviting "mini indulgences."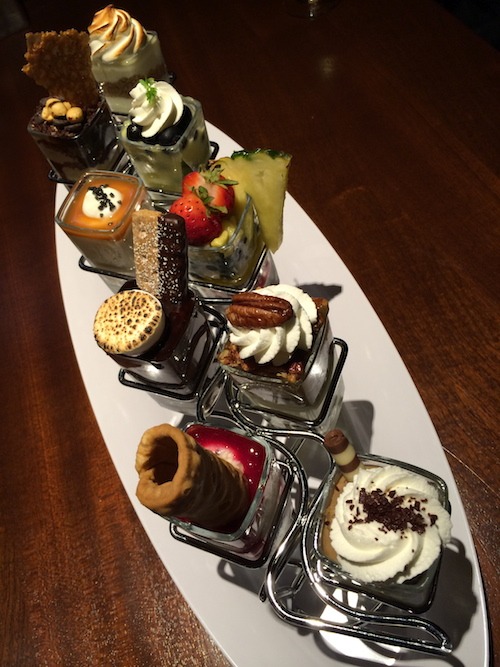 When they bring out the Mini Indulgences Tray to your table you will be tempted to tell them just to leave it on the table. The nine diminutive treats are such adorable little offerings you'll want each and every one of them.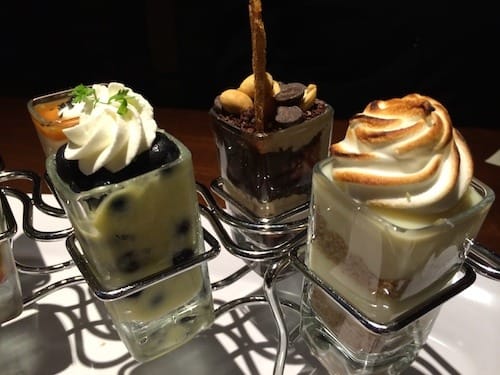 Three new offerings on the menu include the Fresh Blueberries and Lemon Curd, one of our personal favorites, is perfect for the spring and summer. Lemon curd mixed with blueberries, a dollop of whipped cream and finished with a tiny sprig of Chervil. Perfectly refreshing.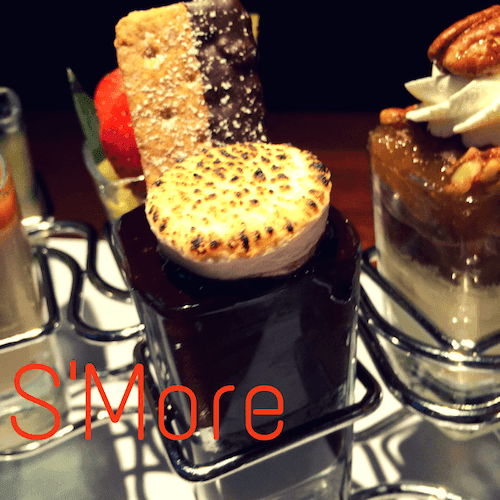 The Belgian Chocolate S'More is a real crowd pleaser, filled chocolate cake layered with chocolate mousse and chocolate chips. Topped with a precisely toasted marshmallow and a small graham cracker dipped in chocolate. It's delicious but we found ourselves wanting just one more cracker.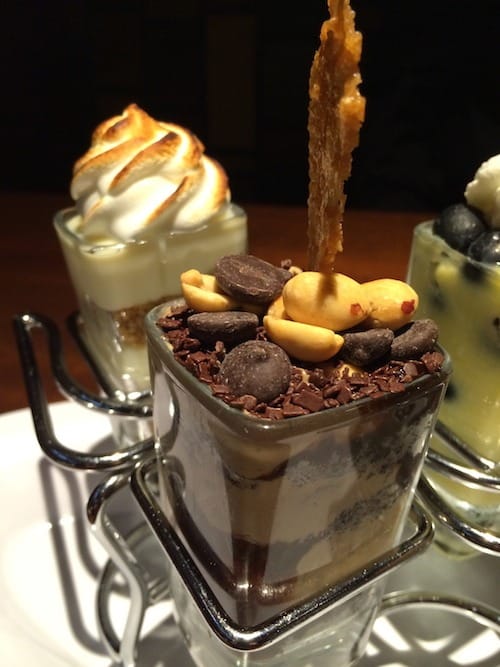 The Chocolate Peanut Butter Torte includes chocolate cake layered in chocolate sauce, peanut butter mousse, chocolate peanut crunch a topped with a tuile house made peanut crisp. This was also one of our favorites. The smooth, thick mousse was pleasantly complemented by the crunchy peanuts and crisp tuile.
Other new delights include a Butterscotch Budino with Salted Caramel, Toasted Almond Amaretto Crunch and Bing Cherry Creme Brulee. But not to worry – they will still be featuring their very popular Key Lime Pie with toasted meringue (our all time favorite), Carrot Cake, Pecan Pie with Vanilla Bean Mousse, Raspberry Chocolate Chip Cannoli and Mocha Macchiato with Chocolate cake.
You'll see that if you're looking for a perfect little sweet after a satisfying meal there's no reason to say no to a dessert or two at Seasons 52.
QUICK BITE: If you're looking for delicious yet lighter on the calories dessert "mini indulgences" at Seasons 52 provides a tasty alternative that will fill your craving for a sweet bite.