Grandmas Cherry Pie Recipe
Grandmas Cherry Pie
Grandmas cherry pie recipes bring joy to kitchens around the world. My Grandma Martha was one of the best bakers anywhere. And one of her most beloved baked treats was pie. Her incredibly light and flaky oil pie crust is unlike any you will find in a store. Instead of using butter, as many do, Grandma Martha made her pie crust with oil. The crust only has four ingredients! And the cherry pie recipe itself is super flexible and forgiving. You can pretty much use whatever cherries you like. Frozen cherries of any kind, frozen tart cherries or frozen sour cherries work well. If you have canned tart cherries, those are good too, and she has slightly different directions to ensure success. Of course, fresh sour cherries are wonderful when they are available. Any of these will work. No wonder she called it her perfect cherry pie recipe!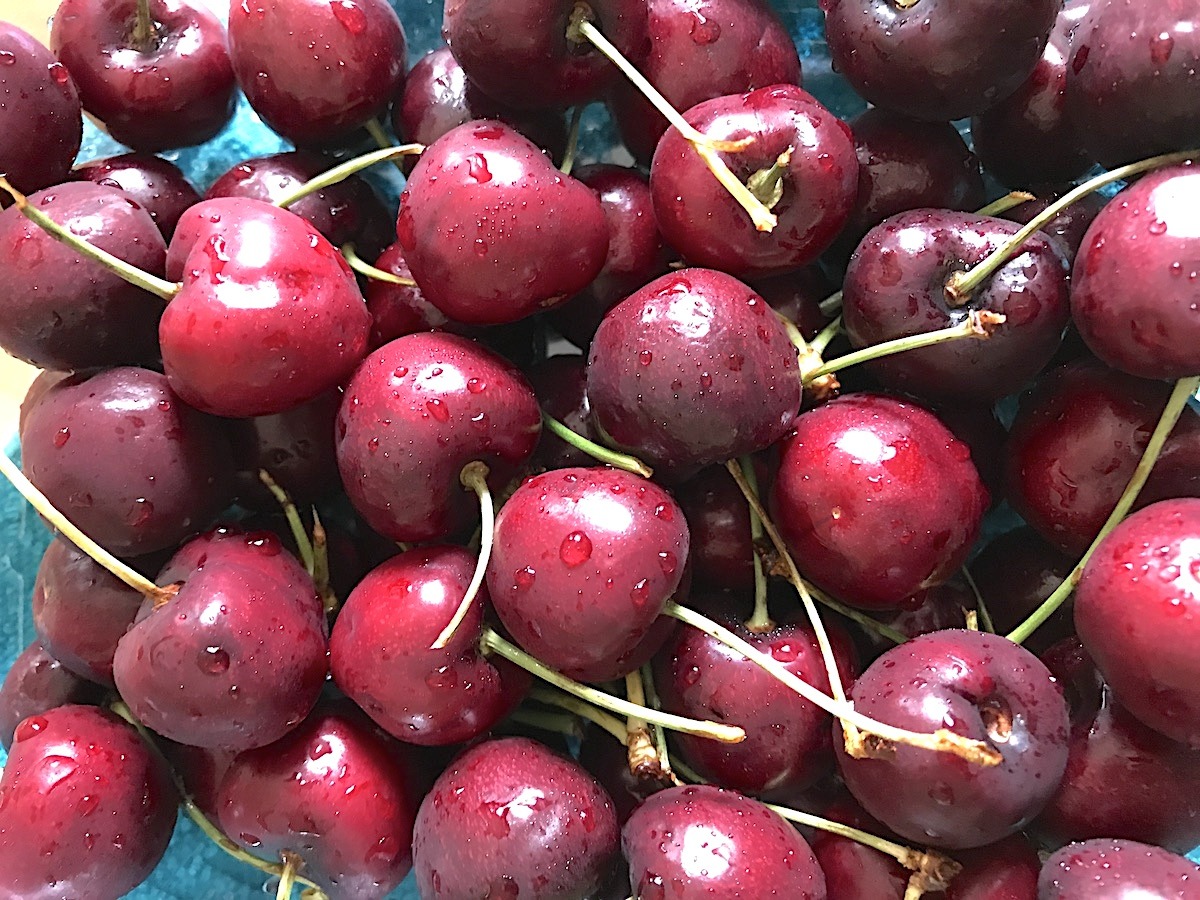 Grandma Martha was always cooking for a crowd, so this recipe makes enough filling for two nine-inch pies. You can save it for later, make two pies and eat one and save one, eat two pies, or eat one and give one to a friend. The possibilities are endless!
The Family That Bakes Together…
As luck would have it, my Dad is also quite a baker. He loves baking bread, rolls, and of course, pies. Having grown up in Ann Arbor Michigan, cherry pie is his absolute favorite. When I was visiting one year over the holidays, he wanted to have a pie baking competition. He used his recipe from his side of the family. And I used this one from my mom's mom. It was a Grandmas cherry pie bake-off. Although they were both delicious, in the end, Grandma Martha's recipe prevailed. We had fun and lots of cherry pie to enjoy over the holiday while we were there.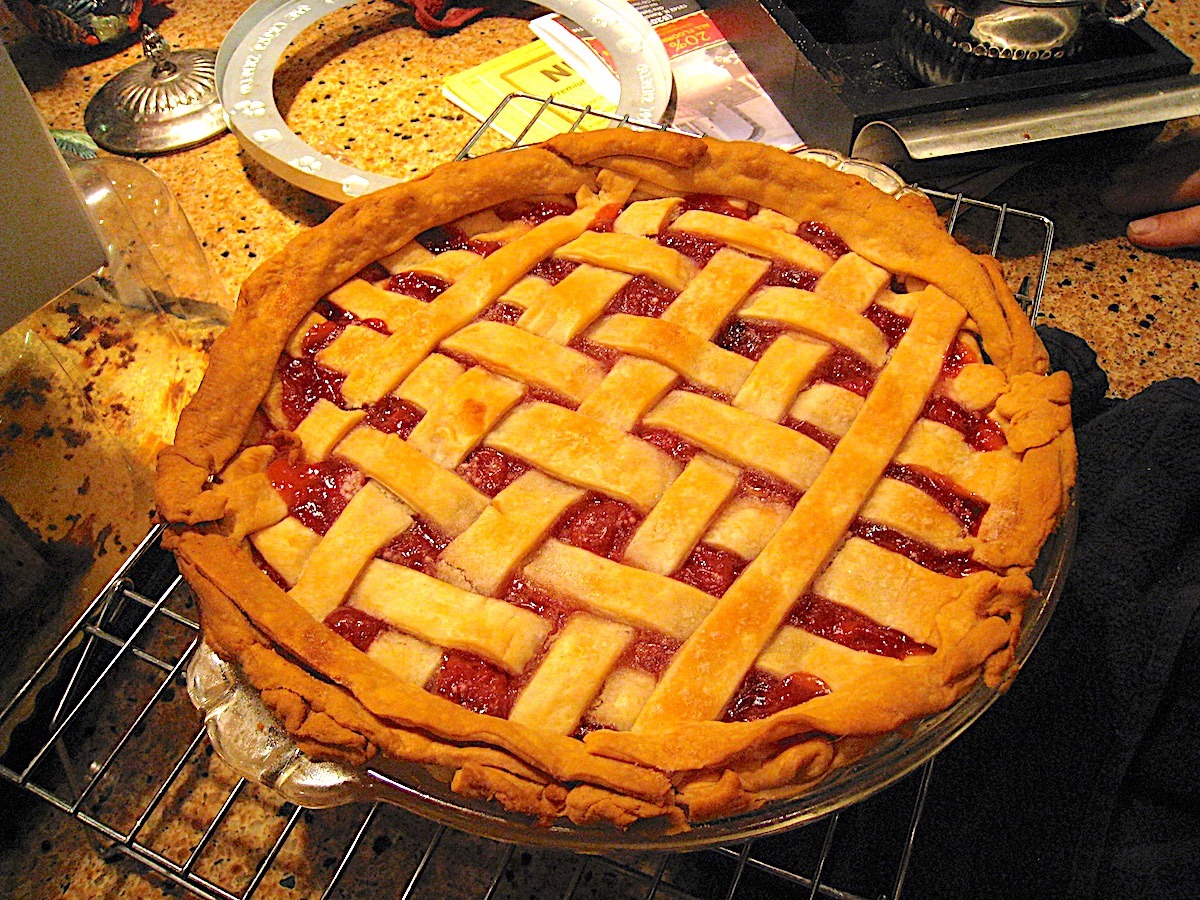 Grandmas cherry pie recipes often use all the tricks for foolproof baking, and this one is no different. For instance, pre-baking the crust a bit will keep the oil pie crust flaky (not soggy). You can either make a full double crust or, as I did, make a lattice crust on the top. Either way, I hope Grandmas cherry pie recipes like this one fill your own recipe book for generations to come.
Perfect Cherry Pie
Ingredients
Cherry Pie Filling
3 cups pitted fresh sour cherries or frozen cherries (frozen tart cherries, frozen sour cherries are best) thawed
1 to 1 1/2 cups sugar (depending upon how sweet you want it and the type of cherries you use)
3 Tablespoons all-purpose flour (for thickening)
2 Tablespoons butter
1/8 teaspoon almond extract (optional)
If you use CANNED TART CHERRIES:
2 cups well-drained pitted canned tart cherries PLUS 3 Tablespoons of the juice, just to moisten
3 Tablespoons all-purpose flour (for thickening)
1/2 to 1 cup sugar (less sweetening usually required than for fresh or frozen cherries)
Directions For Filling
Cut butter into small pieces. Mix all ingredients together in a bowl.
Oil Pie Crust
Ingredients for One Crust
2 cups all-purpose flour
1/2 cup unsaturated oil neutral flavor (like canola or vegetable)
1/2 teaspoon salt
3 to 4 Tablespoons cold water
Directions For Crust
Mix flour with salt.
Mix in oil using fingers until the mixture is crumbly.
Work in cold water with fingers until dough forms a ball.
Divide dough in half.
Place each divided ball of dough between two sheets of wax paper and roll out to fit a nine-inch pie plate. If you want a lattice crust, slice one of the rolled out crusts into one-inch strips.
Directions For Assembling And Baking
Preheat oven to 450 degrees Fahrenheit. Make sure the oven is fully up to temperature. Place bottom oil pie crust into the pie plate, making sure that the edges come up over the side of the plate. You can crimp them if you like. If using fresh or frozen cherries, bake crust at 450 for 10 minutes. If using canned tart cherries, bake crust at 450 for 15 minutes.
Remove prebaked bottom pie crust from oven. Reduce oven temperature to 350 degrees Fahrenheit.
Add cherry mixture to fill. You can bake the pie without a top crust if you choose.
To use a solid top crust, lay the dough on top of cherry mixture and crimp sides together with pre-baked bottom crust all around to seal. Prick top crust several times with a fork. You can create designs with a knife, making slicing guides or decoration. Just be sure there are plenty of holes for the steam to escape while baking.
To use a lattice crust, select the appropriate size strips and lay down on top of the mixture, alternating the weave, one up then the next down until you have covered the entire pie. Seal the edge strips together with the bottom crust. You can use a little water to moisten and stick together if necessary.
For a sweet crunch, brush crust lightly with water and sprinkle with Sugar In The Raw or other Turbinado sugar.
Place pie in 350 oven. For fresh or frozen cherries, bake at 350 for 30 minutes or until the crust turns golden. For canned cherries bake for 15 minutes at 350 or until golden. Remember that ovens have varying temperatures, so be sure to keep your eye on the pie as it bakes. Your oven may require more or less time. When ready, the pie crust should be golden and cooked through.
Baking is Fun
If you enjoy baking, give this recipe for homemade bread a try. I was afraid at first, but it turned out to be easier than I though. And there's just nothing quite like fresh bread right out of the oven.
Pin It to your Pie Recipe Board on Pinterest