Do you like chocolate? Do you like pistachios? Then you're gonna love these great tasting Damak chocolate bars. If you've traveled to Turkey you might have already experienced Damak. It's a premium Turkish chocolate brand with an 80 year-old history. Nestlé USA is now bringing the Damak bar to the United States.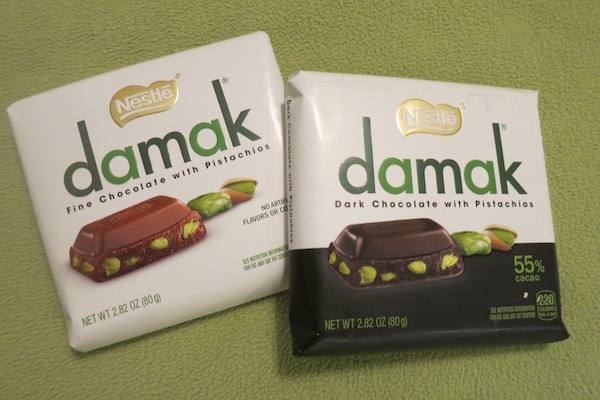 "Damak chocolate bars are a bold and exotic combination of smooth chocolate and flavorful pistachios, which creates a delightful experience," says Shelly Lofino, Brand Development Manager for Damak at Nestlé USA. "The brand is rich in heritage and offers a one-of-a-kind taste that must be sampled to truly appreciate. As a global leader in the confectionary category, Nestlé is proud to share this hallmark brand from our international portfolio with chocolate lovers in the U.S." Damak is available in two varieties, creamy fine chocolate and rich dark silky chocolate bar. Both are brimming with buttery, crunchy pistachios.  These tasty bars contain no artificial flavors or colors.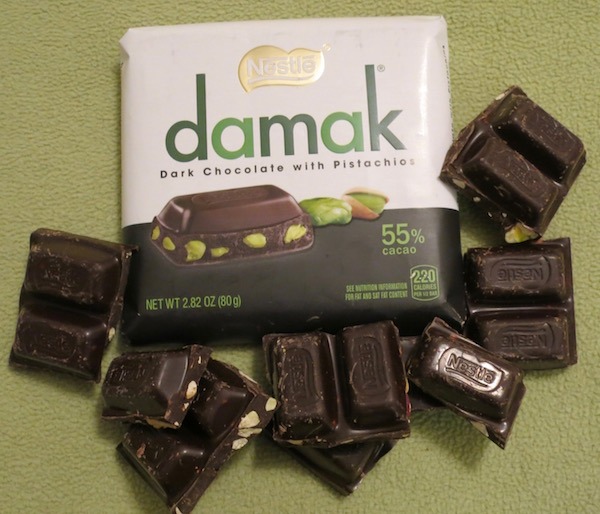 Pronounced "dih-mok" the name is Turkish for "great taste." The pistachios are sourced from the Gaziantep region in Turkey, which provides the ideal climate for these tasty little nuts.
Pistachios and chocolate together make a delicious and healthy combination. Pistachios are high in phytosterols and about 90 per cent unsaturated fat, which for those of us keeping track is the good fat that also adds to the rich flavor and makes it a satisfying travel snack. The chocolate and the nuts also contain many antioxidants, fiber and vitamins making them terrific for the heart and body. And did we mention they really, really taste good? 
Nestlé USA is also doing good and giving back. They want to help make an impact on the lives and livelihoods of the farmers growing the premium pistachios in Turkey. Nestlé USA has earmarked $1 million to fund training in the latest and most efficient agricultural engineering techniques to improve and increase harvests and to improve the well-being of the renowned Gaziantep growing region in Turkey.
Nestlé Damak chocolate bars are available at select retailers nationwide at a suggested retail price of $2.49. You can learn more about great tasting Damak at nestledamak.com. They'll definitely be in our bags on our next trip.
Thank you to Nestlé Damak for providing us with samples to try. We were not financially compensated and as always all opinions are our own and based on our experience.
THE QUICK BITE: If you're looking for a healthy, filling, perfect travel snack try great tasting Nestlé Damak bars. Their chocolate filled with crunchy, buttery pistachios will have you dreaming of Turkey.