We love summer. It means spending more time enjoying the outdoors. From time to time we run across some great things that we think you'll find interesting, helpful or fun to try and we love to share them with you. Here we're going to tell you about a few fun summer items you might want to check out for yourself.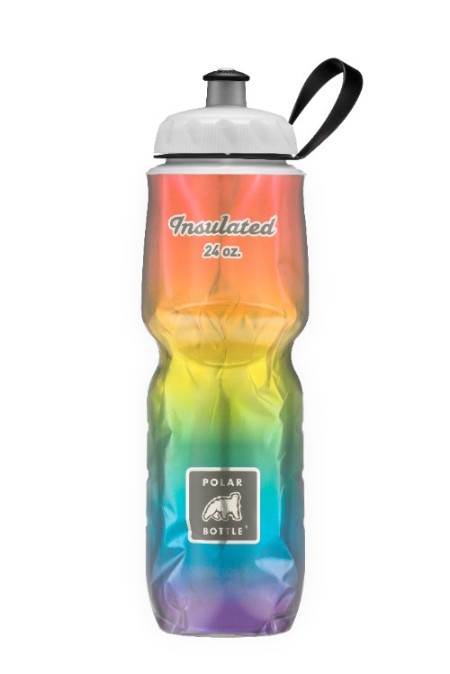 Polar Water Bottle
We love companies that have great products and also give back to the community. When we heard that Polar Bottle turned a fun rainbow water bottle that they designed to celebrate Pride Month for the LGBT community into a fundraiser for the victims of the Pulse Nightclub rampage we had to learn more. Although they didn't originally intend to use their bottles as a fundraiser, after the shooting at the Pulse Nightclub in Orlando, Polar Bottle arranged to donate all bottle sales to the victims and their families through a fund set up by the LGBT civil rights group Equality Florida.
"The Pride bottle was a way for our company to align with the LGBT community, and allow our customers to do the same," said Polar Bottle President Judy Amabile. "The events in Orlando reaffirmed that, despite the progress we've made, supporting this community is as important as ever. It only seemed right that the bottle be used to give back."
Made in the USA, the Polar Bottle has an insulating layer between two walls of plastic, which keeps it twice as cool as other typical water bottles. All Polar Bottle products are BPA-free and phthalate-free. It's also dishwasher safe to make cleaning a breeze. Although the limited edition Pride Bottle is no longer available, Polar Bottle has a wide variety of hydration bottles from which to choose in many colorful designs and styles. There's bound to be one that fits your needs. If you're looking for a new water bottle, we hope you'll consider Polar Bottle, a company with a conscience – something we always appreciate. 
Polar Bottles start at $9.99. You can learn more about Polar Bottles and purchase their products at polarbottle.com.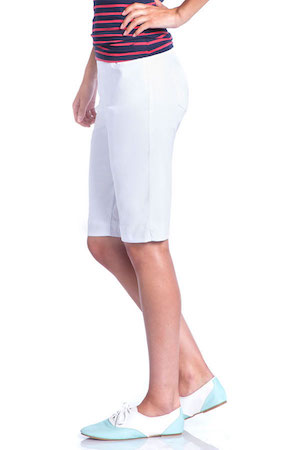 SlimSation Shorts
Women's clothes. Either you love to shop for clothes or you don't. I fall into the second category. If I need something I run into the store, find it as quickly as possible and run out.  Better yet, online shopping that offers the flexibility to try things and return them if you're not satisfied is another great way to shop. Since I'm active when we travel I love comfortable shorts in the summer. Shorts that fit well and are comfortable, and made from a fabric that's great for travel isn't always so easy.
When the folks at SlimSation offered to send me a pair of their walking shorts I couldn't wait to get them.  They have a comfortable stretch fabric with a contoured waistband and 12″ inseam, which I loved. I've now worn them to play golf, walk around town, and they'll soon be with me for a week in France. I can confirm that they are super comfortable and can easily be dressed up or down for almost any occasion. They also machine wash and dry very nicely.
SlimSation has a full line of clothing that includes not only shorts but pants, jeans, skorts (skirt/shorts hybrid) and capris. The SlimSation promise is that you can feel comfortable and look fabulous. All their clothing offers a slimming style with a flexible tummy control panel. Their secret gives you a smooth, slim figure, taking 10 pounds off in seconds.
SlimSation Walking Shorts start at $54.00. Learn more about SlimSation and purchase all their products at slimsation.com and specialty women's stores near you.
Crisp Herb Mincer
When this little goodie rolled across our desks, Diana was really excited. Why you may ask? She loves kitchen gadgets and can't get enough of them. Especially ones that serve multiple purposes. The Herb Mincer from Crisp lives up to its name. It minces herbs easily and uniformly with a quick turn of the blade wheels. It also has two built-in herb strippers making it easy to de-stem rosemary and thyme, speeding up what is ordinarily an annoying, time-consuming but necessary kitchen task.
If you want to get super creative you can also use this little gizmo to create pasta noodles or slice tortillas into strips and bake them for crunchy toppings on soups, salads, and casseroles.
It's also lightweight and fits easily in your hand. There's a protective cover guard for your safety during use and for storage. It's dishwasher-safe so clean up time is easy peasy.
See it in use in this super short fun video below.

You can purchase Crisp Herb Mincer for only $14.99 at crispcooking.com.  Be sure to check out all the other useful and fun kitchen gadgets they have while you're there.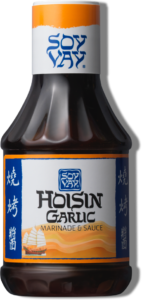 Soy Vay Hoisin Garlic Sauce
We became a fan of the Soy Vay products when we first tried their Veri Veri Teriyaki Marinade. We've used this sauce on everything – chicken, pork, steaks, and stir-fry veggies. We loved it because the gingery, garlicky taste was spot on and has no preservatives. It's also Kosher.
When they sent us a bottle of their Hoisin Garlic we didn't know this was going to create a new favorite in the house. It's also great for everything. Salty and sweet, tangy and garlicky, it's another winner.
They have lots of other sauces & products that you can learn about Soy Vay and purchase at soyvay.com.We love their creative ideas, recipes, and how-to videos. And for more fun, check out their How To "OK, SOY VAY" talking recipes, voice-activated recipes with celebrity chef Marc Murphy and actress Debi Mazar. Oy, enjoy!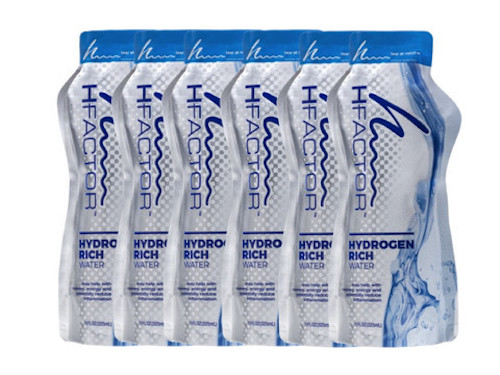 HFACTOR Hydrogen Rich Water
Like many people, we drink a ton of water in the summer. We're also more active enjoying the beautiful weather in Chicago and anywhere we visit. Our 50+-year-old bodies sometimes take a bit more time to recover from our 10,000+ step days than when we were a bit more green. Enter HFACTOR Hydrogen-rich water.
Hydrogen has many reported health benefits from reducing muscle fatigue to decreasing inflammation and more. HFACTOR infuses pure hydrogen into the water via patent-pending natural methods, unlike other hydrogen products, which are manufactured utilizing magnesium and chemical processes.
It's also in a special aluminum pouch. A typical glass or plastic bottle would let the tiny molecules of hydrogen escape. This customized packaging has a minimal carbon footprint and keeps all the hydrogen inside. It's flexible and easy to grip and also stands up on its own so you don't have to worry about the contents spilling.
We tested HFACTOR and I can tell you that it is very good tasting water. It's crisp and clean and truly refreshes on a warm summer day. Can I say that I felt any different afterward? No, I can't. Will drinking it over time make a difference, maybe. There's not enough science, yet, but stay tuned. We like the idea and hope that it makes a difference. But even if not, it's still a crisp, clean great tasting water in a handy, eco-friendly pouch.
A 6 pack of HFACTOR is available on their website for $18.00. You learn more and purchase HFACTOR at h-factor.com.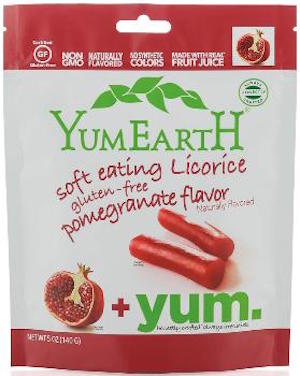 Yum Earth Soft Eating Licorice
Somehow this sweet treat escaped me at the Sweets & Snacks Expo a few months ago. Thankfully, I came across a sample recently and the rest is history. I love licorice but my teeth don't love it as much. You know, it gets stuck and it can be hard to chew. Not the case with this Yum Earth "soft eating licorice," which lives up to its name and more! I tried the pomegranate flavor and wasn't expecting the big burst of pomegranate deliciousness that I experienced. It's naturally flavored and made with real juice. No synthetic colors either. It's the world's first non-GMO verified licorice that is gluten-free. Great tasting candy that doesn't include any nasty chemicals or flavorings? We love it!
I can't wait to try the other flavors, peach, and strawberry! They're perfect for your next road trip or travel bag snack. You can find YumEarth products at yummyearth.com.
We're always out there looking for new products that make the lives of our Food Travelists just a bit tastier and easier. If you have a product or products you're loving this summer please share them in the comments below.
THE QUICK BITE: A quick review of some fun and different food and travel products that fellow Food Travelists should be looking for this summer.