It Is The Great Pumpkin Soup!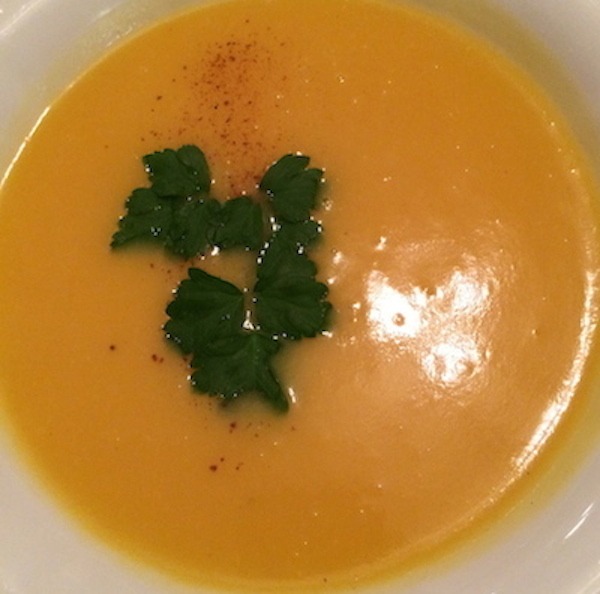 One of the best things about the fall for those of us who are pumpkin lovers is the combination of readily available pumpkins and the time-tested time-saver, the slow cooker. We've found that one of our favorite things to do while passing out candy to a horde of trick-or-treaters is to have something warm ready for the tasting whenever we want a break from the festivities. Pumpkin soup was our delicious dish this year. It's full of vitamins and we love it's a bright orange color. You can make it with cream if you want. Or, if you're looking to keep the fat and cholesterol down, you can make a broth-based version, like the one we provide here. There are many ways to dress it up, chunky or smooth. You can even add other vegetables to it if you like.
Here's the "souper" simple recipe you can make for yourself.
Ingredients
1 medium onion, chopped
1 stick butter
3 cloves chopped fresh garlic (or to taste)
1 sugar pumpkin, cleaned, peeled and cubed (about 6 cups)
7-8 cups chicken stock (low sodium, low fat)
1/2 teaspoon ground thyme
1/4 teaspoon ground sage
salt & pepper to taste
nutmeg & fresh Italian Parsley for garnish (optional)
Directions
1. Melt butter in a skillet on medium heat. Add the onions and cook until clear. Add the garlic and cook a minute or two until fragrant.
2. Pour butter, onions, and garlic into the slow cooker and add thyme and sage and chicken stock.
4. Stir to be sure all ingredients are well mixed.
5. Heat in slow cooker on low for about 8 hours, high for about 4 hours until pumpkin is totally soft.
6. Pour into blender small batches or use an immersion blender until all ingredients are blended smooth. Salt and pepper to taste
To serve, pour into soup bowls, sprinkle with nutmeg and top with a sprig of fresh parsley.
NOTE: If you like a more creamy soup, you may add some heavy cream to the soup after blended or drizzle in a bowl.
THE QUICK BITE:  Pumpkin soup is an easy and hearty meal that can practically make itself. Here's a super simple recipe for you to try at home.