Keeping Resolutions at Goldmoor Inn in Galena
We were recently the guests of the Goldmoor Inn in Galena. All opinions are our own and reflect our experiences.
January. Time to set your goals for the year. There are the typical resolutions. Lose weight. Eat right. Exercise more. Maybe you've set some resolutions for yourself. This year I've decided to focus on three things 1) Slow Down, 2) Connect, and 3) Shine. One of the ways I know I can do all three of these things is to get back to my creative side.
It may be hard to believe that years ago in college I was an art major. Maybe not so difficult if you're someone who knew me growing up. When my Mom discovered early on that I could draw (my first works were Thank You and Get Well cards) she signed me up for every park district art class. When I mastered those I even went for private lessons. Then I went to college and signed up as an art major. Very quickly my strict German parents wondered how in the heck I was going to survive. You know eat, pay the bills, all that silly life stuff.
I'd wanted to work in advertising since seeing Darrin Stephens and his fun job on Bewitched. I changed my major to Visual Communications and the rest, shall we say, is advertising history.
Somewhere along the line I discovered a knack for the media side of the business. So I put away my Exacto knife and DeSign markers and went into media buying. Since then my easels, paints and artist tools have done nothing but gather cobwebs in our basement.
This year I decided to change that by getting in touch with my creative instincts and painting again. If you've ever done anything like this you know it can be intimidating to begin again. The usual questions arise. Will I remember how to paint? Am I good enough? When will I find the time?
Artist in Residence
Luckily, I discovered an interesting program at the Goldmoor Inn in Galena. They have an artist in residence program running the month of January. Guests have the opportunity to sign up for a class with one of the visiting artists. Each has a different focus: watercolor, oils, and pastels. There's even a sunset class and an artful cooking class. This sounded just perfect for Diana and me!
Galena is a small resort community about a two and a half hour drive from Chicago. The Goldmoor is located on the Mississippi River and a short, scenic ten-minute drive from downtown Galena.
We love visiting resorts in the Midwest during the Winter. It's a bit quieter so you can really relax and enjoy yourself. There are no long lines, no congested traffic. Just peace and quiet. A perfect escape from the city.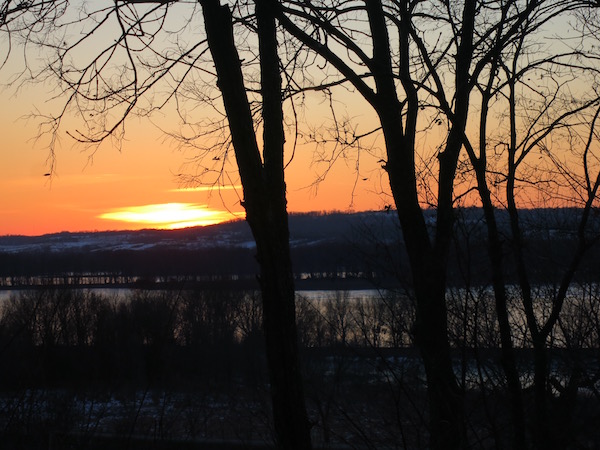 Let's Relax
When we arrived we were greeted by Slobo Radin. He and his wife Birgit own the inn. He cheerfully showed us around and gave us the lay of the land. We settled in right at the golden hour and the sunset put on a big show like it knew we had just gotten into town. We sipped a glass on good Riesling wine in the lounge and started to unwind.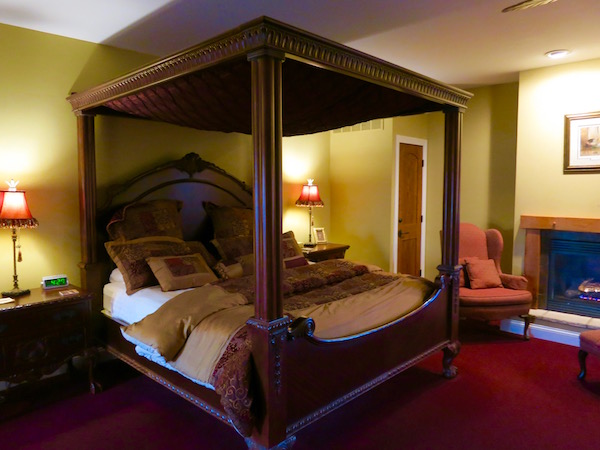 We shared a relaxing evening in the comfortable Elizabeth Suite, all the more comfy in the fluffy robes provided for us. The roaring fireplace and two-person in-room hot tub was perfect. We didn't even notice that the outdoor temperatures had dipped to below zero!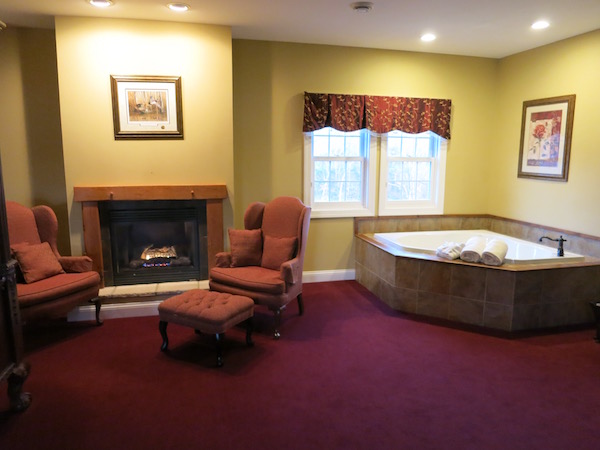 The suite includes a coffee-maker, mini fridge, free wi-fi, microwave oven, complementary cookies and heated towel rack!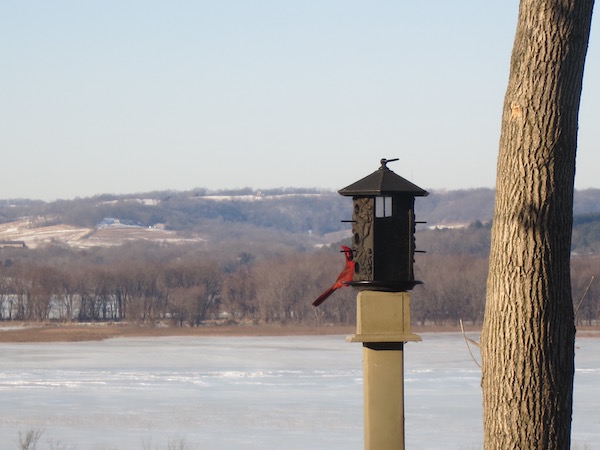 Breakfast is included with your room at the Goldmoor Inn and you have the choice of having them bring it to your room or eating down in the main dining room. We opted to eat in the dining room and I'm glad we did.  Along with the scenic view of the Mississippi River we enjoyed a show from the many local birds. How did they know we were bird lovers? Strategically placed bird feeders ensure you'll see lots of bright red cardinals, big blue jays, juncos, chickadees and more.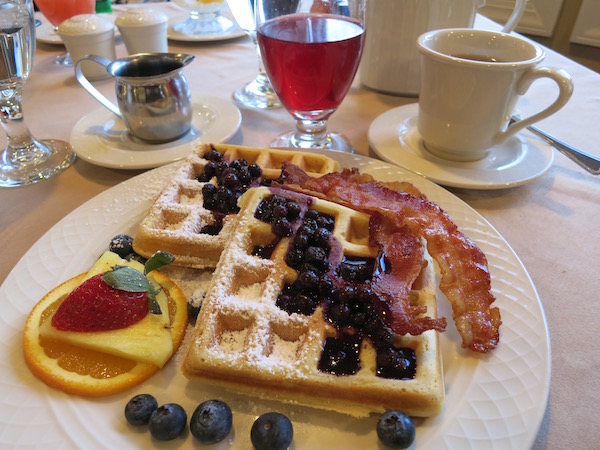 Slobo prepared lovely breakfasts both days during our stay. French toast with peaches and Waffles with Wild Blueberries were the stars of our mornings. You can always order eggs made to order if you'd like something other than the daily specialty. Fresh muffins and scones from their pastry chef Tara were decadent and delicious.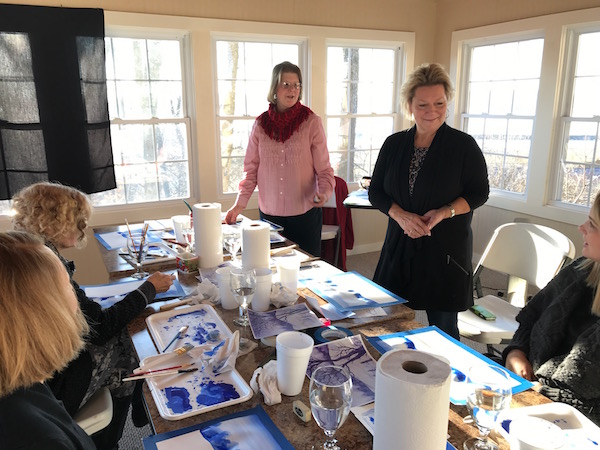 Let's Get Creative
After a quick visit into Galena after breakfast we headed back to the Goldmoor Inn for my watercolor class with award-winning Artist In Residence Carol Luc. The class is ideal for students at all levels. We had a couple of newbies and a few with some experience like me.
The two-hour class took place in the heated gazebo that overlooks the river. It was a perfect place to be inspired by the beautiful nature all around.
Carol did a great job of explaining what to expect in the class and made us all comfortable about asking questions at any time. She then gave us all a copy of a watercolor she had done using just one color. Our job was to replicate her painting as she gave us step-by-step instructions.
While soft jazz music accompanied our lesson I began to remember the feeling of enjoying putting pencil and paint to paper. A smile started to form on my face and I was immediately enjoying every moment.
We all chatted and giggled as we enjoyed creating our new masterpieces. What was really remarkable is that every artist's work, while the same subject, was completely different!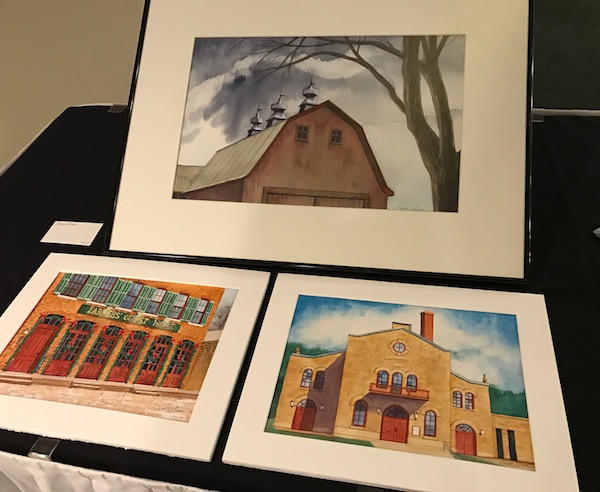 After the class we enjoyed a champagne reception while Carol displayed her art, including work she did during her week-long stay at the Goldmoor.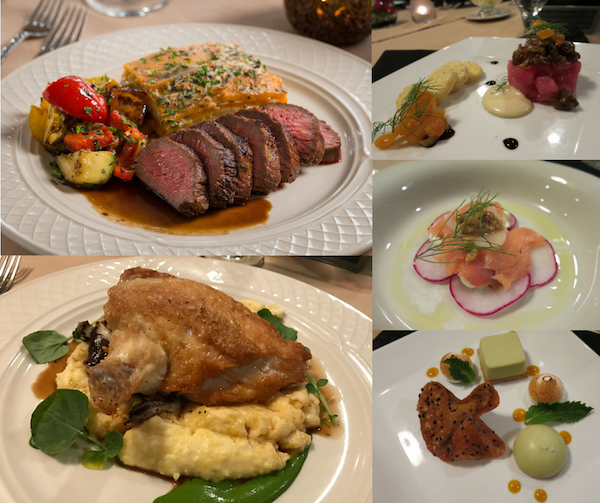 Fine Dining and Fine Art
We also enjoyed a Chef's Tasting Dinner by Goldmoor Inn's Chef Ryan Mead. The private dining room overlooks the river, is elegantly comfortable and feels like a private club. Chef Ryan is new to the Goldmoor but not new to the culinary world. He found his way to Galena after stops at some of the tastiest towns in America like Portland and Traverse City.
The Goldmoor Inn is lucky to have him cooking up some delicious dishes with local flavors in the forefront. The Goldmoor is know for their Beef Wellington but don't let that stop you from ordering something else on the menu. We enjoyed the tuna tartar, fresh beets and more on our visit. Chef Mead's wife Tara adds a bonus by bringing her pastry skills to the party.
Even if you're not staying at the Goldmoor Inn you can book reservations in their dining room or private dining room. The dining room has cozy little banquettes with a lovely view that make for intimate, memorable dining.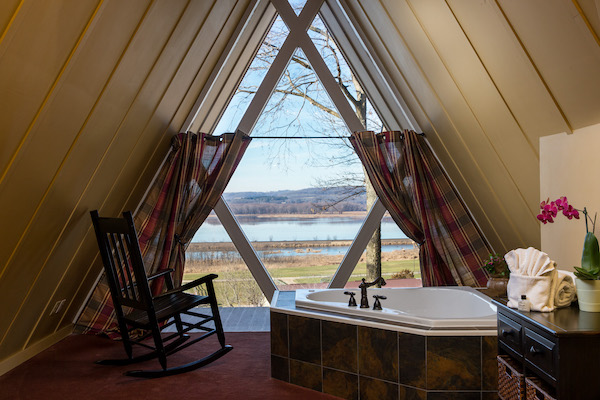 Food Travelers' Heaven at the Goldmoor Inn
The Goldmoor Inn also offers the ultimate Food Travelist opportunity. You can stay right above the kitchen to enjoy the Chef's Quarters, which is beautifully appointed with access to the kitchen and your own private deck. You can also schedule cooking classes, dinner in the private dining room or dinner at the Chef's Table in the kitchen. Up to 8 people can dine and watch the action as Chef Ryan and his team work through dinner service.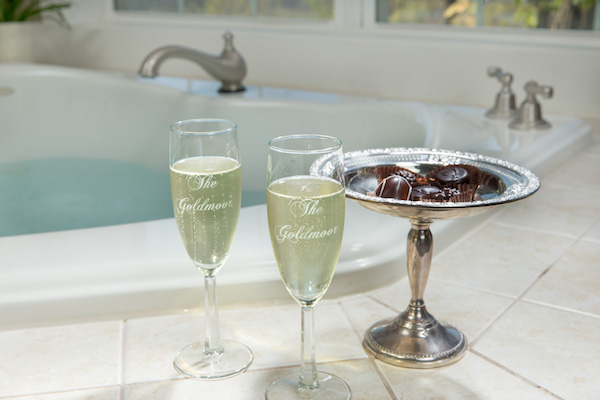 Set Up For Success in 2017
I really enjoyed the painting class and the inn. This was the perfect place to begin working on my New Year's resolutions for 2017 right away.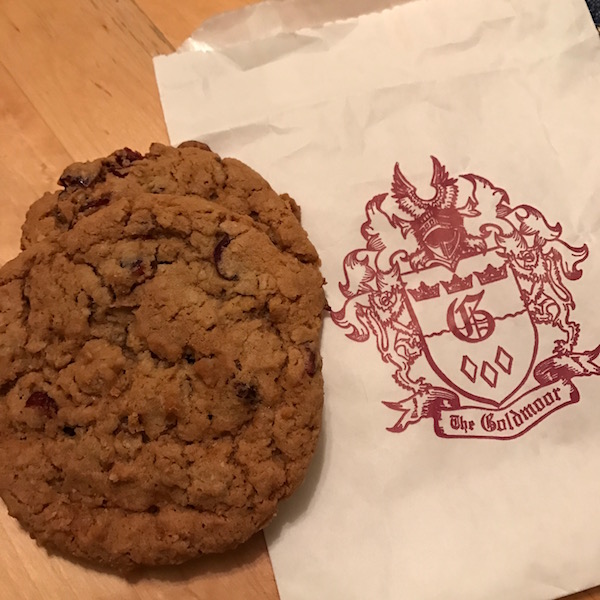 They even sent us on our way with fresh-baked cookies. Slobo said they weren't cookies but rather sustenance to help strengthen us on our journey home. Who can argue with that?
If you're looking for a creative, tasty and restorative break check out the Goldmoor Inn. The Goldmoor Inn is running the Artist In Residence program through January.
During the Artist In Residence program, those who register for at least one art class and stay two nights will receive a 20 percent reduction in the overnight accommodations price.  This offer may not be combined with others.
Visit www.goldmoor.com/events for class descriptions, fees and materials required.  Classes are limited in size to ensure an exceptional experience.  All seats must be reserved and purchase is non-refundable.
This is just one of the programs that the Goldmoor Inn offers. Be sure to check their website for all the other special promotions.
For more information and reservations, call 815-777-3925.
THE QUICK BITE: If you're looking for a destination that offers unique programs, both creative and culinary-focused, be sure to check out the Goldmoor Inn in Galena, Illinois.