Kitchen Reference Books You Need To Have
Book Reviews
by Diana Laskaris
I admit that my long-standing love affair with books has its ups and downs, especially when it comes to kitchen books. So many recipes, tips and resources are available online, it seems almost a quaint and outdated notion to keep kitchen shelves bursting with books, dogeared, tattered, filled with little sticky tabs like some treasure map happy pirate gone mad with the memory of finding buried treasures long ago.
But then I make a new discovery or two, and like falling in love all over again, I can't help but sigh and wax rhapsodic about my new found love. Well, sorry folks, but you'll get it times two in this post because I think these two culinary helpmates are about the best that you will find and you should have them on your sagging, bulging, overworked, under cleaned cooking bookshelf. In the end, they will save you time, money, peace of mind and, depending on the circumstances, maybe even face.
Disclosure: I was provided with review copies of these books by the publisher. I was not financially compensated for my reviews and all opinions are my own.
The Cook's Essential Kitchen Dictionary, Second Edition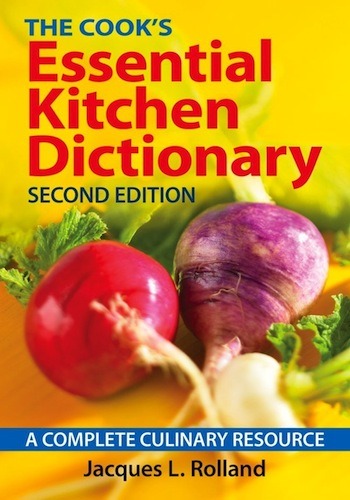 Yes, I know, we all are experts in the kitchen and we know all there is to know about the difference between cacao and cocoa or which is the mortar and which is the pestle. Mere child's play, of course.
But did you know that onion bulbs begin forming when exposed to a certain amount of daylight and are classified according to the amount of exposure? That is a bermuda onion, for example is a short day onion, while a Spanish onion is a long day? I confess that I didn't.
Or, that there are at least 13 "common" types of basil? I would have been able to name only two or three. Further, Basil is considered a sacred herb by the Hindu people. In Ancient Greece, basil represented hate while in Italy it was used as a signal by young women that she wanted a secret visit from her lover. In Roman times, women were not allowed to pick basil. Basil is used to make Chartreuse liqueur. That's a lot I didn't know about Basil – one of the herbs I use in almost all my cooking.
There are all manner of fun, engaging details like this in the Cook's Essential Kitchen Dictionary by Jacques L. Rolland. The author was born in France, has a degree in culinary arts and hotel management and is a certified sommelier. His love for food and culture has been enhanced through his extensive world travels, thus making him a perfect guide for Food Travelists like me who enjoy getting steeped in the history, etymology, origins and cultural information that so often accompanies food, but so rarely gets explored in other references. This one is a keeper.
The Food Substitutions Bible, Second Edition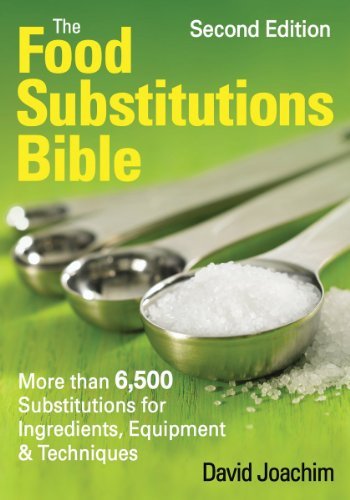 It sometimes happen that I'm in the middle of preparing a recipe for which I believed I had all the ingredients on hand, only to discover that the last of the brandy I was going to use for cooking had been used as a nightcap or the fresh ginger I thought was still good has acquired an unappealing brown mushiness to it.
Not to panic. The Food Substitutions Bible is just that, a huge compendium of more than 6,500 ways to exchange this for that from ingredients, equipment and techniques. I love the fact that this big fat beautiful monster of a book is organized alphabetically. I don't have to dig through some arcane index trying to decide whether my missing ponzu is fatal – I just look up ponzu under "p."
In addition, there are some super handy guides at the back of the book that include ingredient guides on everything from picking apples to shuffling mushrooms and measurement equivalents to convert round pans to square and vice versa or change weight or volume from imperial to metric, and more.
This lifesaving award IACP award-winner was written by David Joachim, who has more than 30 cookbooks under his belt. Now in its second edition, just having this volume on my kitchen shelf makes me feel more secure. And, sometimes, I confess, I just read it for fun to see what can I use if I've run out of lemon juice!
Both of this wonderful resources are published by Robert Rose, Inc. If you've got any room for new loves on your kitchen shelf, you should definitely consider a romance with these two. They'll make it worth your while!
THE QUICK BITE:  If you are willing to make some new additions to your kitchen resource arsenal, The Cook's Essential Kitchen Dictionary and The Food Substitutions Bible are worth your consideration.