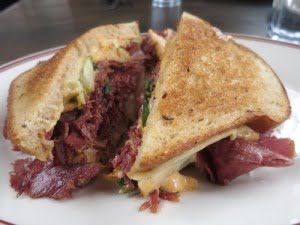 If you're looking a late night diner or a new lunch spot in Chicago's near North side go no further than The Little Goat Diner. Looks like Top Chef winner Stephanie Izard has another winner on her hands. The joint is always jumping so leave plenty of room to wait; no reservations are taken.
Izard's unique take on the diner, Little Goat provides options for just about every taste. Breakfast, which is served all day, has a sort of worldly spin. Ethnic mashup menu items include crumpets with chorizo maple syrup, shrimp and cheesy grits, kimchee & bacon & eggs & pancakes asian style breakfast tasty thing, bull'-eye fFrench toast (which includes crispy chicken, sweet onion brioche and bbq maple syrup) and the Indian flatbread parathas burrito.
Little Goat also excels at the creative sandwich, known as "sammiches" in Little Goat vernacular. Fun & crispy chicken sandwich, bbq pork, sloppy goat, fish tostadas, tonkatsu, pork belly pancake (with killer house hoisin, bok choy salad and ginger maple dressing are just a few. Burgers are just as creative from the Korean to Loco Moco (with jasmine veggie rice, egg and sweet n'sour) to goat almighty. You can choose from Slagel beef, Kilgus goat or veggie patties.
There are salads and tofu offerings for the vegetarian, as well as "tater town" for the potato lover, with smoked fries, garlic mashed, hash browns, home fries, tempura mashed and bag o'chips to pacify the tater tantrum.
There are snacks from fried pickles & onion rights to goat chili cheese fries and soups including goat chili. Dinner works at Little Goat too, from pork chops and fried chicken to pies, shakes and specialty coffees.
Stephanie Izard's bread at her first restaurant, the always popular Girl and the Goat became the talk of the town. Now you can stop in at the Little Goat Bakery next store and pick up some yummy bites to take home as well.
If you've never tried goat, here's the place to do it. And whether goat's your thing or you just love well-conceived, tasty and comforting food, make sure to visit the Little Goat. You'll be more than a little glad.
THE QUICK BITE:  Top Chef winner Stephanie Izard has a mother delicious restaurant on her hands. This time, the Little Goat diner is perfect for a casual bite of diner classics with some global, gourmet and creative twists.