Love With Food. We can't think of a better brand name for this company that delivers organic or all-natural snack packs every month and with every purchase, they donate to a food bank in America.
When Love With Food first contacted us to see if we might want to try a sample we didn't need to read any further than they help feed people in need to say a loud resounding, "Yes, please!"
When the boxes arrived I was absolutely blown away. Their subscription membership delivers a surprise mix of unique, tasty, organic or all-natural snacks to your door every month. Their snack curation team must work overtime to find and create these distinctive and delicious snack boxes that are based on seasonal themes.
"My vision since the beginning is to make it easy to connect consumers and brands and make healthy eating accessible to anyone," Aihui Ong
Upon doing a bit more research I also discovered that Love With Food's founder and I had a bit more in common than I suspected. Like many of us Aihui Ong found herself in a relationship that was not what she had hoped for. She made dramatic changes to her life and traveled the world. Returning home she discovered that her best friend had been diagnosed with breast cancer. This news jolted Aihui out of her depression and she started cooking & caring for her friend. Her friend is thankfully alive and happy but Aihui learned the valuable lesson of showing love with food.  She learned to code, and created a website that merged her passions of food+technology. She wanted to help food entrepreneurs have a different type of distribution so more consumers could experience and discover good food. She was able to do this by creating Love With Food and discovered she could also use the platform to help feed the more than 16 million children in America that are at risk of hunger. Now there's a woman with a plan!
Here's a quick look at the three different options for home delivery. They also have a plan for office snacking too!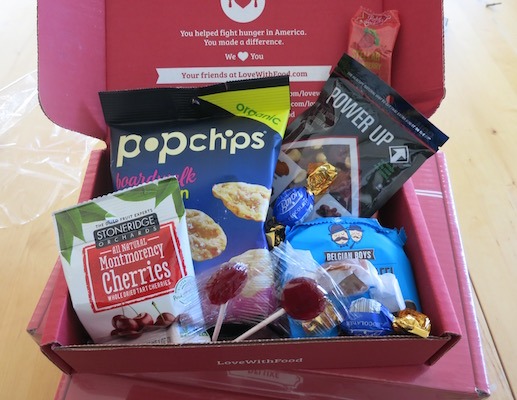 Tasting Box
8+ new and surprise snacks (who doesn't like getting surprise snacks?) each month. Each box donates 1 meal to hungry children in America. All snacks are either organic or all-natural, GMO-free, gluten-free or free of artificial junk. Each box comes with a detailed list of what's inside with all the brand information and their social media info. so you can do a selfie or give a shout-out to your favorites. Our faves is this box were the Stoneridge Orchards All-Natural Montmorency Cherries, the melt-in-your-mouth Sea Salt Caramels by Liddabit Sweets and the Choco Liege Wafel by Belgian Boys. Those Googly Grape Organic Lollipops by YumEarth were also beyond flavorful!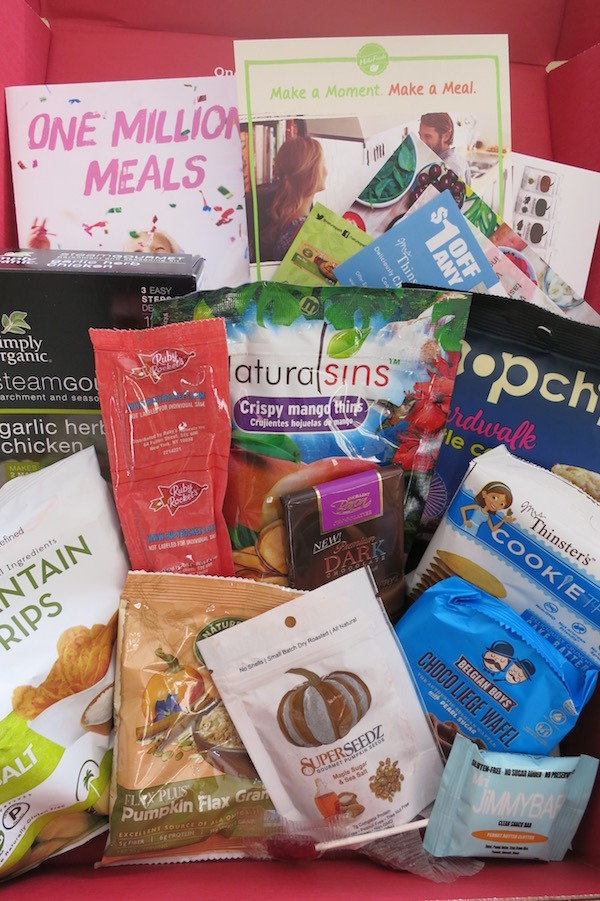 Deluxe Box
16-20 surprise snacks each month. Each box donates 2 meals to hungry kids in America. Like the Tasting Box all snacks are either organic or all-natural, GMO-free, gluten-free or free of artificial junk.  Our faves in the Deluxe Box were the Plantain Strips with Sea Salt by Artisan Tropic, Maple Sugar and the Natural Sins Crispy Mango Thins and the Savory Bar by Mediterra.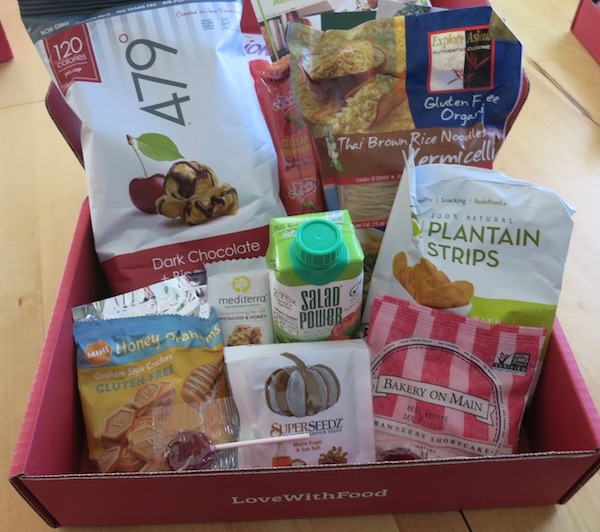 Gluten Free Box 
Celiac-safe and mostly dairy free snacks each month. Each box donates 2 meals to hungry kids in America. Our faves in the box were the 479° Dark Chocolate + Bing Cherries popcorn. It's addictively delicious – chocolate and cherry? – a real winner. We also loved the Sea Salt Pumpkin Seeds by SuperSeedz (we LOVED this family-owned brand when we met them at the Sweets & Snacks show last year).
All the boxes had a good mix of sweet and savory snacks. With every box you order you earn Bonus Points that can be redeemed toward any item in their Shop. And…all the boxes come loaded with coupons and more great deals that you'll want to take advantage of.  All boxes have FREE shipping to the U.S. and territories and you can cancel your monthly Love With Food subscription at anytime. Monthly plans start at $7.99 a month. 
Remember that with every box sold Love With Food donates a meal to several food banks like Feeding America and Share Our Strength – No Kid Hungry, two organizations that we heartily support. To date, the Love With Food community has donated over 1,000,000 meals to American children in need.
Love With Food is a terrific way to get great quality, delicious tasting unique snacks every month and help end hunger one meal at a time.
To find out more about Love With Food and their plan options check out their website at LoveWithFood.com. Their tagline says it all "Snack Smart. Do Good."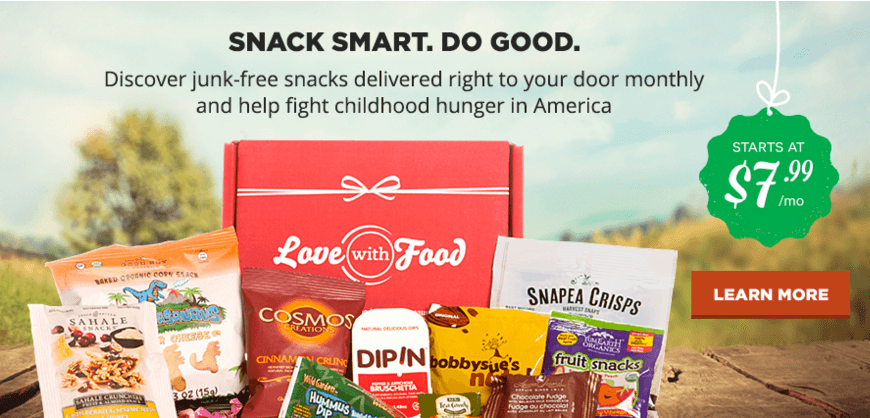 THE QUICK BITE: If you're looking for an easy way to get delicious & unique organic or all-natural snacks delivered to your home or office every month Love With Food can do that and help feed hungry children in America too.