Luxury Train Ride To St. Louis Union Station Hotel
Thank you the Explore St. Louis and St. Louis Union Station Hotel for hosting my recent visit. All opinions we provide are our unique views and reflect our experiences. We pledge to provide our audience with truthful and honest reviews.
Meet me in St. Louis. It may be a familiar refrain for those of us who have seen the movie (who can forget the Trolley Song, or Have Yourself A Merry Little Christmas?). St. Louis is a short trip from Chicago and I've made the drive on several road trips. But I have to admit that although it's fun to stop in Springfield for the original corn dog at the Cozy Dog Drive In driving through Illinois can be quite a slog. Flatlands full of a cornfield after cornfield. Trucks whirring along. Best to have a really good audio book or playlist as your companion on this part of Route 66.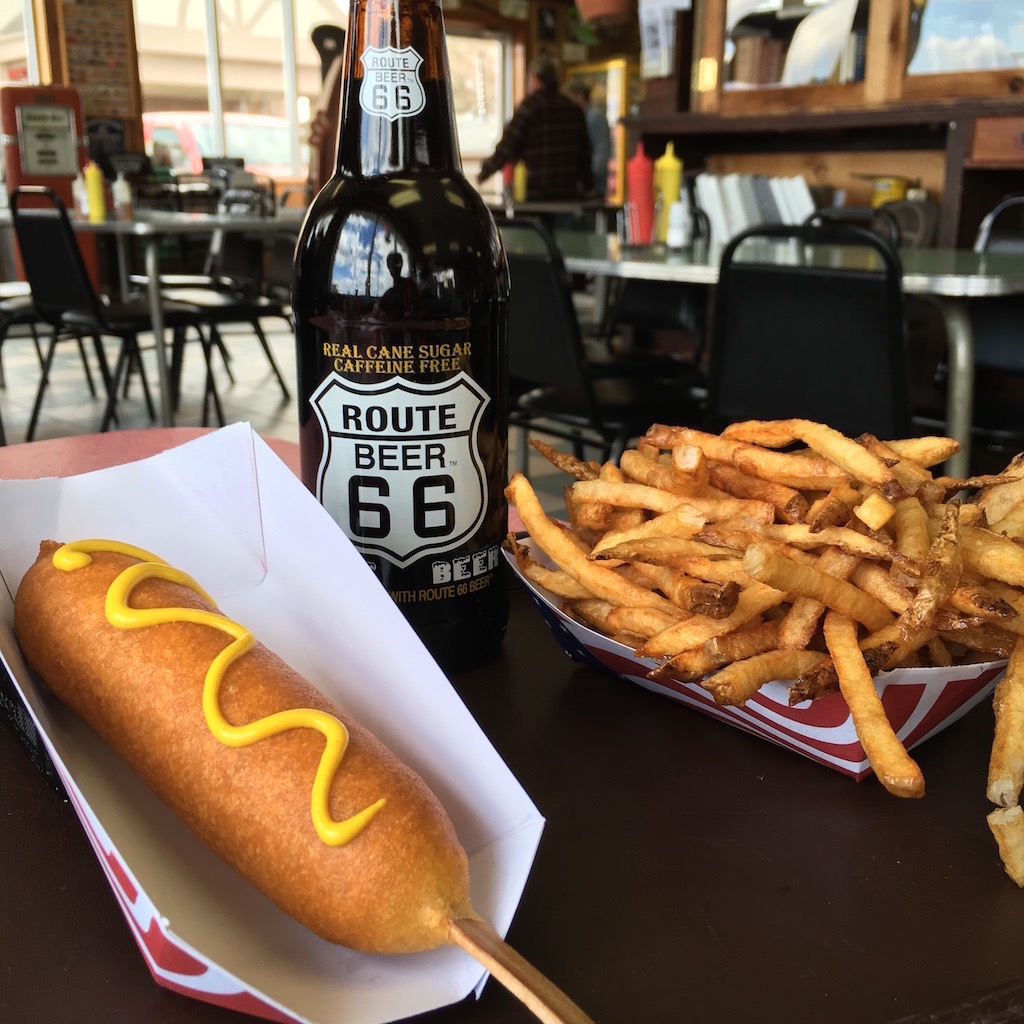 Another way to travel to St. Louis in comfort is aboard the Silver Chalet Pullman car. Although the six-hour ride is considerably longer than a direct flight the experience will be one that you won't soon forget. It's like going back in time. Relaxing, sipping a tea or coffee, watching the small towns with their train stations and steeples go by. There's something very civilized and reminiscent about it.
Dreary Turns To Cheery 
A rain had come through just as I left the house for the train station. In fact, the neighbors' large tree fell onto our roof and fence as I walked out the door. Thankfully, no one was hurt although our fence was completely down and our gutter was dented. Fortunately, the fence took the most direct hit saving the roof and house. Needless to say, I was not having a good start to my day. When we pulled out of Union Station in Chicago in the three-car Silver Chalet Pullman train the clouds seemed to part to say relax, this trip is just what you need. Off we go heading to St. Louis and the St. Louis Union Station Hotel.
The hotel is part of the Curio Collection by Hilton so you know that your experience at this grand hotel is going to be something a bit special.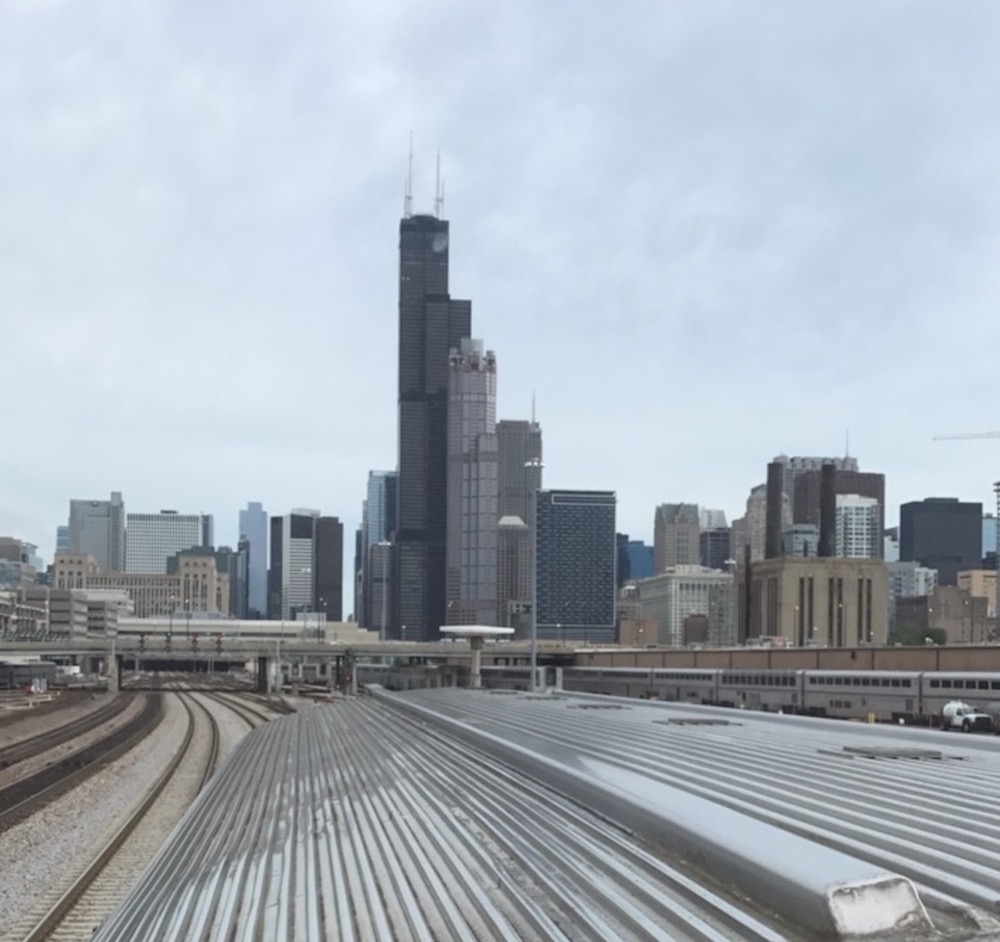 Let The Eating Begin
As I sipped my tea in the club car I was told to go check out the train's breakfast buffet. Have you ever known me to not go and at least look at the food that was offered? Of course not. I was delightfully surprised to see fresh croissants, bagels, sweet rolls, fruit, yogurt and more on full display in the dining car.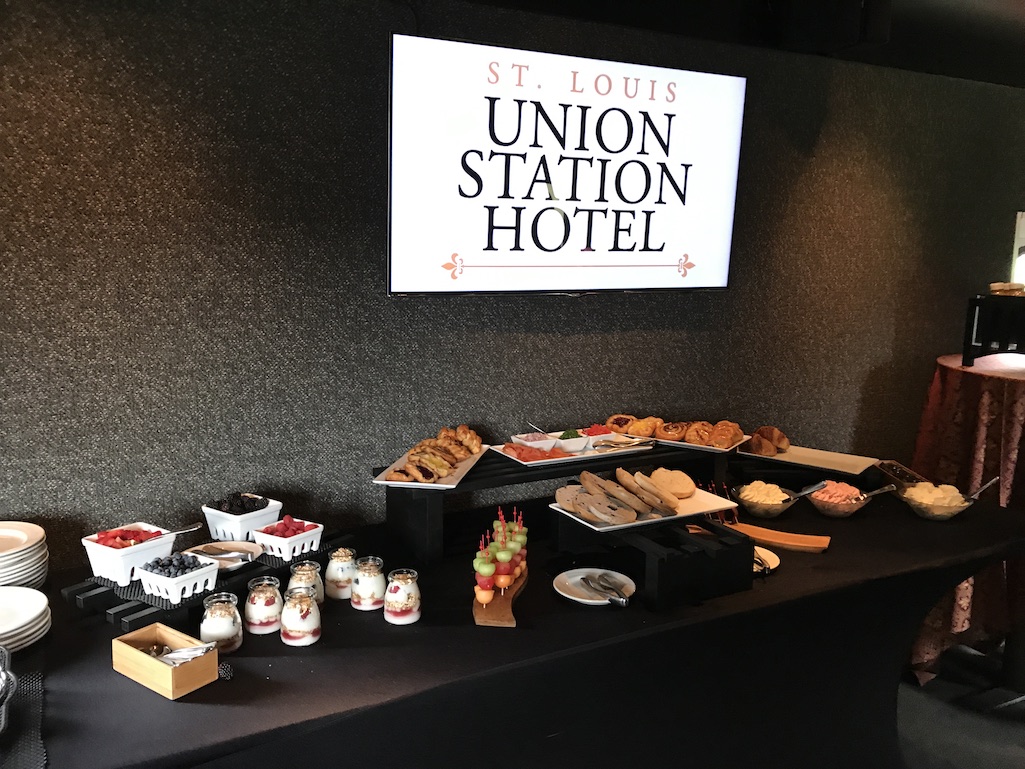 The star of the train's breakfast buffet was the candied bacon. How could anyone say no to just one, maybe two little pieces? We were off to a great start.  All the food onboard the train was prepared by the Union Station Hotel chefs. It was then fitting that our final destination the St. Louis Union Station Hotel itself.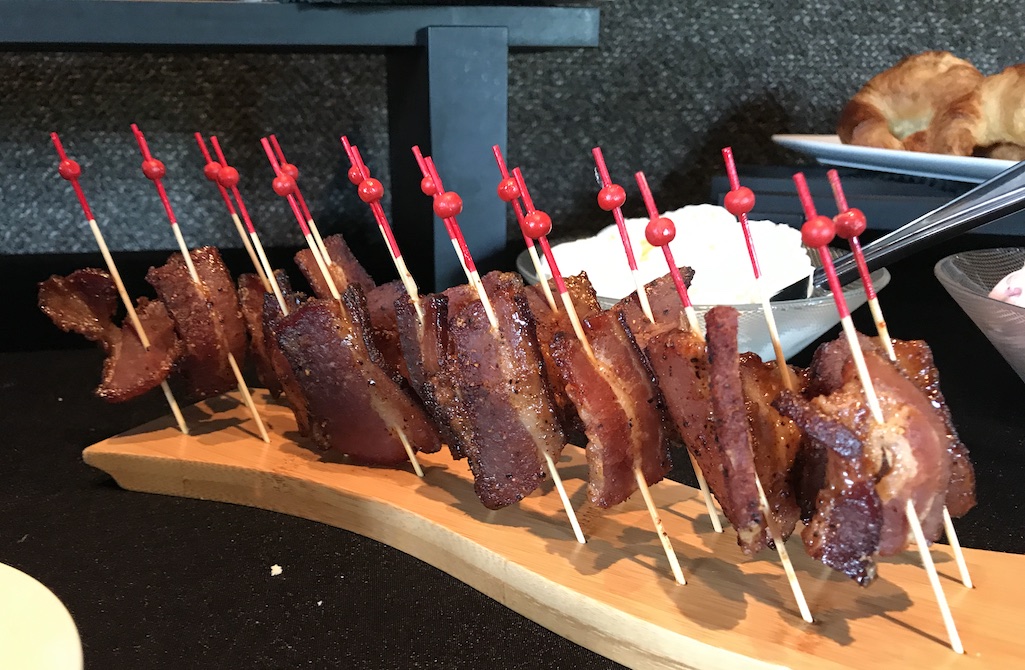 As we watched the miles go by our small group chit-chatted and enjoyed the view. The club car was comfortable and provided a fun glass dome view.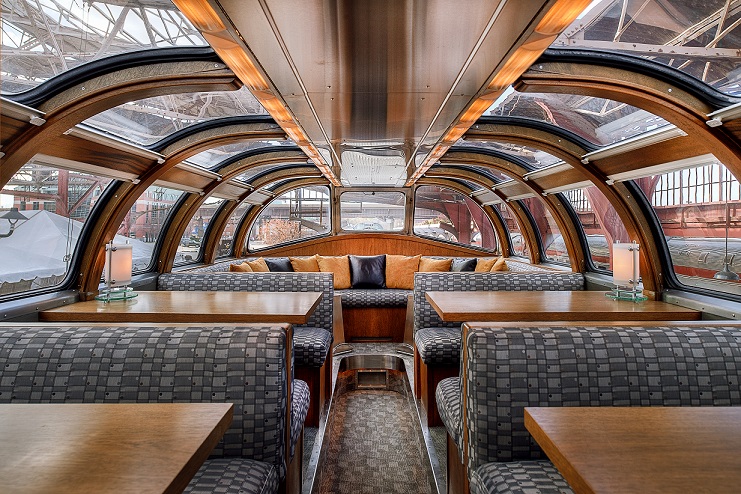 Our club car also had a platform in the back allowing us to take photos and feel like we were on one of those whistle-stop political tours of years gone by.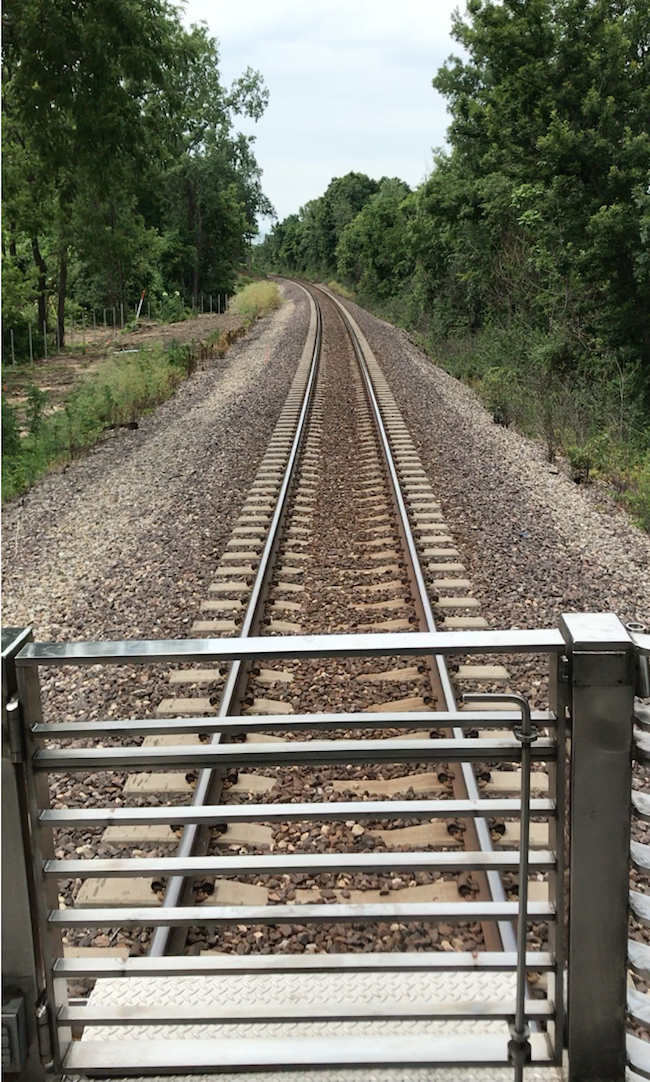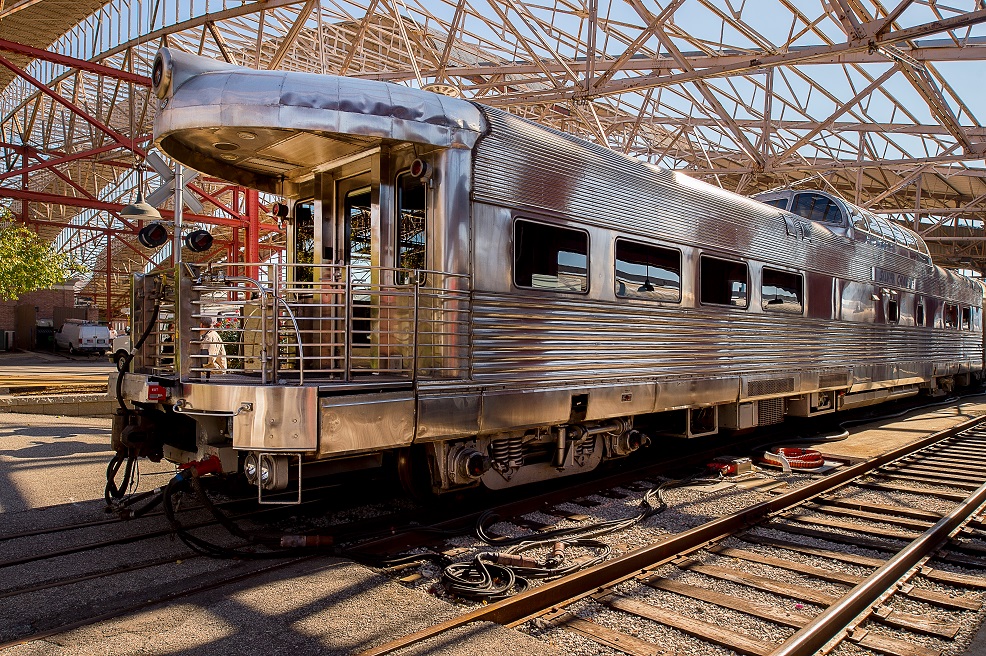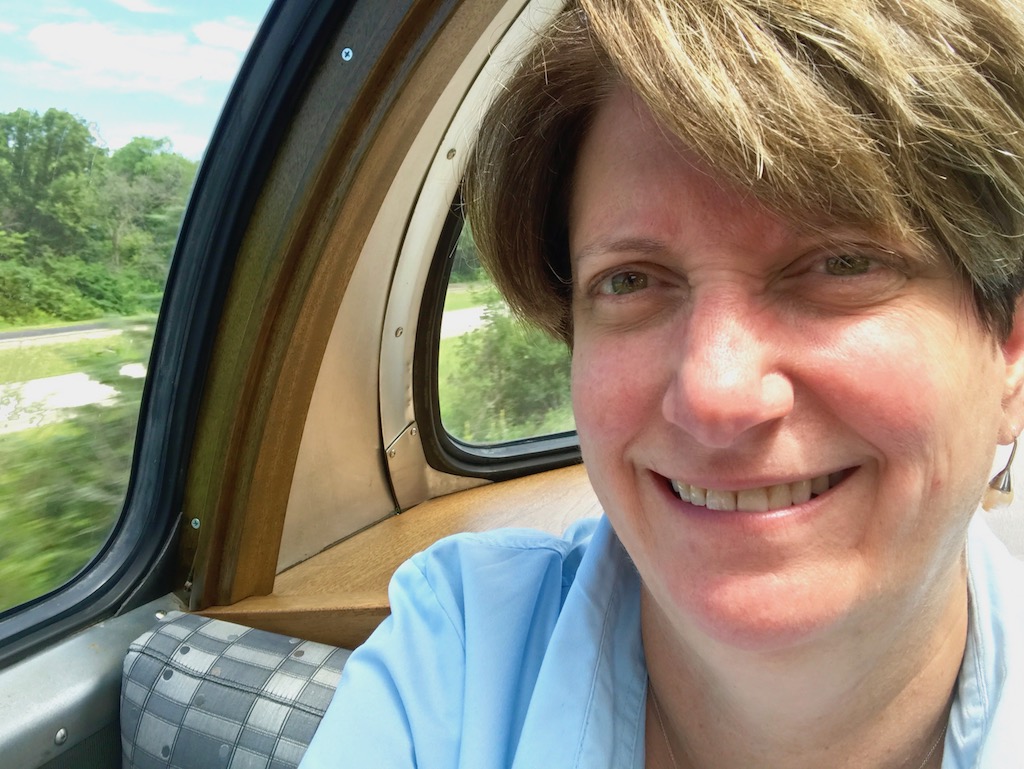 Sit Back & Relax
As the miles flew by, it was soon time for lunch. We were treated to delicious sandwiches, salads, and housemade potato chips. Beautiful fresh flowers also brightened the mood. Yellow roses always make me feel like smiling.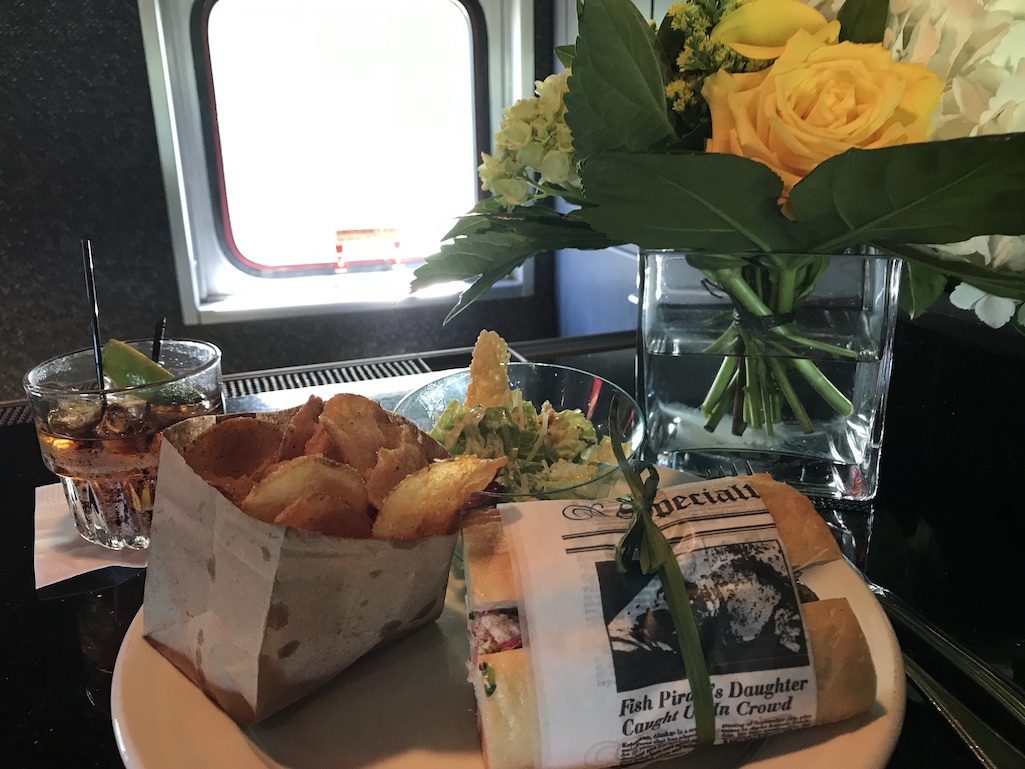 Of course, lunch would not be complete with dessert. We had so many choices: macarons, pastries, truffles. Right about now a nap would have been perfect.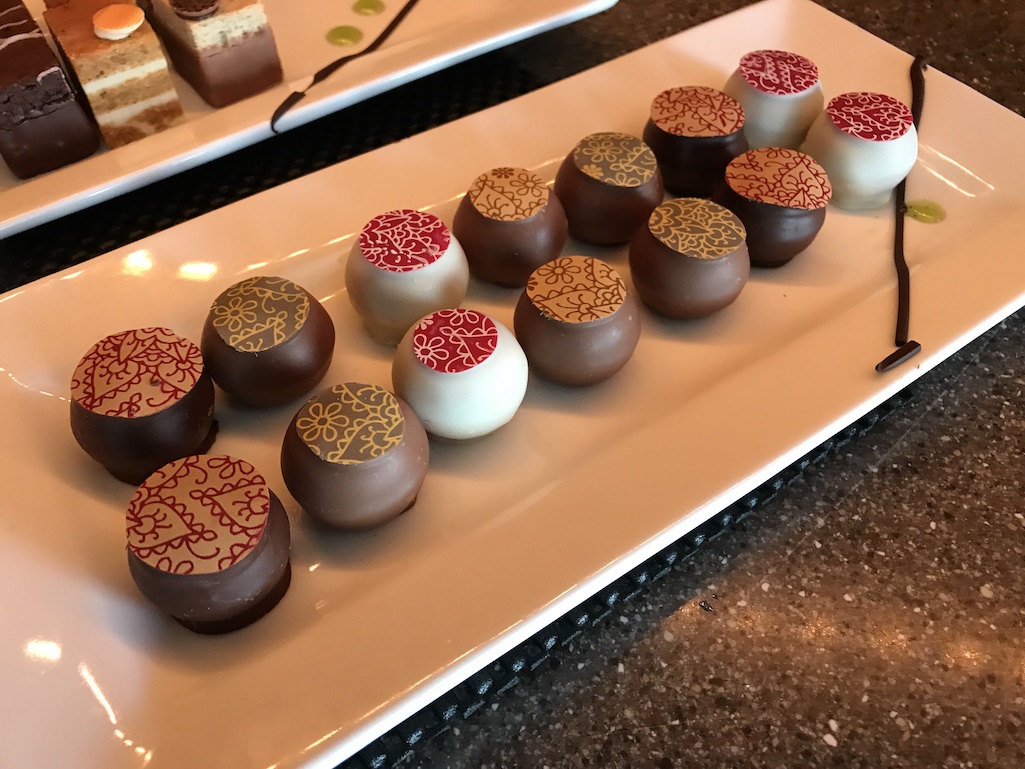 St. Louis Beer Tour
Now for some serious education. We were lucky to have on board "Beer Tony" Tony Caradonna, one of our hosts that works for the famed Cardinal's Ballpark Village in St. Louis. Tony's job was to give us the 411 on the St. Louis craft beer scene. We sampled four local brews along with some house-made cheesy pretzels. About this point I'm thinking, "Do we ever have to get off this train? There's a whole car with private sleeping areas, right?"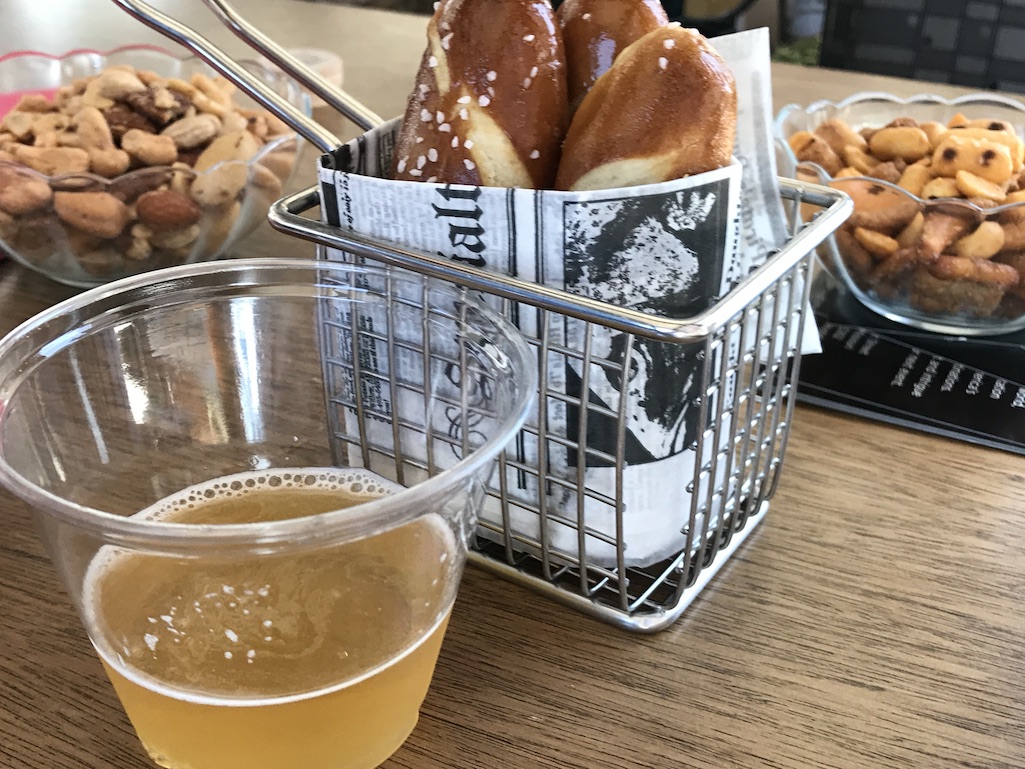 Soon we were nearer to St. Louis and saw the Arch getting closer and closer. We were getting excited to arrive at the St. Louis Union Station Hotel and start our adventures.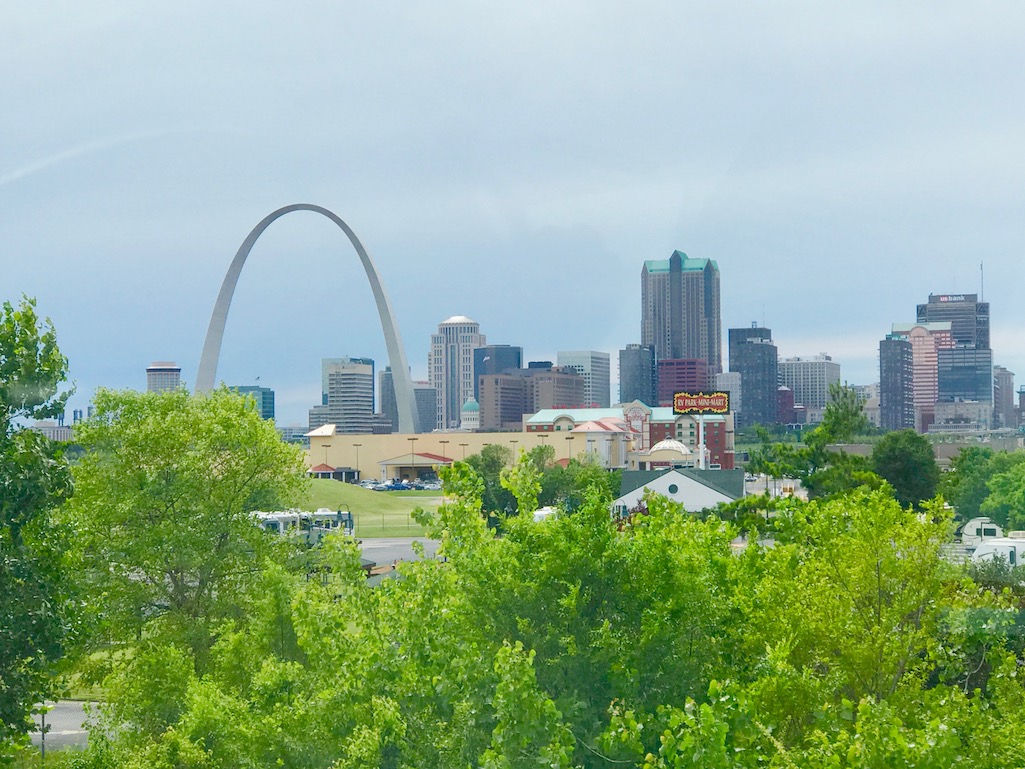 You've Arrived
This historic former train station and hotel are listed among the Historic Hotels of America. You will think you've been transported to another time and place when you see the carefully crafted architecture of the hotel. You can almost hear the people bustling to and from to catch their trains.
The Union Station Hotel is also home to the former St. Louis Union Station renowned as a hub for the busy Midwest. Today the hotel that hosted everyday travelers and luminaries alike still shines with its historical features but adds the comfort and modern day amenities the weary road warrior has come to expect.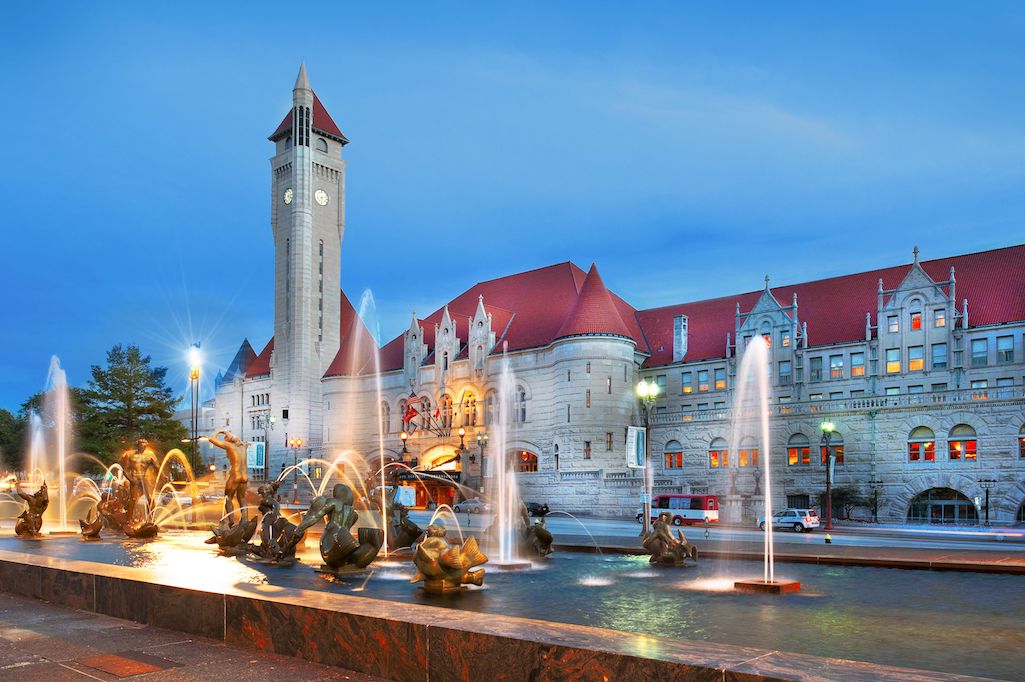 Walking into the Grand Hall at the St. Louis Union Station Hotel is a jaw-dropping experience. Recently restored in 2014 its detailed frescoes and gold leaf detail will draw you into its beauty. Take the time to really appreciate the many mosaics and decorative glass windows.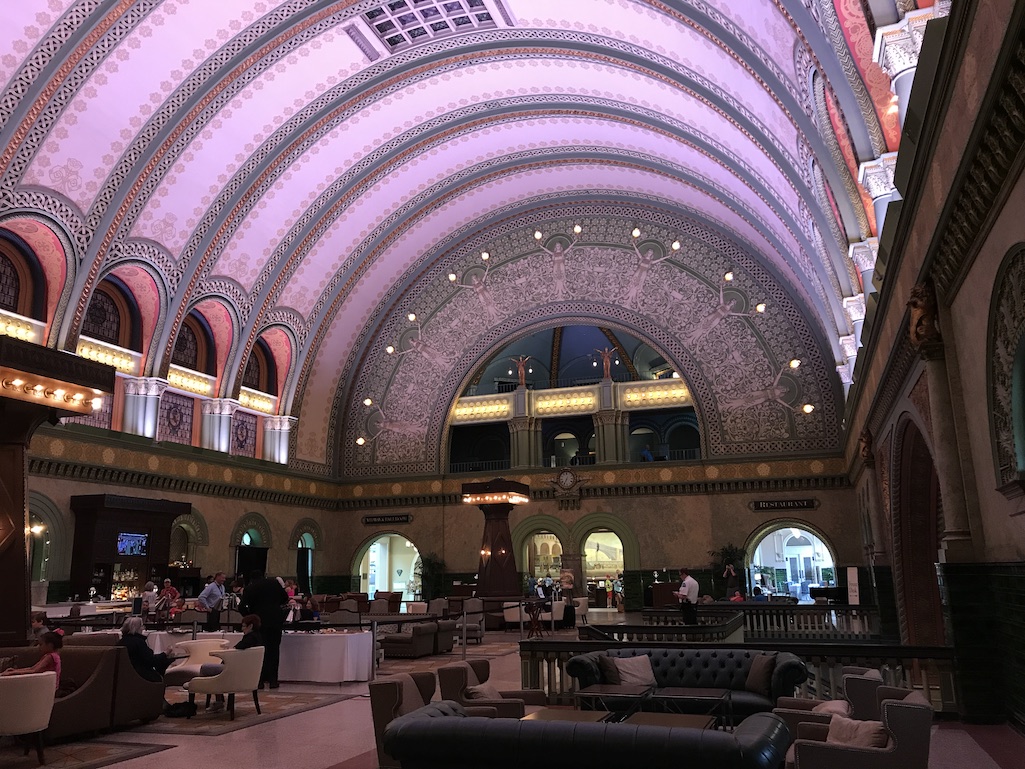 The best way to take it all in is by having a comfy seat and ordering a cocktail at the bar. Once settled in you can take time to enjoy every detail around you.
Watch The Show
Order a few appetizers and sit back and wait for the light show to begin.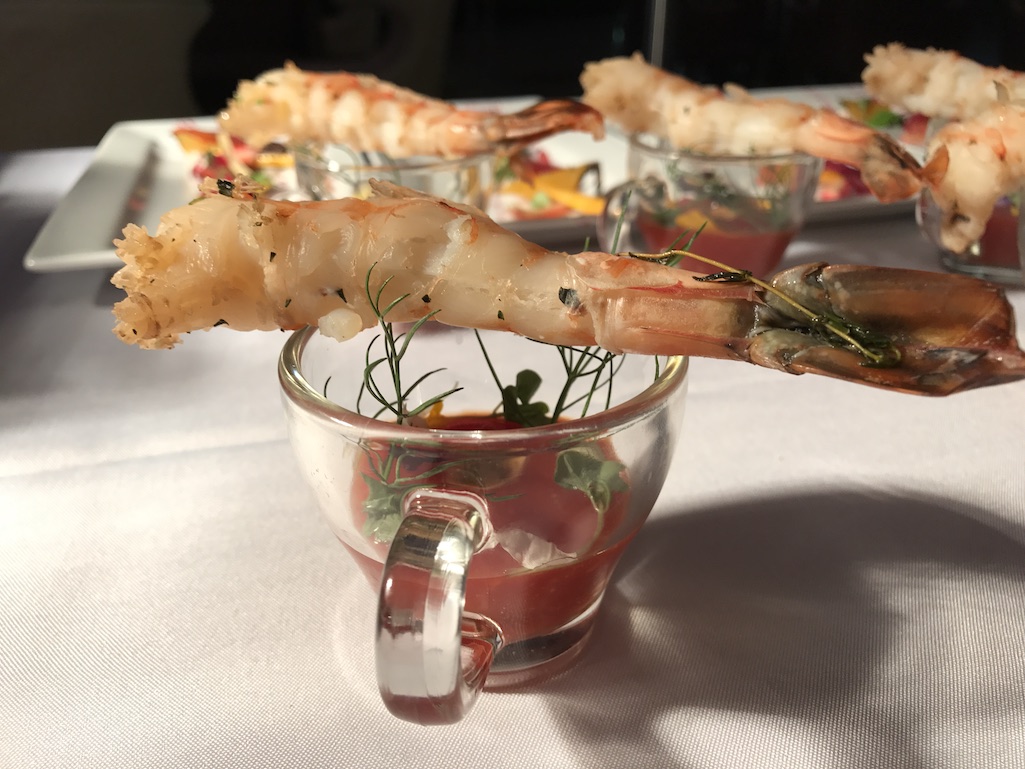 Light show? Yes. Prepare to hear the oohs and ahhs that happen every hour the 3D mapping immersive light show is projected on the 65-foot high ceiling across the entire Grand Hall. There's literally no bad seat to watch this show and accompanying music.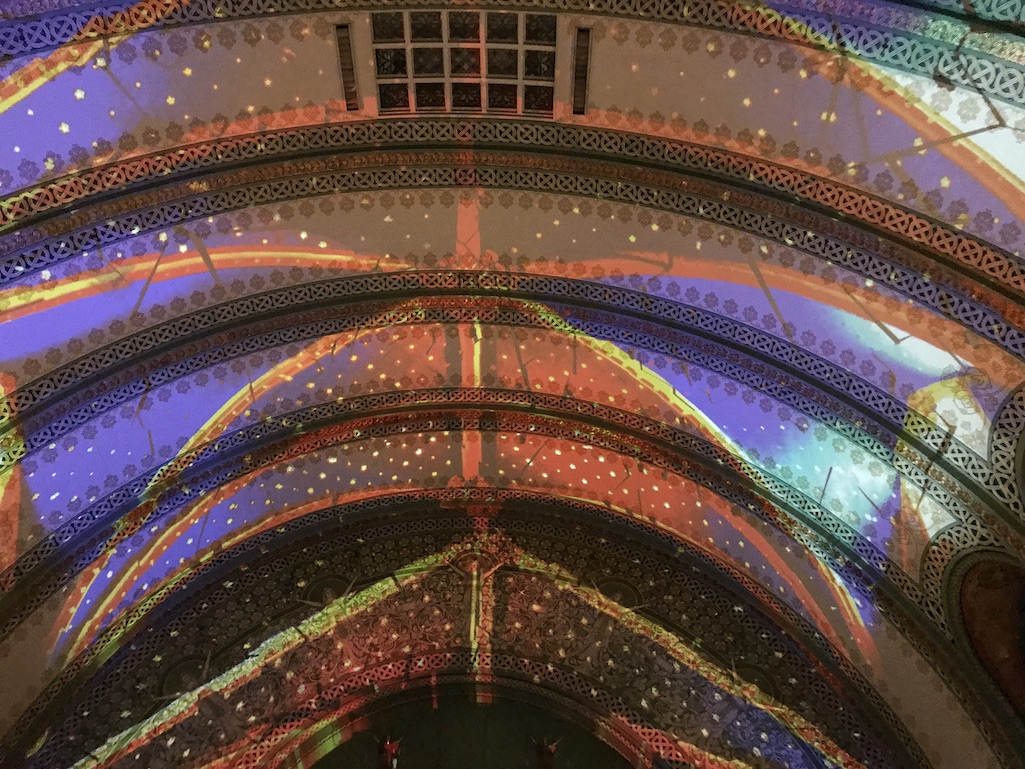 Check out the short video below for the full Grand Hall Light experience.
Spacious & Comfortable Rooms 
With all the excitement of the day, it was time to check out our rooms at the Union Station Hotel. One word – luxurious, describes the wonderfully appointed Executive rooms that are beautifully decorated with warm welcoming colors, crown moldings and historic railroad photos make the perfect finishing touches. The large bathroom had a stand-alone shower and fine Crabtree and Evelyn toiletries to complete this place I would call home for a few nights. The bed was plush and comfy with lots of pillows to relax and watch the large 42-inch TV. There's a separate seating area with two chairs,  a table, a desk with ergonomic chair and all the hook-ups you need to get work done comfortably.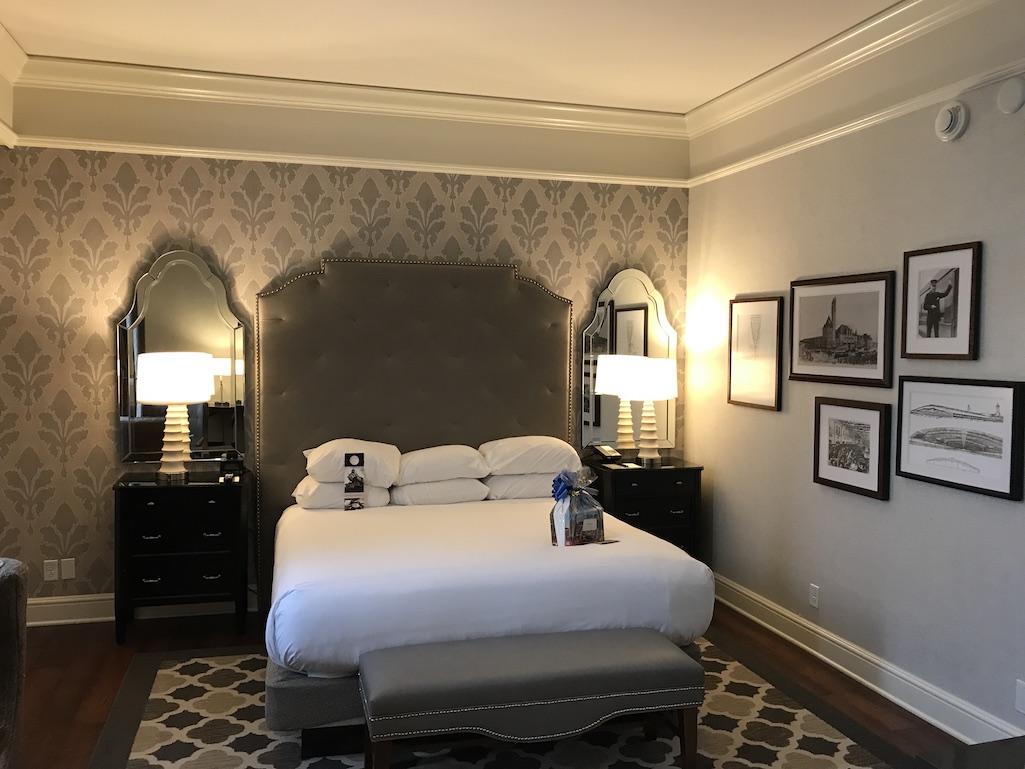 My welcome basket was full of St. Louis favorites. I have to say everything was delicious but that chocolate dipped "Dad's Original Scotch Oatmeal Cookie" was my absolute favorite!!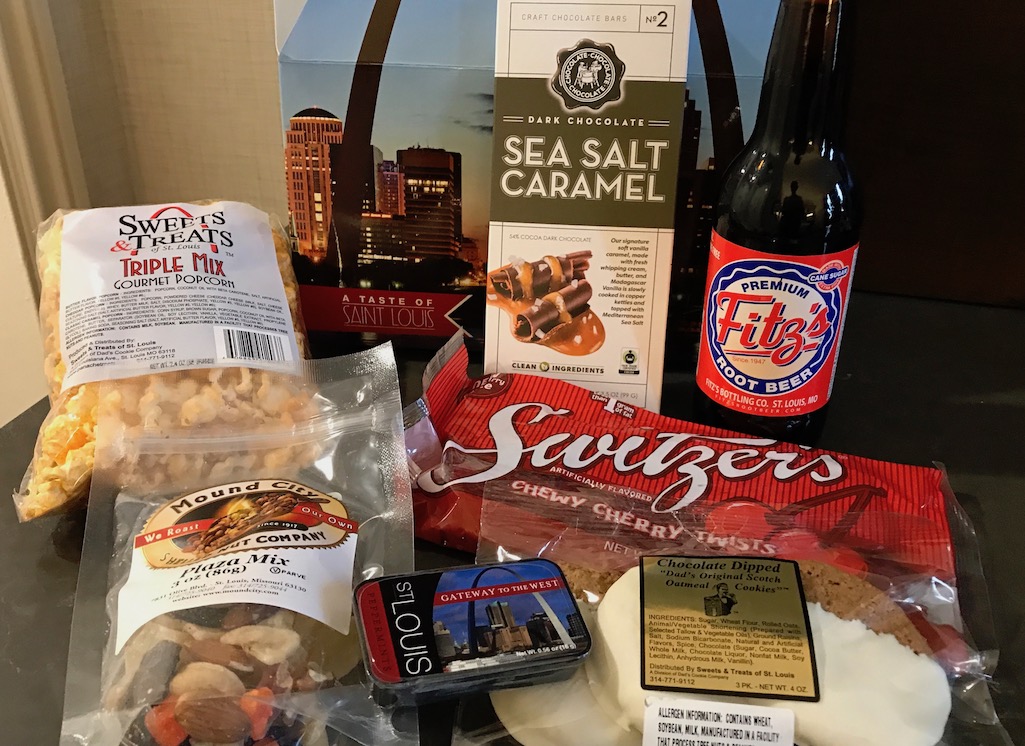 Start The Day The Way You Like
After a good night's sleep it was up and at 'em for breakfast. If you stay in an Executive room you'll have access to the 3rd floor Concierge Lounge. Here you can enjoy a hot breakfast buffet in the morning and hot appetizers in the evening.
I treated myself to a flaky croissant and fresh fruit one morning. I love the way they carry the train transportation theme throughout the hotel.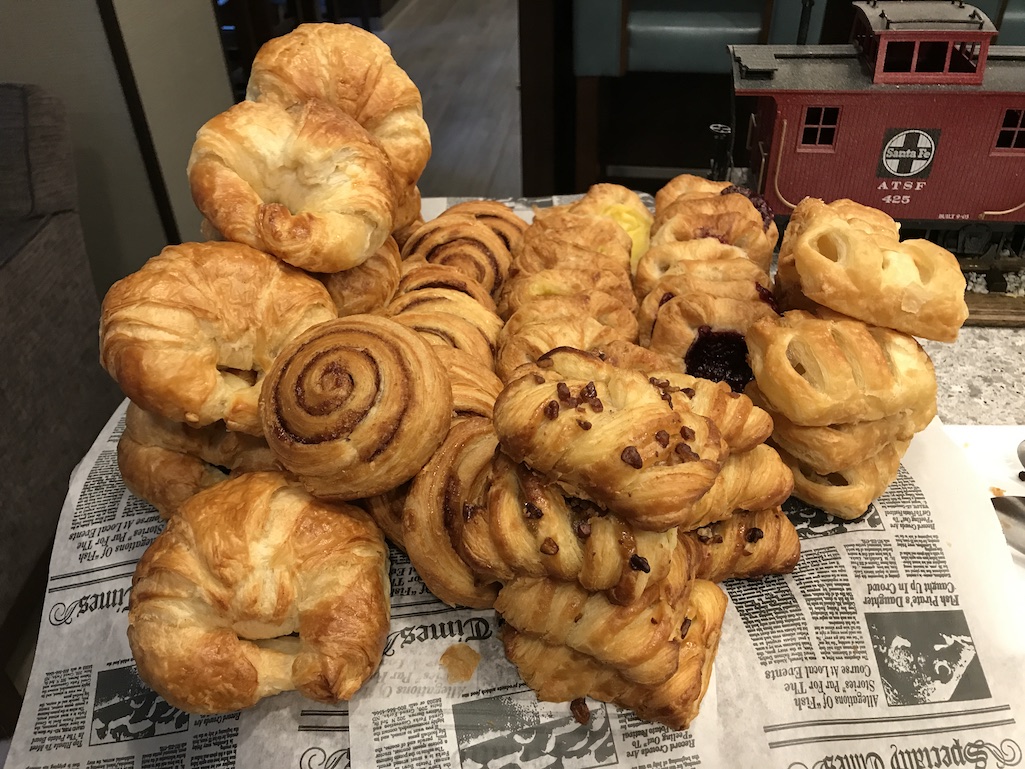 If you're looking for something just a bit different. Head down to the Station Grille. The curved comfortable booths will take you back in time to when the restaurant was named Fred Harvey's. Mr. Harvey changed the way passengers dined by letting them wire ahead their order and when they arrived they sat down and enjoyed a hot meal. They could then easily get back on their train and continue on to their final destination with a full belly. The "Fred Harvey Girls," as the female servers were called back then, were legendary for their great customer service and Midwestern charm.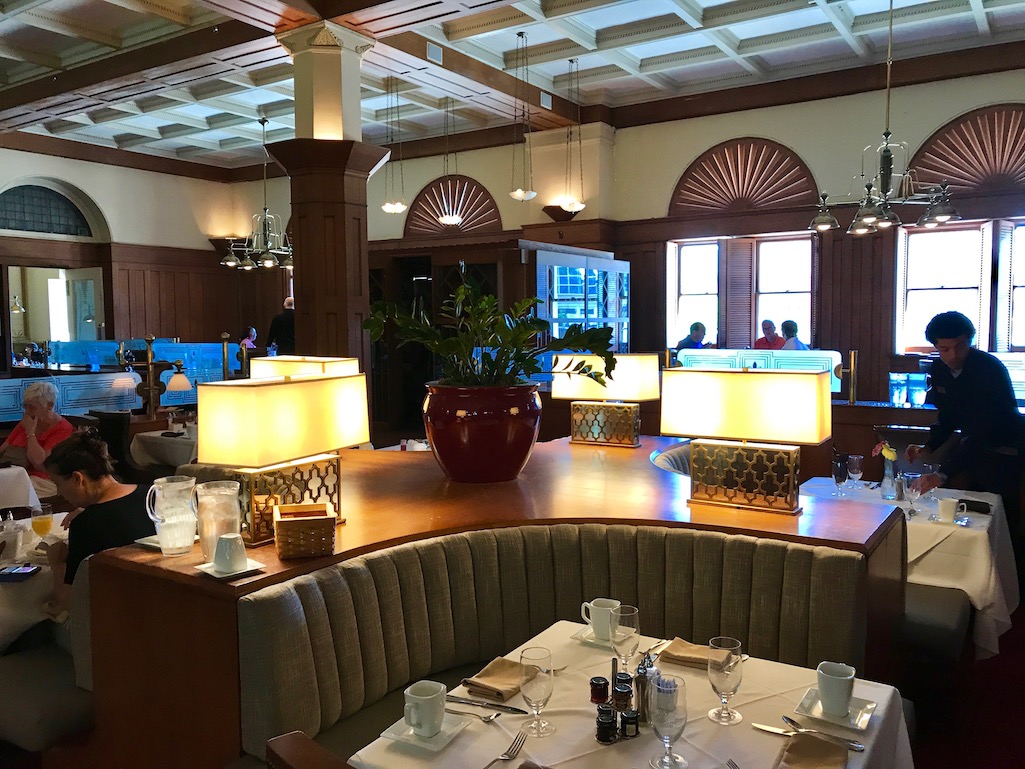 Whether you're looking for a healthy way to start your day or something more decadent they have a full breakfast menu as well as lunch and dinner too.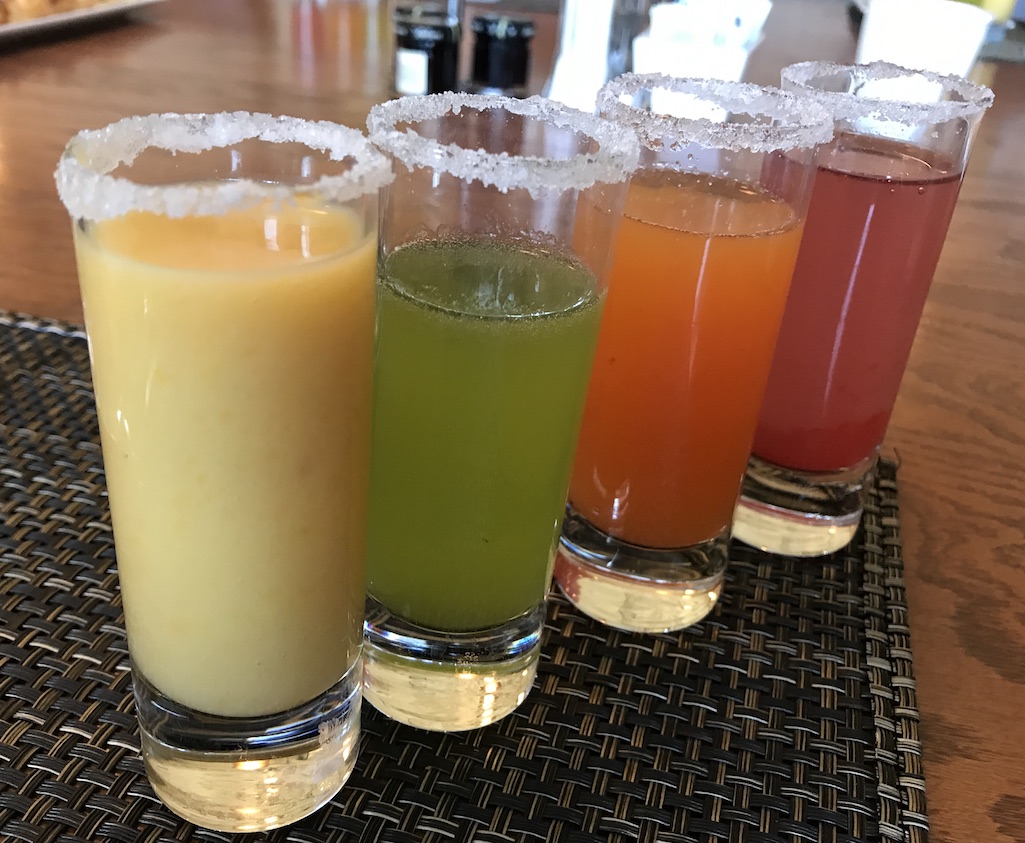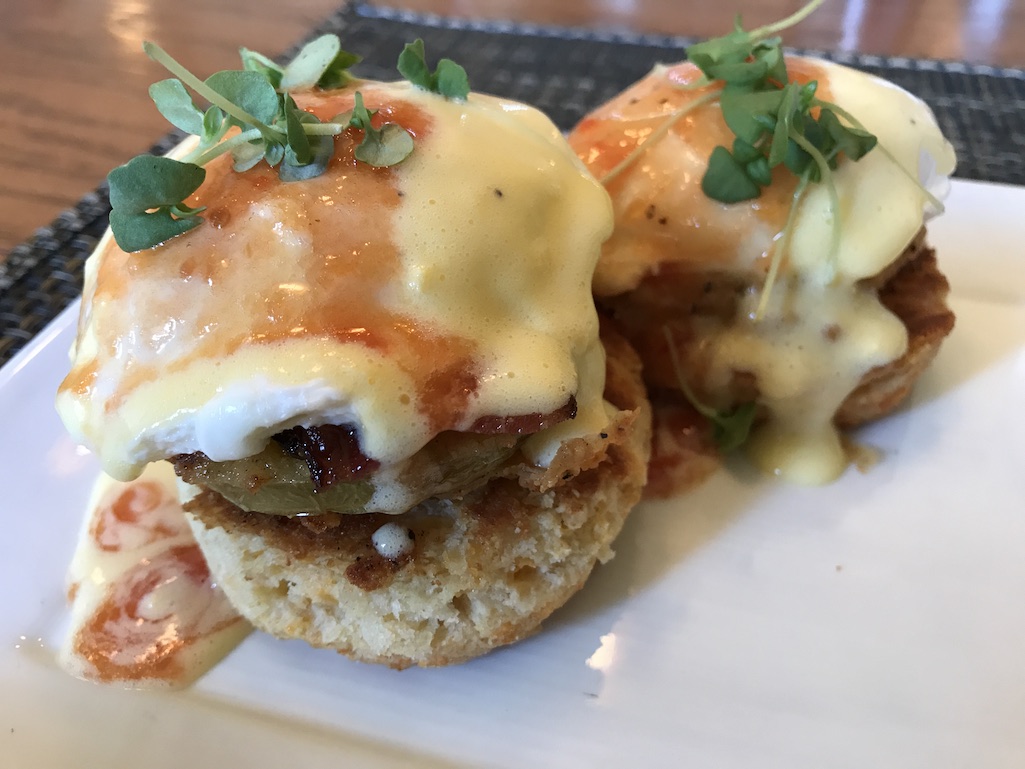 Something For Everyone
The hotel also features the Grand Hall Market that features a 20s-themed Starbucks, gift shop, and snack stand. Be sure to check out the model train set. It will bring back lots of memories of those train sets we used to set up as kids.
The hotel has a complete fitness room and outdoor swimming pool to keep you fit and relaxed during your travels.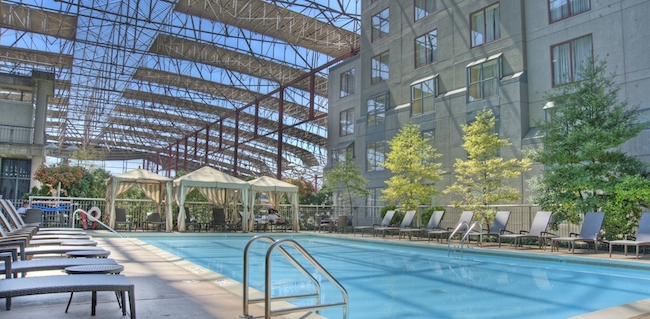 Plan Your Stay
The St. Louis Union Station Hotel is a must see and must stay destination while in St. Louis. To arrange a stay check out their website at curiocollection3.hilton.com.
To learn more about booking a Pullman Train ride into the St. Louis Union Station visit landmarkeventstl.com.
Just in time for the holidays! There's also the Polar Express Train ride where families can embark on a magical train ride and experience the fun of The Polar Express. It's a 45-minute journey that leaves from St. Louis Union station on a ride with songs, cheer and ends with Santa Claus and his magical reindeer waiting at the end of the line. You can find more details about the rides, hotel packages and purchase tickets at sltthepolarexpressride.com.
Pin It For Your Next Food Travel Adventure