Monteverde Chicago Is Special
While Chicago has no lack of great Italian restaurants, Monteverde Restaurant & Pastificio is a more than welcome addition. Located in the West Loop area, this hub of deliciousness is buzzing with good vibes, great service, and out-of-this-world culinary delights. Chef Sarah Grueneberg,  James Beard Award – winner for Best Chef: Great Lakes, former finalist of Top Chef and Executive Chef at the Michelin-starred Spiaggia has made a lot of noise with Monteverde, which she opened with pal and business partner Meg Sahs.
While we are not the first to heap accolades on their effort, we are going to do our best to be some of the loudest. We cannot recommend Monteverde enough – whether you live in or near Chicago or are looking for a reason to visit here, look no further. Monteverde is worth the trip. And now we'll show and tell you exactly why.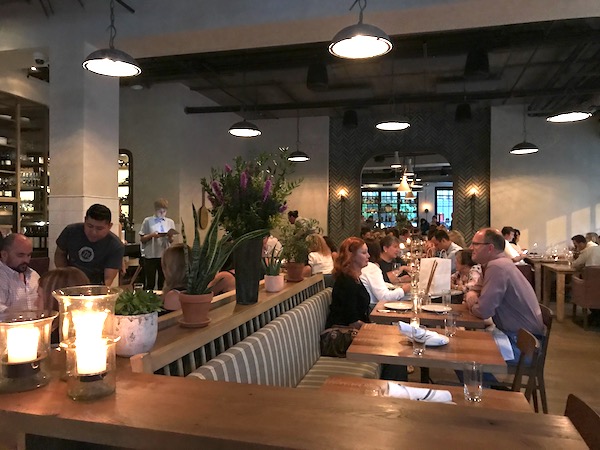 We have run into Chef Sarah at various occasions, trade shows, charity events and such. She is a sweet and gracious woman, with more than enough charm to dispel the belief that wonderful chefs are grumpy, disagreeable maniacs. While we can't vouch for her demeanor inside the kitchen, we spotted fellow Top Chef alum Richie Farina lending a hand, so we would bet that she's just as great to work with as she seems she would be. Chef took time while we were dining to visit with us and take a photo as she did with several other happy diners all wanting just a moment with her during the very busy dinner service.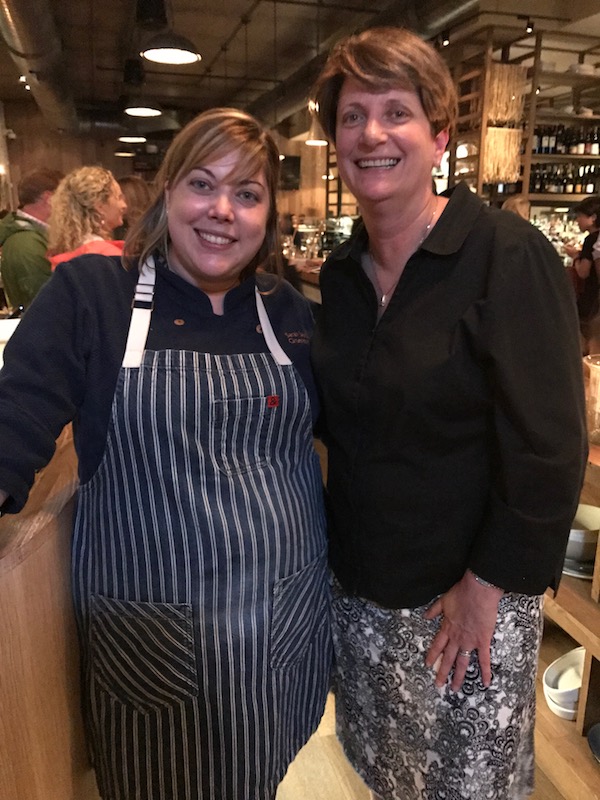 When you're looking for something special in a dining experience, there's just no substitute for a gracious host or hostess. You will find it not only from Chef Sarah, but also from her wonderfully congenial staff, who manage the difficult and complex relationship that straddles educator, entertainer, and attendant with patrons, who sometimes have expectations that are hard to meet. Our server Dave fired on all cylinders combining charm, knowledge, confidence and communication skills that made us feel welcome, cared for and special all at the same time.
The restaurant is comfortable with the ambiance of a lively dinner party attended by a whole lot of people having a whole lot of fun. The pastificio, or "pasta factory" is visible behind the bar where the homemade pasta are being created in full view. While you can make a reservation for a table in advance (and you will need to do so quite a bit in advance as we did), Monteverde also makes room for walk-in guests. If you're feeling lucky, the patio and bar make the complete menu available to guests on a first come, first served basis.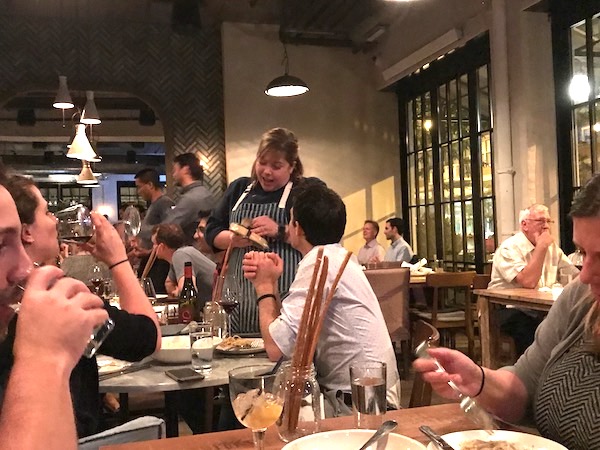 While we know how much the service and ambiance make or break a dining experience, let's face it, we're there for the food. And on that score, we'll just say that Monteverde is so far above much of the competition that it's not even a race. In our usual fashion, we tried a variety of menu items and are thrilled to say there was not a "weak link" among them. Every single taste we had was outstanding. Even the beverage program offered something special.
As this was a final birthday hurrah for Sue, who celebrates "birthday month" every  June, she had to start with a special craft cocktail. The Rhubarb Gin & Tonic was a perfect place to start. The wine and beer list and craft cocktails are extensive. There are also some non-alcoholic options for fun such as saba soda, blood orange San Pellegrino sparkling juice, and an Arnaldo Palmer, which just made us smile. Complementary long skinny breadsticks punctuated by fresh rosemary were a great way to get the tastebuds ready for the deliciousness to come.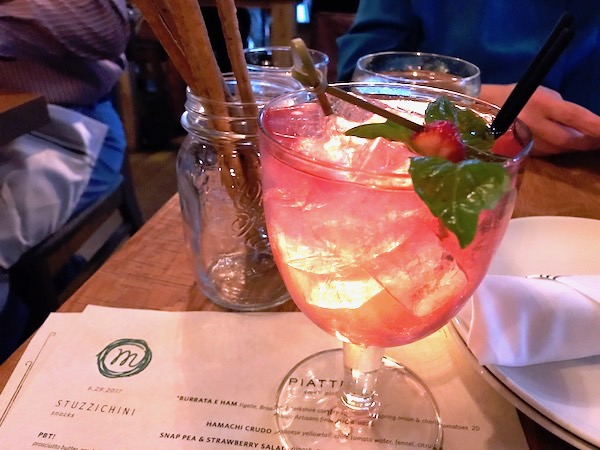 The dinner menu offers multiple ways to dine. As Dave told us, folks can typically order small plates or snacks followed by pastas. There are also some large plates for sharing among the table. It seemed a good idea to take a sharing approach so we could get a range of tastes. We started with a couple of different Stuzzichini (snacks), which you can smartly order by the individual piece. We tried the artichoke & sunchoke crostino with housemade ricotta and laced with fontina fonduta, shallot and Savini truffle, a stunningly flavorful combination.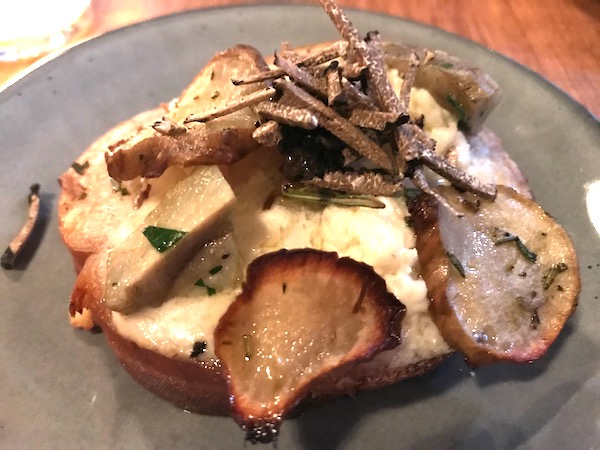 We also had a PBT! This tasty bite has prosciutto butter, topped with radish, asparagus, and lemon marmellata atop seeded rye toast. It was fresh and bright and pure delight.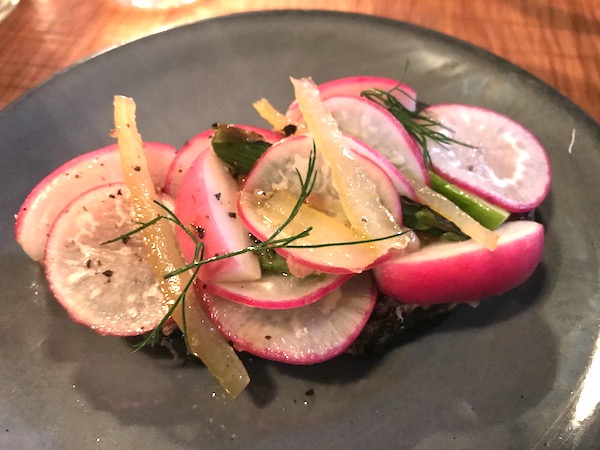 As you know, we never met a burrata we didn't like. So when we saw the Burrata E Ham offered among the Piattini (small plates), we just couldn't say no. The olive oil drizzled cheese came punctuated by impossibly thin slices of Broadbent country ham. Accompaniments include rhubarb mostarda, grilled spring onion and a roasted string of our favorite Mighty Vine cherry tomatoes. But the best part of this delicious assembly has to be the tigelle. These little flat bread disks came with fresh rosemary baked on top. Dave educated us to slice them in half and fill with cheese, ham and other ingredients like little sandwiches. Let's just say that if we were not in public we simply would have licked the plate. Yes, we would.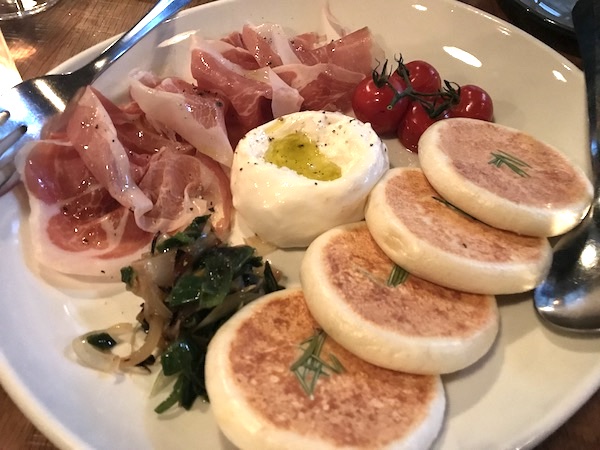 We decided that we'd complement our main course with wine. We ordered some lovely Aglianico Terredora di Paolo from Campania, Italy by the glass. There are several appropriate beverages available including local ciders and craft beers as well as an extensive wine list. We liked the fact that we had several options by the glass as well as the many bottle offerings.
We were unable to decide whether to go for meat or pasta. Luckily, there was an option perfect for us. We ordered the brilliantly all-encompassing entre per la tavola (for the table) Ragù alla Napoletana. The huge dish came beautifully rustic with an eye-popping array of goodies. Everything on the plate is housemade. The dish has fusilli rustico, cacciatore sausage, soppressata meatballs, tomato braised pork shank accompanied by a roasted escarole.
Fully aware that we would be taking home plenty of lefties, we did our best to taste everything. We did. And it was ridiculously good. The pasta was perfect, fresh and chewy and satisfying in the way that only truly fresh made pasta is. The sausage had lovely grill lines and a little bit of heat. The meatballs were tender and meaty just the way you expect from an Italian grandma's kitchen. The pork barely clung to the bone, tender and mild, with tomato sauce that was light and comforting, not overwhelming.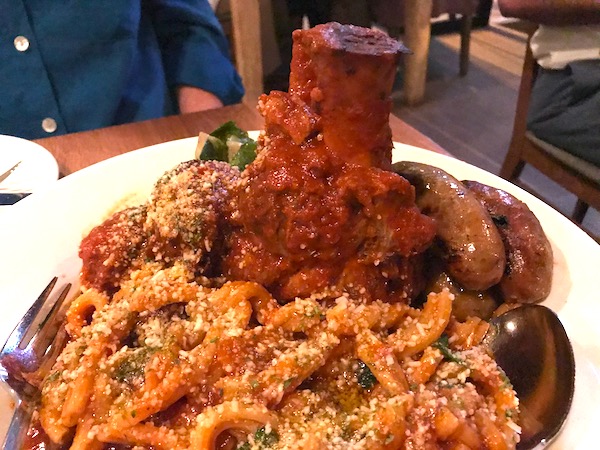 We opted to save room for dessert, and of course, some sparkling moscato to go with it. Though it was difficult to narrow down the choices, we decided upon two. First, the warm rhubarb crostata with rhubarb basil salad and ginger-strawberry swirl ice cream. Then the warm dark chocolate tart, with toasted meringue, banana caramel frozen yogurt and Marcona almond brittle.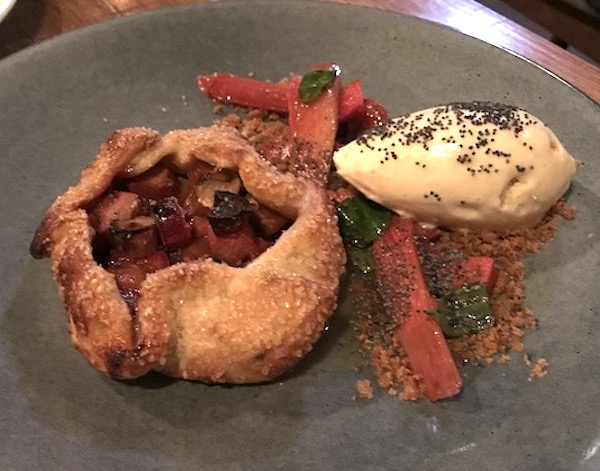 Yes, they were as good as they look. Pastry Chef Sara Lamb managed to make these sweet endings rich and indulgent without being heavy or cloying. They were the perfect end to an amazing meal and experience at Monteverde.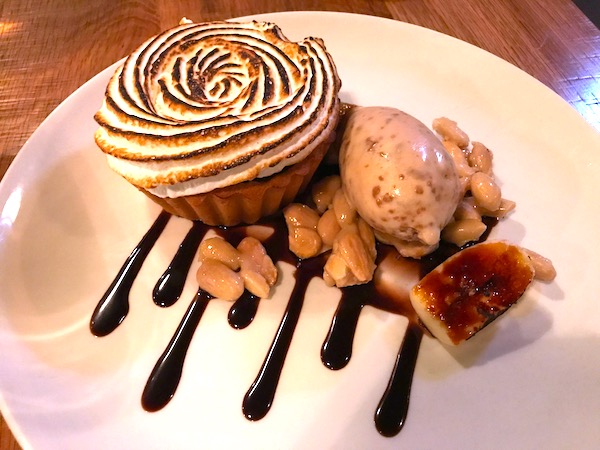 While we love good food and good people, we seldom rave as we have in this review. That's because Monteverde is so special. We really do want you to know that it is worthwhile for you to go yourself. It's our pleasure to tell you when we find something special. To this end, we want to let you, Chef Sarah and all involved in Monteverde know that the notices, awards, accolades are well-deserved. We think Monteverde Chicago is something special and we think you should get your reservations now. And, if you happen to add a couple of seats to your table, we'd be happy to join you anytime!
Monteverde Restaurant & Pacifico is located at 1020 West Madison Street, Chicago IL You can see their full menu and make reservations at monteverdechicago.com.