Traditional Greek Moussaka
Many families treasure their Greek moussaka recipe. A traditional moussaka recipe is a combination of meat, sauce, and eggplant. It's sometimes known as eggplant moussaka to differentiate itself from pastitsio, another traditional; Greek favorite that uses pasta instead of eggplant for a similar style casserole dish.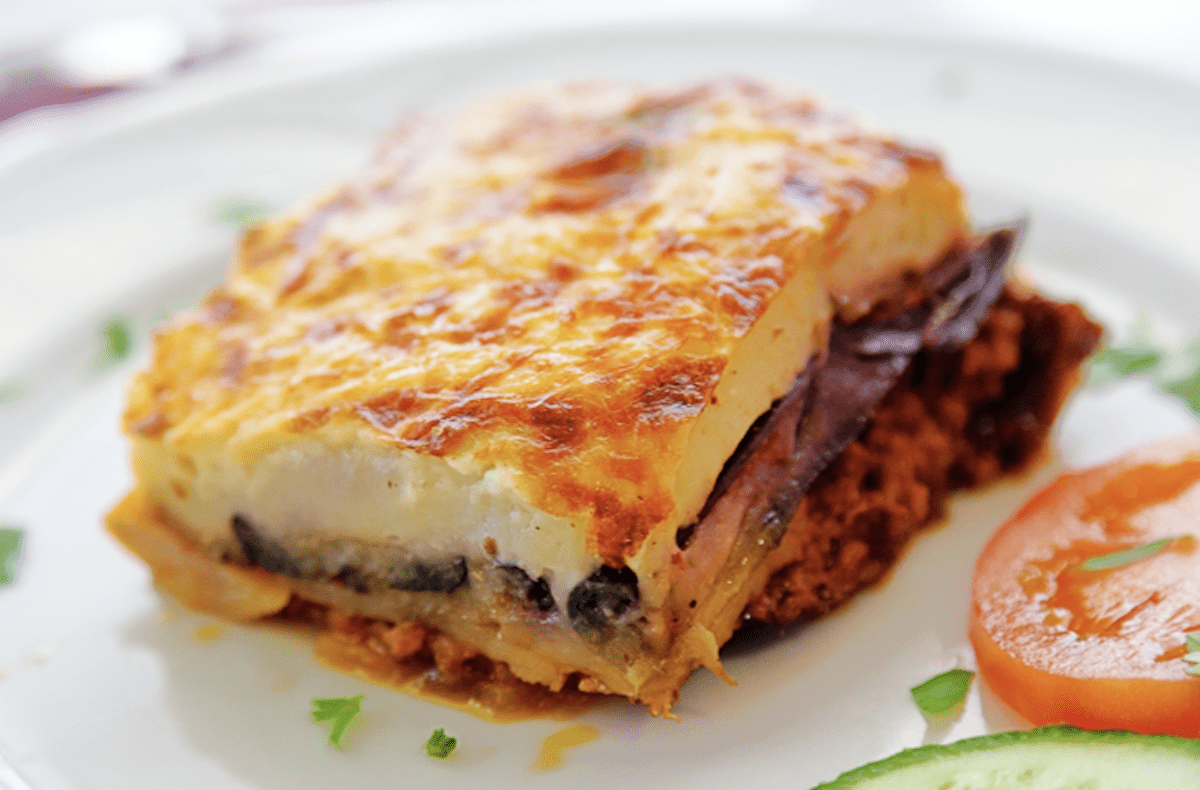 Vegetarian Moussaka
Some recipes call for a layer of thinly sliced potatoes, and more and more we also see a great vegetarian moussaka recipe too.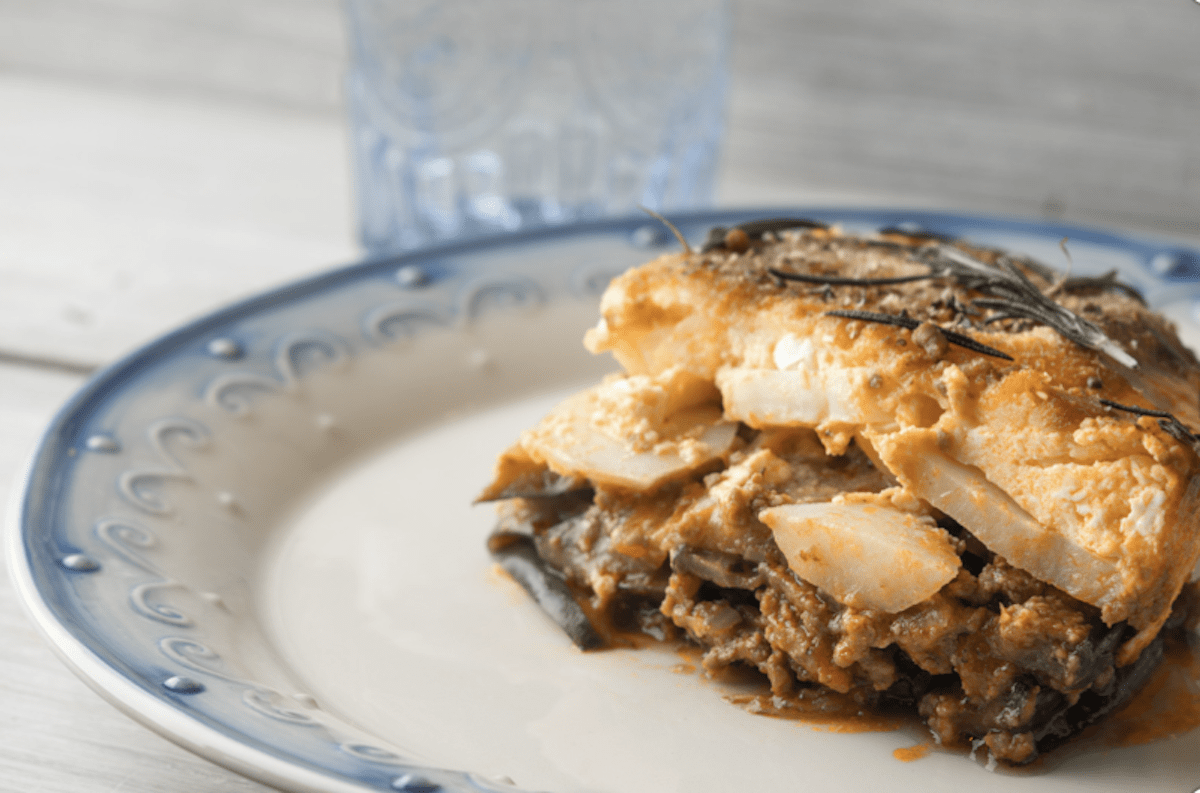 Moussaka And Musaka
While most translations spell this tasty dish moussaka, some translate it into musaka. We also can associate musaka with the dish itself being made in the Middle East and the Balkans.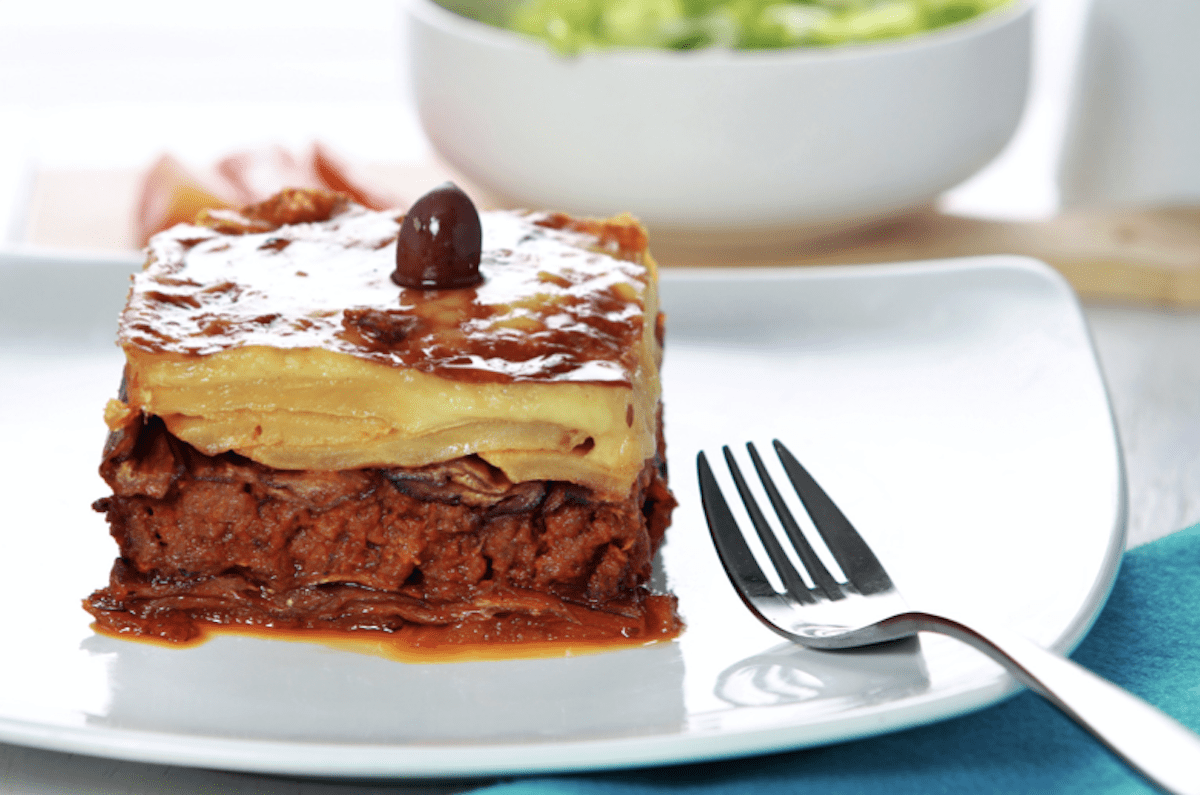 Easy Moussaka
While it may seem like a daunting task, our moussaka recipe breaks down each part into relatively simple tasks. If you want to add an elegant touch or have some meat-eaters and others who prefer a vegetarian moussaka you can create the elements of the recipe and put them together in individual serving containers rather than a whole casserole which is cut into pieces.
Either way, we love moussaka or musaka in all its glorious forms, We hope you try our Greek moussaka recipe. We'll give you ideas on how to. make it. just the way you like for your table at home.
For Vegetarian Moussaka
1 pound mixed vegetables – use a combination of your favorite vegetables, which can include cauliflower, zucchini, carrots, onions, mushrooms, and more.
For Traditional Moussaka
1 pound ground meat (most often beef, but you could use lamb, pork, turkey or any combination if you prefer)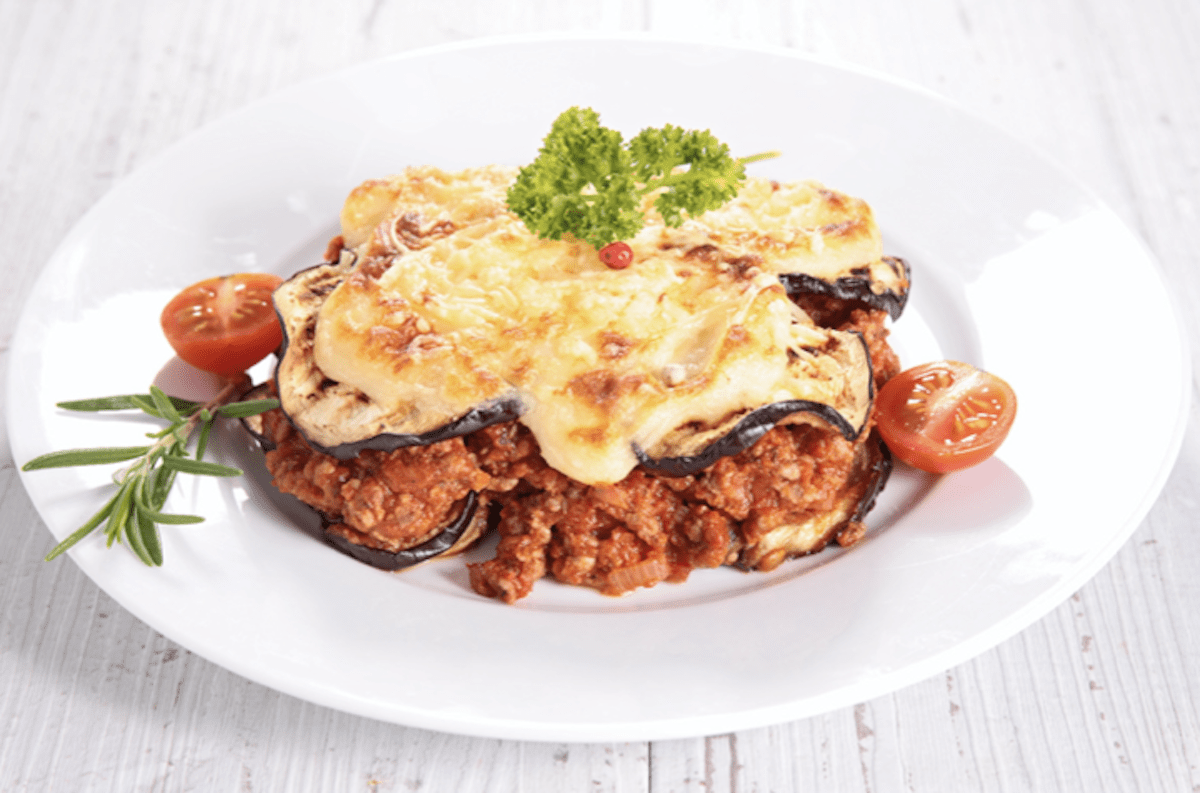 Moussaka Recipe
In addition to your vegetable mixture or meat for vegetarian moussaka or traditional moussaka here's what else you need:
Ingredients
3 Tablespoons extra virgin olive oil
1/4 cup diced onions
3 cloves garlic, minced (or 1 teaspoon of granulated garlic)
1 cup tomato sauce
1/2 cup breadcrumbs
1 to 2 cups grated mozzarella cheese
2 tablespoons chopped fresh parsley (1 tablespoon if using dry parsley)
1 cup water
1 cup dry white wine
3-4 medium-sized eggplants (for individual casseroles you can use small or long, thin eggplant if you like)
salt, pepper, and nutmeg to taste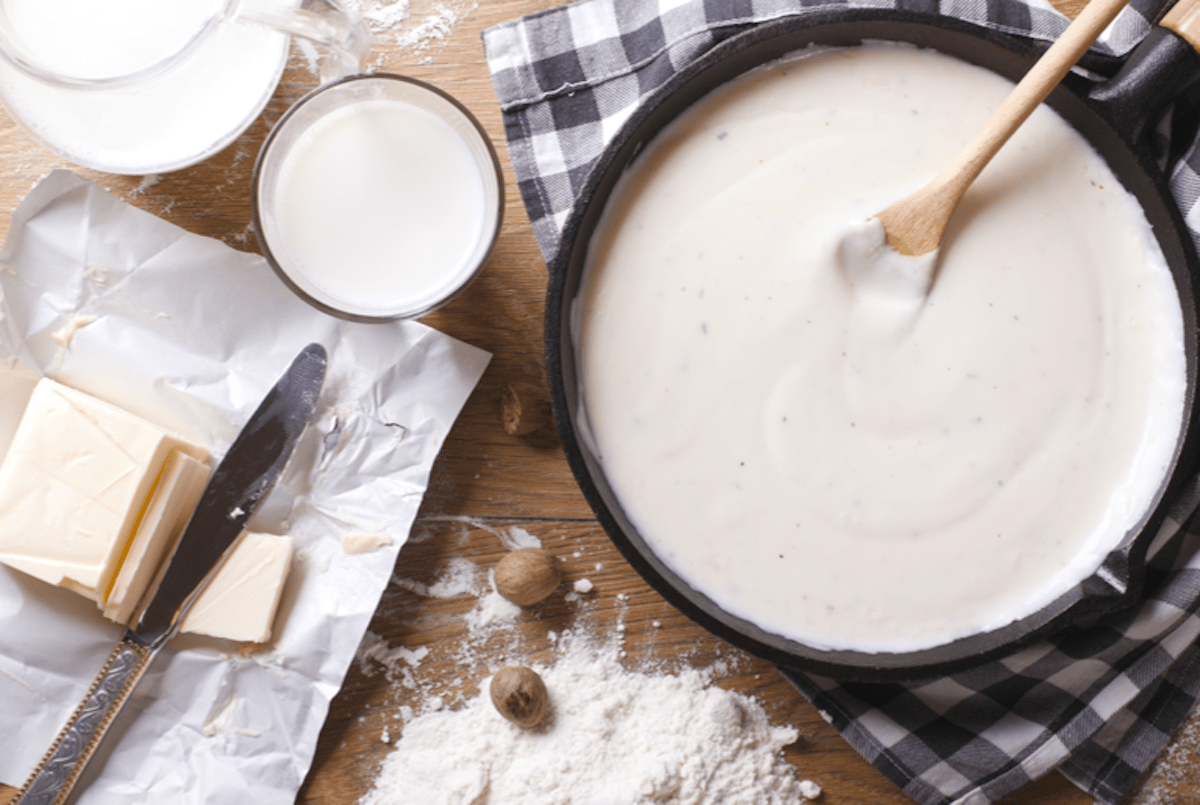 For the Béchamel sauce topping:
1 quart whole milk, hot
1 cup flour
4 Tablespoons butter
2 eggs
salt, white pepper, and grated nutmeg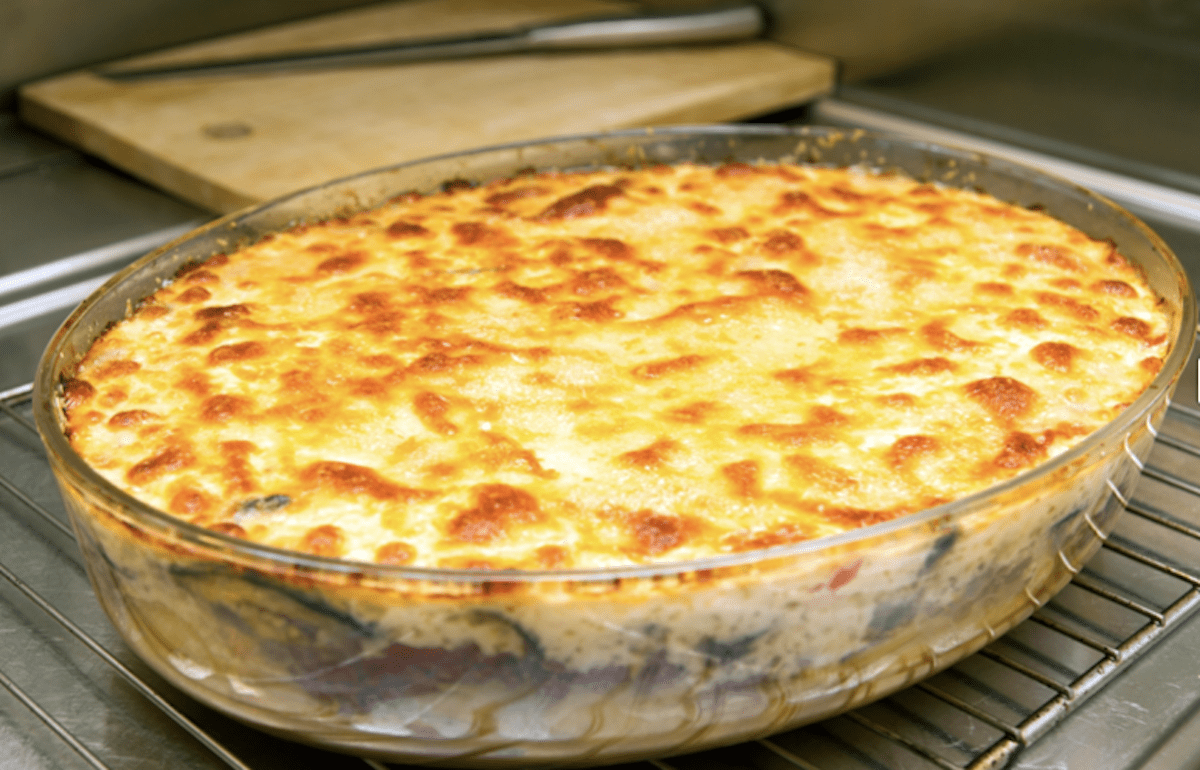 Directions
Meat or Vegetable Sauce
1. In a large skillet, cook the onions in the olive oil until they are soft and clear.  Then add the minced garlic and cook another minute until fragrant.
2. Add the ground meat or vegetables and cook, mixing together until crumbly or cooked through.
3. Add the tomato sauce, white wine, water, salt, pepper, parsley, and nutmeg (about 1/2 teaspoon – more or less to your taste). Cover the pan and simmer for 45 minutes to 1 hour over low heat until mixture thickens and flavors combine.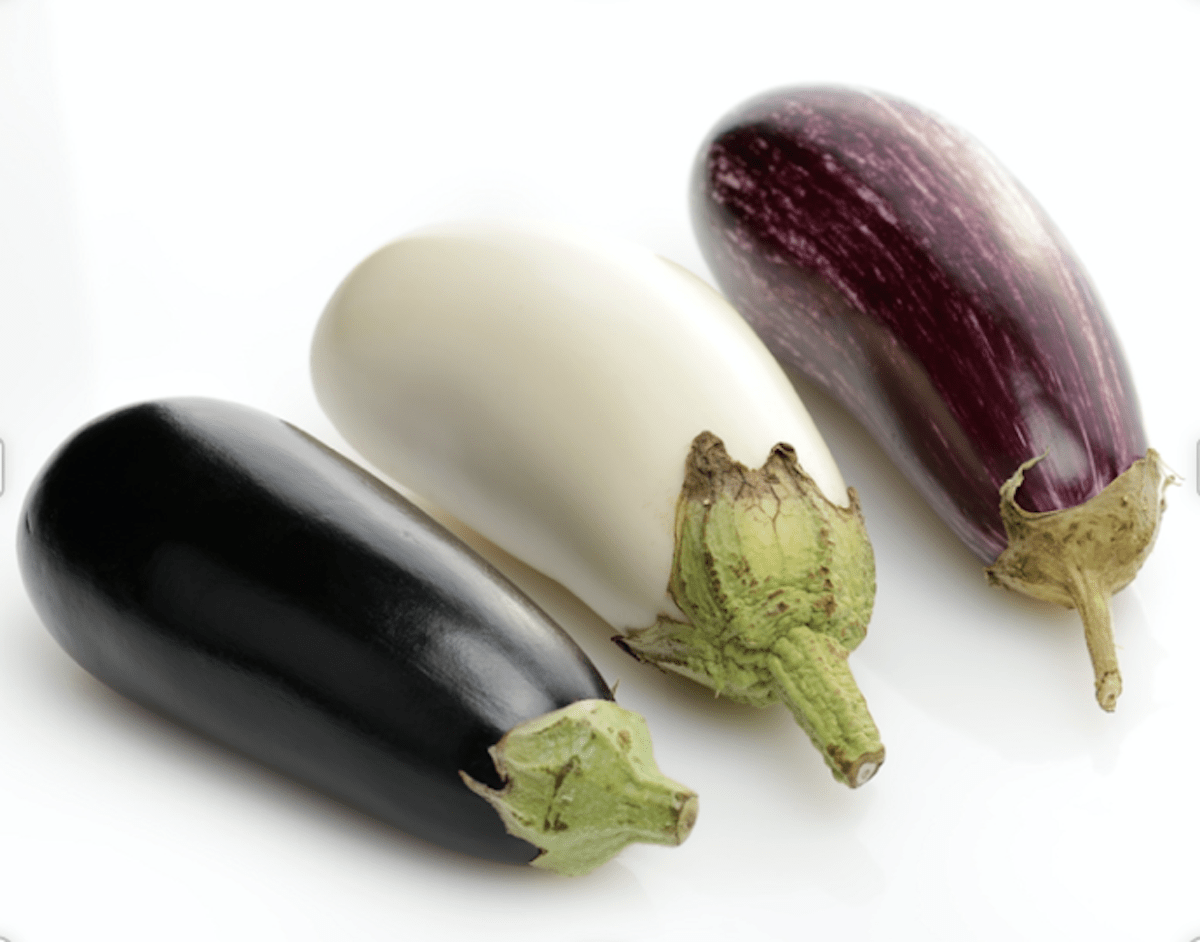 Eggplant
1. While the meat or vegetable mixture is simmering, cut the eggplants into round slices about 1/4 inch thick. Sprinkle them with salt and let them strain in a colander or on layers of paper towel for 20 minutes. The salt will cause the eggplant to weep and remove any bitterness.
2. Heat 1/2 inch olive oil in a large skillet. When eggplant slices are ready, wipe off and them off then place in the skillet. Don't crowd them. Fry the eggplant pieces until cooked through.
3. Remove eggplant pieces as each one becomes done. You may need to do several batches. Make sure you replenish the cooking olive oil as needed. Drain them on paper towels to absorb the excess oil.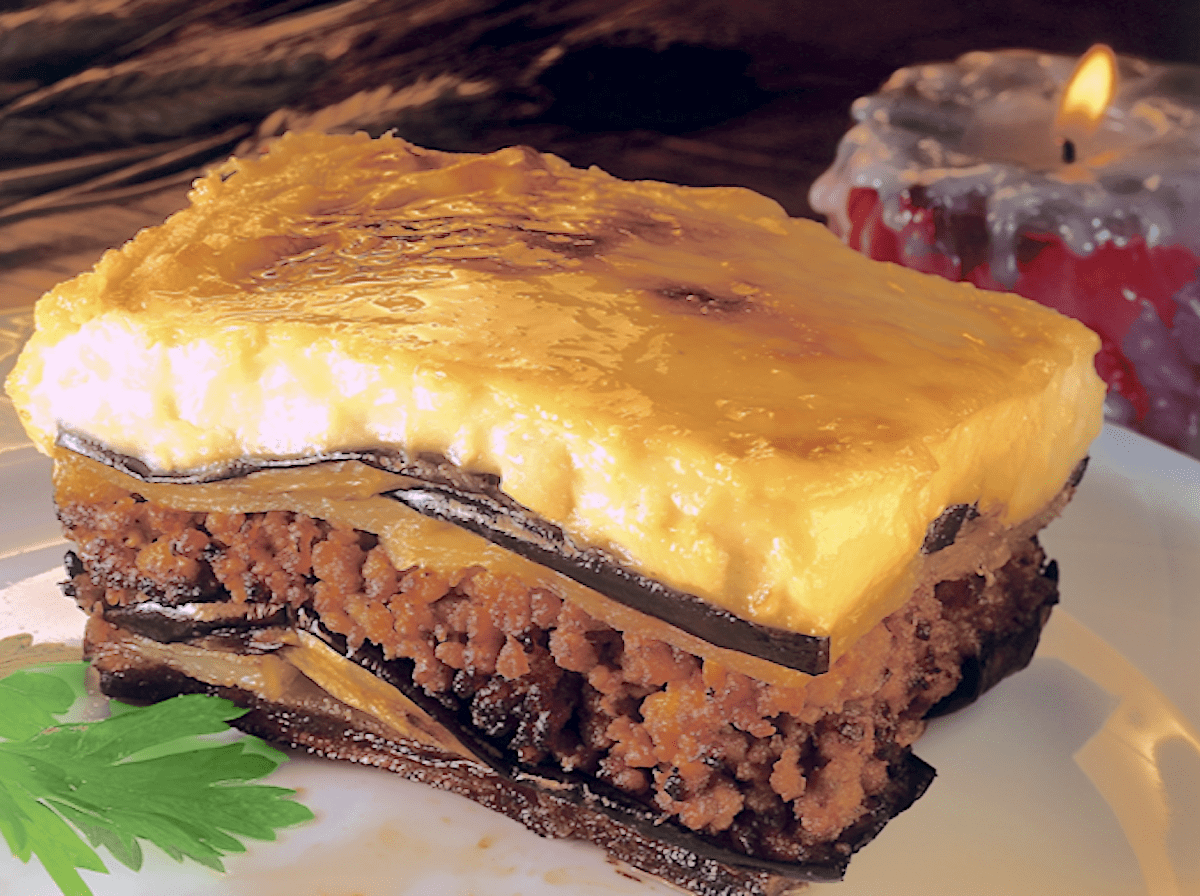 Béchamel
1. Make the béchamel sauce by melting the butter in a large saucepan over medium heat.
2. Then sprinkle the flour into the melted butter and stir continuously with a whisk until blended and smooth.
3. Lower the heat and gradually add the hot milk, stirring with whisk constantly until it thickens.
4. Season with salt and white pepper to taste and add 1/4 teaspoon or more to your taste of grated nutmeg.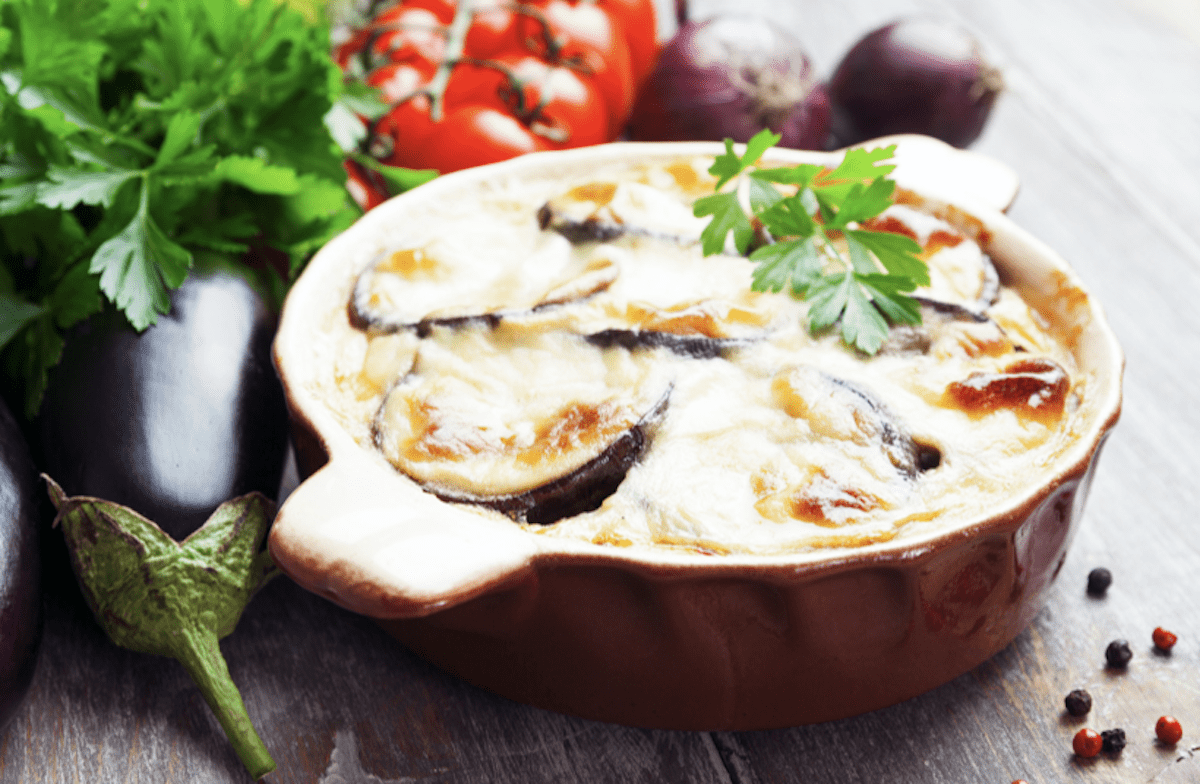 Putting It All Together
1. Preheat the oven to 350 degrees F.
2. Arrange a layer of the eggplant slices in a baking dish (can be one large dish or several smaller ones for individual servings). You can do one layer using all of your eggplant slices or do two layers, with another layer on top of the sauce.
3. Remove ground meat or vegetable mixture from heat (it should now be thick and condensed, not soupy). Add half of the grated cheese and half of the breadcrumbs to the mixture and spread the whole mixture evenly over the eggplant slices.
4. Top with another layer of eggplant slices
5. If you are making a vegetarian moussaka or you just like potatoes, you can slice two or three potatoes into thin rounds, saute them in olive oil and then add a layer of the cooked sliced potatoes beneath the first or second layer of eggplant slices.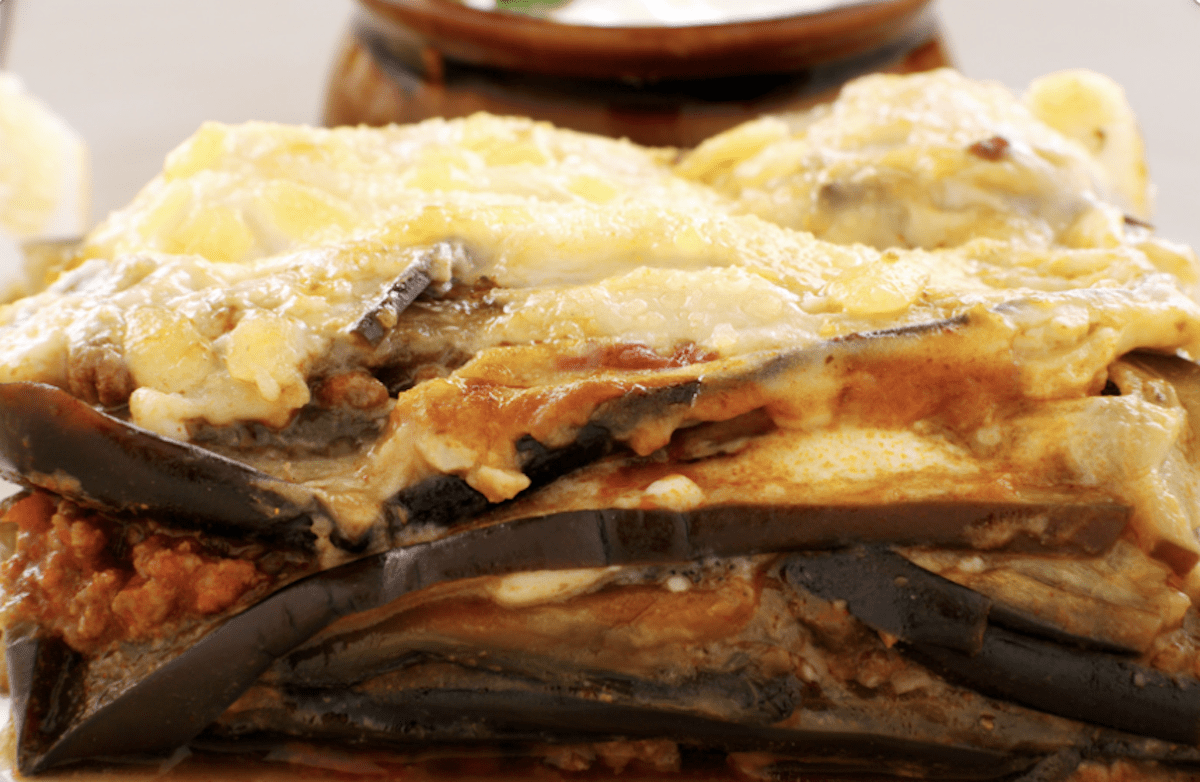 6. Pour the béchamel evenly over the meat or vegetable mixture or the second layer of eggplant slices if you have used one. Then sprinkle liberally with remaining cheese and breadcrumbs.
7. Drizzle melted butter over the béchamel sauce and bake for 30 to 45 minutes or until béchamel is set and golden brown, and the whole dish is heated through.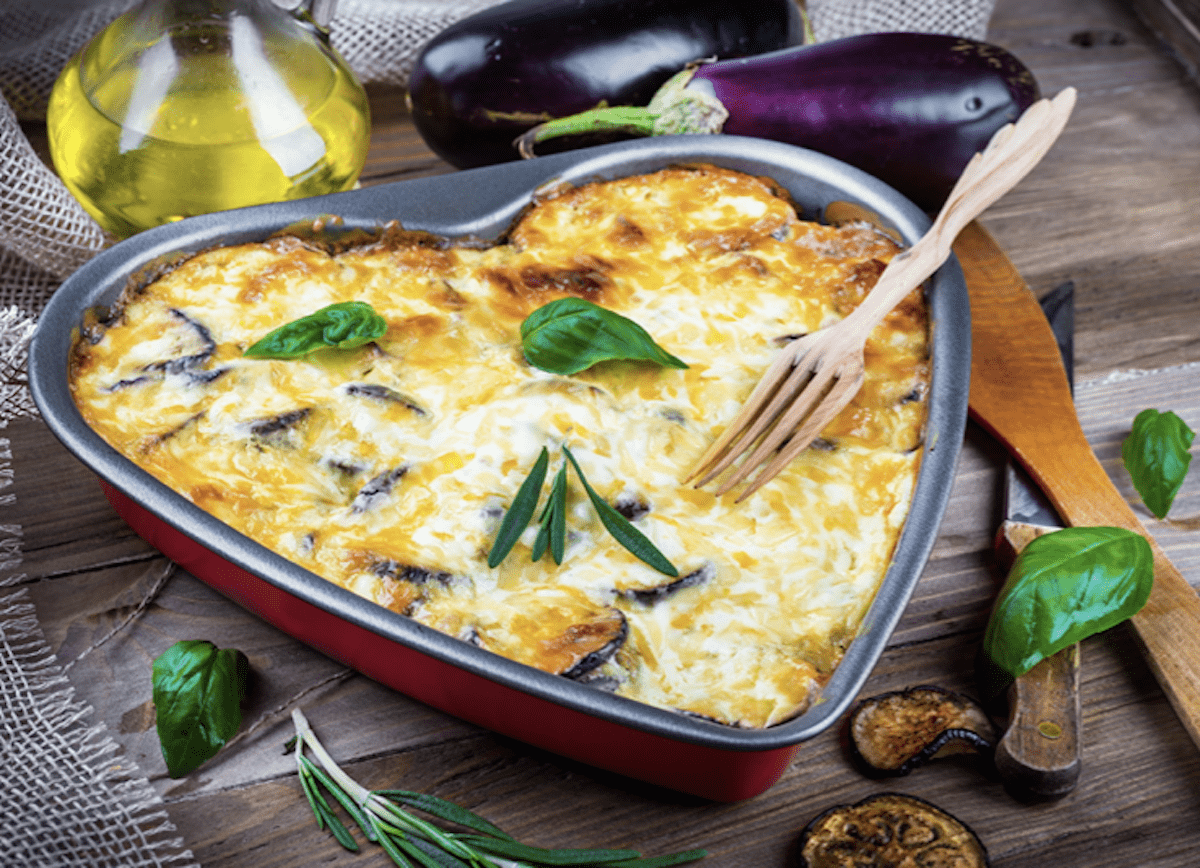 To Serve
Let cool for 5 to 10 minutes so béchamel sets and you can cut neat large square servings or use your individual serving bowls. Garnish if you like with fresh herbs. Serve with a Greek salad and some crusty bread.
If you like this traditional Greek moussaka recipe try some of our other authentic Greek recipes like Keftedes Greek Meatballs, Santorini Tomato Keftedes, and Portokalopita Greek Orange Cake for dessert!