Consider A New Kind of Travel Shoes New Balance Chicago
My name is Sue and I have way too many "travel" shoes. Many women (and men) might disagree and say you cannot have too many travel shoes, or any type of shoes for that matter.
Having done an inventory I can tell you that I have 12 pairs of travel shoes. I have Keen, Merrell, Dansko, Reiker, Nike, Toms, Coach and Diesel shoes. For every pair I own, I've probably tried on at least a hundred more. They all serve their purpose. But none of them are perfect. I always need to take too many pairs of shoes with me, which is bad news for a light packer like me.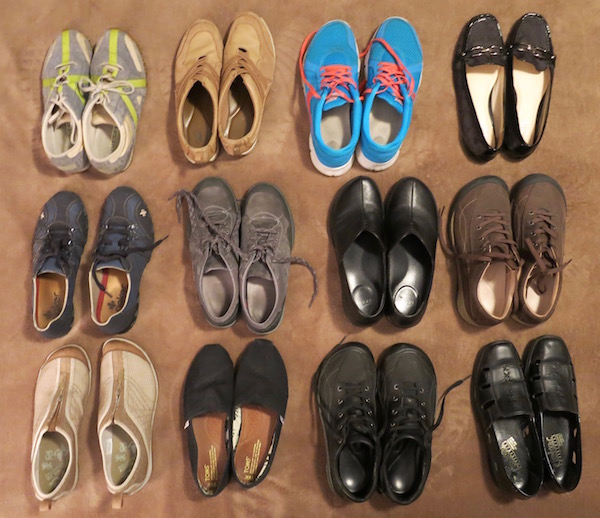 As luck would have it I  had the opportunity to meet Jeff Mach, owner of five New Balance Shoe locations in Chicago. When I learned that New Balance Chicago shoes are often recommended by orthopedic doctors, sports medicine specialists and chiropractors I thought they may be on to something.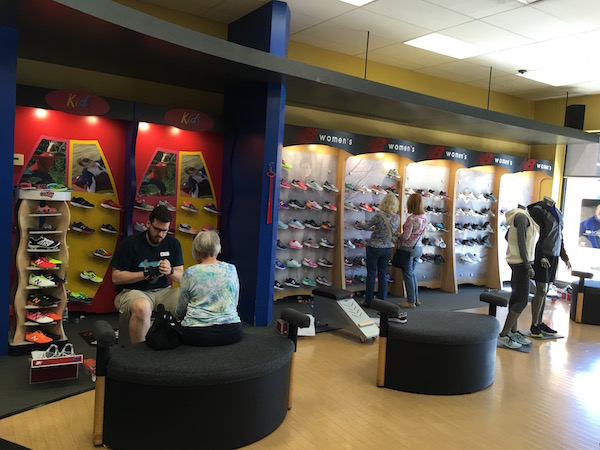 Jeff had to hear about my never-ending quest for the perfect travel shoe and he suggested that I come in and try on some New Balance Chicago shoes for myself.
New Balance was a new brand for me.  I wasn't really acquainted with the New Balance brand. It seems that I'm a bit late to the party. Because many Boomers like me are loyal New Balance customers I was further intrigued. Contrary to popular belief I still have lots of faith in us Boomers, so I had to give them a try.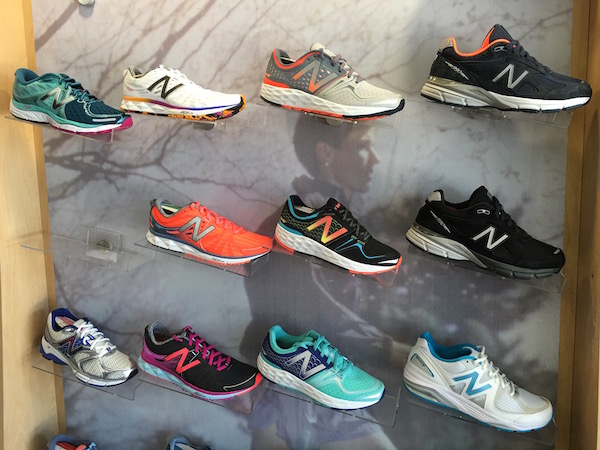 If you're familiar with New Balance shoes you might be thinking of the black or brown "orthopedic looking" models that a lot of people wear. You will be surprised to see that they carry quite a wide range of shoes in many colors and styles.
I had no idea what to expect. It had been many years since I bought a pair of shoes in a store. I typically rely on online purchases for shoes. This was going to be interesting.
When I arrived at the store my "Fit Specialist" Arthur did a great job listening to all my shoe needs.
My Needs Are Many
If you travel like I do, comfortable shoes are essential. We walk a lot. Sometimes most of the day. Ill-fitting shoes can cause all kinds of trouble. Sore feet, sore back and blisters all make me really crabby.
Another problem is packing the shoes. Shoes that are "designed" for travel are often big and bulky and have a wide sole for support. These are great features but not great if you like to pack light, which I do. I don't typically check a bag.
They also have to look good, which means for me no white gym shoes, no nurse shoes, no old lady shoes, no velcro closures.
I also need a shoe I can wear in the plane that won't cut off my circulation on a long flight. They must fit with my compression socks too.  I wore them to the store just to be sure. You probably already know how I feel about compression socks, but if you want a reminder check out my post Best Travel Compression Socks.
Finding me a great shoe is clearly no simple task. I actually apologized to Arthur. Fortunately he had a good sense of humor and smiled. I soon learned that he had more knowledge about shoes than the common shoe salesman.
The Fitting Process
One of the techniques at New Balance Chicago that really impressed me was the fitting process. Their sales team consists of Fit Specialists that will help find the right shoe for you, whatever your needs. I don't believe I've ever had as thorough an analysis for a shoe fitting.  It started by standing on a sensor that analyzed where I carried my weight on my foot. The red "hot spots" showed that I carry a lot of weight on my heels and that I have very high arches.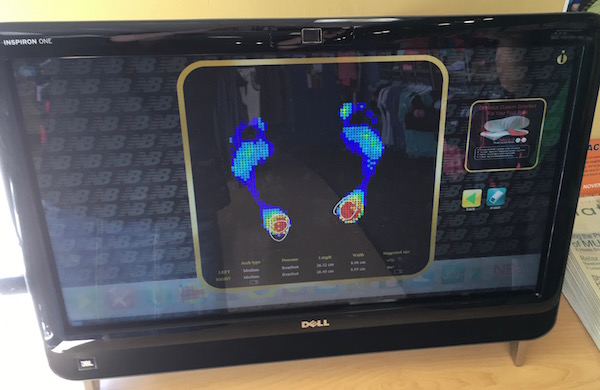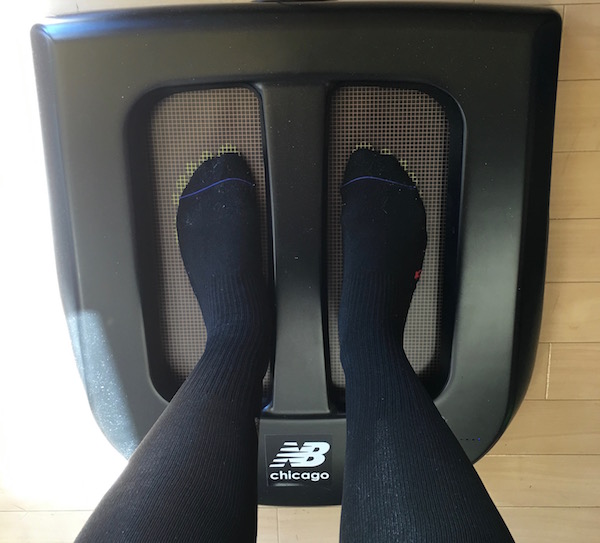 I then walked on a treadmill for just a few minutes so he could check out my gait and how I was walking. He used an iPad mini to show me the footage afterward. I have to admit that I was kinda geeking out on the technology. If you want the information for yourself, you can plug in your email address and they'll send you the results. Pretty cool!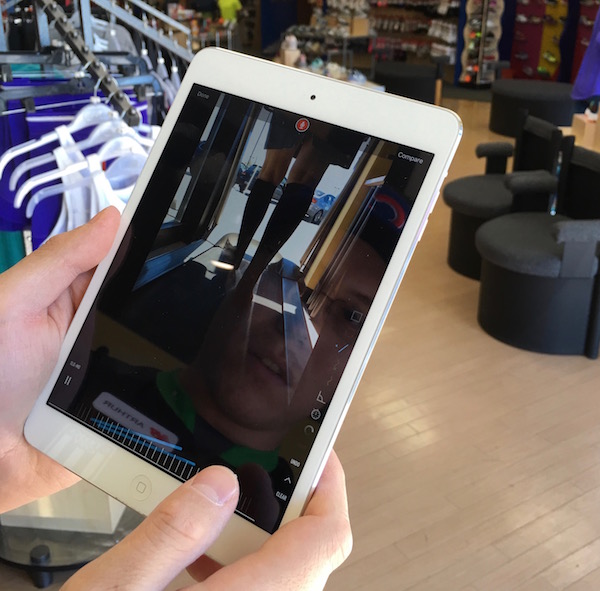 I learned through the fitting process that my foot was a half a size bigger than I thought. Not uncommon – but a little surprising. He also recommended adding insoles or orthotics to my shoes for additional arch support because of my high arches. The insoles would help because my gait analysis revealed that I over pronate a bit. What!?! That doesn't sound good. Actually, it's quite common. While we watched my gait together, he showed me how my legs formed a slight V. That's the over-pronate part.
They have a wide variety of insoles for every need. Arthur walked me through which would be most helpful for my feet.
Now we're ready to try on some shoes!
Now for the Shoes! 
I tried on three different types of shoes. I started with a more sporty, lightweight model. The fit was really nice (with my new size). Then we tried it with the insole. It was good, but not quite right. I felt like I wanted just a little more support. The second pair fit like a glove and looked really cute. The last pair was their serious walking shoe, the 990 series. It also works well as a workout shoe. I immediately felt the extra support in my heel and foot.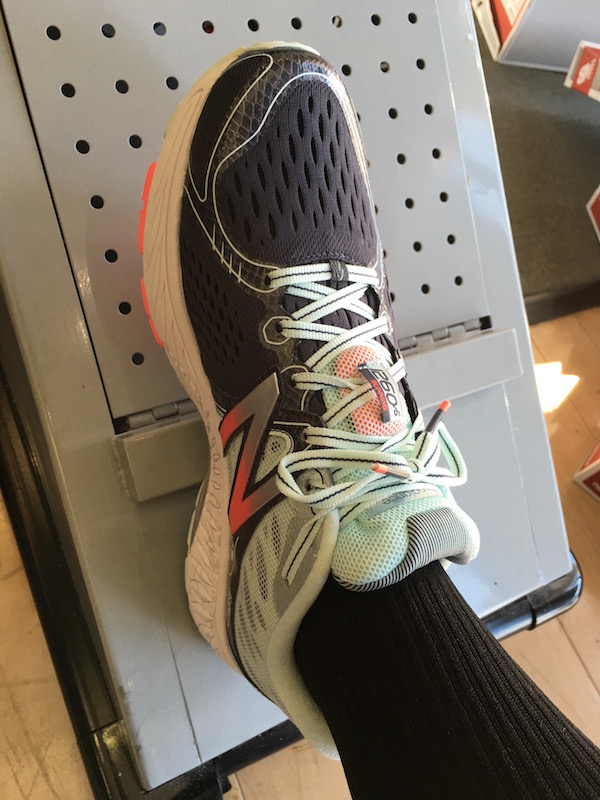 I tried on the 990 series Bears model – navy blue with orange piping (go Bears!). I loved the shoe but wasn't thrilled with the way my foot looked in the blue shoe. I have to admit my vanity. I thought it made my foot look huge. Fear not – my trusty sales guy let me know that other colors were readily available. He brought out a pair of grey suede 990s and I think I knew instantly that these were the shoes for me. They look great, feel great and are super light at 11.1 oz. Done. These are the ones. With these and a cute pair of flats for nighttime occasions I'd be cleared for travel.
It turns out that the 990s are one of New Balance's legacy shoes and have been around for 30 years. They continue to update them with all the latest shoe technology. The shoes are known for their cushioning, stability and breathability. And they're American made! They have a lace keeper that holds the tongue tightly in place and a newly designed, more streamlined "N" logo. It's also a great everyday running shoe.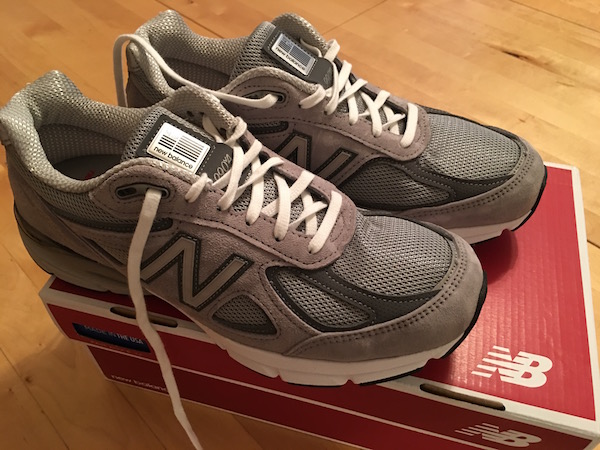 The Real Test
Diana and I go walking when we're at home almost every morning. We use that time to catch up, make our plans and be sure we know what needs to be accomplished each day. It's also a great way to make a big dent in the 10,000 steps we track on our FitBits. The ever-patient Diana has been listening to me talk about shoes incessantly for years. This one's too tight, this one's too loose… You get the idea.
We headed out with my new shoes and a new pair of New Balance compression socks too. My foot was stable, comfortable and not too heavy. It was almost too good to be true. We walked our usual amount, about two miles. While we were getting ready for breakfast. Diana commented with a big smile that it was the first time I hadn't complained talked about my shoes while walking. She was right. I hadn't even thought about my shoes. This truly is the best testimony I can give.
Their compression socks are actually really nice too. The reflectors on the back would be terrific if you were running at night. They also say "wicked fast" on the inside top band. I may not be going very fast but it still makes me smile knowing that's there.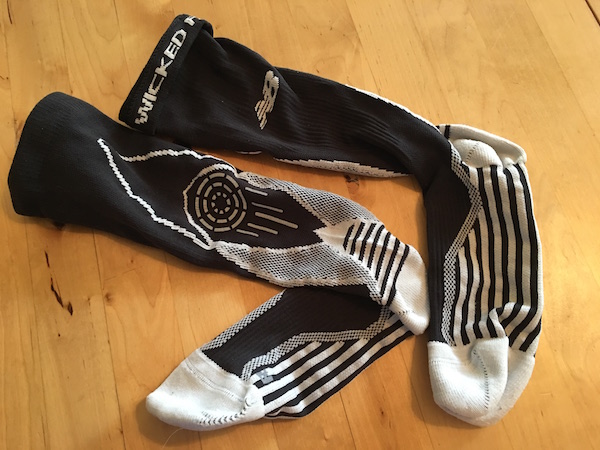 The 990s have been with me for about a month. They've logged over 150 miles and they're still going strong. I've worked out in them, walked in them, worked in them, and I love them. Their first road trip will be in a few weeks when I head to Mazatlan, Mexico for a culinary tour.
Thank you New Balance Chicago for providing me with shoes and socks for travel. As always, all opinions are my own and reflect my experiences.
New Balance Chicago
New Balance Chicago is a family run business. I was impressed by how happy every employee that I interacted with was. Everyone seemed genuinely happy to be working there, a rarity in the retail world. They are also closed on Sundays, which tells me that they care about families and time together. They also have a strong sense of community and offer walks, runs and informative store programs.
They offer many styles of shoes for walking, running, working out and just working – something for just about everyone. There's also a full line of New Balance active leisure wear, socks, accessories all on full display.
New Balance Chicago has five locations in the Chicagoland area: Hyde Park, Lincoln Park, OakBrook Terrace, Orland Park and Schaumburg.  Check out their website at stores.newbalance.com and sign up for their newsletter for the latest product news, promotions and events.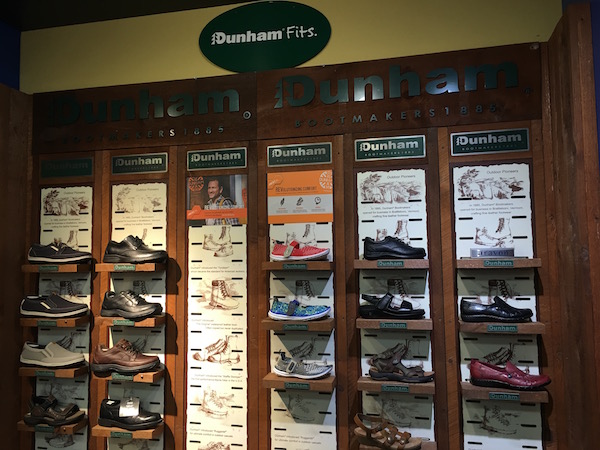 THE QUICK BITE: If you're looking for comfortable, supportive and good looking shoes for travel, working out or just walking check out New Balance Chicago. Their Fit Specialists are waiting to find the perfect shoe just for you.