Little John's Great Big Idea: Pay-What-You-Can
Turning Troubles Into Triumphs
Chef David Heide in Madison, Wisconsin has a vision. He believes that a few good people doing a few good things can make a big difference. He learned this lesson in high school when he and a few friends did random small good deeds. Those small acts resulted in a better school environment where everyone felt welcome. Fast forward to today and Chef Dave started successful restaurants in the Madison area. He used his culinary skills to launch the successful Liliana's New Orleans style Madison restaurant and then opened Charlie's On Main in Oregon, Wisconsin.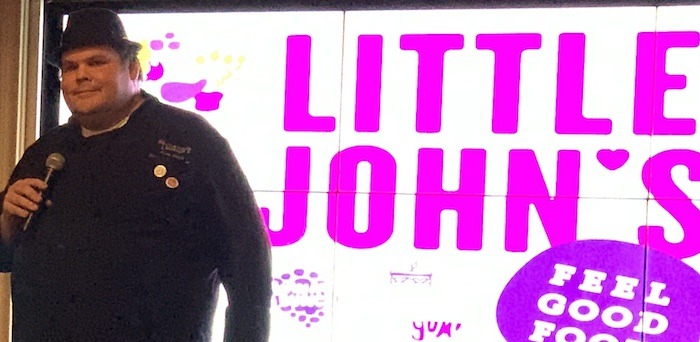 Taking what he learned from this experience, Heide has rallied a team of other committed folks. Together, they're setting their sights on tackling a combination of seemingly insurmountable challenges. They want to attack food insecurity, U.S. veterans depression and food excess all at the same time. Heide's leading the charge through Little John's a nonprofit pay-what-you-can restaurant concept.
The Challenge of Food Insecurity
49 million Americans live in "food insecure" households. This means that they do not always know when or if the next meal is coming. Poverty is one of the greatest causes of food insecurity. "Food deserts," areas with limited access to nutritious food sources or grocery stores worsen the problem.
Cultural issues, a sense of shame, religious traditions that complicate food requirements and lack of transportation complicate the problem. In households with children, storage space and conflicting schedules can even further add to the challenges.
U.S. Veterans are in Need
44% of U.S. veterans leave their first post-military job within a year. The reason is that their skill set or personality do not fit. Their experiences and abilities are not a match with the demands of the current employment market. They become increasingly disconnected and unable to resume life as a civilian.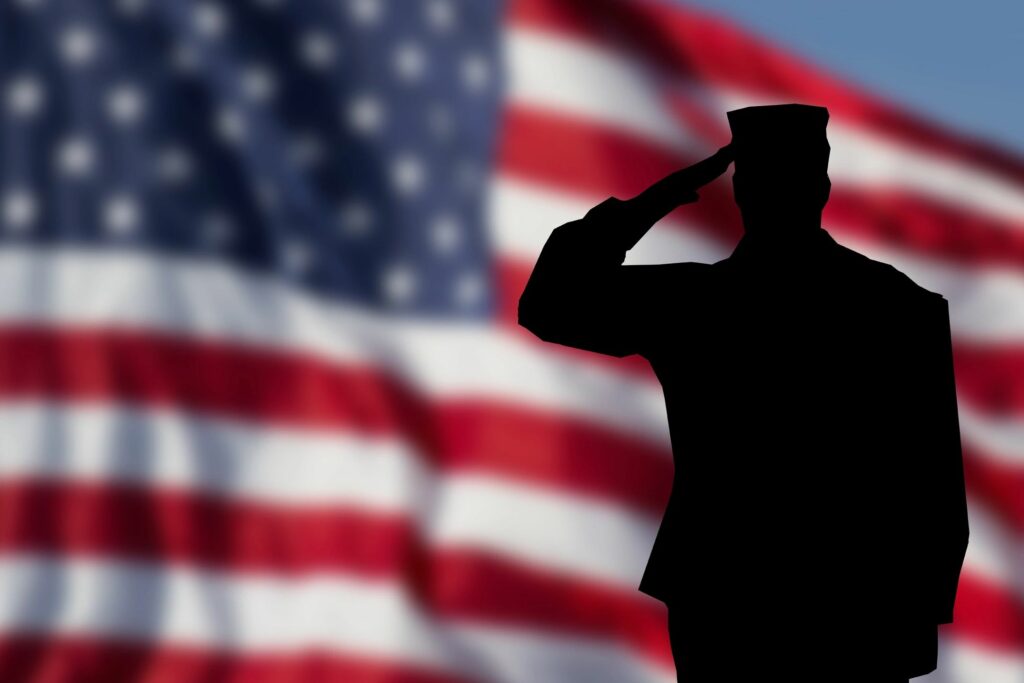 While some are able to find training and establish a resilience that enables them to progress in their lives finding a "new normal," many do not. Over 6, 000 veterans die by suicide annually, meaning that veterans are twice as likely as civilians to die by suicide.
Food Excess
You may be shocked to know that America throws away 40% of food before it ever gets to a consumer. That means we toss 60 million tons of food a year. Consumers don't want bruises or bumps or anything imperfect when they go to the grocery store. So we throw away food that is nutritionally sound because it's not exactly right.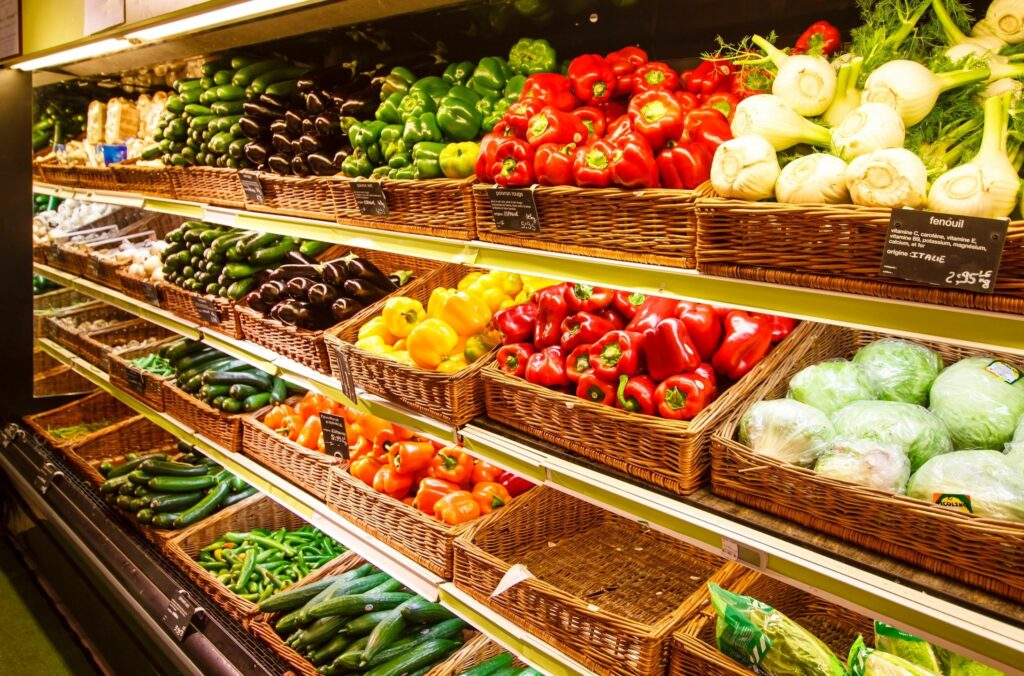 Grocery stores have so much food excess that some of it, though offered to a food pantry or other organization, will sit out on a loading dock for days. What may otherwise have been salvageable becomes spoiled and turned into waste.
Time for a Change
Chef Heide committed himself to work out a concept that would tackle these multiple issues through a united effort. In seeking out ideas, he and his family took a multi-city tour to visit other pay-what-you-can models around the country. What he learned was invaluable, and informed his thinking about Little John's.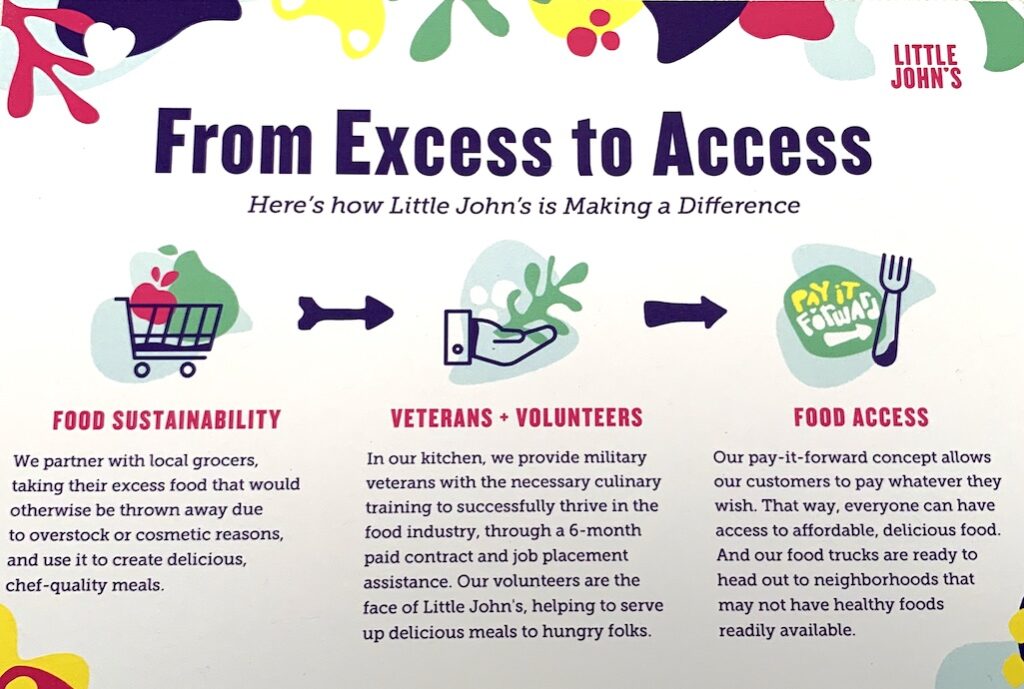 At a recent event introducing the Little John's concept at the Madison Club, Chef Heide explained that unlike others in the pay-what-you-can business, he plans to create a central processing facility and satellite restaurants. This will enable the business to expand to cities such as Milwaukee, Chicago, and New Orleans, all of which have populations of people with resources living near people in need.
The Way To Grow Pay-What-You-Can
The three main cost centers of the business are food, labor, and facilities. Heide believes they can reduce production costs from 30% to 2% by working hand-in-hand with grocery stores and others who have a lot of excess food. Little John's will provide a 6-month cooking skills training program to vets. The training will give Little John's supplemental financial support to minimize costs there as well. Also, Heide is working with others to find a donated space that is large enough to serve as the processing facility for all of the food.
Leading By Example Chef Dave Heide
Heide believes that if the costs are low enough and people who can afford to pay for high-quality food, the business will be able to support itself and grow to other cities. He noted that they prepared all of the food we tasted as guests at the Madison Club event from excess food provided by Metcalfe's Market, a strong supporter, and partner in the project.
If you are interested in learning more about Little John's, finding ways that you can help, get involved or make a donation, visit their website.
Pin this to your Feed The World Board on Pinterest