This is one of those recipes you really don't want to tell anybody about until after they've tasted them. We watched these get wolfed down many a time at parties while we also waved away requests for the ingredients until after they were all gone – usually within the first hour of those parties.
Here we provide a recipe that includes making the meatballs from scratch. But you could just as easily buy pre-made meatballs, or even use Vienna sausages (see our NOTE below). Trust us, it's a crowd-pleasing recipe every time!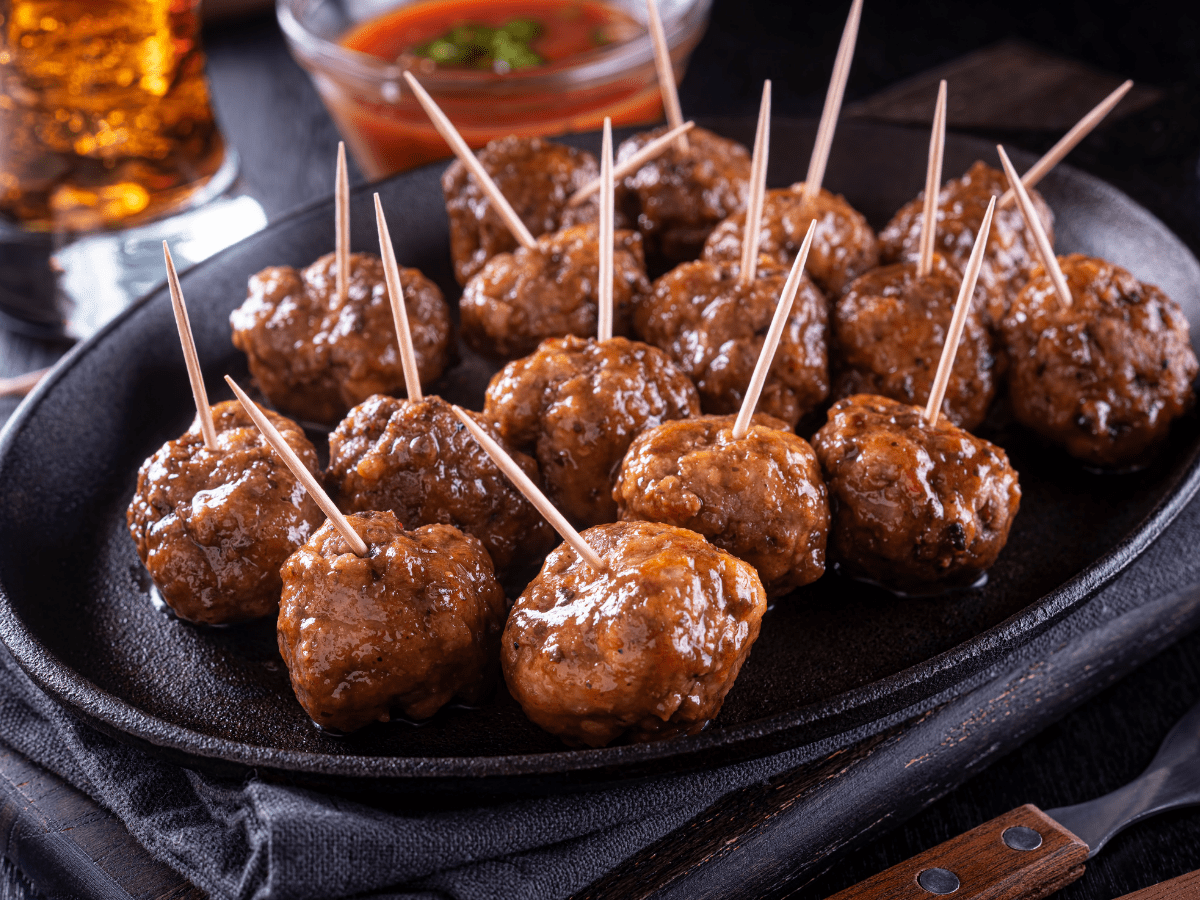 Quick and Easy Cocktail Meatballs
Ingredients
1 lb. ground beef (you can also use turkey if you like)
1/2 cup dry bread crumbs
1/3 cup finely chopped onion
1/4 cup milk
1 Tablespoon chopped minced fresh parsley
1 teaspoon salt
1/2 teaspoon Worcestershire sauce
1/8 teaspoon pepper
1 egg
1/4 cup shortening (like Crisco)
1 bottle (12 oz.) chili sauce
1 jar (10 oz.) grape jelly (yes, really, grape jelly — that's the secret!)
Directions
Mix ground meat, bread crumbs, onion, milk, parsley, salt Worcestershire sauce, pepper, and egg; shape into 1-inch balls.
Cook meatballs in shortening in a 12-inch skillet until brown.
Remove meatballs from skillet; drain fat.
Heat chili sauce and jelly in a skillet, stirring constantly until jelly is melted.
Add meatballs; stir until coated.
Simmer uncovered 30 minutes.
Serve hot. Makes about 5 dozen appetizers.
*NOTE: You could also substitute 3 cans (5 oz. each) of Vienna sausages, cut crosswise into halves for the meatballs. Decrease simmering time to 20 minutes and you have EASY COCKTAIL SAUSAGES!
If you want your meatballs more Greek-style try our recipe for delicious and easy-to-make Keftedes Greek Meatballs, too.
QUICK BITE: This literally is a quick bite! These easy to make little cocktail meatballs will be the hit of your next party.
PIN IT!