Rosemont Entertainment Experience
Whether you're flying into Chicago and looking to fill a few hours or if you live in Chicagoland and want a new place to have some fun the Rosemont Entertainment Experience is just for you.
Rosemont, Illinois is located about two miles away from O'Hare International Airport. What makes Rosemont perfect for travelers is it's easy accessibility.  You can take a free shuttle from the airport or take the Blue line train right to Rosemont. If you happen to have some layover time it's a great way to do and see a lot while waiting for your connecting flight. Or if you're interested in a little play time away from downtown, Rosemont has a lot to offer.
It simply couldn't be more convenient. Once you get to Rosemont your choice of what do first might be your biggest problem. Shopping, restaurants, movies, bowling, sports and much, much more!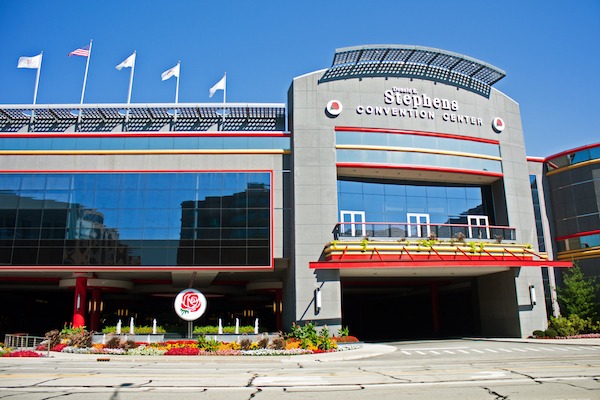 The Stephens Convention Center is another reason people visit Rosemont. It's smaller than the McCormick Convention Center in Chicago making it perfect for conferences and events that are more moderate in size. It's so conveniently located near the airport and all the fun in Rosemont that it provides a good alternative to the bustle downtown. Host to many shows like the International Gem & Jewelry Show and the Muscle Car & Corvette Nationals,  we've attended the Chicago Travel & Adventure Show  there many times and we love it!
We had the chance to visit Rosemont ourselves during a recent sponsored Rosemont Media tour. We did not receive financial compensation for the visit and as always all opinions are our own.
MB Financial Park
This is where the fun is. On our visit we experienced Kings – not your Dad's bowling alley. The place rocks with fun deco, colorful bowling lanes and upscale fun food.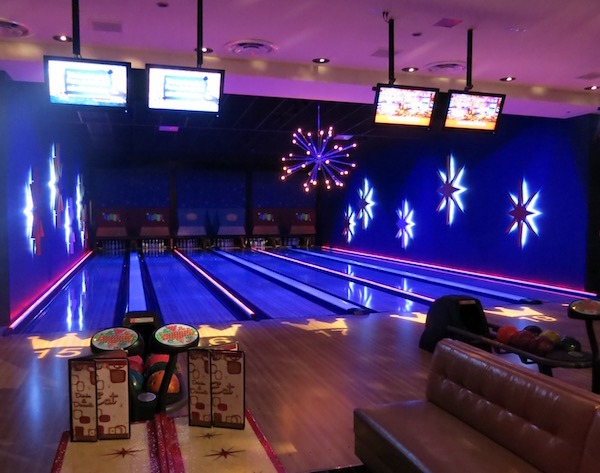 We loved the private bowling area with 6 lanes, which is great for parties and get togethers. Kings can provide catering for your group with their wide delicious menu and drink selections. They also have good gluten-free selections too.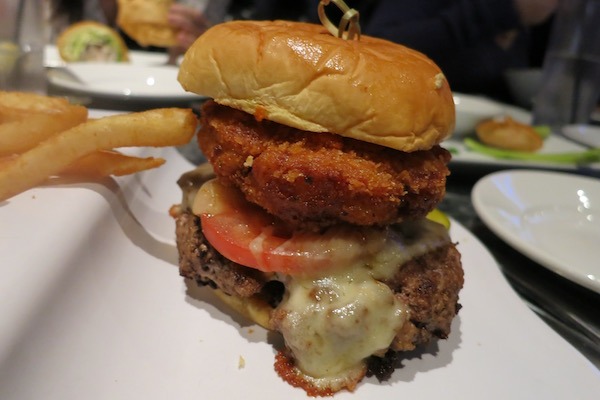 When we saw Mac n Cheese Burger on the menu we had to try it. There's a fried macaroni and cheese "patty" on top of your juicy burger. It's tasty and great for sharing. We also tried the House Smoked Baby Back Ribs, which were tender and delicious. They have a full menu of appetizers, salads, wraps & sammies, burgers, pizzas (including a Pizza of the week), and dinner entrees. There's truly something for everyone.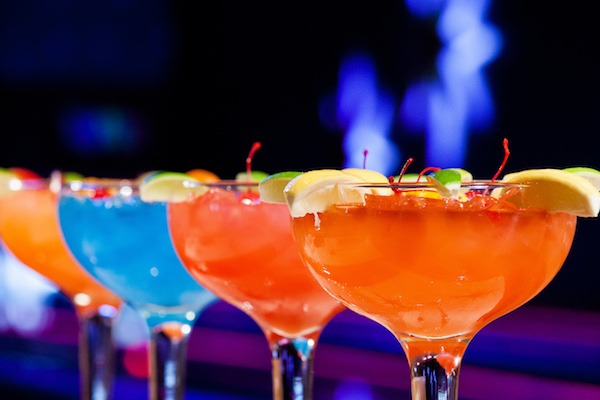 If giant drinks are what you're looking for you can try one of their "Big Balls," 18 oz. for one and 60 oz. for two people to share. These drinks are monstrous and come in all kinds of tasty concoctions with fun names from Red Zeppelin to One Phish Two Phish… They have other specialty cocktails like the Drunken Bear Martini with Raspberry Vodka and garnished with Gummy Bears, frozen cocktails. They also offer beer specials and craft selections with the beer pledge "Fresh Beer Here, We Promise!" For non-drinkers they have a Fountain Shoppe offering handmade shakes (including a special new shake every week), floats, old fashioned fountain sodas and other beverages.
Kings also has locations in Boston, Burlington, MA, Dedham, MA, Lynnfield, MA, Raleigh, NC, Orlando, FL. If you have fun at the Rosemont Kings and happen to head near Lincoln Park in Chicago, you'll find another location there. Check out their website for more information kingsbowlamerica.com.
iFly Rosemont
If you're a little nervous about jumping out of a plane but you'd still like to experience what it's like to float in the air iFly Rosemont is right for you!
The instructors do a terrific job of teaching you what to expect and everything you need to know. I have to admit I was a little scared (terrified, actually) before I went, but it was a lot of fun. The kids in our group giggled with delight and the adults all had a great time once we realized how simple and fun it is. Take a look at the super short video of my first flight experience below.

You can get all the details on booking your own iFly experience on their website iflyworld.com. They have locations worldwide.
Hofbrauhaus Rosemont
How do you celebrate after your first iFly flight? Walk right next door to the Hofbrauhaus and get yourself a liter of their best beer, of course!
It should be no surprise to learn that I love German beer and food. What is a surprise is finding the Hofbrauhaus Rosemont so reminiscent of the Hofbrauhaus in Munich! German food, freshly brewed German style beer right on their premises and live entertainment every day.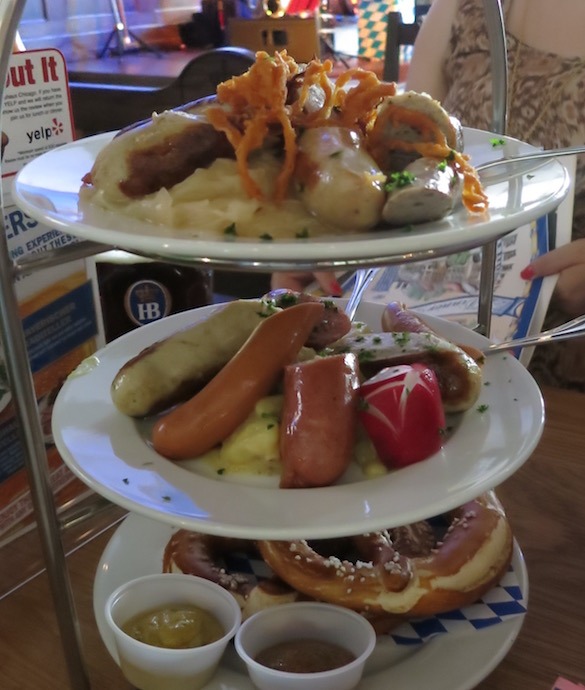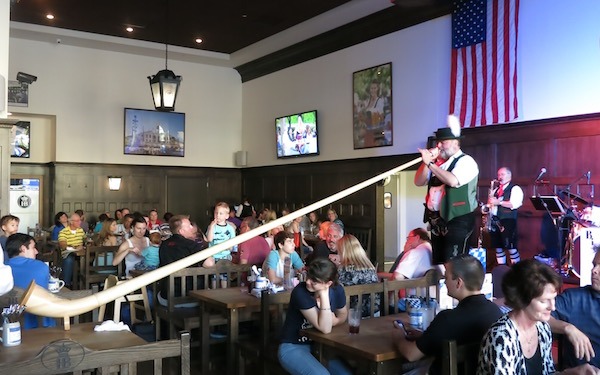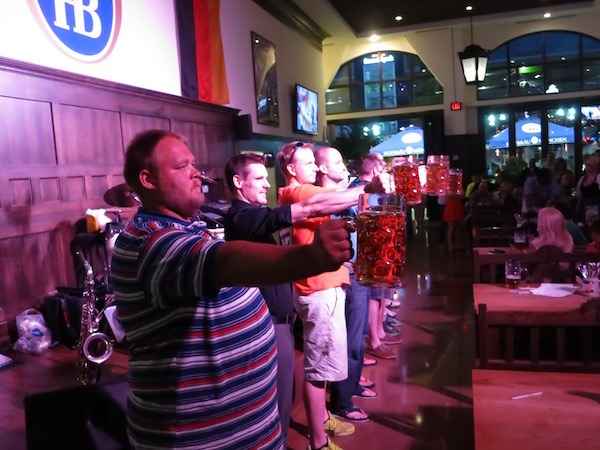 Hofbrauhaus is a great place for getting together with friends and family. It's hard not to sing along and participate in all the fun activities in the beer hall. If you can't make it to Munich the Hofbrauhaus Rosemont will get you into the Bavarian spirit and in no time you'll be wishing everyone "Prost!" when you toast them with your stein held high.
For more details on their menu and hours check out their website at hofbrauhauschicago.com.
There's a lot more to explore at mb Financial Park for entertainment: Muvico movie theater with a restaurant and VIP packages, Big 10 Experience interactive digital museum, Zanies Comedy Club, Frozemont in the Winter for skating and snow tubing. For more dining there's: Adobe Gilas, Bogart's, Bub City, Five Roses, Fogo de Chao, Park Tavern and the Sugar Factory.  As you see there are enough choices to keep you busy for days!
For more information on the food and entertainment choices check out their website at rosemont.com/mbfinancialpark/dining/.
Fashion Outlets of Chicago
If you're a shopper the Fashion Outlets of Chicago is a dream mall. Full of over 130 premium shops like Prada, Coach, Le Creuset and many, many more, there are deals lurking behind every store window.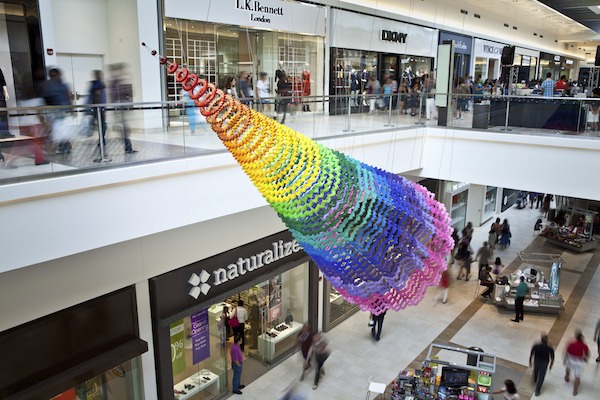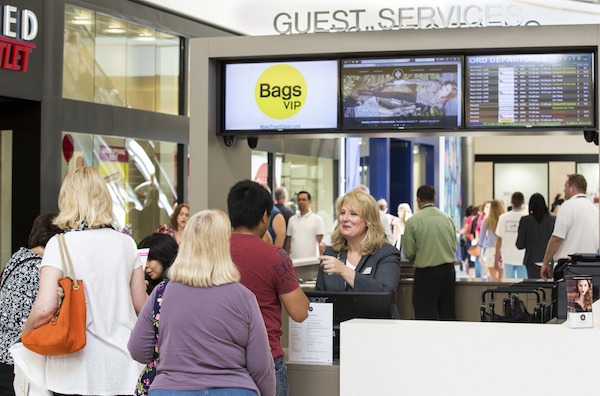 If you're stuck at O'Hare with a long layover or cancelled flight, take the free shuttle from the airport and you can spend the day shopping, dining and snacking at the Fashion Outlets of Chicago. Their concierge team will check your bags, keep you up to date on your flight and help you find anything you may need to make your travels a bit better. Be sure to stop by the Bose Outlet for travel sound solutions, Merrell for comfy footwear and Samsonite for luggage. If you're looking for more savings there's also a Green Savings Card program that provides additional special offers and discounts at participating stores, so be sure to ask the Concierge Services for all the details.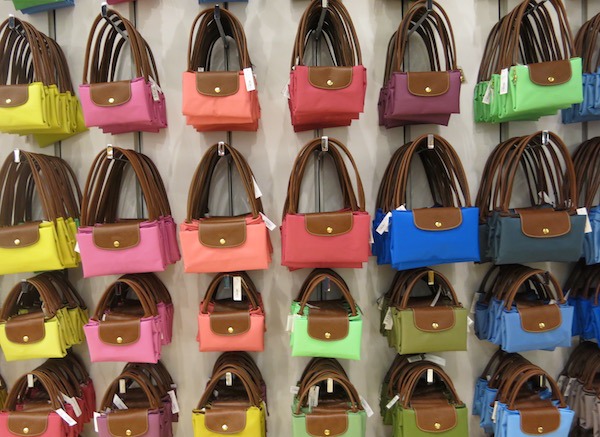 On our visit to the Fashion Outlets of Chicago we spied these cute foldable travel bags that expand into wonderful carry-on bags in colors to make everyone happy at Longchamp Factory.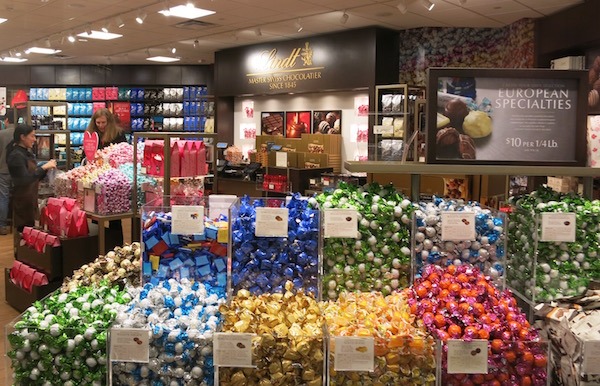 What's shopping without getting a special sweet treat? There are plenty of places to do that at Fashion Outlets of Chicago Lindt's Chocolate, Godiva Chocolatier, Haagen-Dazs ice cream and a full food court.
Check out their website for the complete store listings at fashionoutletsofchicago.com.
Loews Chicago O'Hare Hotel
During our Rosemont visit we were guests of the Loews Chicago O'Hare Hotel. The property was recently renovated and we couldn't stop saying "Wow!" From the giant video screen display in the lobby (super pro tip: they had the Blackhawk game on and the viewing area is HUGE. Great place to bring your yummy drink back from the bar and watch, (we'll get to the bar in a minute) to the comfortable bar to the gorgeous rooms you will feel immediately at home and spoiled.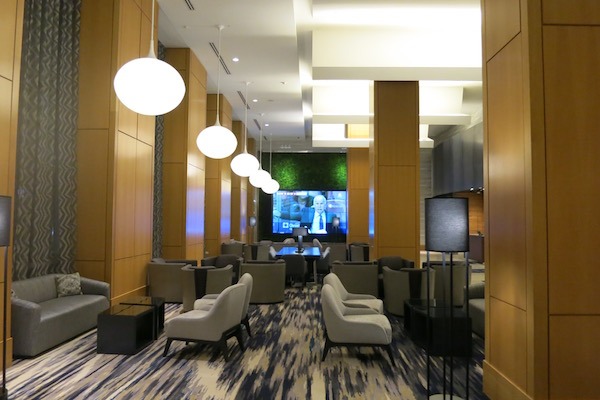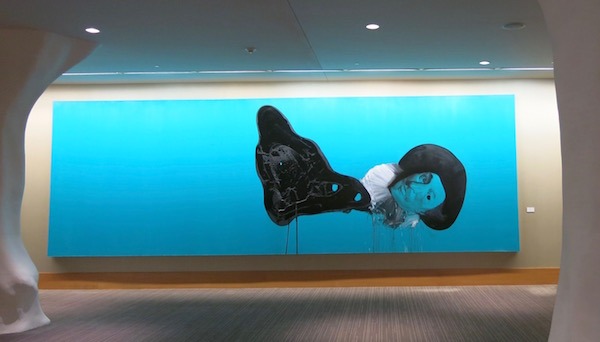 Many hotels have "art" in the rooms and lobby. The Loews features an art gallery. Everywhere you look you see works that you can admire and that make you think just a little bit deeper about the world around you.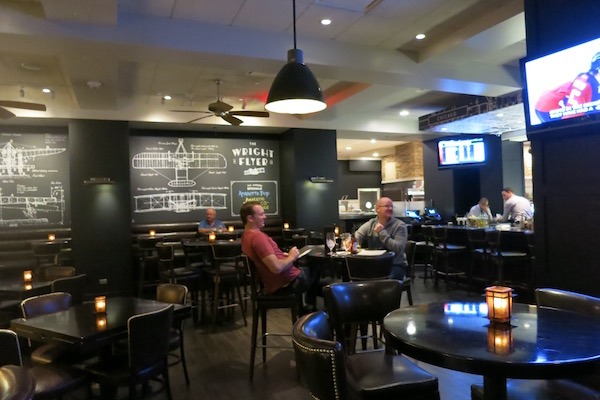 Our first stop was the aviation themed Ashburn bar. While they have a full bar we would recommend one of their special cocktails or a locally brewed beer – they have an exceptional list. Bartender Maria set us up with a Snowbelt with our favorite Tito's Vodka, Di Saronno, Apple and Cinnamon. Perfect way to beat the Midwest chill.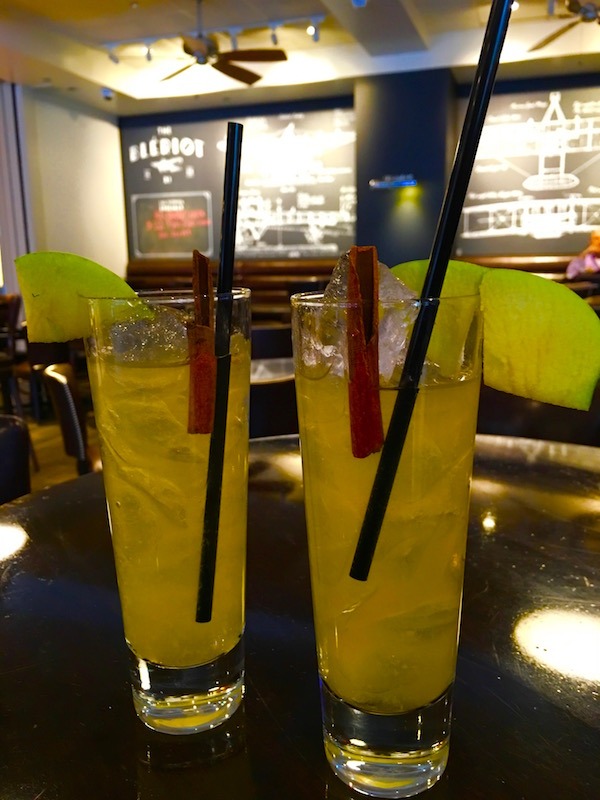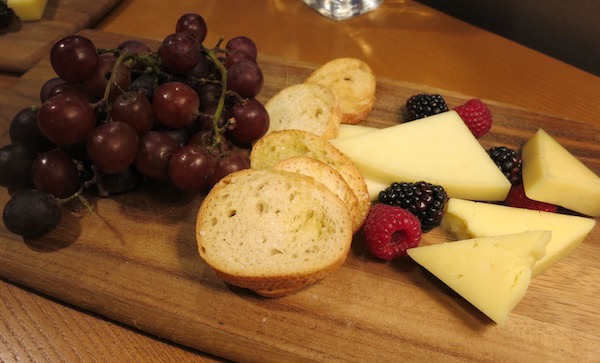 We really enjoyed the fresh fruit and cheese tray – what really stood out was the high quality products and service.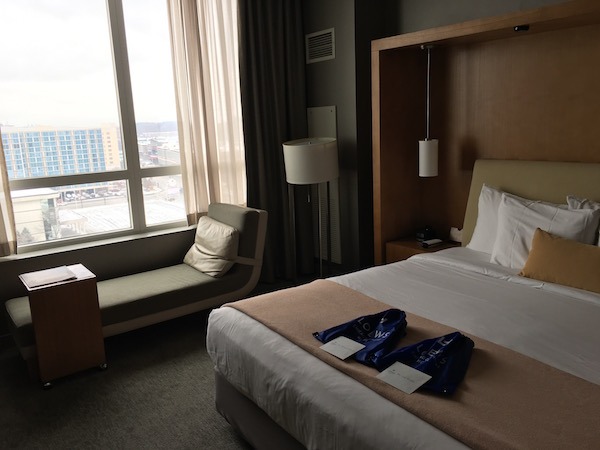 Our room was very comfortable. I'm a huge fan of the chaise by the window. You can relax in their fluffy robes and watch the planes come and go from O'Hare. The renovated rooms are modern and relaxing. Lots of conveniently located plugs for charging all those pesky electronics we carry around and free Wi-Fi in every guest room and public spaces make it great for us business travelers or anyone who needs to stay connected. I loved the lighting in the room soft but good for reading in bed and easy to use on/off switches (does anyone else have this problem?), which seems like a no-brainer but so often isn't.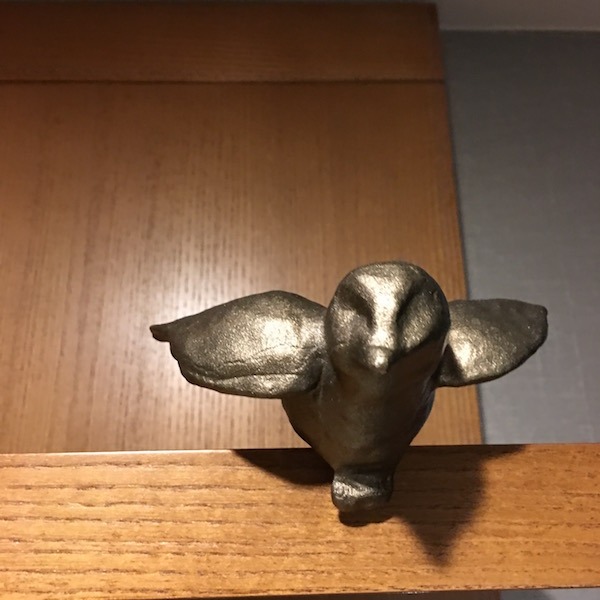 We were especially fond of the little touches in the room. I always say that the devil's in the details but at the Loews Hotel in Rosemont we found the all the little details to be pure delight. As bird lovers, we especially smiled at this little guy perched on the closet top. There was also the smallest tile placed in the corner of the shower for a perfect spot to make shaving your legs in the shower super easy and comfortable.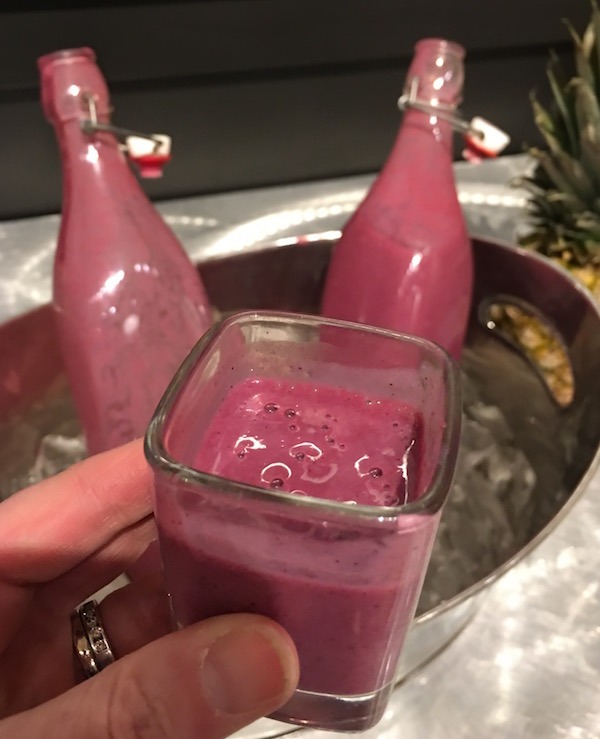 Whether you want a healthy smoothie, a made-to-order omelette or crispy pastry Loews has you covered with their delicious breakfast buffet.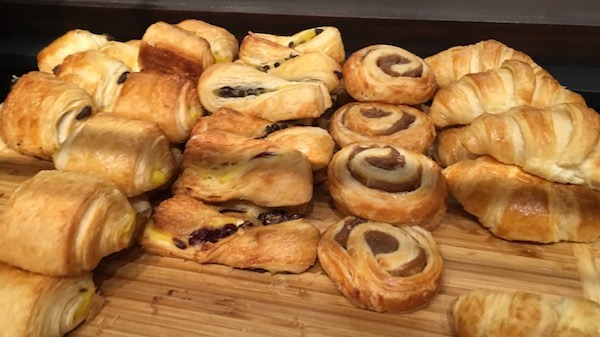 Other choices on property for dining include McCormick & Schmick's for seafood and The Capital Grille for steaks and chops.
Diana and I felt very comfortable and at home at the Loews Hotel. The staff was helpful and attentive from check-in to check-out. They also offer a free shuttle that can take you to the airport or any place in Rosemont that you want to explore. Leave the driving to them and really enjoy yourselves! To learn more about their availability and rates check out their website at loewshotels.com.

THE QUICK BITE: The Rosemont Entertainment Experience is waiting for you whether you're stuck at O'Hare or just looking for a full day of food and fun in Chicagoland. Take your choice of the many tasty and different restaurants, concerts, movies and entertainment.