Delhi India is a highly populated area, with a "new" and populous city area and the "old" walled city. While a lot of business and activity occur in New Delhi, if you're a lover of spices, you won't want to miss the Spice Market in the old walled city.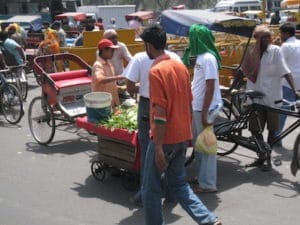 Indian food is quite often associated with a distinct blending and combining of flavors and spices. Masala, the Hindi word for spice, commonly refers to  a mixture of condiments, spices and herbs ground together. Garam Masala, one of the most widely know versions, is a hot spicy blend often composed of peppercorns, mailbag leaves, cumin, cinnamon, anise, coriander and cardamom.
Other blends are made to go with other dishes, such as Biryani Masala, containing cinnamon, cloves, nutmeg, fennel seed, cumin seed, mace and shahjeera. Biryani Masala is used in many varieties of biryani, which is a rice dish made with basmati rice, spices, and meat or other protein or vegetables. Biryani is a popular dish in Arabia and South Asia as well.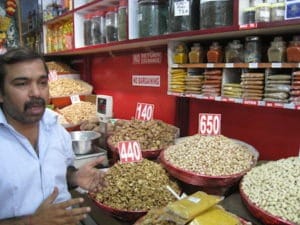 The Spice Market in Delhi is located on the Chandni Chowk is a network of streets filled with people selling, trading and eating all manner of items. It's located within the old walled city and is easy to walk around once you get there. The name Chandni Chowk  menas "moonlit square," and comes from the time long ago when a canal supplying local water ran through the street and it was said that the moonlight was reflected on it.
Many of the spice vendors in the market are selling to wholesalers. However, you can still purchase small packages of various spices for your own kitchen here. There are plenty of people shopping and selling, so be aware that you'll weave in and out of the various stalls and over and around people selling things like chrysanthemum flowers right on the sidewalk.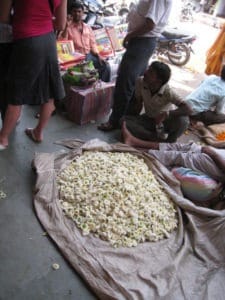 It all adds up to a splendid place to visit for chefs and home cooks who want to see a great variety of India's famed spices. If you chat with some of the spice dealers there, you might also get a recipe or two. Especially if you make a purchase!
THE BIG BITE: Stroll the Spice Market at Chandni Chowk in Delhi India and experience the  delicious spices that help define authentic Indian cuisine.