Sugaring Off – Now That Is A Sweet Party
Wonderful, versatile maple!
Most of us know about one of Canada's most famous food products – maple syrup. It makes pancakes and waffles deliciously sweet when poured on top.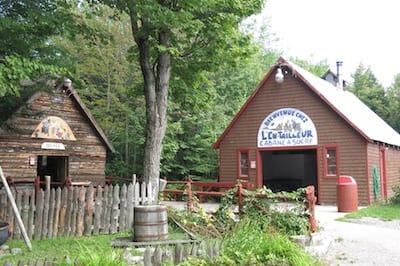 But maple's story is far more rich than that. We visited a genuine Cabane à Sucre (Sugar Shack) L'En-Tailleur in Île d'Orléans, in Quebec. Owned and operated by the Tailleur family for generations, this combination of maple farm, production facility, museum and restaurant is a total maple experience and representative of sugar shacks that dot French Canada.
For our visit, we received an education in the process of tapping trees and processing the maple sap, and producing various products such as maple water, syrup, butter, candy, cookies, even granulated maple. You might be surprised to know that maple is also used in some wonderful beauty products like body soaps and skin lotions. A scientific study  even found more than 20 compounds in maple syrup from Canada that have health benefits.
We were treated to a unique treat known as Maple taffy also known as maple toffee or sugar on snow. This sweet is made by boiling maple syrup to 235 degrees F until it thickens and then pouring it on clean snow (or manmade snow if you're not in snow season). As the hot taffy cools, it thickens and is generally picked up and rolled on a popsicle or other stick. We also had a variation of this in Toronto, where the taffy is used to surround a piece of aged cheese before making it to the stick.
In Quebec, the residents use maple much the way those in the United States use sugar – as a ubiquitous sweetener, even in coffee. Our guide at L'En-Tailleur, Lise Tailleur representing the eighth generation of this family business, also explained to us that maple is used in many dishes as well.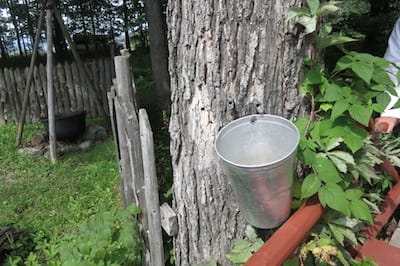 When it's time to tap the maple trees and collect the sap, known as "sugaring off," generally from late February to early May, you can experience a decadent sugaring off meal provided by one of the sugar shack chefs. Such a meal often consists of pea or lentil soup to start, followed by meat pies, sausages, meatballs, ham, deep fried pork rinds, omelette or eggs, potatoes, sweet pickles, sugar tarts or pies, pancakes, sweet puddings, and various other dishes all either cooked using or smothered with, you guessed it, maple syrup. There may be dancing or entertainment to help burn off some of those extra calories you've consumed.
There are any number of sugar shacks for you to explore and learn more about sugaring off. Check out Bonjour Quebec  for a host of options in various regions.
THE QUICK BITE: A visit to one of Canada's traditional sugar shacks provides a fun experience that shows how maple syrup is great for much more than topping off pancakes.