Sweets and Snacks Expo Fun
Every year we make the trek to the Sweets and Snacks Expo in Chicago to see what's new and trendy. It's a busy show with some 800 exhibitors and 15,000 folks all looking at what to nibble and much in the year ahead. This year saw 2,000 new product introductions! 2019 is a great year for those seeking healthier options in snacking. We also found fun new ways to enjoy a few of our favorite guilty pleasures. Here are just a few of the treats and trends we discovered at the Sweets and Snacks Expo that we thought would interest you most.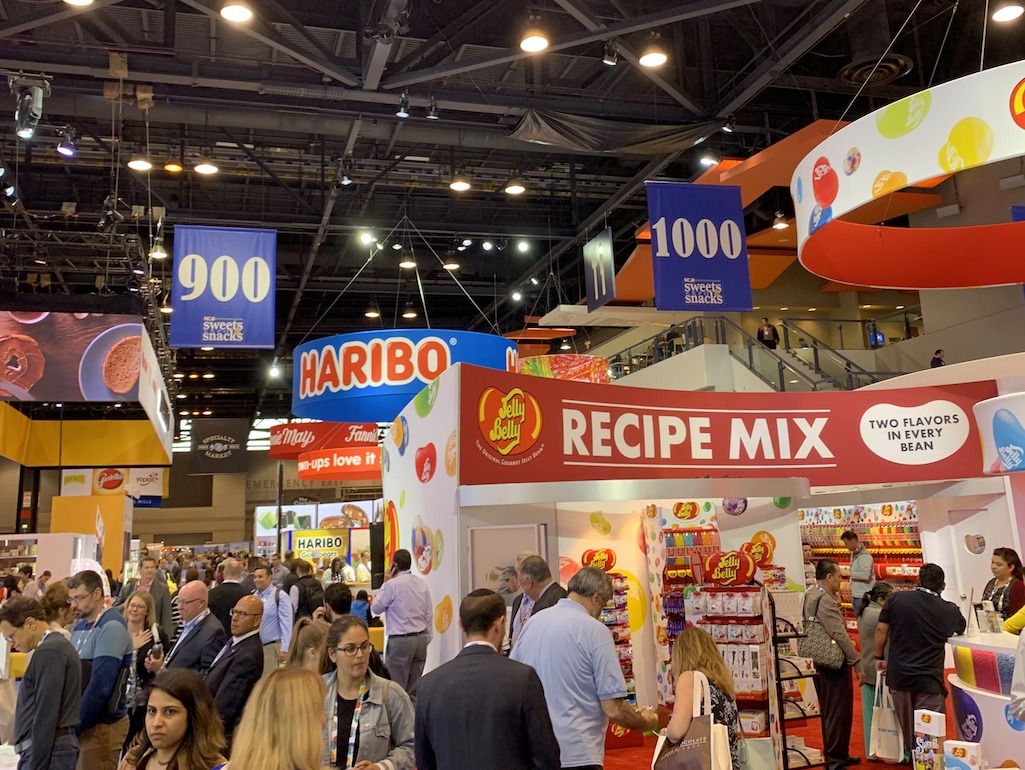 Healthy Snacks Everywhere
We know that when we're traveling, temptation can get the best of us to go off the wagon entirely when it comes to eating right. This year there was an abundance of snacks that we'd categorize as "good for you."
Fruit Snacks
Ekoa offers simple and delicious nature dried fruit bars. They use pure ingredients like banana, coconut, mango and pineapple with no added sugar. They're just the right size for when you want a sweet treat without getting more sugar between the donut crawl and the ice cream run.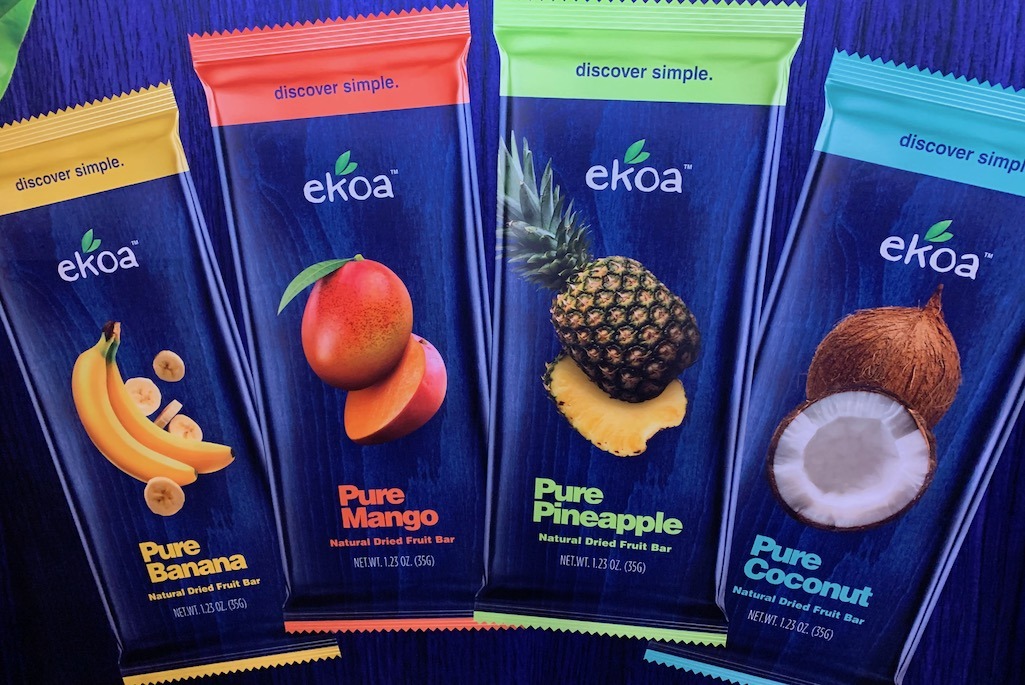 Peeled Snacks offers one of our all-time favorite snacks. Dried mango that has nothing but, well, mango. Unlike a lot of the products that start with fruit and add sugar or preservatives, Peeled just gives you the fruit. We love the chewy natural flavor of the slightly dried mango. They have other fruit snacks like apples and have a line of crunchy pea snacks too. We find them available at many airport quick stores.
Crispy Snacks
A fun new product we tried at the Sweets and Snacks Expo is Undercover Quinoa. These crispy little quinoa bites are covered lightly with premium chocolate. They're gluten-free, non-GMO, peanut/tree nut free, Koser and use fair trade chocolate. If that isn't enough, they're addictively tasty. We'd say these were one of our favorite new discoveries in sweets and snacks.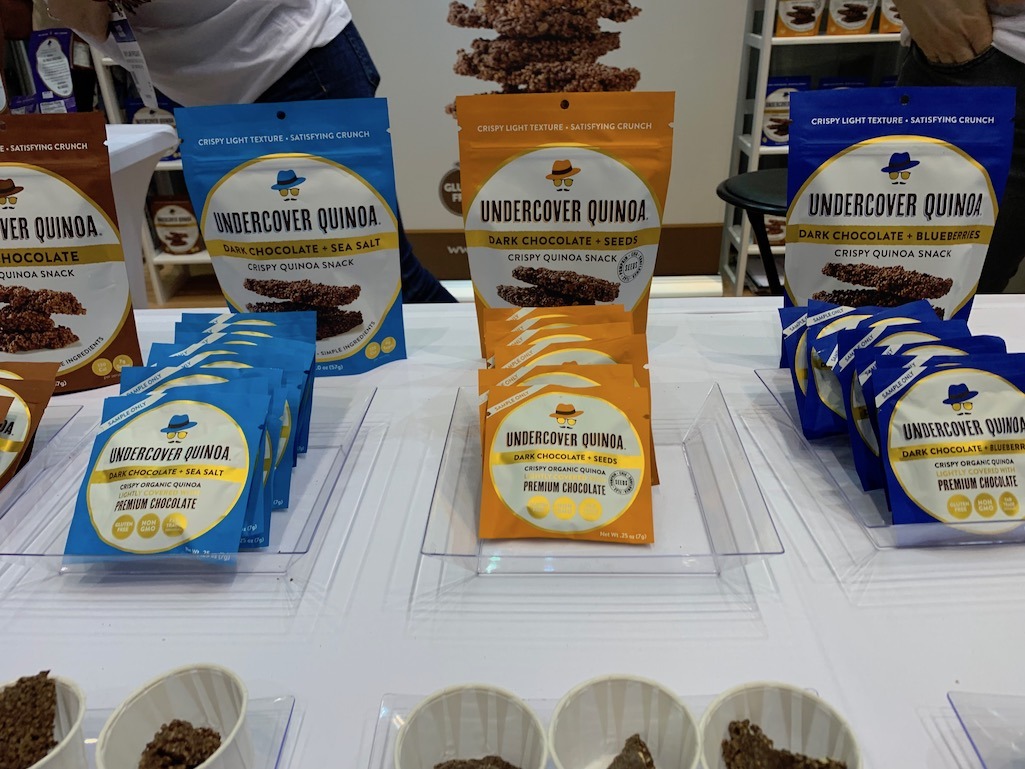 Coconut Snacks
Plenty of options are now available for those seeking gluten free and dairy free snacks too. The Real Coconut offers some wonderfully tasty tastiest tortilla chips that use coconut flour. Grain free, they are perfect for adding a little something to your snacking routine. They also have coconut flour tortillas and plantain flour cookies. These snacks are vegan & Paleo, organic and non-GMO, and the company supports farmers and co-operatives in the small Caribbean country of Belize.
Trends Worth Noting
Just like at the National Restaurant Association show this year, the Sweets and Snacks Expo had a large share of plant-based in addition to animal-based sweets and snacks.
Meat
There were certainly plenty of meat snacks like RIFFS Smokehouse bacon on the go called "Meat Candy." Fully cooked, you can take it with you and heat it up just by putting it in the sun.
Epic, known for its unique meat bars made from game meats such as bison and venison showed us something new. Their chicken egg yolks and apple bars and bacon and egg yolks bar make for a good breakfast alternative. They call them "Rise and Grind" bars. Because Epic is one of the first ethically-sourced meat, fruit and nut bars, we're happy to see their lines expanding for those who want their protein in a portable bar.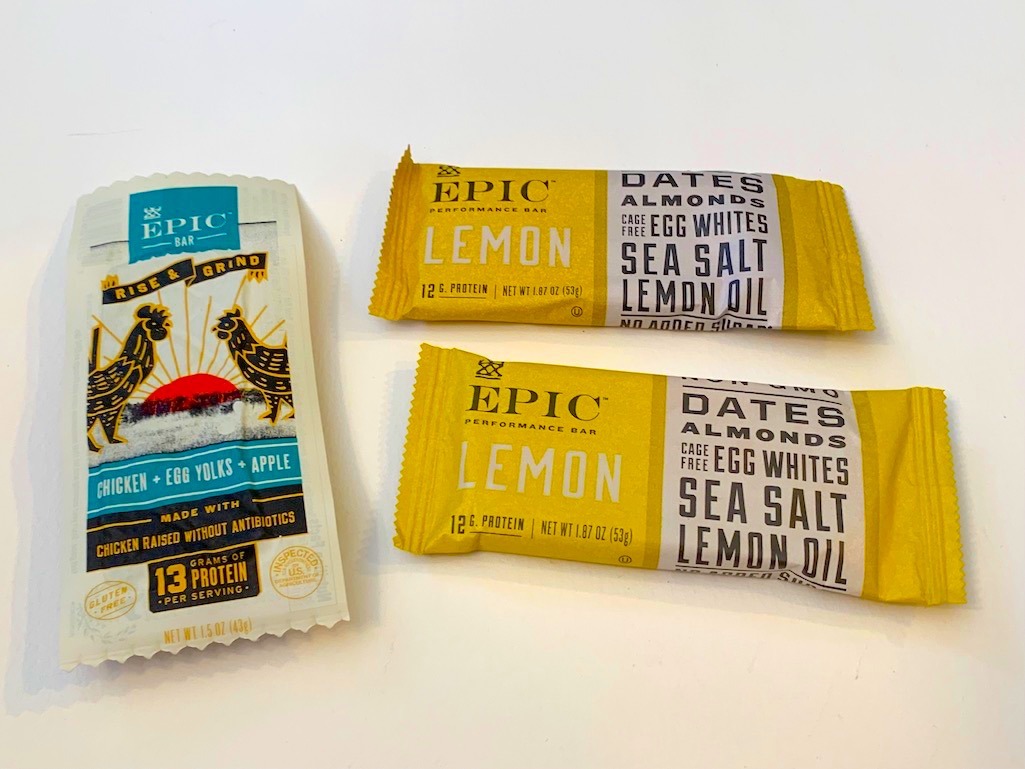 Plant Based
But the stars of the snack side of the show were the many products that are using a plant basis to create a tasty and filling treat.
Peatos is one of our favorites. If you love those fun crunchy cheesy poofy snacks, you should check out Peatos, They are based on pea protein and are full of flavor and are surprisingly low in sodium. Sue's little grand niece can't get enough of them. Kid tested, kid approved. Peatos are yummy for grown-ups too, and we love these vegetarian, gluten-free, non-GMO, sustainably grown crunchy bits of goodness. Besides, it's really fun to say Peatos!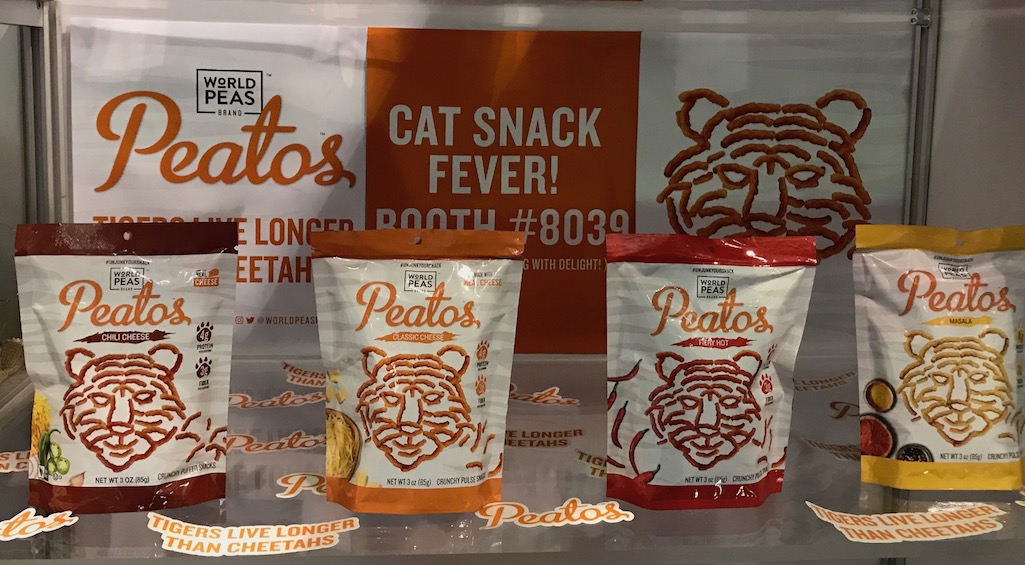 Chips
We love crunchy treats and toasted fruit and veggie chips are always a good bet. We're big fans of bare snacks' toasted coconut, apple and banana chips. So we were really happy to see some of the new veggie chips they have. Carrot, beet and sweet potato all get the bare treatment. These are easy to toss in your travel bag and even easier to munch on when you need a little something-something.
According to Candy & Snack Today, organic snack sales are expected to reach over $24 Billion worldwide by 2025. North America represents over 60% of the market share while Asia Pacific expo sting the fastest growth.
Dot's Homestyle Pretzels
We fell in love with Dot's Homestyle Pretzels when our host and friend from Yellowstone Country Montana introduced them to us. These seasoned pretzels were originally created by Dorothy "Dot" Henke in her home kitchen in Velva North Dakota. And they are absolutely irresistible. For a time, we couldn't find them many places. But Dot's is making inroads and we're finding them in more and more retail outlets.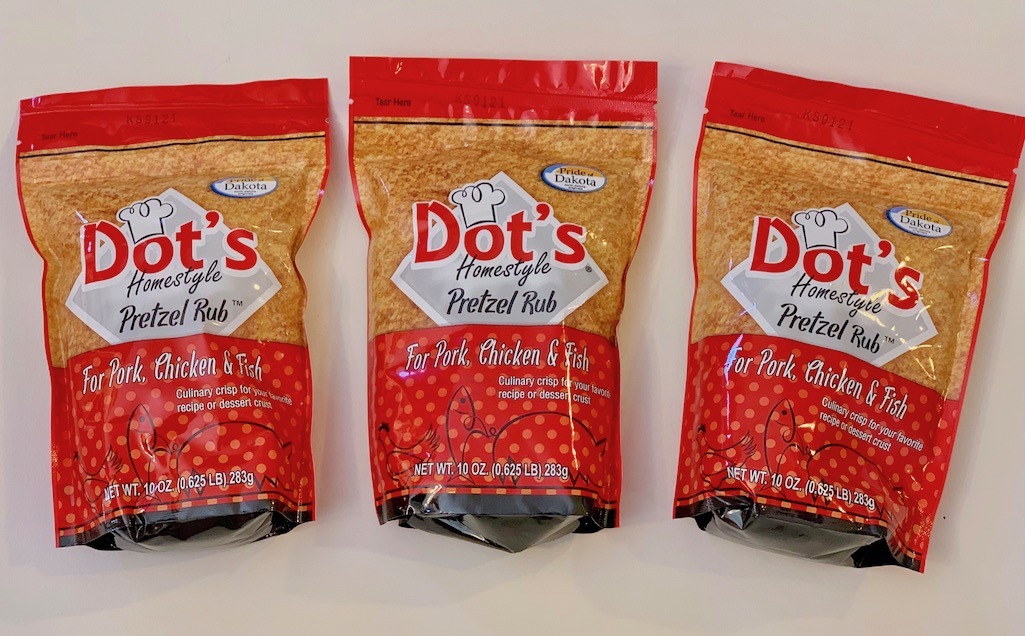 We were delighted to see Dot's at the Sweets and Snacks Expo showing off many size packages from a 1.5 oz. personal snack size all the way up to a 2 lb. bag that would be great for a party. And Dot's is expanding their products too. They have a seasoning rub that you can use to coat pork, chicken or fish. And, even more, fun, they're launching Mr. Dot Bars, which will combine dark, milk or white chocolate with crushed Dot's pretzels and toffee. Dot's are so good and blurring boundaries between sweet and savory, so we have put them in their own category here.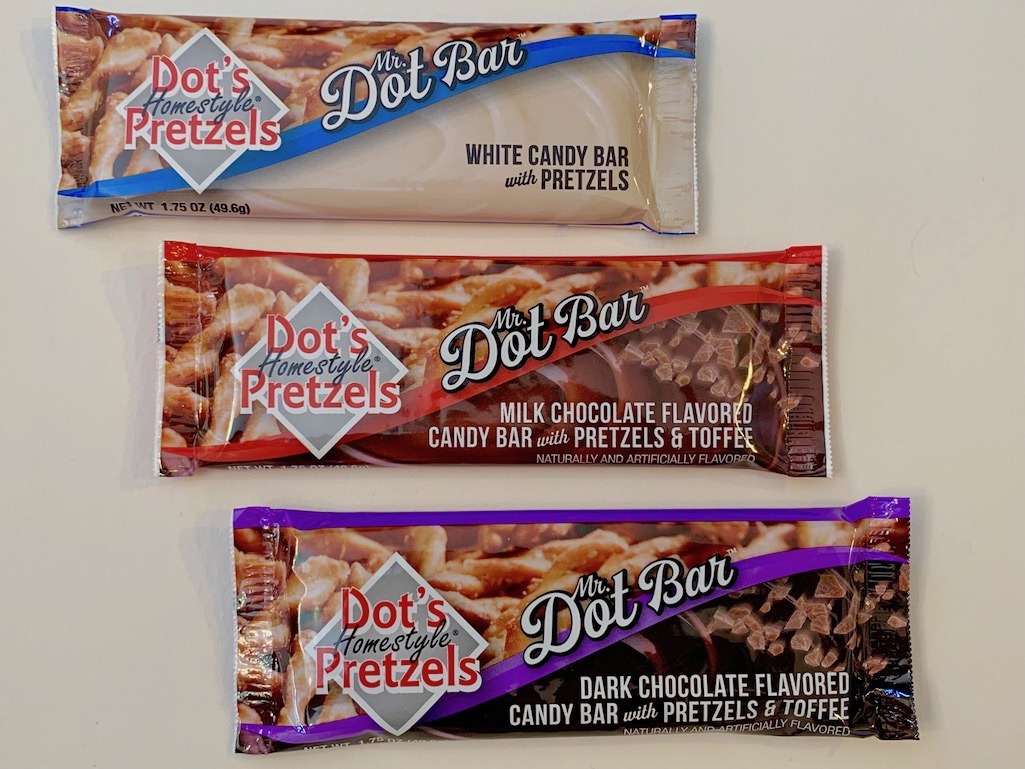 Favorite Sweets
As always, we have a few favorites on the sweets side of things. Though we can't qualify all of them as healthy exactly, we can say that they are totally worth the slight indulgence.
More Peeps!
Our friends at Just Born have really hit it out of the park this year. Mike and Ike is a fixture in our home and this year, they've added a Mike and Ike Mega Mix Sour. 10 different sour fruit flavors like sour power pineapple, sour zapping apple and sour pucker punch fill your mouth with a sweet-sour combination that is just irresistible. As fun as that is, Peeps is adding even more to the fun. Now you can get Root Beer Float Peeps, Pancake & Syrup Peeps, Chocolate Pudding Bunnies and…wait for it…Peeps flavored jelly beans. It's pretty hard to imagine the new colorful display that we'll have around our family table.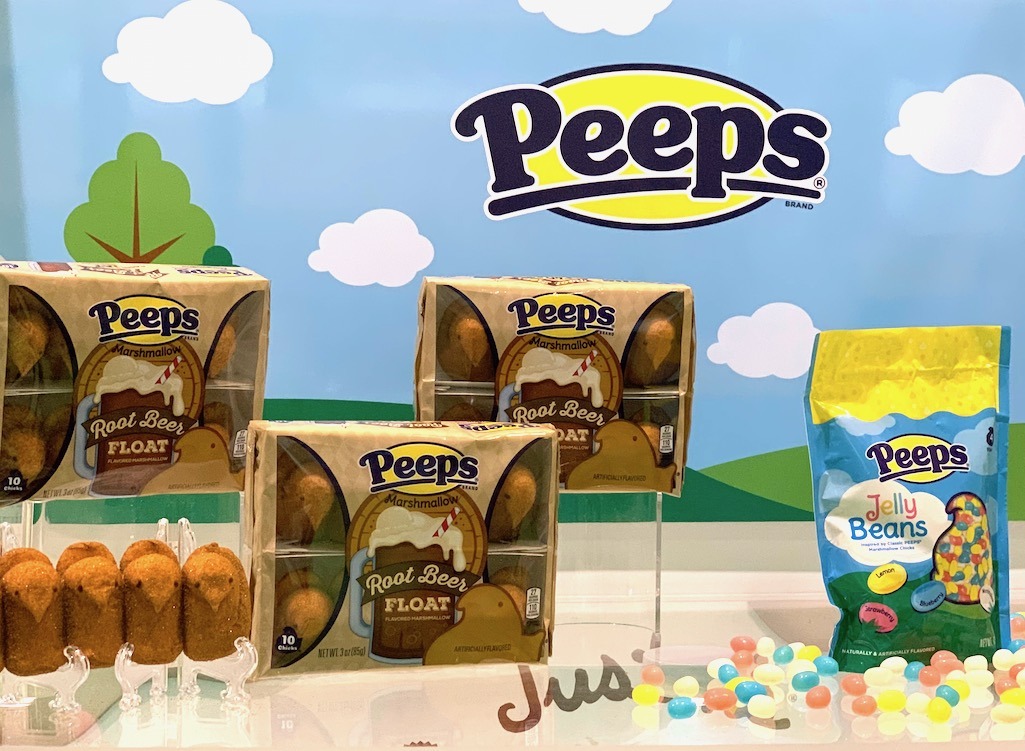 Gummies
Another exciting development is both global and local in scale. The folks at Haribo make those yummy, chewy Goldbears,  Happy Cherries and Happy Cola bottles. They've also got a line of sour gummies as well as all kinds of fun shapes from dinosaurs to snakes. We also discovered that Haribo makes those red and purple chewy Berries covered with the tiny little hard candy balls that Sue loves so much. They are both crunchy and chewy! Win, win.
They also have new watermelon gummies this triple-layered, foam textured gummi is a first to market in the U.S. We tried them at the show and they are sure to be a winner with the nice mix of soft and sweet chewy goodness.
"At HARIBO, we listen to our consumers, keeping a pulse on flavor and form trends that deliver moments of childlike happiness and drive category growth," said Katie Waller, VP of Marketing, HARIBO of America, Inc. "Our fans shared their excitement for a watermelon flavor and new sour varieties, and we're happy to bring those to life in 2019."
But the real news is that German-based candy powerhouse is planning to build a manufacturing facility and Haribo experience, including a museum and a retail store, in the Kenosha area. We can't wait to call them our neighbors! Just another reason to visit our friends in Kenosha too!
Chocolate
If you're an M&M's fan, you're probably enjoying with the addition of new flavors, such as pretzels and caramel. But for those who are also Nutella fans, you'll be in heaven with their latest hazelnut spread M&M's.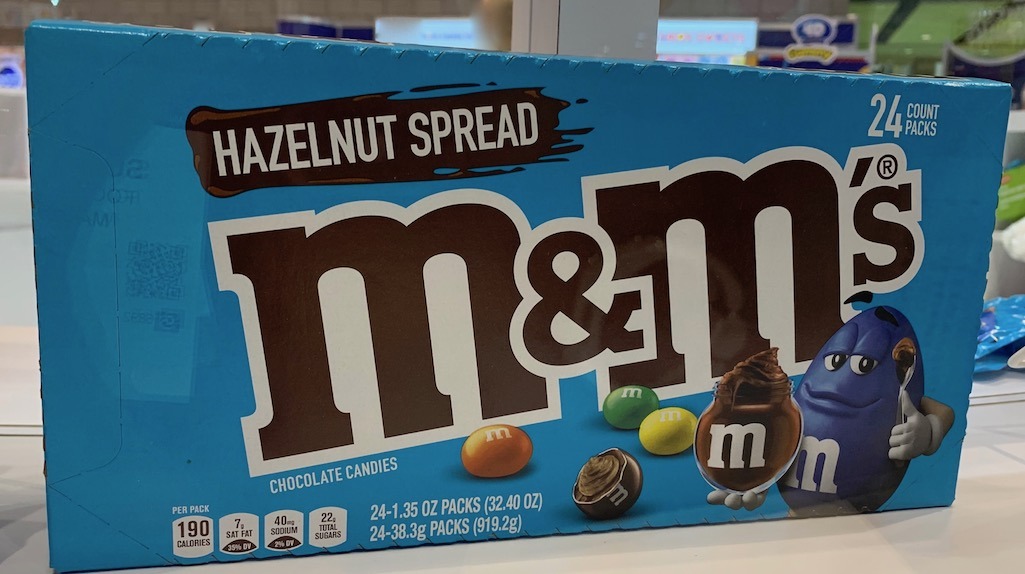 They also have these fun chocolate bars that have M&M's built right into them. And if you like chocolate in general, be on the lookout for the latest approach we've seen, which is super thin chocolate bars with premium chocolate. Lindt, for example, has a dark chocolate bar with a touch of sea salt. We love the idea of sweets that can be indulgent and fun at the same time.
Cookies
And for wafer type cookie treats, the fantastic Italian company Loacker, based in the dreamy South Tyrol, Hass upped their already fabulous game with double choc chocolate wafers and Matcha Green Tea cookies.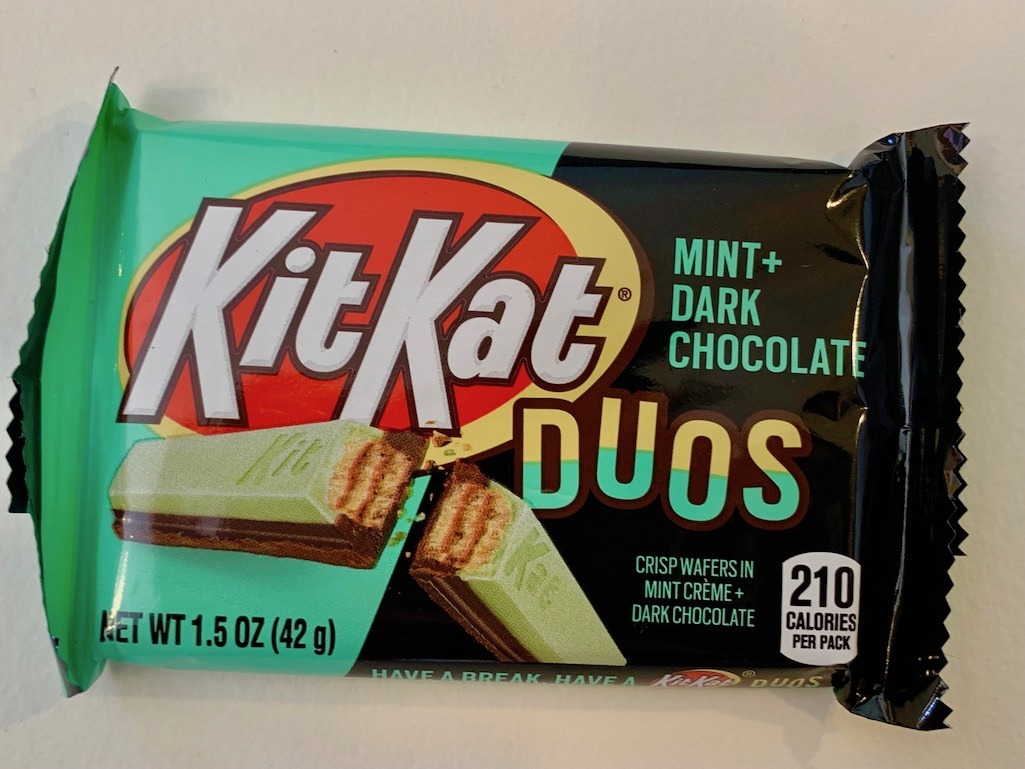 Kit Kat also made a splash with its upcoming new Duo style featuring a chocolate mint combo. And the word of the day is Stroop Wafels, those waffle-looking little wafers with a layer or caramel or other fillings in between. They are great to put on top of your cup of hot coffee or tea to let warm up the filling for an extra special treat.
Our friends at Firehook were taste testing their soon to be released thin chocolate chip cookies. We are fans of their crackers, biscotti and other cookies so we were eager to try them. They are crunchy and flavorful and taste like just baked cookies. Can't wait to see these on local store shelves.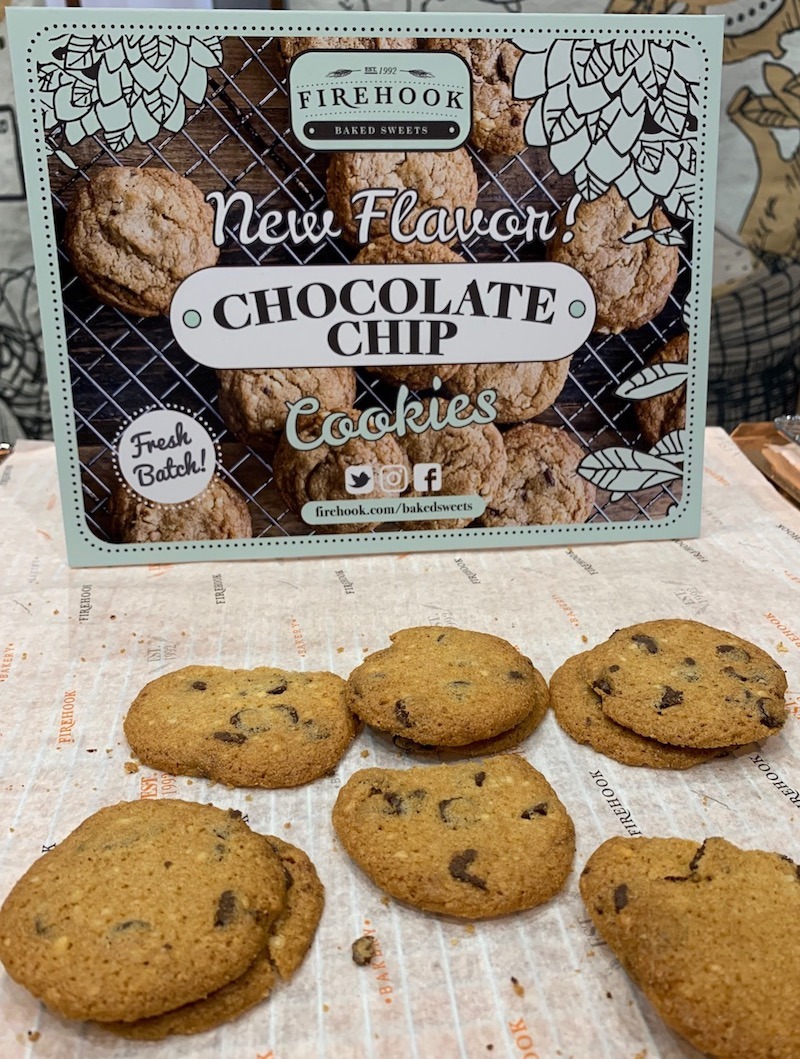 Smart Sweets
Although we love to indulge sometimes, there are plenty of folks making sweet treats that are actually on the healthier side. We had fun at the Sweets and Snacks Expo meeting the creative innovators who are bringing their products to the attention of sweet lovers like us.
Tom & Jenny's
Tom & Jenny's candy is a great example. Jenny is a dentist who loves sweets but didn't care for any of the sugar-free options available. She wanted something for herself and that she could recommend to patients. So, together with her husband Tom, they began testing out recipes at home to come up with a winner. Eventually, Tom & Jenny partnered with James Beard Award-winning pastry chef Michael Laiskonis to create the tastiest sugar-free caramels we've had. They use sugar alcohols and xylitol so they are sugar-free, preservative free and use no artificial flavors or colors. These little sweet delights are low in calories and net carbs, and most of all, they're soft and chewy but don't make you worry about gumming up your teeth.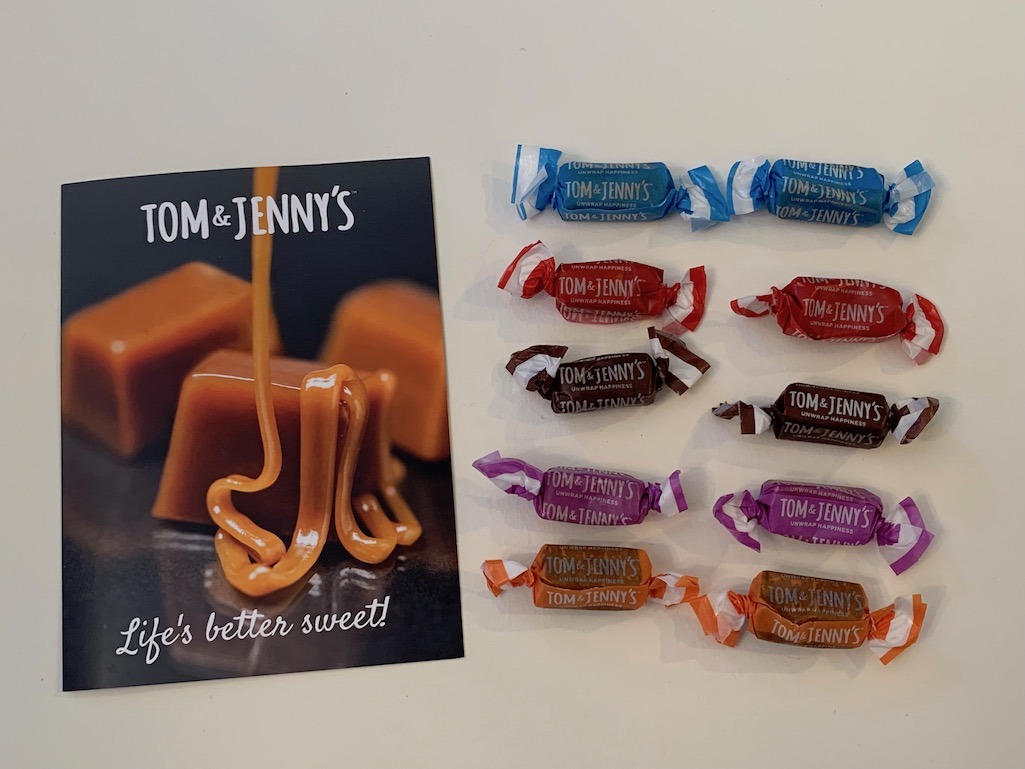 Unreal
The folks at UNREAL are also doing a great job making sweets with less sugar. If you like a chocolate peanut butter cup type treat, they have one that uses dark chocolate. And they also have crispy dark chocolate peanut butter cups. And for those who don't care for the peanut taste they have dark chocolate almond butter cups. They also have dark chocolate "gems," little round chocolates with candy coating as well as milk chocolate versions. And the latest offering is a dark chocolate coconut bar that uses less than 51% of sugar than the leading brand. Organic coconut and organic cassava syrup do the trick for these gluten-free, non-GMO, fair trade treats.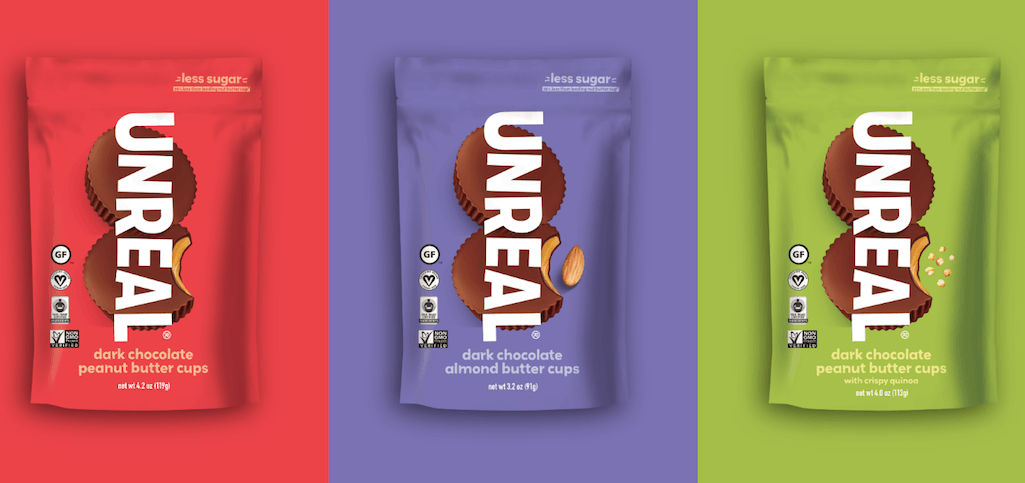 As you can tell, there was much to be excited about at the Sweets and Snacks Expo this year. We've only scratched the surface here. Next time you're looking around a convenience store or airport shop, check out what's happening in the snack aisle. We're pretty sure you'll find something tasty to munch on as you head to your next destination.
This post contains affiliate links. Every purchase you make through our site helps us earn just a little bit of money and keep the lights on. It does not affect the cost of the products.
Pin To Your Travel Snacks Board On Pinterest