It's no secret that we love sweets and snacks so attending the Sweets and Snacks Expo in Chicago is always a highlight of the year. We attend the annual trade show every year looking for the latest trends in salty snacks and sugary sweets. We know that Food Travelists love to pack their bags and hit the road with tasty snacks in their backpacks, carry-ons and purses. We're not alone almost $42 billion dollar in retail sales in the U.S. alone are sweets and savory snacks including cookies, chips, snack bars and nuts.
There were over 650 companies in attendance with new products available at every turn. Here are just a few of the trends we noticed along with some of our favorites, both old and new.
Superfoods are Still Super
The superfood kale has been everywhere and it's found its place in snacks as well. Along with chia seeds, pomegranate seeds, goji berries, and more, if you can put it into a smoothie you can put it into a snack. One of our superfood favorites was Supereats Kale and Chia Chips. These chips are very tasty and full of antioxidants Omega-3s, fiber and protein. They come in several flavors, and the ranch flavor was among our faves. Another treat was dark chocolate covered goji berries from Himalania. They also have a full line of freeze-dried fruit that's amazing and make for excellent travel snacks.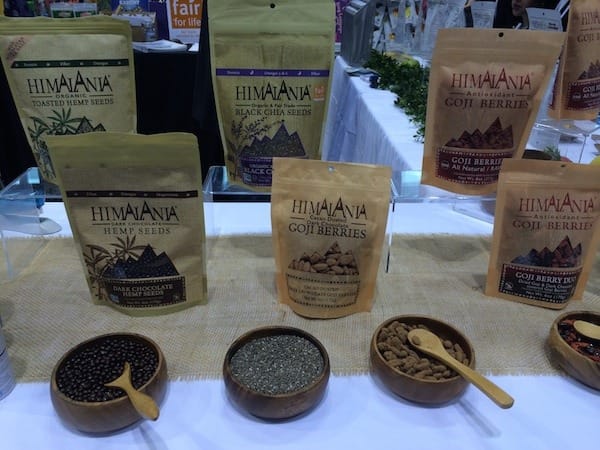 Healthier and Healthier
Over the last few years snacks have been getting more health-conscious and this year there were even more good for you options. Organic, Non-GMO, Gluten-Free, Kosher, you name it and there's a snack that meets your dietary needs. This trend is only going to increase as more and more people are really paying attention to exactly what they're putting into their bodies. The good news is that these healthy snacks are quickly improving in quality too. Taste and texture are better than ever and many of these snacks feel like treats, not like sorry substitutes.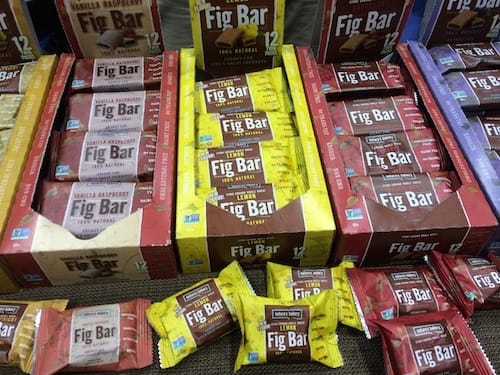 There were more dried fruits, nuts, chips and crackers with healthier ingredients and good taste than we could count. Among our favorites were Nature's Bakery Fig Bars. These compact snacks are delicious and have no high fructose corn syrup, no artificial flavors, colors or preservatives, 0g trans fat and are cholesterol-free, Kosher certified, Vegan, Non-GMO Project Verified and Dairy-Free. The easy 1-ounce pack is perfect for travel and a quick snack on the go.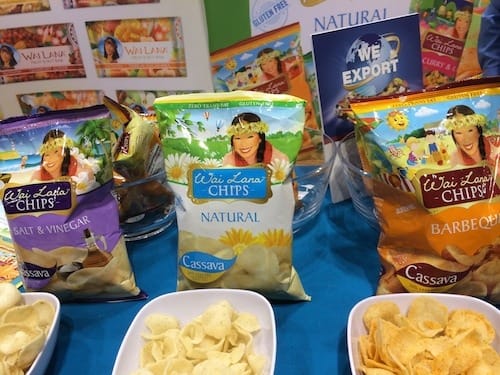 Wai Lana Snacks Cassava Chips are gluten-free, vegan and Non-GMO and make a great salty snack treat. Cassava, which many folks aren't familiar with, is a dietary staple for a billion people in developing countries because of its drought tolerance and ability to grow in meager soil. Cassava is a great source of carbohydrates and a good alternative to potatoes. Varieties include salt & vinegar and barbeque, but we especially  loved the delicate natural flavor.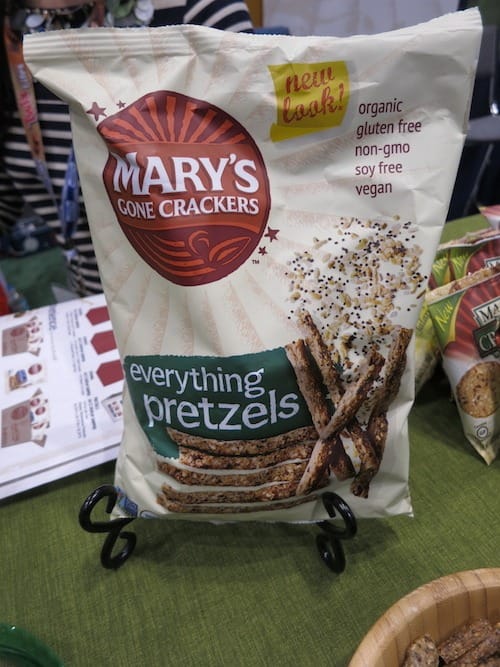 We've loved Mary's Gone Crackers products for years now and her latest Everything Pretzel is one of her best snacks. Our gluten-free friends can enjoy these tasty pretzels too, as they're organic, gluten-free, non-GMO, Kosher and Vegan. Mary's got a whole variety of crackers, pretzels and cookies that are well worth tasting, even if you have no dietary concerns at all. They're delicious!
Fiery and Spicy
Spicy flavors were everywhere you turned especially in the pop corn manufacturer's Sriracha abounded, as did Tabasco and jalapeño. Honestly, neither one of us Chief Food Travelists goes for hot, hot spicy  tastes, so all we can say is that are plenty to be had for those who like it hot.
Craves and Raves
Here are just few more that we think are tasty and make good travel snacks as well.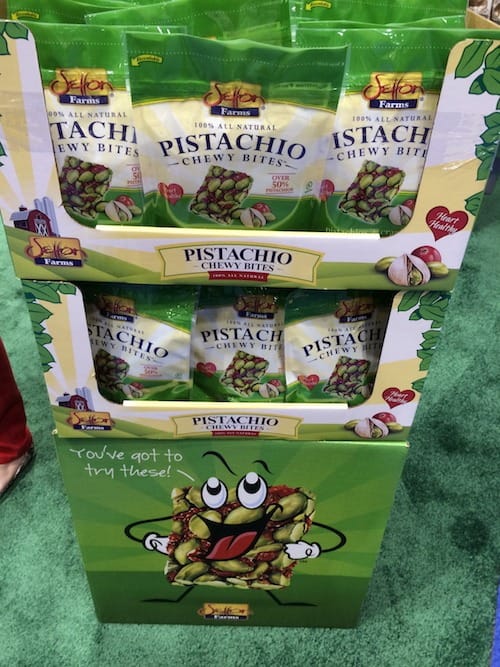 Setton Farms Pistachio Chewy Bites pistachios, cranberries and agave nectar make this a heart-healthy protein-filled snack. We love the combination of chewy with crunchy in this delicious flavor combo.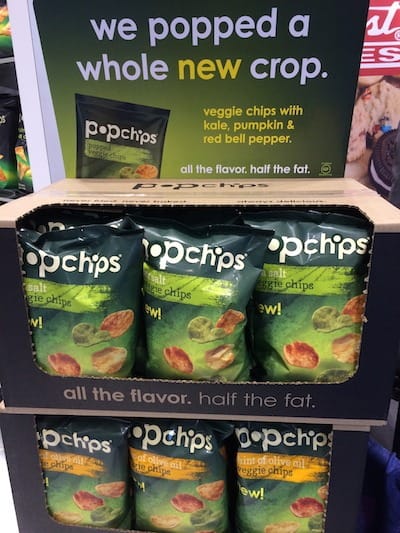 Pop Chips Veggie and Rice chips are another snack we can share with our gluten-free friends and they make us both happy.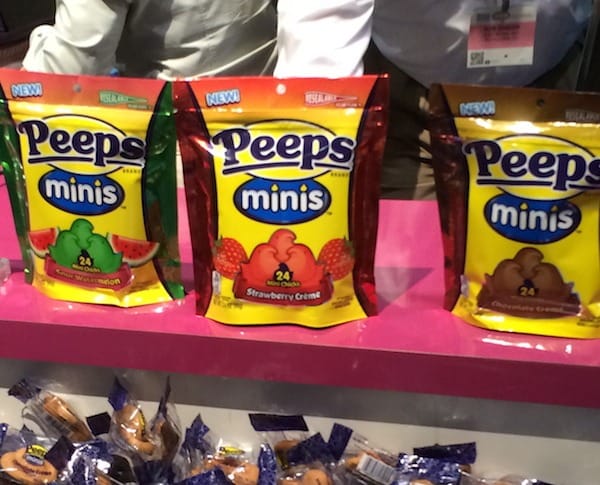 For those who can't wait for the holidays, everyday is a holiday with new Peeps Minis. These little guys come in strawberry creme, chocolate creme and sour watermelon. Not only are they tasty little Peep bites, but they bring out a smile every time!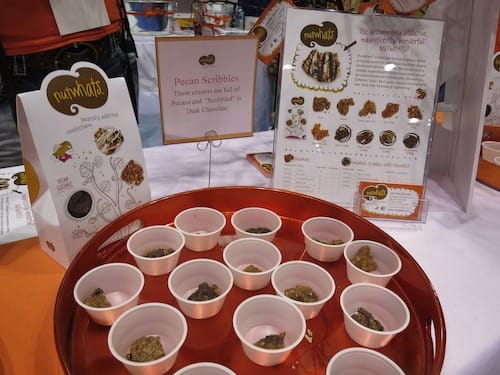 This oddly shaped nutty treat is a tasty little newcomer. Nutwhats is a surprisingly delicious snack that offers a buttery nutty combo in some great flavors, including intriguing combos like green chile beer britty, jalapeno beer. Their Nutwaht "scribble" flavors add a drizzle of chocolate on delicious bites like bacon pecan peanut pretzel and cashew coconut. Many nut lovers were clustering around their booth. We think Nutwhats is another winner.
We tried and enjoyed Cosmos Creations last year and all their new flavors, including the  bold new Aged Cheddar and Cracked Pepper and Coconut Crunch, make them a sure thing in our travel bag. Another gluten-free, trans fat free, non-GMO corn, and they have no kernels or hulls! No preservatives, no additives, no artificial flavors or colors. We love these guys!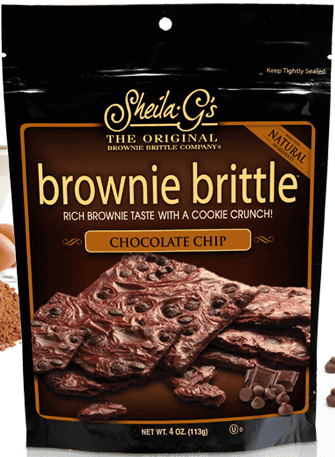 Sheila G's Brownie Brittle is like an addiction in our house. This thin crispy brownie brittle is like eating the best crispy edge part of the brownie. We had the chance to interview Sheila G. Mains, Founder and CEO of Brownie Brittle, and she is a true American entrepreneur. Of course, we love woman-owned companies as well so that just makes this handy snack even sweeter. You'll see their snazzy new packaging in shelves near you very soon. For those of you who are Costco members, you can get the extra large package at a great price. Be sure to check out the Brownie Brittle site for recipe ideas and special offers too!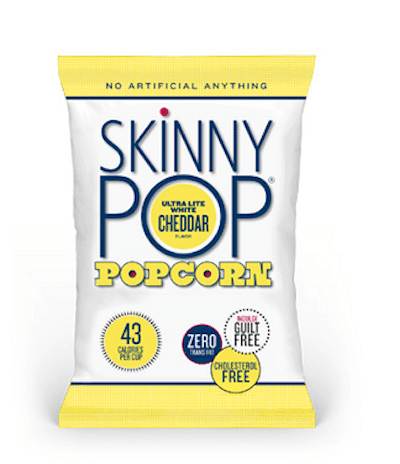 Skinny Pop is guilt-free delicious popcorn snack. There are several flavors including Original, Black Pepper, Ultra Lite White Cheddar and Naturally Sweet. You can find larger bags of this addictive snack at Costco. Remember, the more you buy the more you save!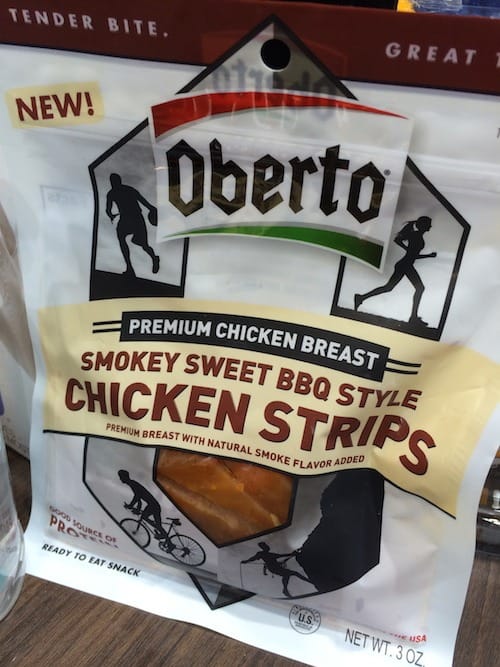 Our top new snack of 2014 Sweets and Snack Show? Has to be the Oberto Smokey Sweet BBS Style Chicken Strips made from premium chicken breast meat. This snack was not only delicious but we can see easily popping it into our travel bags and keeping readily available as a great protein snack. It will be in stores later this summer.
We hope you enjoyed our round up of the 2014 Sweets and Snacks Expo. Which one will you look for on your next visit to your local grocery store?
QUICK BITE: The 2014 Sweets and Snacks Expo trade-show featured over 650 companies hawking their latest sweet and salty snack creations. We take you through the highlights and what you can expect to see in your stores this year.