Carmel, Indiana. When you think of Indiana, you may think of Indianapolis, Evansville, South Bend or maybe Fort Wayne. But just behind these better-known cities is a growing area that's ripe for the tasting – literally. Carmel, Indiana in Hamilton County is experiencing a boom as those in places like the capital Indianapolis and others seek a kinder, gentler type of town. And in the wake of this search, Carmel rises to the challenge, providing both respite and repast in the same breath.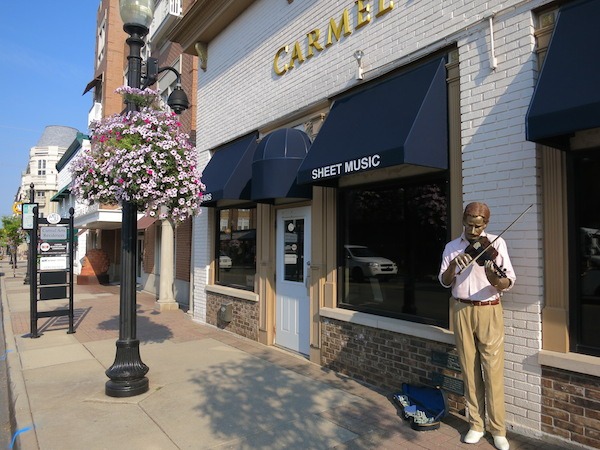 We had the opportunity to sample some of the tastes that are trending in the city of Carmel. There are intriguing new venues, such as Peace Water Winery, which combines the production of wine with the opportunity to do good. We had the opportunity to sample intriguing small plates at restaurants such as Divvy. And the craft brewing scene is alive in to Carmel as well, with offerings such as Upland Brewing Company, which has been a Hoosier favorite for nearly 20 years. A fun little trip on the Indie Indy Foodie Tours bus helped us make our way through the tastes of the city.
But our attention naturally gravitated to two of the best tasting secrets you'll find nestled in the little city of Carmel – gourmet chocolate and global flavors.
The gourmet chocolate is supplied by veteran chocolatier Julie Bolacheck, whom we had the pleasure to meet previously at a chocolate event in Chicago. Julie's incredible knowledge and devotion to the art and craft of creating exquisite and elegant chocolates sets her far and above the crowd. Her aptly named Chocolate for the Spirit recently brought home 15 awards from the International Chocolate Salon. She teaches Chocolate Connoisseur 101 classes and hosts trainings, designed to bring out the expert in all chocolate lovers.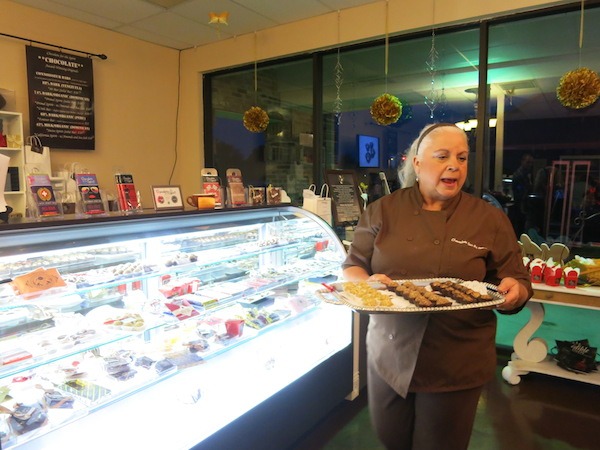 While there, Julie showed us some of her wonderful creations from the Dark Vader truffles to delicious gourmet toffee.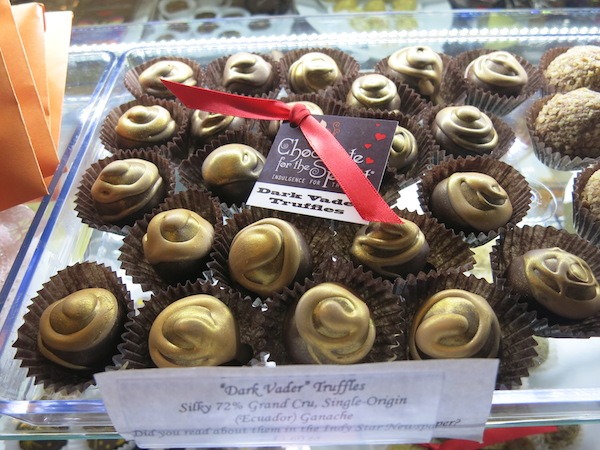 We even got a peek into her workspace to see chocolate tempering in action. Julie's love for her craft and her expert knowledge made for an incredibly fun and tasty visit.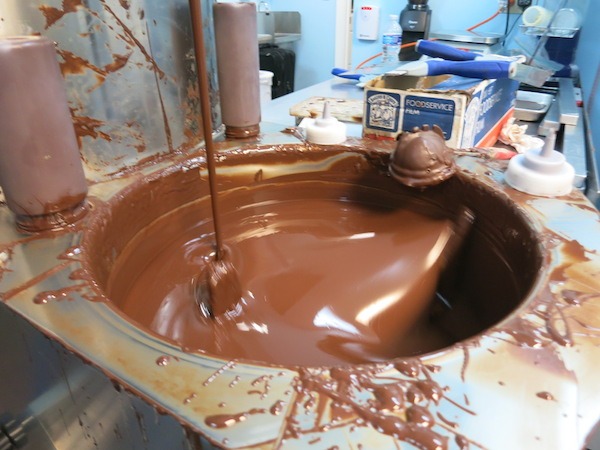 The other highlight of our peek inside the culinary scene in Carmel was an eclectic restaurant owned by chef Larry Hanes, who designed the interior and cooks every meal at the Eggshell Bistro. The globally inspired brunching menu was right up our alley.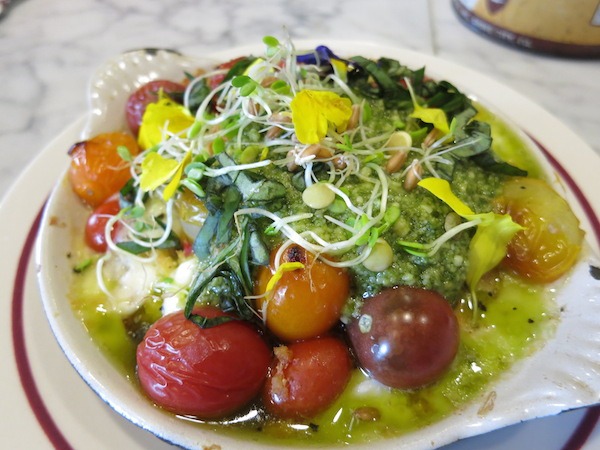 Larry loves to talk to people from other countries to learn more about what they eat for breakfast. He tries to make the dishes complement one another, lending a global edge to the overall menu as well as each dish's influences.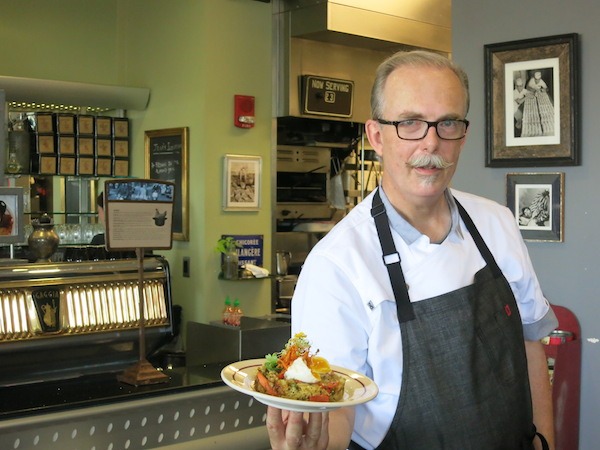 The sweet potato hash has Spanish influences from the chorizo, pico and black beans in it.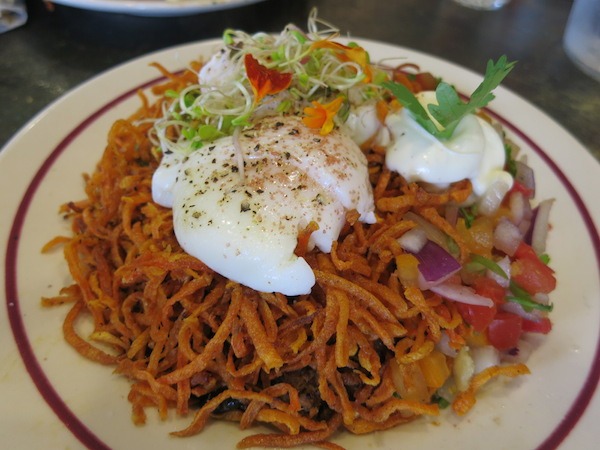 Shakshuka lends a Moroccan spin.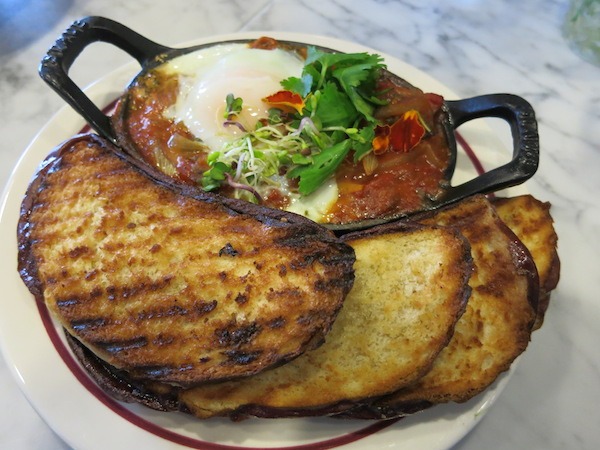 Other tasty dishes provide lovely global flavors, well-composed and pleasing to the eye. And the extensive menu of gourmet coffees and teas compliments the meal offerings as well.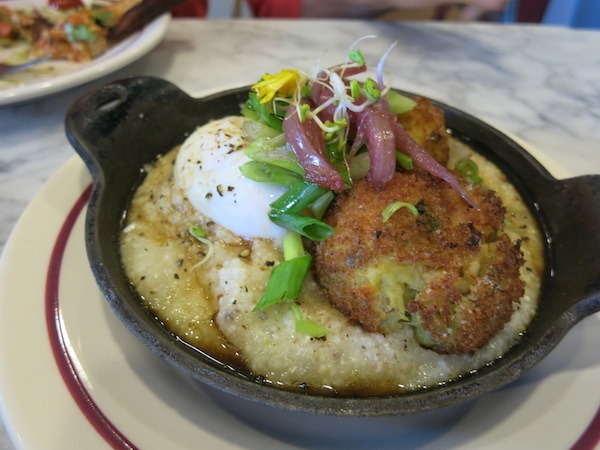 While it may under the radar for all but those in the know around neighboring cities and states, Carmel has some pretty tasty offerings to visitors and locals alike. If you're looking for someplace to visit for great tastes and a little fun walking, Carmel may be worth putting on your travel map.
For more information about Carmel, Indiana and the other cities in Hamilton County check their website at VisitHamiltonCounty.com.
Disclaimer: We were hosted in Carmel by Visit Hamilton County. We were not financially compensated for this review. The opinions expressed are based on our own experience.
The Quick Bite: Carmel Indiana is booming with culinary delights from wine to beer to chocolate and global flavors. We share our view of some of those tastes with you.