The Latest For Your Kitchen And Home
We attended the International Home and Housewares Show as media representatives. We received samples from many of the vendors we visited at the show, including some of those highlighted below. All reviews reflect our own opinions and our experiences with the products.
Every year we attend the IHHS, the International Home and Housewares Show, in Chicago. We search through hundreds of exhibitors looking for the latest and greatest items for your kitchen and home.
This year we noticed three trends that were on display throughout the show – convenience, sustainability, and connected devices. Rather than giving you, our dear readers, a laundry list of items we'll be highlighting the ones that really stood out in these categories.
They all should make your food traveling lives a little greener and easier!
Convenience
Time. It's something that everyone seems to be a bit short of these days. We're attracted to any item that can save us time or let us have one less "thing" whether traveling or for our home.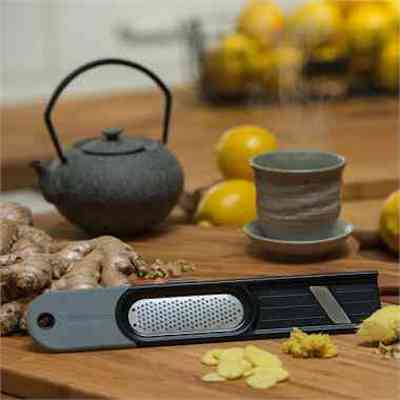 The 3-in-1 slicer Microplane Ginger Tool, suggested retail $14.95, is perfect for us heavy ginger users. Whether you're making a Moscow Mule or a stir-fry this tool makes it easy to peel, grate and slice some ginger.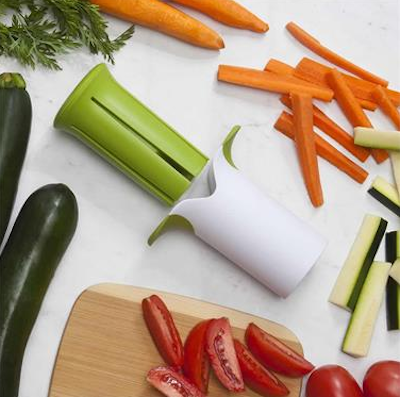 Microplane Veggie-Wedgie saves time by quickly cutting any hard food into six perfect wedges. Hence, it's great for sweet potato, carrot, and even tomato wedges. Let's be honest we love the name too!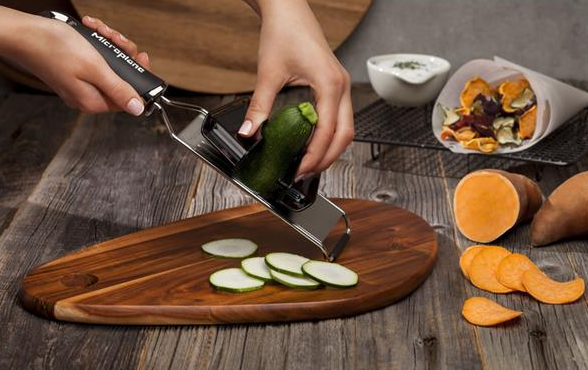 Microplane Gourmet Series 2mm Slicer with food holder suggested retail $24.95, not only protects your fingers with a food guard it lets you make perfect slices even if you're not a top chef. Therefore, Potato chips, pepperoni, fruits, and veggies are cut easily, quickly, and safely.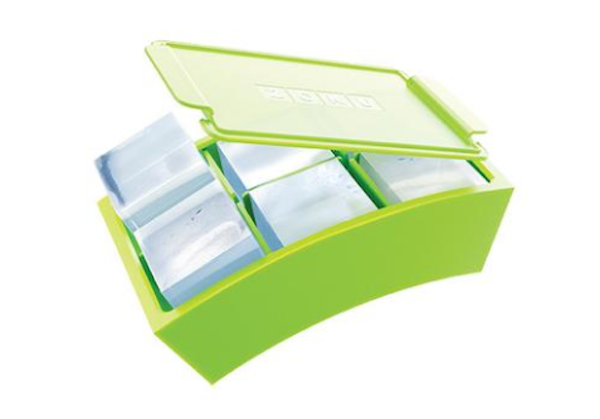 Zoku Jumbo Ice Cube Trays suggested retail price $14.99 for a set of 2,  make perfect large ice cubes so they don't quickly melt and dilute your drinks they also have a flavor-guard lid that keeps that freezer taste out of your ice. It also prevents spills when you're loading them in the freezer.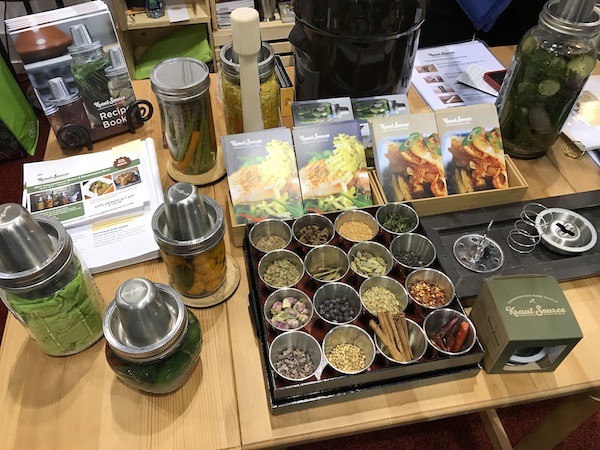 Kraut Source fermentation kit suggested retail price starts at $34.99, lets you create fermented foods like sauerkraut, pickles, salsa, kimchi and whatever else your imagination can devise. It includes a handy instruction booklet and there are many recipes and how-to videos on the Kraut Source website too.
Sustainability
Now, this is one trend we were happy to see becoming an even bigger part of the IHHS this year.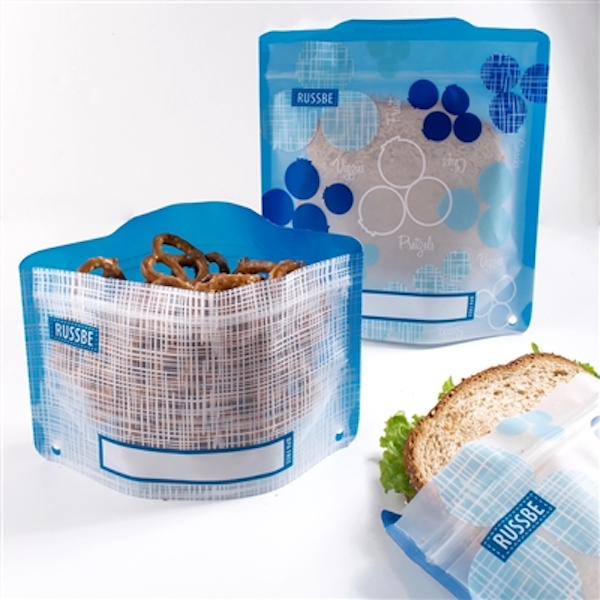 Russbe reusable bags, suggested retail prices start at $7.99, not only are they washable and reusable but these bags also are gusseted so they stand up for a much easier eating experience. The bags are eco-friendly, free of BPA, PVC, latex, and phthalates. They're also available in lots of fun colors and designs.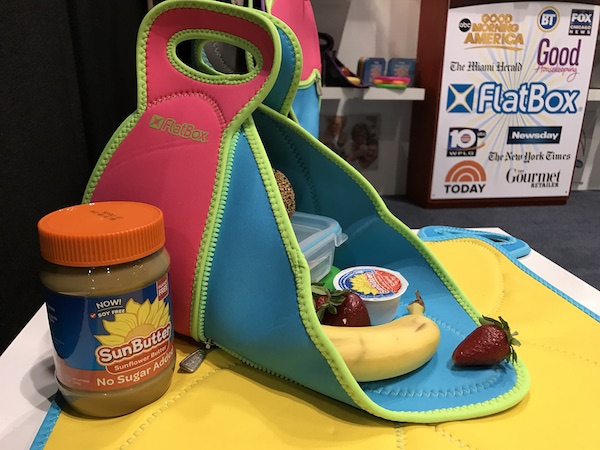 Flat Box Lunch Box, suggested retail $26.99, these bags are just perfect for any lunch you want to bring with you and are ideal traveling. Simply open the bag and it becomes its own little lunch spot. No need to worry about a dirty airline tray. Yours will be covered with this insulated lunch bag. There are a few different styles as well. In addition, we love the bag that also has a spot to hold your drink bottle. It comes in several sizes and colors.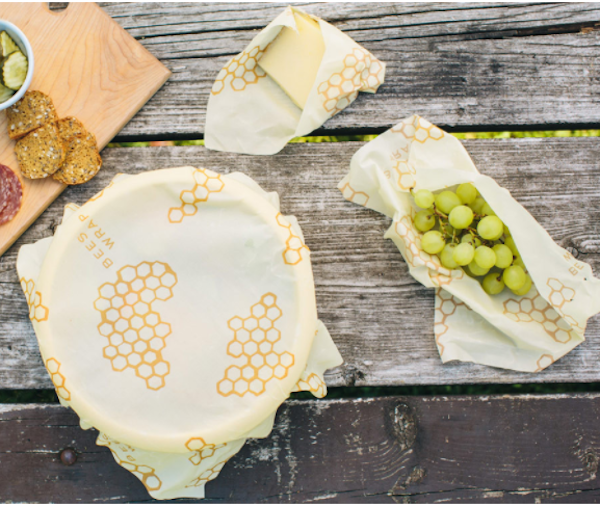 Bee's Wrap, suggested retail starts at $10.00, this is by far the most unique alternative we've seen to plastic wrap in a long time. It's crafted from organic cotton, beeswax, organic jojoba oil, and tree resin. Created by Sarah Kaeck, a mom who wanted to eliminate plastics from her kitchen. Bee's wrap is washable, reusable and compostable too!
Connected Devices
Seems like nowadays just about everything can be controlled with your device. While some of these ideas may seem over-the-top some of them are really handy.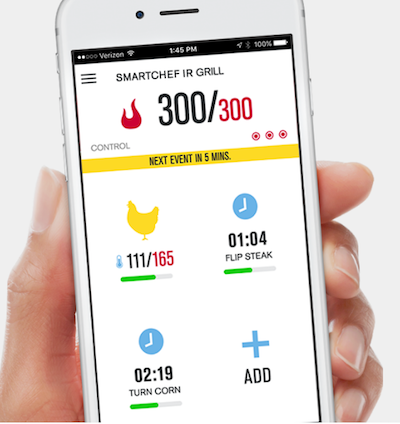 Charbroil's Smart Chef Tru-Infrared Gas Grill is a WIFI-connected grill that lets you adjust the temperature, timers and more easily through an app and your smartphone.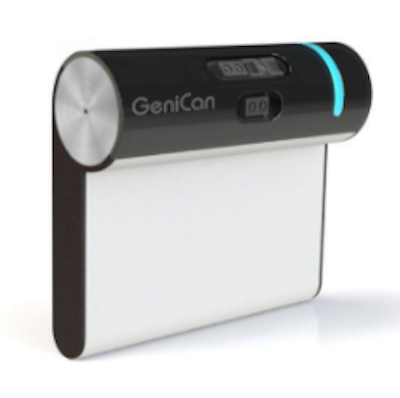 Garbage scanners by GeniCan at $149.99  helps you to keep track of what you're using and when you need to replenish. When you finish that can of Coke you throw it away and scan it with the GeniCan attached to your garbage can (or hopefully, recycling can). It works with an app to control when to place an order directly on Amazon. Therefore, kinda brilliant.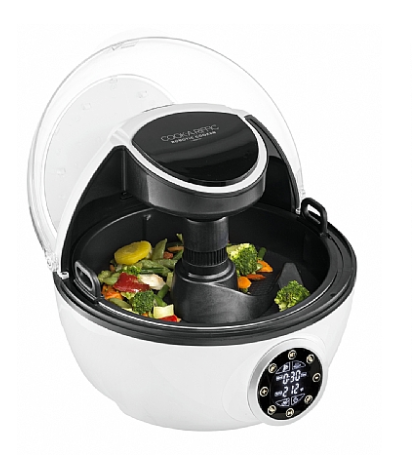 The Gourmia 10-in-1 Multi-function robotic cooker, for $299.99 stir fryer with an exclusive hands-free stirrer can also a be used to bake, steam, pan fry, slow cook, roast, stew and make sauces, all robotically. Cooking is super easy with a preprogrammed control panel. Just set it and you're ready to go.
What do you think? Do you think any of these items would help make your life just a little be easier? Tell us in the comments below which ones you'd like to see in your home.
We Also Loved…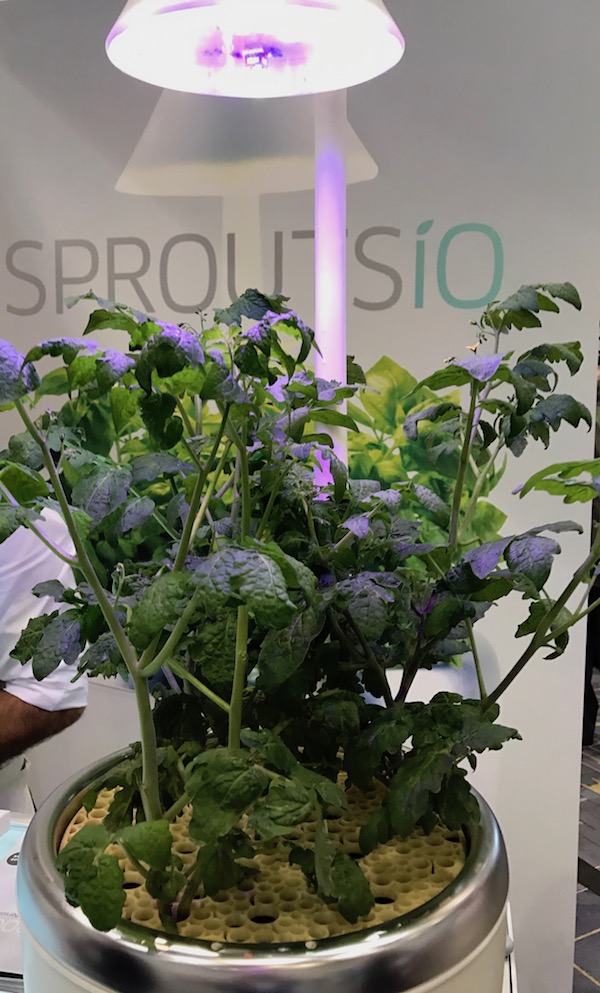 Sprouts IO really fits into all the above categories, which puts it into a category all by itself. Grow your own veggies indoors, all year-round, soil free. You don't need a yard or even a balcony to use this personal growing unit that lets you customize your growing. Grow your own from seed to harvest and manage the module system through their own SproutsIOGrow mobile app and this system would be great not only for home use but for offices and professional kitchens too.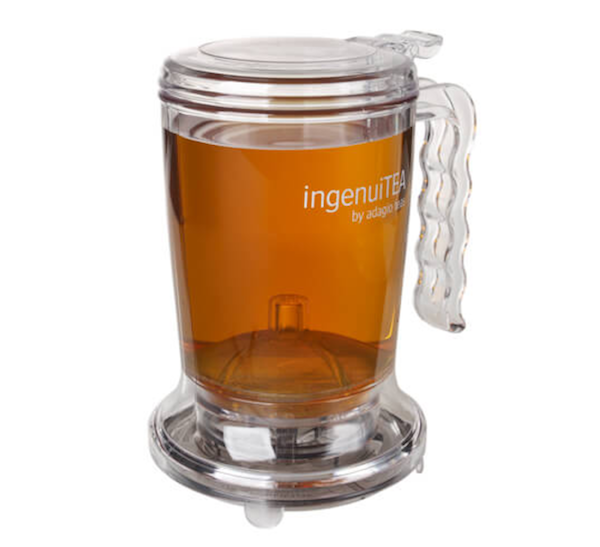 First of all, I'm a tea lover, thus, the new Adagio Ingenuitea is one of my new favorite things. This truly ingenious tea gadget is so easy to use and serves up a perfect cup of tea. It uses gravity to strain the loose tea. You simply put your favorite tea in the ingenuiTEA, fill with hot water and steep. When it's ready you place it on top of your cup and the tea flows through sans tea leaves. In addition, the ingenuiTEA is made from food-grade BPA-free plastic and is microwave and dishwasher safe. Available in 16 oz. and 32 oz. sizes suggested retail starts at $19.99.
Have you ever had to swirl your wine in a typical wine glass? Has anyone else ended up spilling it on themselves or everywhere else? Me, too! Aura Glass has a unique design that not only prevents spills but also allows you to easily swirl and aerate your wine to bring out the aromas and flavors. Consequently, you can easily increase your enjoyment. The ball on the bottom of the glass provides a center of gravity that makes it easy to swirl even a generous pour of wine so you can look like a pro without making a mess. Suggested retail price for 2 glasses is $59.99. Check out the short video above to see how it works.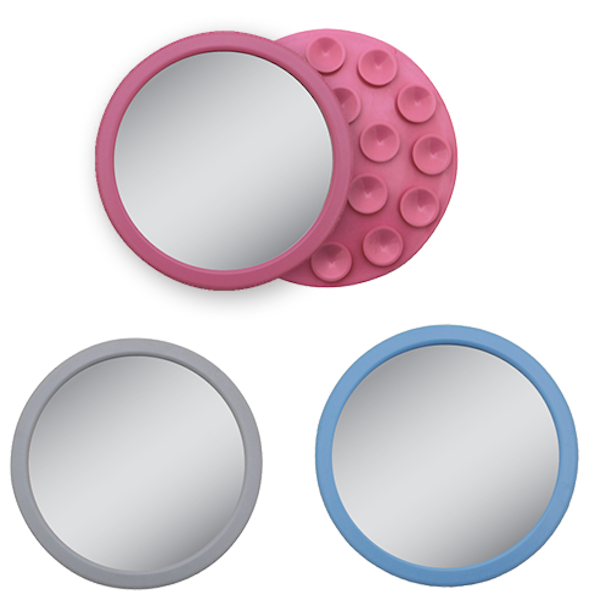 Zadro Travel E-Z Grip™ Spot Mirror, suggested retail price $4.99. This is a must for women travelers. If you've ever been in a hotel with no make-up mirror you know hard it can be to actually see what you're doing. This handy lightweight mirror saves the day and because there are suction cups on the back you can use it anywhere. 12x magnification really helps out women of a certain age too. It's also break-resistant so no need to worry about seven years of bad luck.
Making Life Easier in Your Kitchen And Home
We hope you enjoyed our roundup of the IHHS.  The show happens every spring, but we'll have our eyes open all year round for more products that we think you'll find interesting.