The Latest From The National Restaurant Show
We recently attended the National Restaurant Show in Chicago. Every year more than 2,200+ exhibitors converge at McCormick Place for one of the biggest conventions of the year.
We walked the many aisles, talked with the dozens of vendors and discovered many new products and innovations. These are the products that you'll soon see on your grocer's shelves, restaurant menus and friends' dining tables.
Here's a quick look at just some of the items that sparked our interest.
Lots of Tea Innovation
I've said it before and I'll say it again. I love tea and this show had so many tea vendors and tea innovations that I was in tea heaven.
Matcha Tea Popcorn from T-Pops Matcha tea has been a hot item for the last couple years. Now we're starting to see it in and on many snack foods. T-Pops had lots of unique flavors but the matcha tea was our favorite.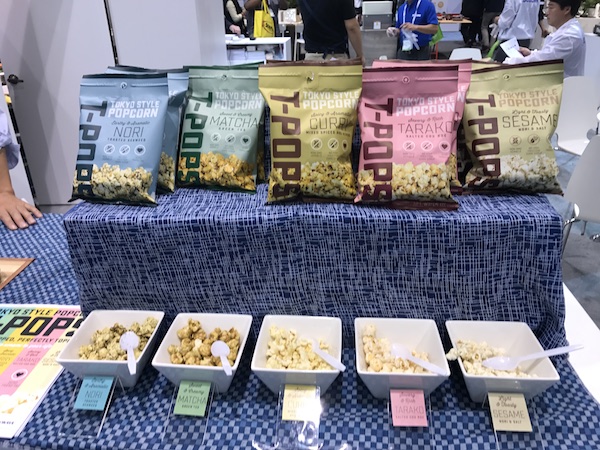 Rishi Craft Brewed Tea our friends from Milwaukee featured their FABI award-winning craft brewed sparkling tea with botanicals. If you haven't already seen freshly brewed teas on tap you will soon. As a tea drinker, this innovation will make my visits to tea houses and coffee shops much more exciting. Flavors like Sparkling Turmeric and Runner's High offer the hydrating effects of coconut water and the buzz of cold brew coffee. Tea on tap – we can't wait!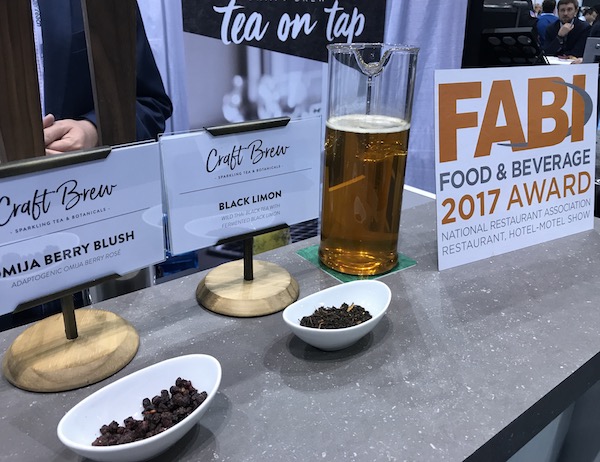 Harney & Sons Ginger Turmeric Iced Tea we saw many more wellness teas specifically targeting relaxation, stress, inflammation and more. This ginger turmeric iced tea was so refreshing I had to go back for another sample.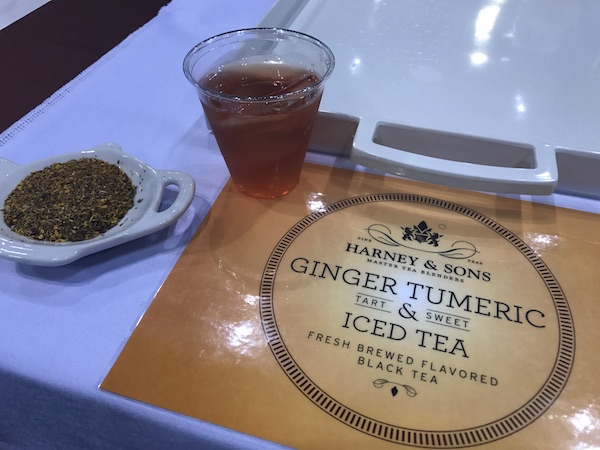 Twinings Cold Brewed Iced Tea Bags if you love iced tea you know that if you want fresh brewed iced tea it can take a while to make. You need to boil the water, brew the tea and cool it off before you can enjoy. Our friends at Twinings have solved that problem with these handy Cold Brewed Iced Tea bags. I've tried several different flavors and all you do is steep the bag in cold water for 3-5 minutes, add ice and you're done. Easy and it's great tasting tea.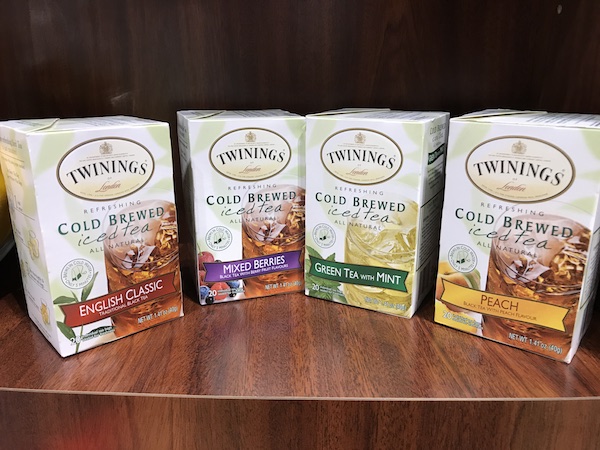 New Snacks
ILoveSnacking we're always on the hunt for healthy travel snacks. The crew at ILoveSnacking are hitting it out of the park. They have so many tasty snacks to choose from you won't know where to begin. Hummus, bruschetta, tapenade, olives and quinoa bowls are all delicious, healthy on-the-go snacks. Whether for travel, school or work you'll find just the right place for them in your snacking life.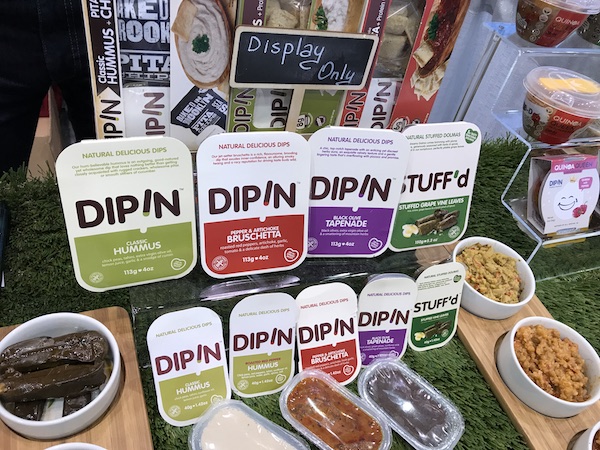 Bee Free Honee honey made without bees? What will they think of next? It turns out that it takes 10,000 bees to make a pound of honey. Who knew? Created from apples this honey substitute is sustainable, and a pollinator friendly replacement. They have several unique flavors from which to choose.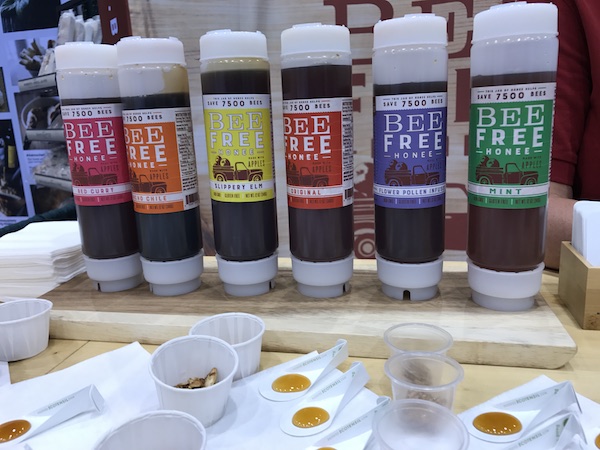 Meet the Meat or Not
Wagshall's Beef Brisket we've been fans of Wagshall's for years. Their Iberico jamon has become a staple in our house. When we heard they were introducing an aged USDA Prime beef brisket they had our mouths salivating just thinking about it. It did not disappoint. It's delicious. We loved it. Go get it.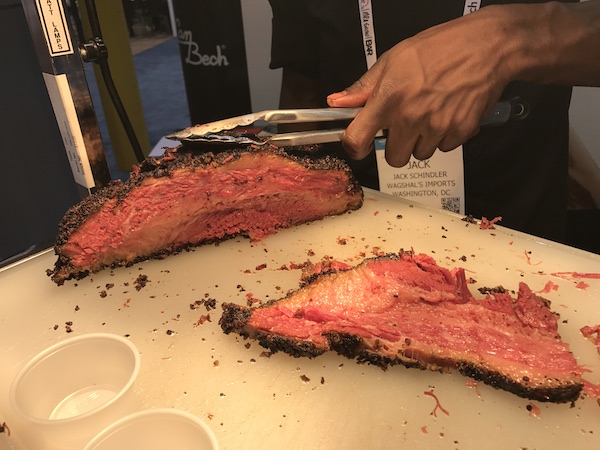 Beyond Burger you may have already heard about this interesting non-meat, plant-based protein product. We've tasted it before and although it doesn't quite taste like beef (in my opinion) it's awfully close. Despite that, the flavor and texture are good and it can be used in a variety of recipes.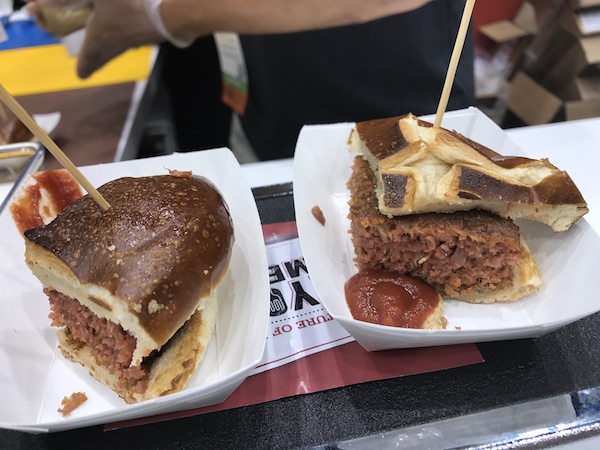 Upton's Natural Jackfruit in another attempt to replace meat with a more healthy lean protein Upton's Natural is using jackfruit. If you haven't heard of this wonder fruit you should learn about it. It's delicious and loaded with protein. We had never had it prepared in a savory style but they sampled what came very close to tasting like BBQ pulled pork at the show. Check it out at uptonsnaturals.com if you're looking for a vegan meat alternative.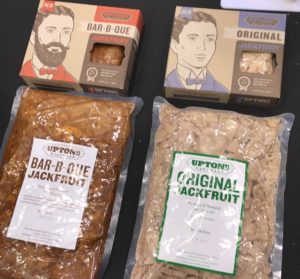 Bread is Life
Ace Bakery's Baguette Bagels were a Food & Beverage (FABI)2017 Award winner at the show. We tried it and yes it is like eating a baguette shaped like a bagel. Quite unique and great for sandwiches. We're sure you'll see this around your local sandwich shops in no time.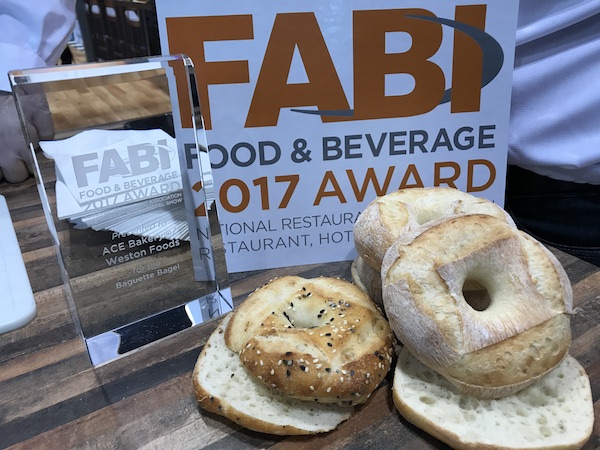 Brazi Bites there have been several brands out there doing these crispy puffy little cheesy balls from Brazil. No one is creating them gluten-free and great tasting like Brazi Bites. They are using all natural ingredients. Pop them in the oven and minutes later you've got a wonderful snack, appetizer or side dish.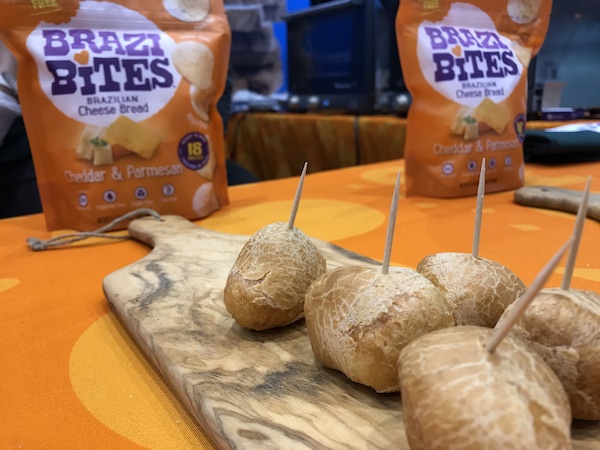 Martin's Old-Fashioned Real Butter Bread we love Martin's Potato Bread and buns. They are so good many famous hamburger chains use their buns like Shake Shack. When they introduced their "Butter Bread" we knew it would be a hit and we weren't wrong. Try it for a grilled cheese sandwich. It's soft like the white bread you remember when you were a kid. This bread is better. It's made with real butter, high protein wheat flour and no bad ingredients, no GMOs no additives, no dyes. This is the real deal.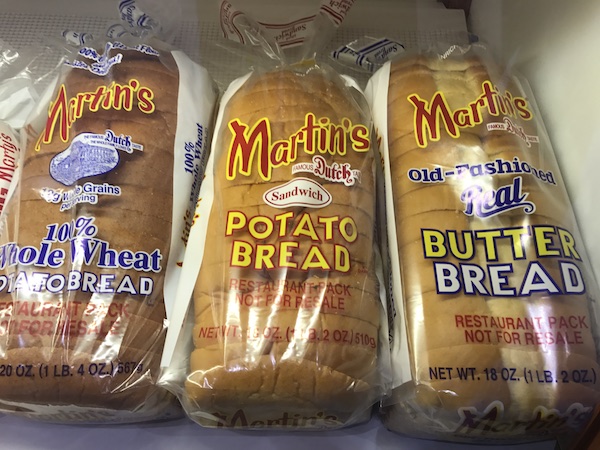 More Sweet Treats
Sweet Street Manifesto Cookies we've been a fan of Sweet Street since we started attending the NRA Show years ago. I'll be honest a say that we plan our meetings and schedules around when they bring out the freshly baked cookies and milk. They're that good! They have traditionally provided delicious cookies for establishments to cook on premise. They now have their baked cookies & brownies wrapped for individual sales. The Manifesto cookies including our favorite the Salted Caramel buttery sweet & salty crunch cookie is another FABI award winner.
Wilkin & Sons Tiptree marmalades and spreads are certainly not new products but are tried and true.  We stopped by to see what was new and learned a wonderful new trick. Instead of taking the time to make flavored simple syrups for your cocktails simply add a teaspoon of one of their spreads to your mixer and voilà – you have a cocktail. I tried it with the ginger preserve and it's a perfect substitute for ginger beer or ginger syrup. Give it a try!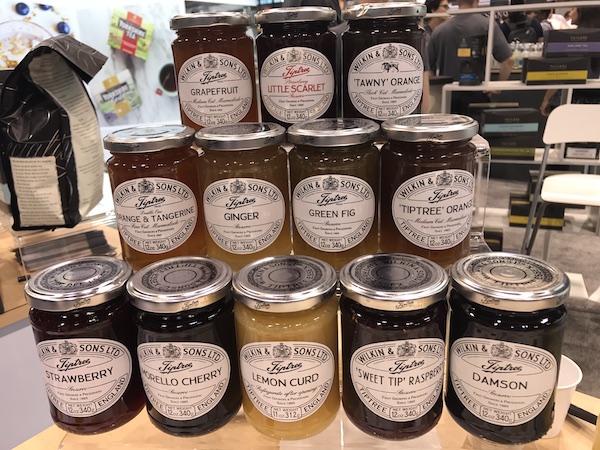 Hint Water their slogan is "drink water, not sugar®" If you like drinking a lot of water like us, but sometimes want a "hint" of flavor Hint is for you. Available in still and sparkling these waters have zero calories, no sugar, no sweeteners,  and are gluten-free and non-GMO. They promote a policy of zero fake. We like that. It was our first time trying Hint Water at the show. It won't be our last.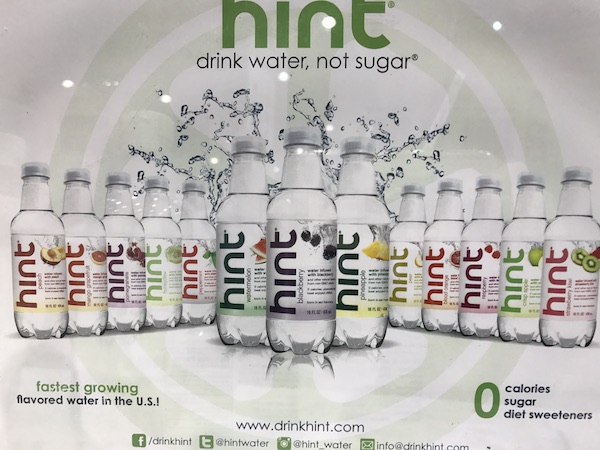 Be on the look out for these new products from the National Restaurant Show in a local restaurant, grocery store near you or online. Let us know in the comments below which product in your favorite.