The Latest Travel Sweets And Snacks
As we have said so many times – don't go anywhere without water or travel sweets and snacks. No matter how long your journey, and let's face it these days we're never quite sure how long our travels will take, it's good to have something to take the edge off your hunger pangs.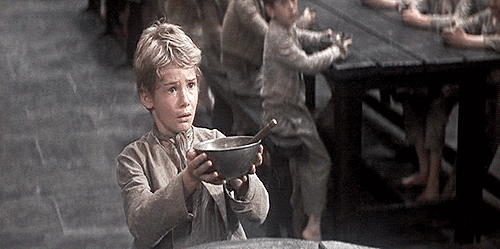 We attended the annual Sweets and Snacks Expo here in Chicago last month and found many new products as well as innovations from some brands that have been around quite a while. Before you pack your bag for your next adventure be sure you have a couple of these travel sweets and snacks stowed away in your carry-on bag.
New and Fun
Little Duck Organics Let's be honest. I now have a 7-month old niece so I'm obsessed with all things baby and kids. Little Duck Organics does have healthy tasty  travel sweets and snacks that are great for kids but when I tasted them I liked them too! They're good tasting and good for you, these treats will please the kid in all of us. Their line includes freeze-dried fruit snacks, fruit and veggie freeze dried snacks, fig bars and tiny gummies with probiotics, all perfect for travel sweets and snacks.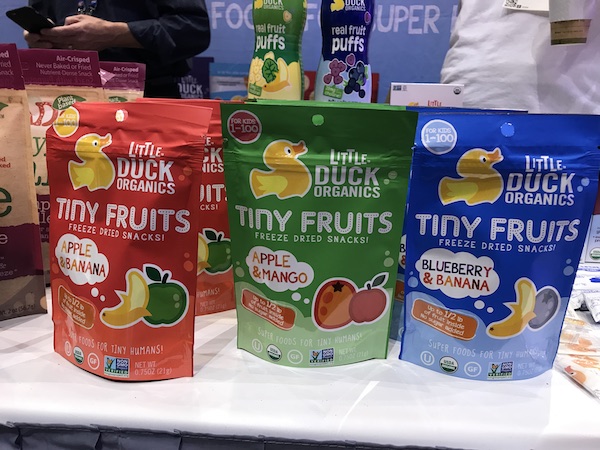 They may be new to us but YumEarth was started in 2007 by two fathers looking to provide their kids with good tasting snacks containing honest ingredients. They are now the number one organic candy company in the world! You'll find extensive options from hard candies, lollipops, licorice, and gummies and most are USDA Organic, Non-GMO and gluten-free. You can purchase YumEarth products that make wonderful travel sweets and snacks at Target, Whole Foods, and Amazon.com.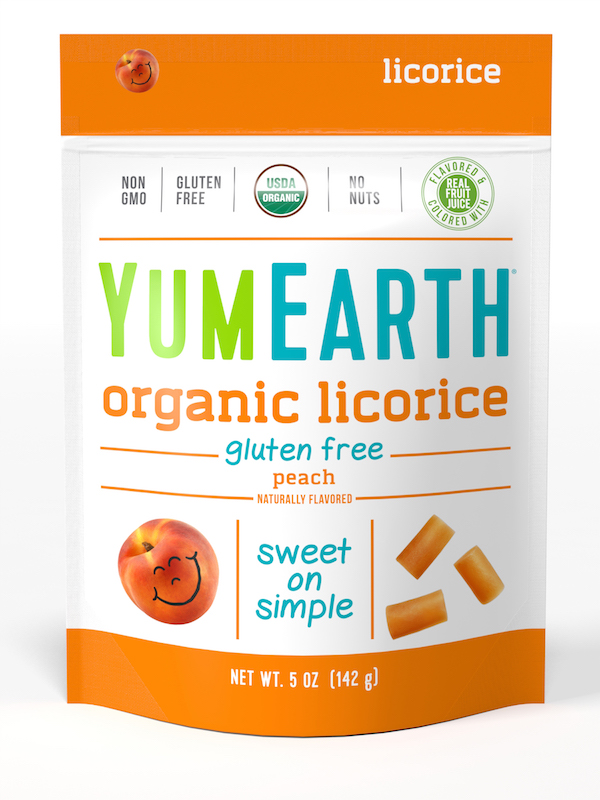 Flavoricious!
Dill Pickle Flavor is popular as ever. From these Giants Pistachios to dill pickle potato chips, dill pickle flavor popcorn and even dill pickle ice pops. While we saw this flavor at last year's show too, this year you couldn't pass an aisle without seeing some product with the dill pickle flavor. If you like pickles this is the snack year for you!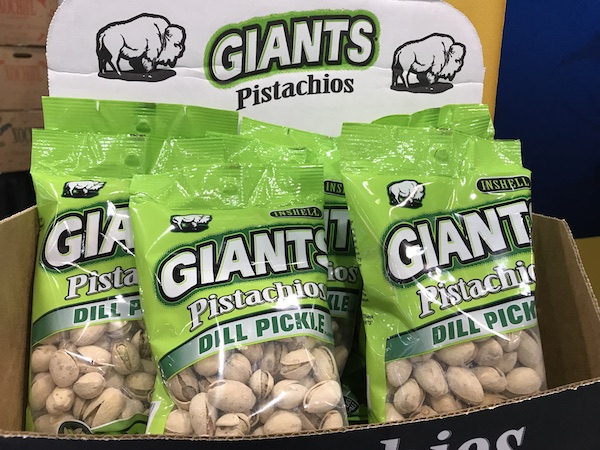 Birthday Cake flavor If you know me at all you know I love to celebrate my birthday. In fact, I celebrate it all month long. There were many brands that seem to enjoy my celebratory mood and  are willing to come along the birthday wagon. I'm probably not the only one with such a passion for extended birthdays. Now you can now enjoy your birthday all year round. Red Vines Twistettes Birthday Cake Flavor and Jolly Time Popcorn Birthday Cake Flavor were just two of the brands we spied getting into the partying mood. These little bite sized twists also make for fun travel sweets and snacks!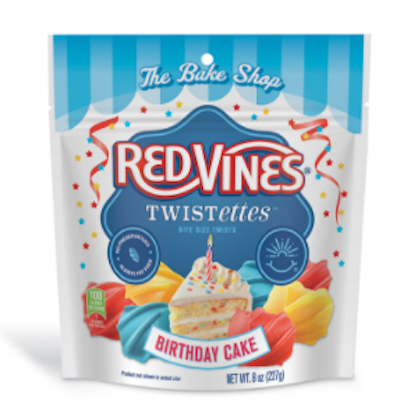 Treeting Cards When we heard that the youngest entrepreneur at the show, 12-year old James Cruickshank developed his greeting card line to fund his XBox habit we had to learn more. James and his brother Jack have created these clever cards with cute messages that include a sweet treat. They're cute and clever and honestly, we think he's off to a great start in the entrepreneurial world. Part of the profits from each sale go to save the sharks, so we're happy to support a kid who wants to help our friends in nature!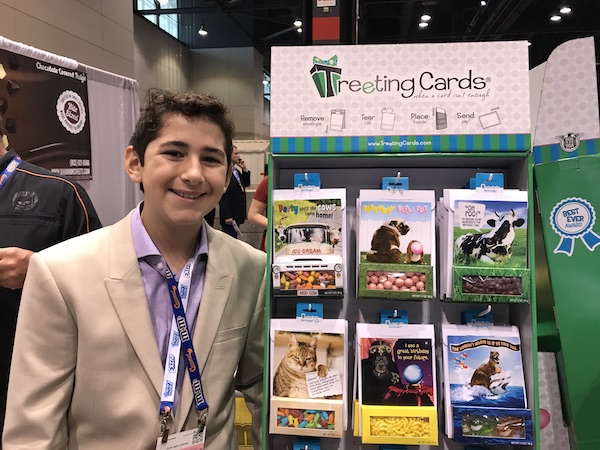 4505 Chicharrones was founded by chef and butcher Ryan Farr. He has partnered with local farmers and ranchers to produce these high-quality all-natural pork rinds that come in a variety of flavors. What made Chef Ryan stand out to us is his attention to humane care and respect for animals. These crunchy snacks are available in San Francisco right now but our guess it won't be long until you see them at a specialty store near you.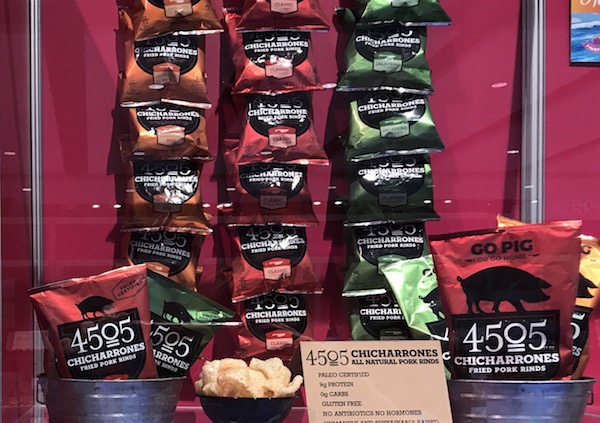 Brooklyn Mushroom Meringues Even if you don't like mushrooms you'll love the creativity the Brooklyn Cookie Company has used for making "mushrooms" out of meringue. These gluten-free treats are adorable and delicious. We can't wait to try them out in a wilderness dessert or a classic Yule Log around the holidays.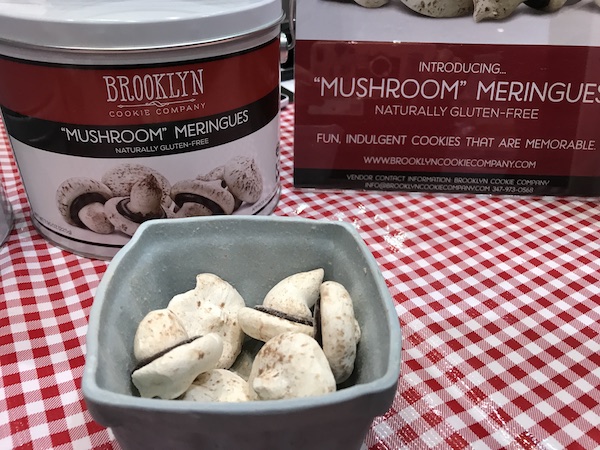 Matzo Chips We're always looking for something new so when we saw the package with the Grandma asking, "Would it kill you to try something new?" we knew we had to explore these further.  Along with their clever packaging, these summer camp friends have developed a new kind of chip from matzo. It's a sturdy cracker that goes well with just about anything. They're "Everything Plus Two Other Things" tells you just how fun and tasty they are. You'll find them available at many fine food stores.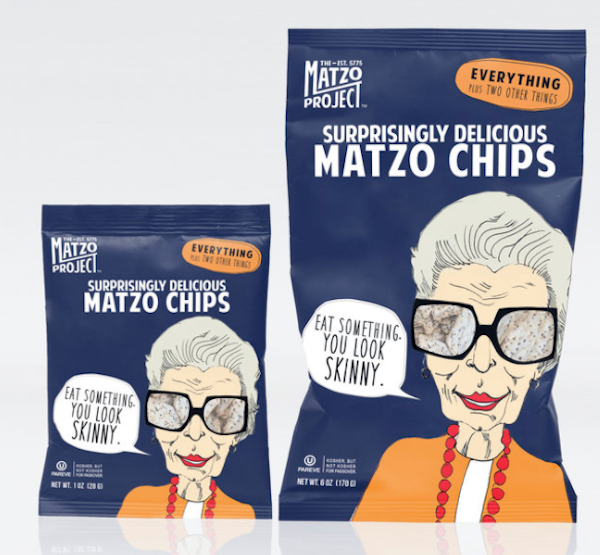 New Spin on Old Favorites
Matcha Macs are brand spanking new from Hawaiian Host. I love Matcha Tea so when I heard that these little treats were available I high-tailed it over to the booth to try them. I'm delighted to say that I wasn't disappointed. The magic combination includes Macadamia nuts covered with Matcha tea mixed with Hawaiian Host's fine white chocolate. They were an instant hit and are among my newest favorites. The only disappointment I have to say is that they can't make enough of them! They were sold out in Japan as well as Hawaii and haven't even yet made it to the rest of the states. Stay tuned for this hot little candy. As soon as they turn up here, they're worth grabbing up.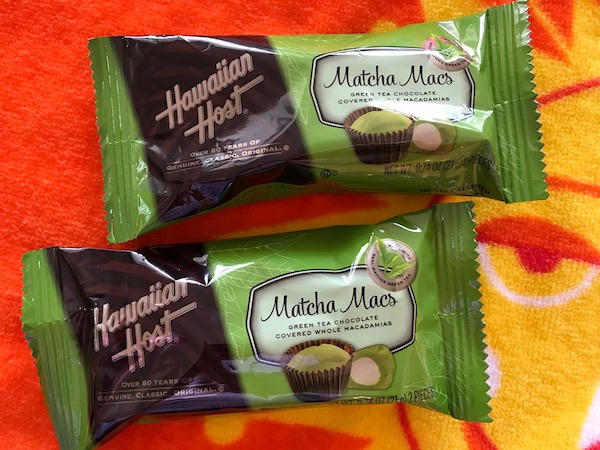 Mauna Loa Macadamias  We love macadamia nuts and the iconic brand Mauna Loa features two new flavors for 2017 – Honey Sriracha and Mango Chipotle. We love the innovation and these sweet & spicy flavors are definitely following the trends. We encourage you to try them and enjoy yourself. Just leave our own favorite Maui Onion and Garlic flavor to us, please.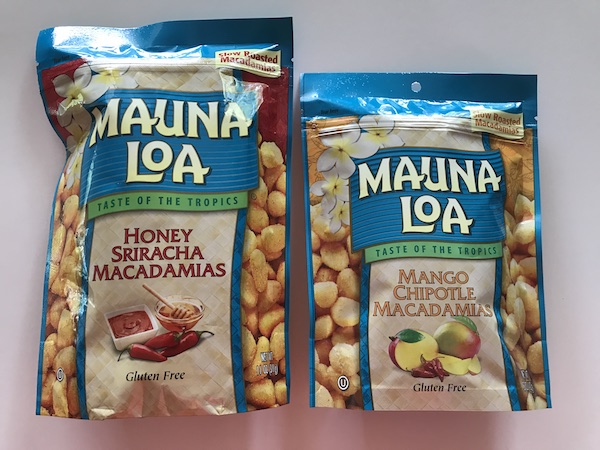 The Utz brand has been around since the 1920s and this East Coast legend is spreading throughout the states. They know how to keep a classic brand innovating and we were lucky enough to snag a few samples of their latest fun summertime flavors – Grilled Hot Dog, Sweet Corn and Cheeseburger. If you're a fan of potato chips especially flavored chips you'll love these. They're almost like a meal in themselves! Check out their website and the Utz Grilling Classic Contest for a chance to win a giveaway of $1,000 for a new grill and lots of other great prizes.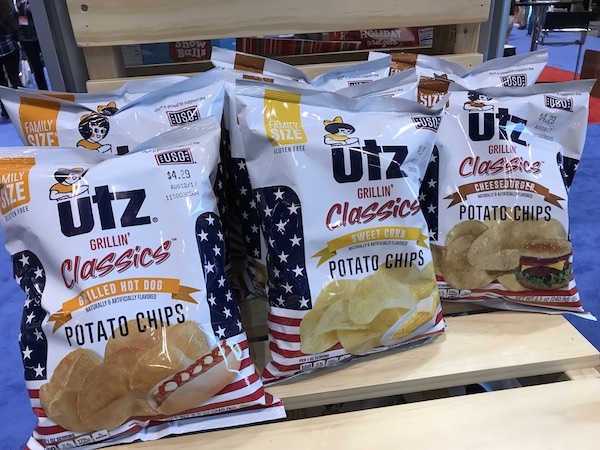 Mike and Ike Sour-Licious Who doesn't like sour candy? And who doesn't like Mike and Ike? Since these are Diana's favorite, we had no choice but to get some samples and see for ourselves. Sour-licious Mike and Ike is like an explosion of sweet and tangy in your mouth. Fruit punch, green apple, intense fruit flavors are bound to keep you chewing and oohing for some time. Mike and Ike also continues with its incredible 10-flavor Mega Mix. Loaded with all your favorite flavors in one box, it's like saving the best for last but never having to wait.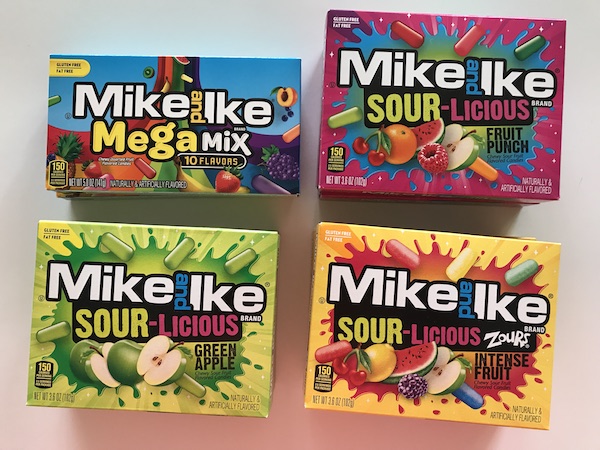 Red Vines Made Simple My wife loves Red Vines. In fact, at the Sweets & Snacks Expo every year we have the perennial argument. Red Vines vs. Twizzlers. No one ever wins. This year, however, Red Vines released Red Vines made simply with real sugar and no artificial colors or preservatives. I have to admit that even I thought they were quite tasty. So, perhaps for the first time in the history of this epic battle, Red Vines wins this round. These Red Vines are delicious and their lack of artificial colors and preservatives, natural fruit flavor and real sugar win.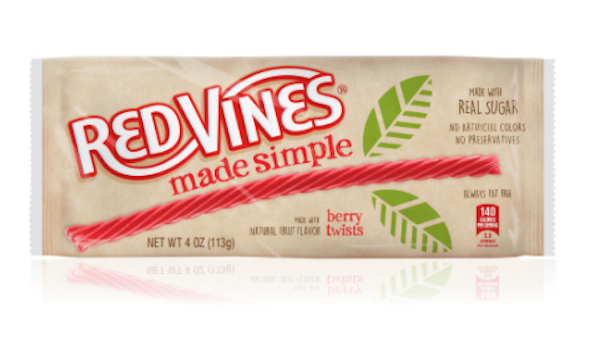 M&M Caramel If you love chocolate and caramel you'll need to try the new M&M's Caramel Chocolate Candies. The creamy milk chocolate with a buttery caramel center still has the classic colorful shell. It's a perfect grab and go treat for travel or a movie. The flavor and texture of the caramel pairs perfectly with the smooth chocolate and the crispy coating. We're happy to see this tasty addition to the delicious lineup of M&M's. We also want to let you know that they've launched Twix Dark Chocolate Bar for us dark chocolate/cookie/candy lovers. We have to say that we're quite pleased seeing the upsurge in the use of dark chocolate.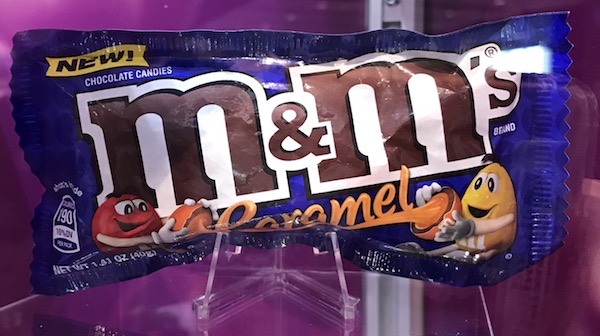 Brownie Brittle We've been a fan of Sheila G. and her Brownie Brittle for quite some time. In fact, as some of you know, she and #foodtravelchat on Twitter were early partners in chatting about tasty travel snacks. As long-time supporters of Brownie Brittle we couldn't be happier that she announced a gluten-free and organic line of that chocolatey crunchy brittle. In fact we're not the only fans! The show nominated her gluten-free brittle as one of the most innovative new products this year! Be sure to look for her other new products too, including Brownie Brittle Bites and Thindulgent Bark.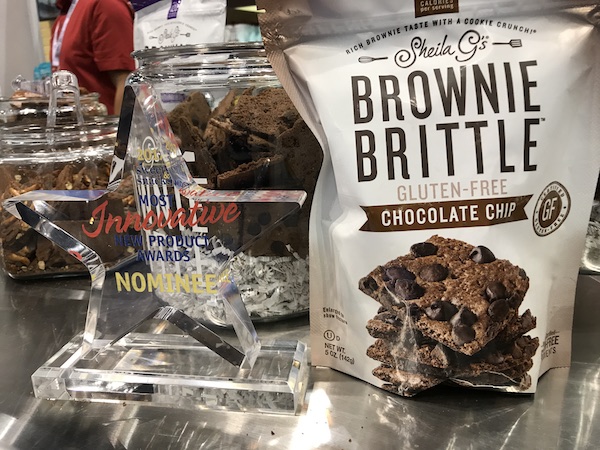 Walker's Gluten Free Chocolate Chip Shortbread  Walker's cookies are a perfect accompaniment to an afternoon tea. These gluten free, pure butter chocolate chip shortbread cookies will have you checking and re-checking the package. These cookies are so buttery and crunchy you will easily find yourself eating more than you really should. But you'll want to leave room for their other GF varieties like plain shortbread or ginger and lemon shortbread, too. These really are delicious and easy to enjoy whether you pay attention to gluten in your diet or not.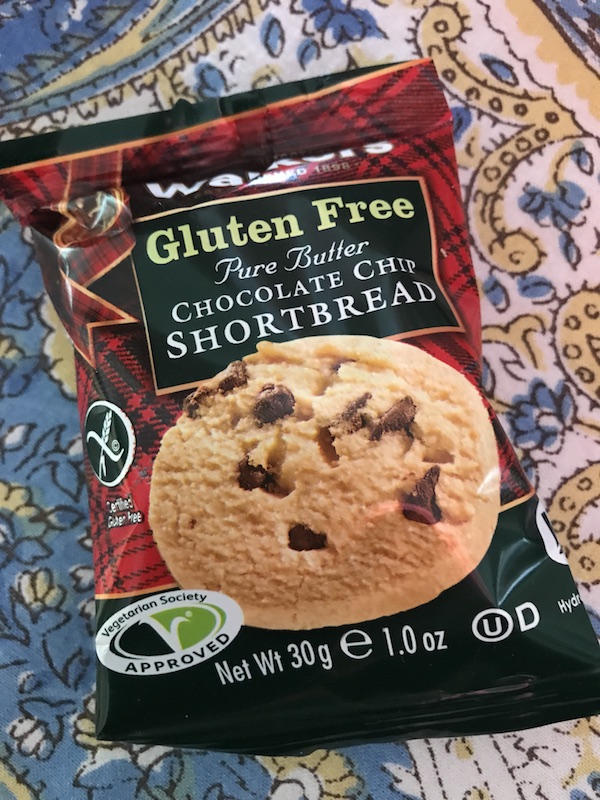 Healthy & Tasty 
Fruits in Chocolate This snack was definitely one of my favorites. I love cherries and dark chocolate. They use the best fruit and chocolate and individually wrap them to make a perfect travel snack. They also have dark chocolate covered apricot, prunes, cranberries and a new line of tropical fruits and wild berries. My biggest regret of the show was leaving the sample bag with all the flavors in their booth. I was so excited talking to them that I walked away without it!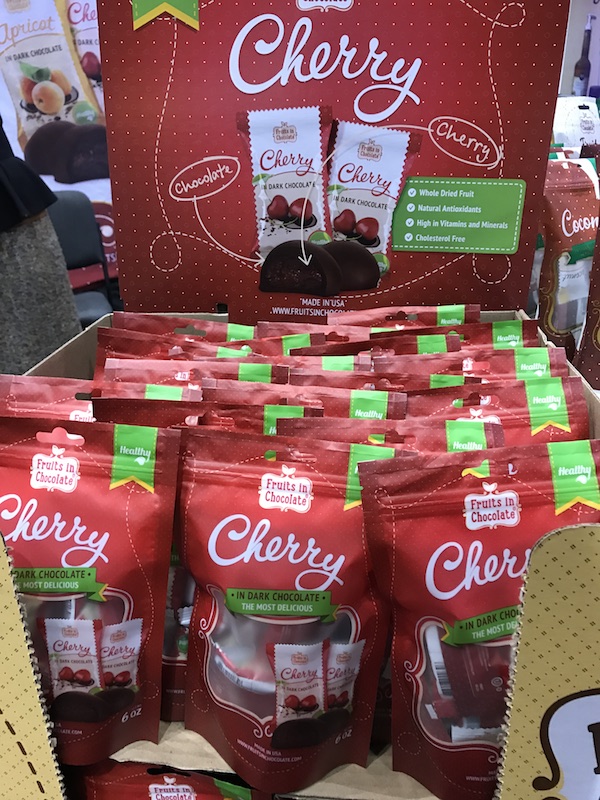 Mikaela's Simply Divine Biscotti Cookies If you've tried gluten-free cookies you know that there are a lot out there that just plain don't taste good. I bit into a Mikaela's Chocolate Chip Biscotti cookie and was rendered speechless. It is simply the most buttery delicious gluten-free cookie I've ever had. These treats are also non-gmo, kosher and include all natural ingredients. I tried all the flavors and they're all equally good. While the secret ingredients may include positive energy and love, the cooking ingredients are enough to make these cookies worth seeking out and enjoying anytime.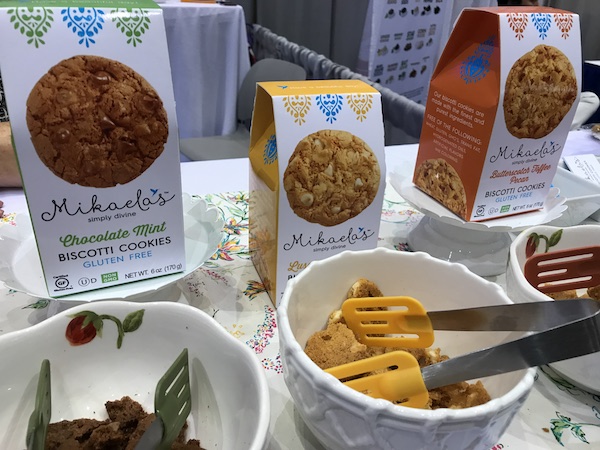 Rise Buddy Baked Rice Snacks Made from brown rice, Rise Buddy snacks are gluten-free and loaded with flavor and crunch. I have to say that I don't typically like rice based snacks so I hesitated to try these little crunchers. Fortunately, I surprisingly loved the delicious flavors. You can try them out for yourself and decide, but my favorites are the pizza and sea salt flavors. They are light and tasty, just great for travel sweets and snacks.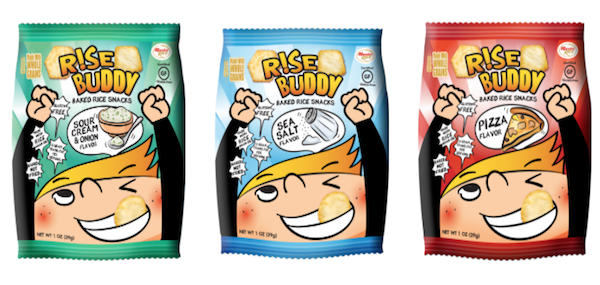 Cheesewich Whenever I travel I like to try to find snacks with a lot of protein. Cheesewich is one product that really delivers on that mission. Packaged salami and cheese slices that you can throw in your bag make for a great travel snack. It's two slices of cheese with salami in between making a "cheesewich." It's one of those smack-yourself-on-the-head ideas that makes so much sense we wonder why it took so long (or why we didn't think of it ourselves!) Be on the lookout for their newest up and coming product "egg & bacon," a packaged hard-boiled egg with pre-cooked bacon. Now that sounds like a tasty way to deal with those early morning flights!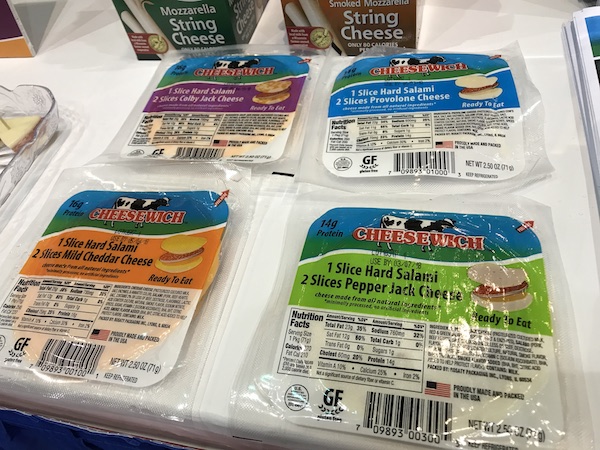 N.A. Nature Addicts Sometimes you can't carry a piece of fruit with you when you travel. Next time try fruit sticks from N.A. *Nature Addicts. Each pouch is equal to one serving of fruit and only contains sugar from fruit concentrate. No preservatives, gluten-free, vegan, no artificial colors and non-GMO make these great as travel sweets and snacks. Just throw a few in your bag and you're good to go. Flavors include apple raspberry, apple orange and apple mango passion fruit. They even have a chocolate covered version too if you're looking for a little extra in your travel sweets and snacks!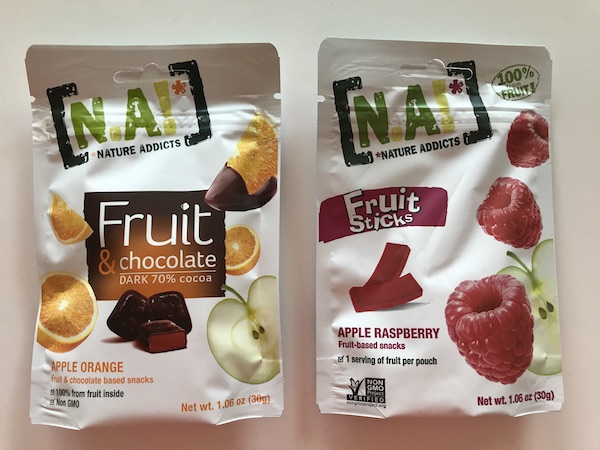 Chef's Cut Smoked Beef and Cheddar Cheese – this product is not on the shelves yet but we can't wait to tell you about it. This was the one snack at the show that surprised us. We always liked Chef's Cut Beef Jerky but when you pair it with real dehydrated cheddar cheese it becomes more like a meal. They use their own patented process for the crunchy tangy cheese and pair it with their always tender chef-crafted jerky. We absolutely loved this snack and will be carrying it in our bags as soon as it's available!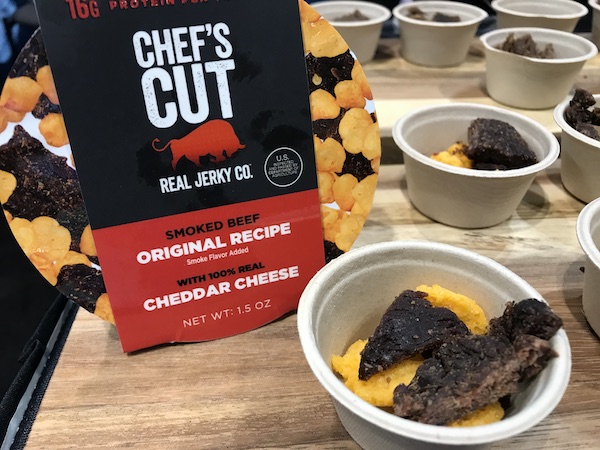 Graze snacks They have so many different types and flavors it might make your head spin. Once you taste them the hardest decision will be which one will you eat first. I had the peach & rhubarb Pick-Me-Up on a recent press trip and at just a 120 calories got enough little afternoon energy lift to get me through to dinner. They've got you covered whether you're looking for protein, probiotics, chocolate or anything in between. These handy little packs that are easy to pop in your bag and take wherever you go.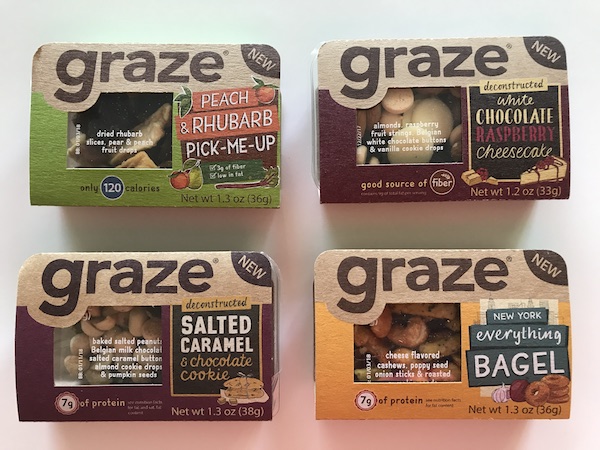 Farmers Pantry Snack Packs If you're looking for a convenient complete meal replacement this is your answer. These snacks contain good tasting vegetables, slow-roasted meats and top-notch ingredients. Farmer's Pantry has choices like garden harvest chicken, herb-roasted turkey, and flame-grilled chicken so you can feel good knowing that these are hearty as well as tasty. Farmer's Pantry also has an entirely new line of snacks coming up that you're  sure to love, including steak and fries and chicken and waffle crisps. American farms grow all the ingredients, which we think makes these snacks even more appealing! These would be great for a layover or any time when want some travel sweets and snacks with more substance to get you through.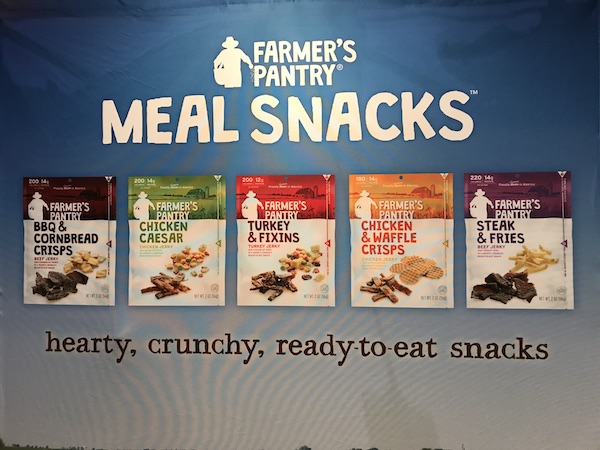 The Latest Travel Sweets And Snacks
Are you full just from reading about all these amazing travel sweets and snacks? We encountered so many great goodies at the show. These are just a few highlights for you. There were over 800 exhibitors with 200 new products at the Sweets and Snacks Expo 2017.  Share with us your favorite travel sweets and snacks or let us know which one of these you'd like to try in the comments below. Happy snacking!
Pin It!