The Legacy of James Beard
If you're ever in New York City, treat yourself to one of the best experiences of your life and attend a dinner at the James Beard House.
James Beard, known as the "Dean of American Cookery, " born in Portland, Oregon in 1903, was a culinary pioneer on many fronts. When it's time to tap the maple trees and collect the sap, known as "sugaring off," generally from late February to early May, you can experience a decadent sugaring off meal provided by one of the sugar shack chefsHe was one of the first to enter the realm of television cooking shows, wrote a number of cookbooks, and a fervent promoter of American gourmet cooking.
Initially trained as an actor and singer, he moved from the theater to capitalized on the cocktail party scene by opening a catering company and publishing his first cookbook full of his catering recipes.
He established the James Beard Cooking School and later the James Beard Foundation was set up in his honor to award scholarships to talented aspiring culinary professionals.
His Greenwich Village brownstone is considered North America's only historical culinary center and plays host to frequent events featuring notable chefs from around the globe. You can still see one of his chef's coats framed on the wall. And, the shower with a glass wall that faced his undoubtedly astounded neighbors.
If you are interested in something amazing, check out the Southern Thanksgiving Feast planned at The Beard House for 2013. The menu includes Spiced Sweet Potato-Walnut Biscuits, Blackberry Mostarda, and Speck; Grassfed Beef Cheeks with BLiS Maple Syrup-Kumquat Gastrique, Hominy, and Brussels Sprout Kimchi; Heritage Turkey Dinde Roue with Buttermilk Bread, Sweet Potato Bubespitzle, Wilted Kale, Grans Padano, Tennessee, Truffles and Pickled Cabbage; and Olive & Sinclair Chocolate CO. White Chocolate-Pumpkin Cremeux with Vanilla-Chestnut Beignet, Cranberry Conserva, and Espresso Salt.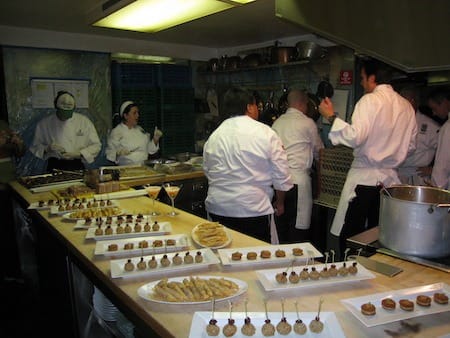 Of course, these are just a few highlights and all courses are served with appropriate wine pairings.
James Beard's legacy lives on through the enthusiasm of chefs continuing to push the envelope of American gourmet cuisine. To get a taste for yourself, check out Thanksgiving Dinner, James Beard style  or any of the events at the Foundation.
THE QUICK BITE:  James Beard, known as the Dean of American Cookery is well remembered through events and activities at the James Beard Foundation.