The Midwest Foodservice Expo
Food Business Is Booming
We love to attend food related trade shows. It's fun to search for trends, meet with innovators and see and taste the latest culinary creations. Our visit to the Midwest Foodservice Expo in Milwaukee provided us with all of these and much more.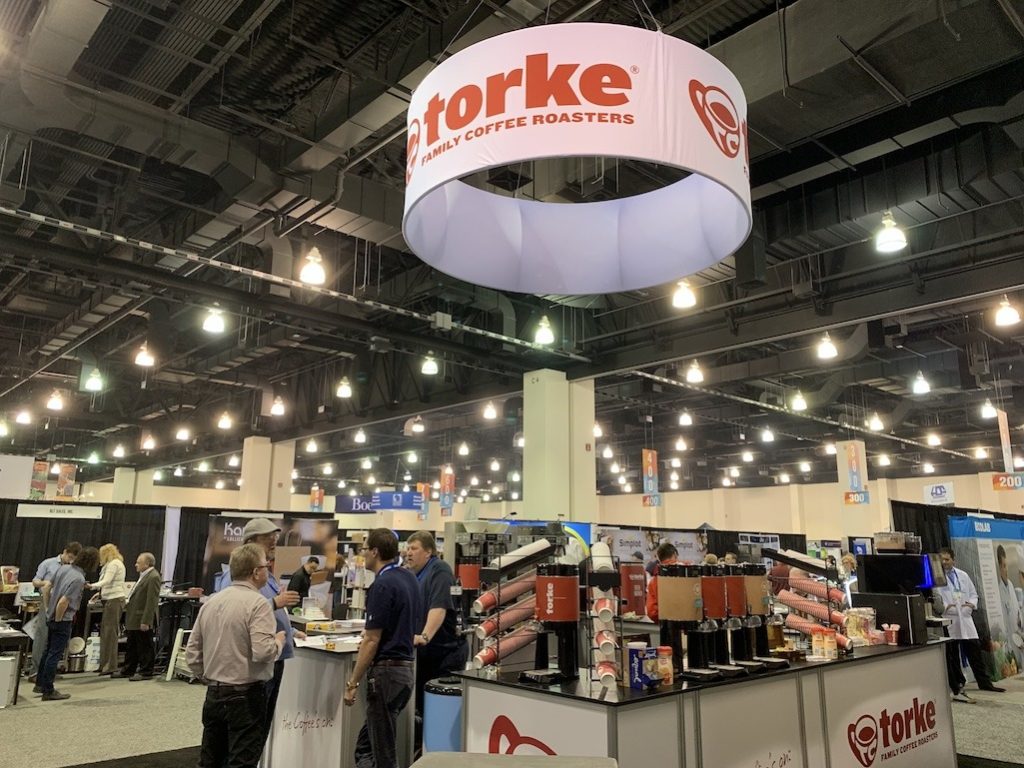 The Midwest Foodservice Expo offers a friendly environment full of opportunities to meet and greet those in and serving the restaurant industry. If you're looking for an education, there are plenty of sessions, seminars, presentations and demos. In fact, there are over 40 to be exact. Topics range from mixology presentations to hands-on pastry demos, training on business and personal development. Our friend Brian Lee from Revelation PR, Advertising & Social Media did a session on how to build your own website. This is valuable information for the many small business owners who think is too daunting to do.
Booths Aplenty
If you are looking for what's happening in foodservice, along with plenty of tastes to try, the Midwest Foodservice Expo is loaded with options. An estimated 300 exhibitors show off their wares at the show. That means you're sure to have fun eating your way across the show floor. We sure did!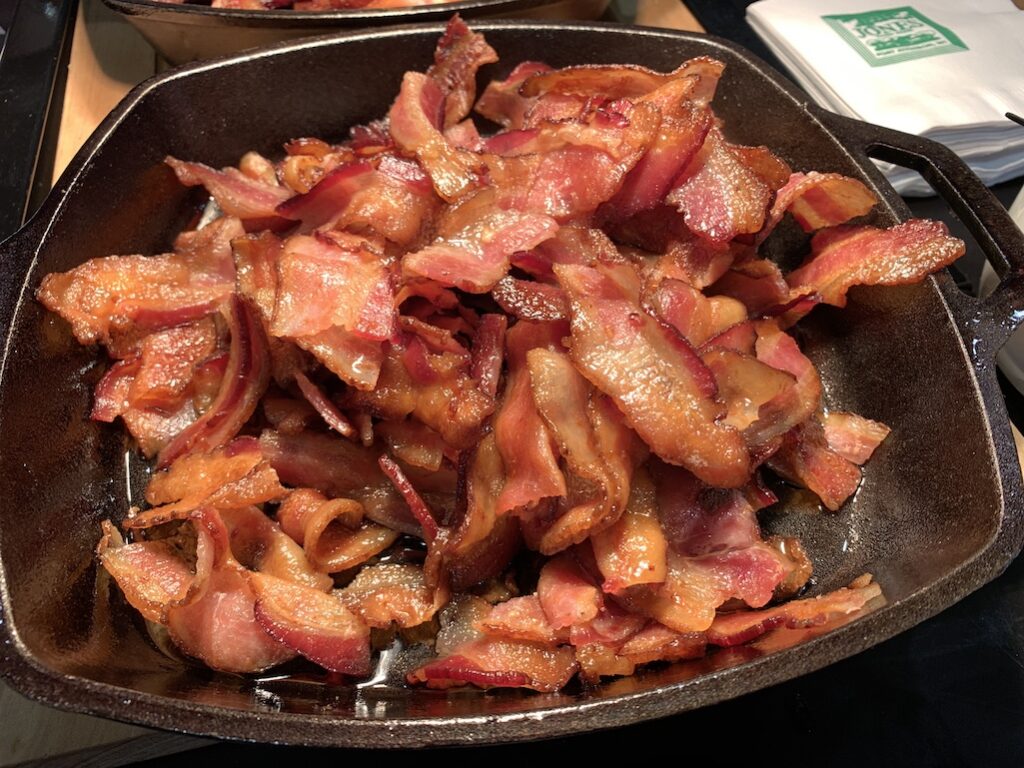 Representatives of foodservice companies large and small displayed a dizzying array of deliciousness. We tasted pizzas and tots, ice cream and coffee, bacon and brownies and much, much more. Did we mention that there was a whole Wisconsin Cheese Pavilion? Well, there was. And you can imagine how much we enjoyed that!
Tastes and Tidbits
There's no way around it, we ate our way through the Midwest Foodservice Expo show. The Milwaukee Pretzel Company offered us a bite of their big soft pretzels. Neuske's Applewood smoked meats gave us tastes of their wonderful bacon, turkey and ham. We also enjoyed a unique treat of Italian street food in the form of a "Piadina" from La Bottega di BelGioso. This is a sort of Italian flatbread stuffed with vegetables, cheeses, meats or even sweets. An Italian chef from the Emilia-Romagna region of Italy prepared ours right in front of us. He filled it with arugula, prosciutto and a soft creamy Crescenza-Stracchino cheese. Yum!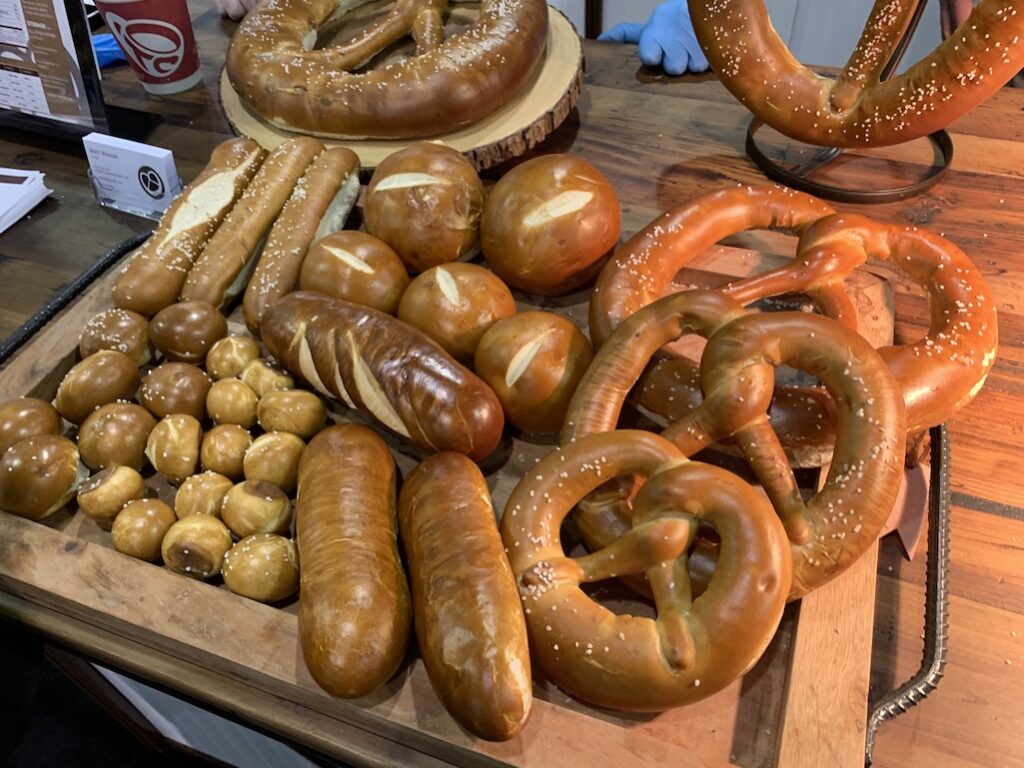 Cheese and More Cheese!
Speaking of cheese, it was there in abundance. The Wisconsin Cheese Pavilion had a grand display of cheeses from around the state. We tried many wonderful varieties from cheddar to gouda to Swiss and more. We saw the many ribbons awarded to cheeses at the recent United States Championship Cheese Contest held in Green Bay. There were plenty of unique cheese varieties too. Some included the dastardly hot ghost pepper. Others milder sorts added port wine or herbs and garlic. We tried as many as we could. Half the fun was talking with the cheesemakers who shared their stories with us.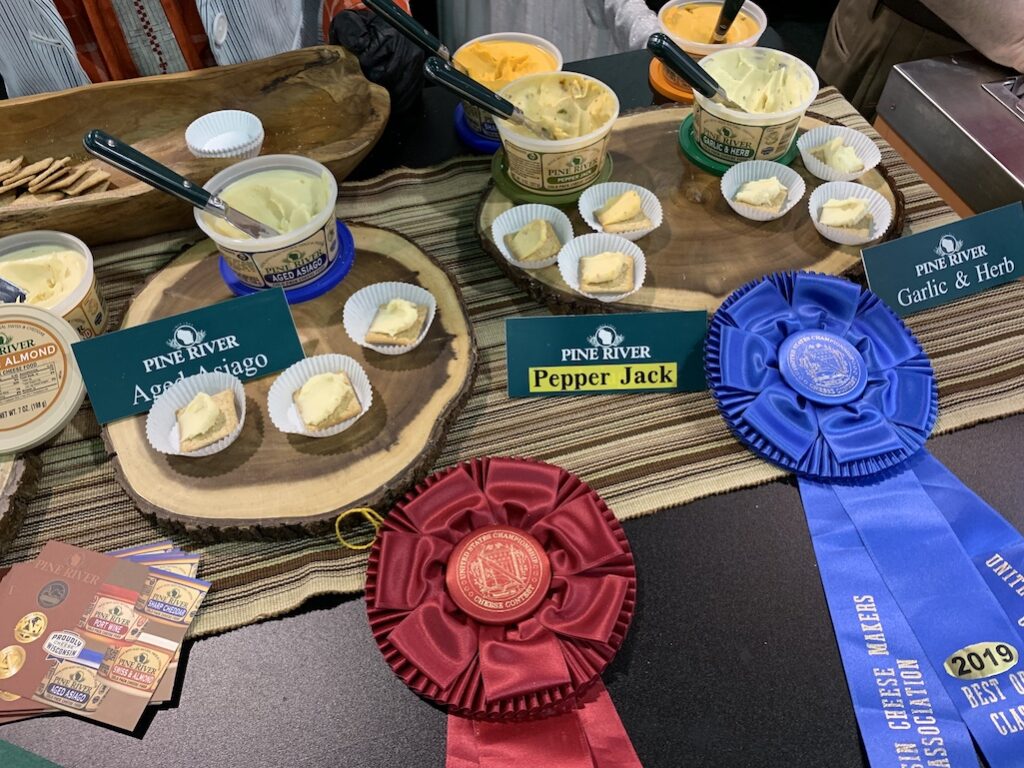 Cutting Edge Cranberries and CBD
One new exhibitor at the Midwest Foodservice Expo that we were delighted to see was Budz Butter. The company specializes in hemp-derived CBD-infused products such as butter, peanut butter, olive oil and coconut oil. This family-owned small batch Wisconsin manufacturer is on the cutting edge of what we believe will be an important addition to the functional food scene.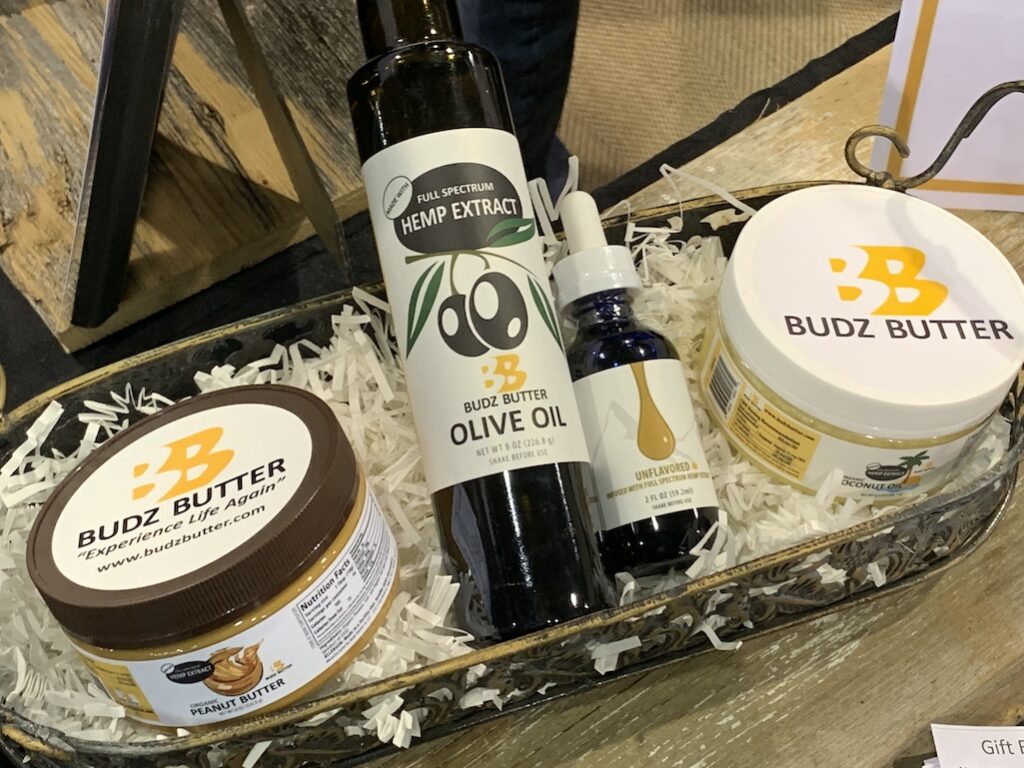 Another product innovation came from the folks at Honestly Cranberry. If you look on the back of dried cranberry packages you find at your local store, most of them contain sugars, oils, juice and other things that are not cranberry. Honestly Cranberry is a family run business of growers on Integrity Way (yes, really) in Wisconsin Rapids. They have dedicated themselves to letting the taste of real cranberries fill the cranberries they sell. Occasionally, they offer tours and charming if limited accommodations as well. We'll be following up to learn more about that so cranberry lovers, stay tuned!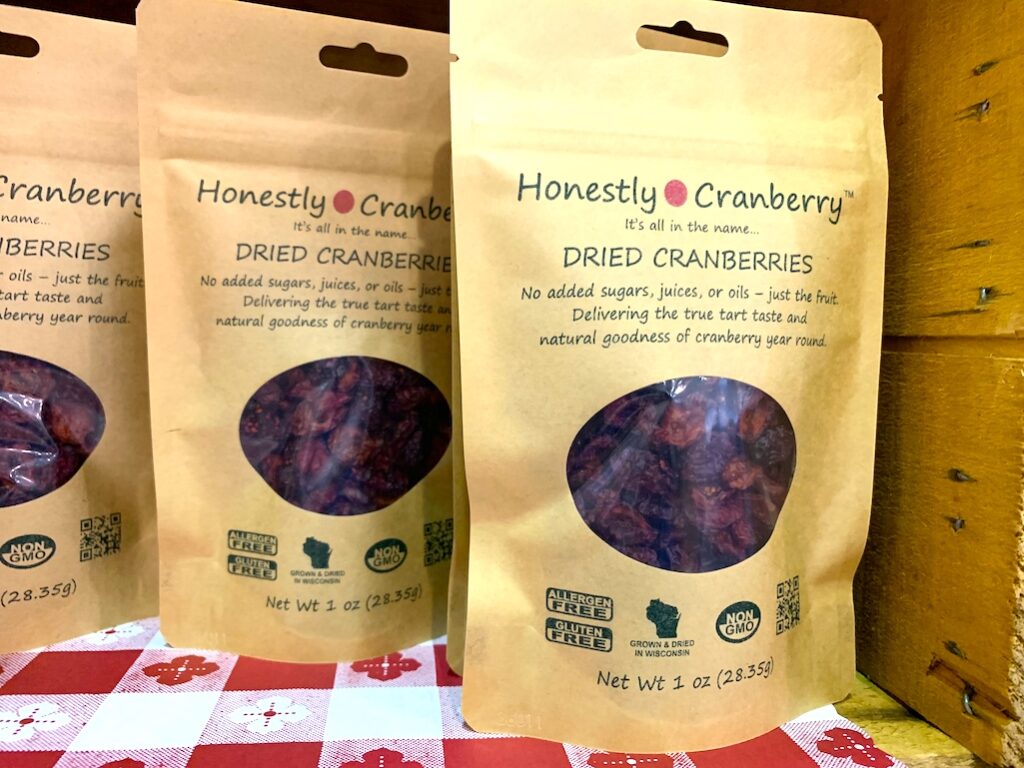 Tasty Competitions
One of the most fun aspects of the Midwest Foodservice Expo was the many competitions that took place during the 3-day event. Even the names of the contests were fun. Extreme Birthday Cake Challenge, Wisconsin's Top Cupcake, Best of the Midwest Pie Contest and Clash of the Cake Artists to name just a few. We enjoyed surveying the competition entries. They were stunning!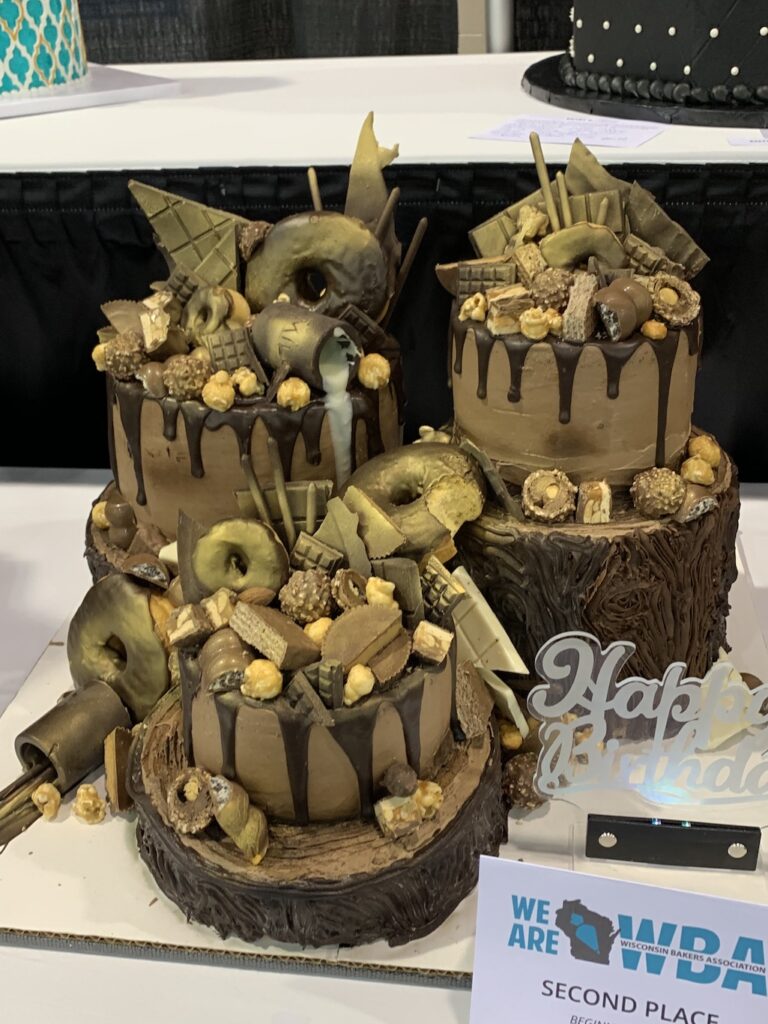 The tabletop design competition had several entries. Each displayed a unique approach and sensibility. They included displays that were elegant, outdoorsy and even a circus of fun. The designers used great creativity and care. Each presentation showed us that there is an art to tabletop design that we just didn't realize. This helped us look at the FOH (Front of House) exhibitors even more carefully. Everything from plates to flatware to decor set the mood in a restaurant. And all of it adds to the pleasure of the experience for us diners.Mi
ProStart Invitational
The National Restaurant Association Educational Foundation's worthy program ProStart has a strong presence in Wisconsin. ProStart educates and trains young people in the culinary art and helps prepare them to enter the workforce. The ProStart Invitational at the Expo had a student showcase, culinary competition and management competition. The participants could present their skills and concepts to judges at the show.
Quenching Thirst
Of course, along with the food comes the beverage. The Midwest Foodservice Expo offered plenty of drinks to quench our thirst. The Liquid Lounge had several exhibitors showing off their tasty libations. Producers of hard ciders, craft beers, wines and distilled spirits offered liquid treats to attendees. Even lively varieties of Bloody Mary mixes were on hand.
Plenty of non-alcoholic beverages also made an appearance. We tried a variety of juices, coffees, teas and waters. Our friends at Urbal Tea presented a variety of their wonderful functional teas.
The Business Of Food at the Midwest Foodservice Expo
There were many educational seminars and sessions for attendees of the Midwest Foodservice Expo. This aspect was helpful for those seeking education and information to help them in their business. Subject tracks included marketing, workforce and food safety. Interesting topics included CBD Frontiers: The Wild West of CBD in Food Service and 5 Digital Strategies to Drive Guest Engagement. Attendees could gain knowledge in some sessions that they could put to work in their business right away. Adding in culinary demonstrations, lessons in everything from food photography and pastry making to mixology, you can see why the event is a 3 day affair.
Food Travelist's Wisconsin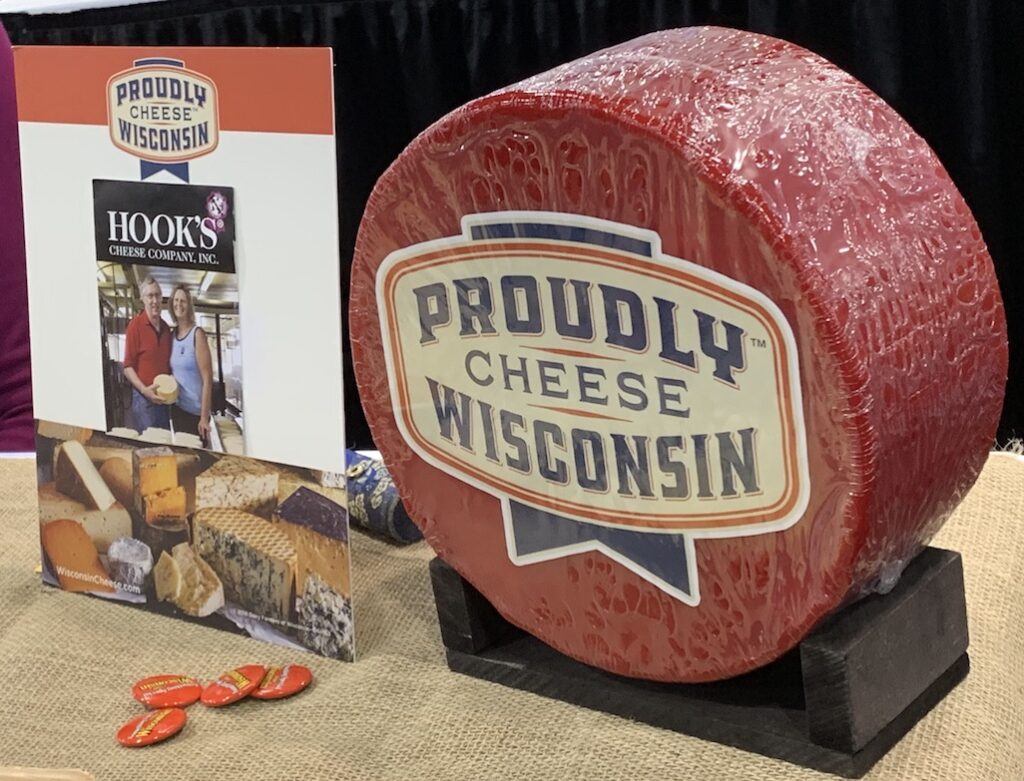 We're just getting our feet wet in our new home state of Wisconsin. It's great to find that we are not alone in our love of food and culture. The abundance of local producers and foodservice providers at the Midwest Foodservice Expo made us feel we were in good company. The cheerful, unhurried nature of the exhibitors and attendees alike also remind us that the Midwest itself is a special place. We look forward to exploring and sharing more of this wonderful Wisconsin food world with you.