What's New at the National Restaurant Show 2016
We just love this time of year. Springtime – the garden is coming alive, the weather is improving (finally) and it's time once again for the National Restaurant Show in Chicago. I have to admit that when I post on our social media accounts that we're at the "NRA Show" we still get the occasional, "You're at the WHAT show"? Nope we're not looking at guns. We're looking at all the latest and greatest news and innovation in the restaurant business.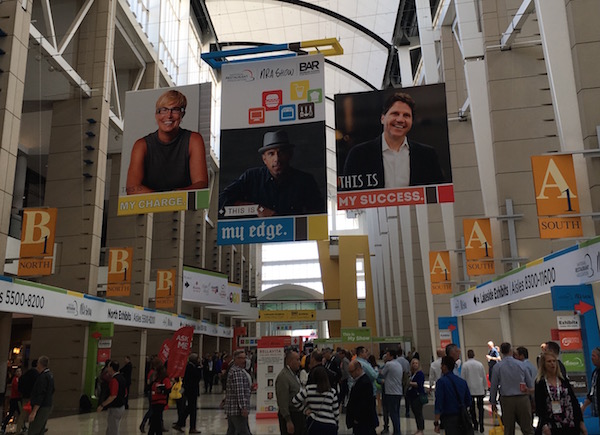 A show like no other, it's one of the largest shows held at Chicago's McCormick Place Convention Center. There are four days to cover 52,000 square feet with over 2,000 exhibitors and over 65,000 attendees.
It's almost impossible to cover everything, so you must have a plan, set appointments and prepare to stand and walk 7 to 8 hours a day. Comfortable shoes are a must.
Top 10 Food Trends At National Restaurant Show 2016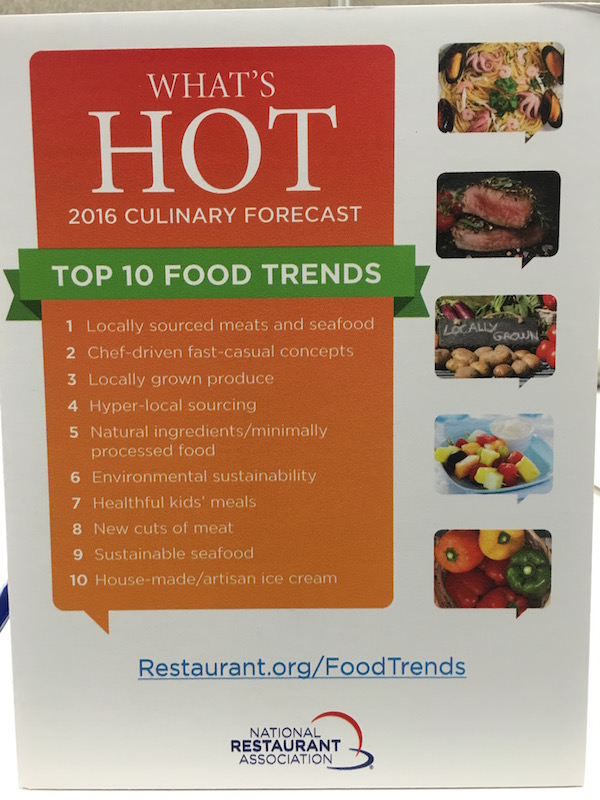 As you see above, the show provides a ton of information on trends and resources to help every aspect of the restaurant business. Along with the thousands of exhibitors booths, there are seminars, cooking demos and classes on everything from how to manage people to how to manage your social media.
Over the years we've met lots of people and brands that we know are must sees for us at the NRA Show. And, every year there are new brands that become favorites as well. We would like to share with you the latest trends, ideas and products we think you should keep an eye out for in 2016 and beyond.
Gluten Free – It's Bigger Than Ever
More brands, more products and much better taste and quality.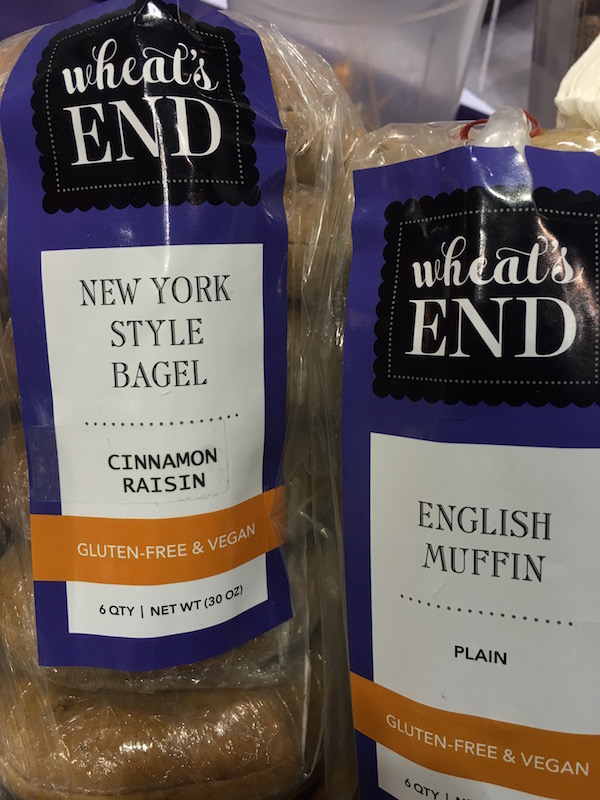 Wheat's End is a Chicago hometown favorite baking the best GF English muffins we've ever had. Their cheddar-chive biscuit could have even the Queen B saying no, no, no to Red Lobster. They have opened a cafe in Chicago, so be sure to check that out if you're in town. Visit their website for more details about all they have to offer.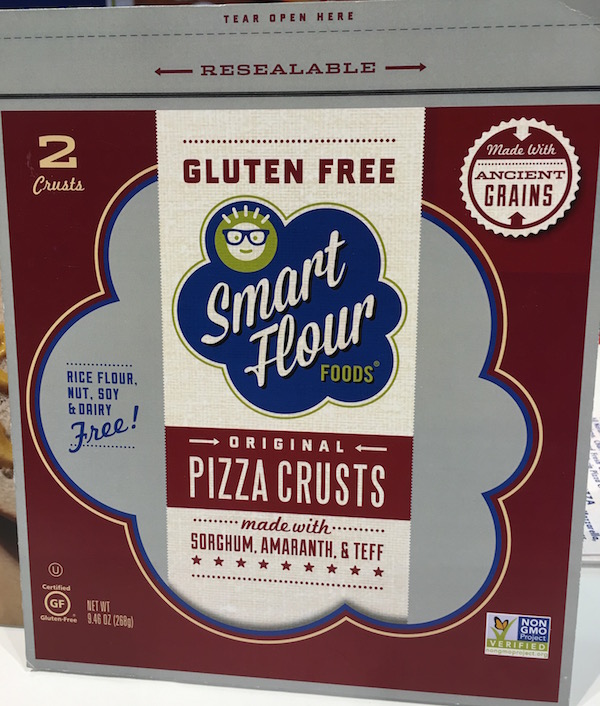 Smart Flour pizza crust and rolls use ancient grains sorghum, amaranth and teff. They're rice, nut, soy and dairy free. We tasted the pizza and the crust was really good. It's available in many retail locations, so check out their website for a store near you There's also a $1 off coupon when you're searching so be sure to take advantage of that offer.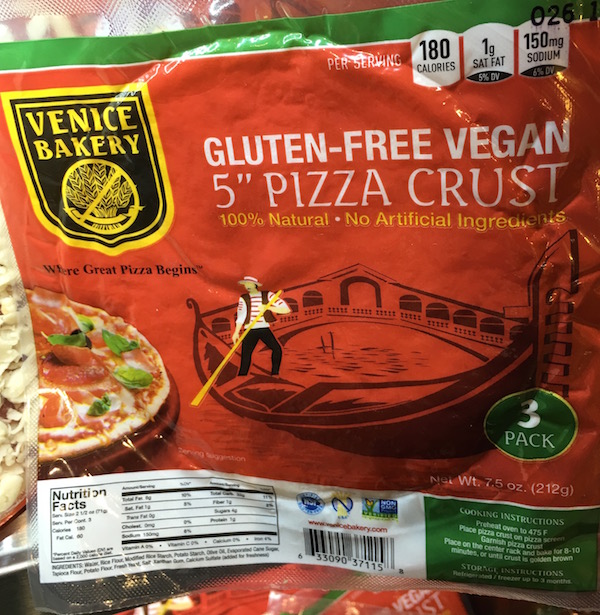 I have to admit that we tried a lot of pizza at the NRA Show, both gluten free and not. The pizza crusts from Venice Bakery were one among our very favorites. They were crispy and really good flavor. They've been innovating for many years now, and have a new raised edge Gluten-Free crust that's had us smiling. You can find many of their products in retail locations and online. Check out their website for their Crust of the Month Club. It's free to join and you get lots of perks when you order.
More Good For You Foods & Drinks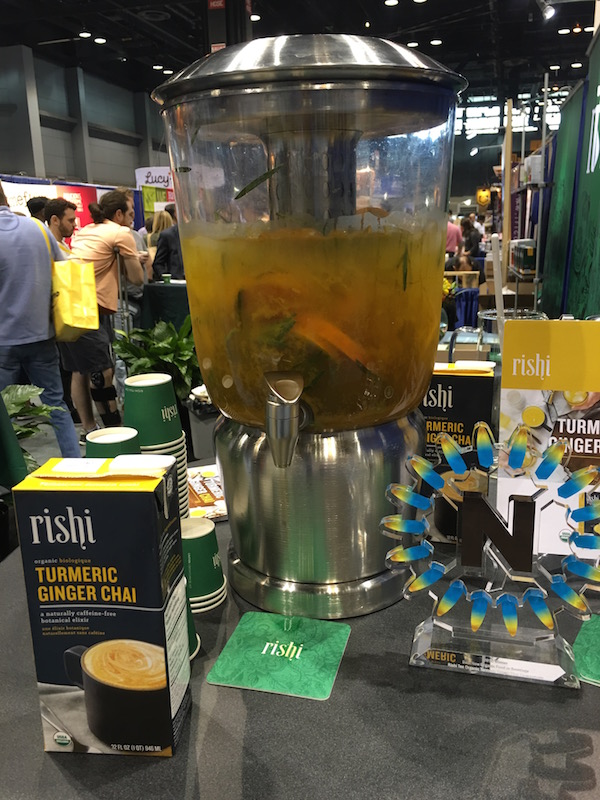 If you're a tea drinker you know that healthful teas have been around for a long time. More and more brands are capitalizing on this trend. We met with the folks at Rishi, whom you might remember from our tea tasting at their offices in Milwaukee. Their new Turmeric Ginger Chai is sold in a concentrate and perfect for making ice tea with sparkling soda or sparkling wine for a Sunday brunch. It's refreshing and just right for summer!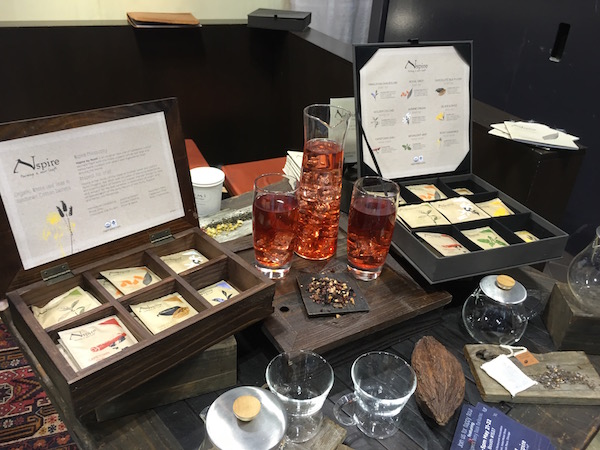 Our friends at Numi Tea introduced a gorgeous line of NSpire tea for food service, offered to customers in a beautiful tea box made of reclaimed wood. Their beautiful teas come in sustainable hand-woven cotton bags. All the tea packing explains the level of caffeine, where the tea is sourced from and the health benefits of each tea. They have singularly unique tea blends like Chocolate Silk Pu-reh sourced from the Yunnan Provinence in China, Cape Town Chai sourced from the Cedarburg Mountains in South Africa, Moonlight Mint hand-picked and sun-dried heirloom mint varietals from the Nile River Delta in Egypt and many more. These delightful flavors make having tea a special experience whether you're steeping a cup or creating an original tea-cocktail.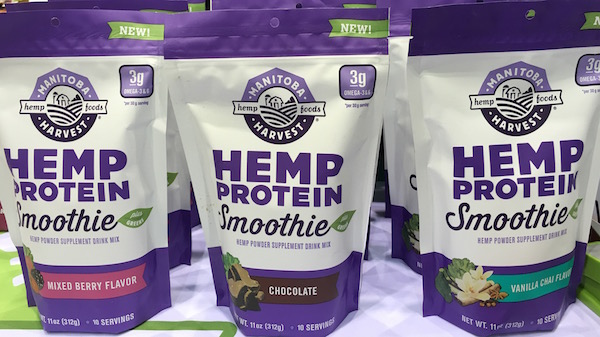 Loaded with Omega-6 and Omega-3, hemp is also an anti-inflammatory and promotes a healthy heart. It's a "Superfood" protein that many people (including us) use in their morning smoothies. At Manitoba Harvest they only manufacture and sell hemp products, that's it. They're a certified B Corporation so you know they are a socially responsible company. You can find many of their products at Whole Foods and many wellness locations. They have their fabulous smoothie protein blends, as well as some delicious bars and crunchy little bites perfect for on-the-go nibbling.
Lots of Innovation at National Restaurant Show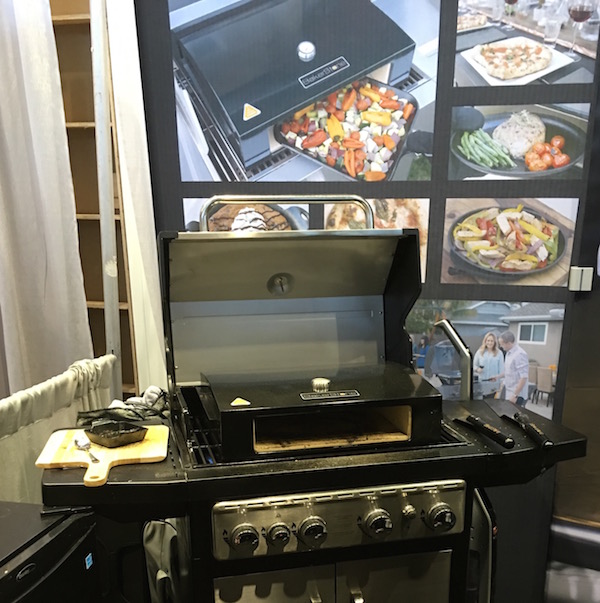 Pizza is always a huge part of the NRA Show. Lots of folks selling pizza crust, pizza boxes, pizza ovens, all kinds of pizza equipment. One new item that you can bring to your own home is a Bakestone Pizza Oven Box that fits on top of most outdoor barbecues. The pizza stones inside the box heat up in about 20 minutes and in less than 5 minutes of cooking time you'll have your own homemade crispy crusty pizza! Imagine the pizza parties you'll have. You can also use a cast-iron skillet inside the box to make roasted veggies, potatoes, desserts – the possibilities are limited only to your creative cooking skills. They are available at Target, Amazon and many other local retailers. There's a stainless steel model for restaurant use as well. We'll be sharing some of our own recipes made with the Bakestone Pizza Oven Box in an upcoming post, so stay tuned!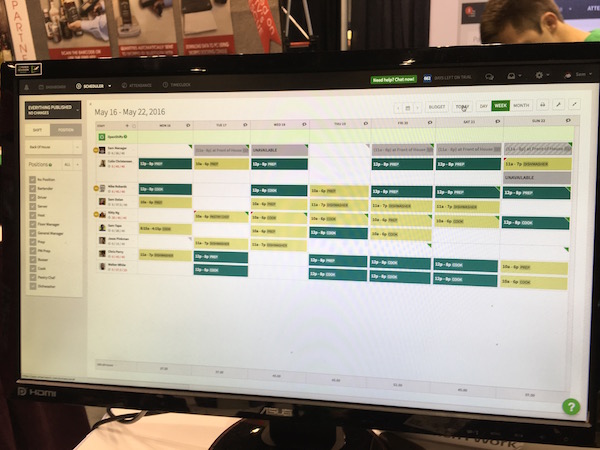 Running a restaurant isn't just about serving great food. Running the backend takes management skills and lots of time. There were plenty of technology companies at the NRA Show ready to assist with employee scheduling, reservations, social media management and more. One we enjoyed learning about comes from When I Work, whose t-shirts offered a humorous note saying, "Get Shi(f)t Done."
Robots making fries? Maybe in your local restaurant sooner than you think! This robot from the Middleby Corp. can be programmed for different duites in a commercial kitchen. #nrashow #nrashow #nrashow2016 #chicago
One of the most interesting and busy booths was the Middleby Corporation demonstrating a robot at a fry station. Like it or not, automation and robots may soon be entering your local restaurant. Our short video on Instagram had over 130 views and was shared by the NRA Instagram account clearly people are taking notice of robots.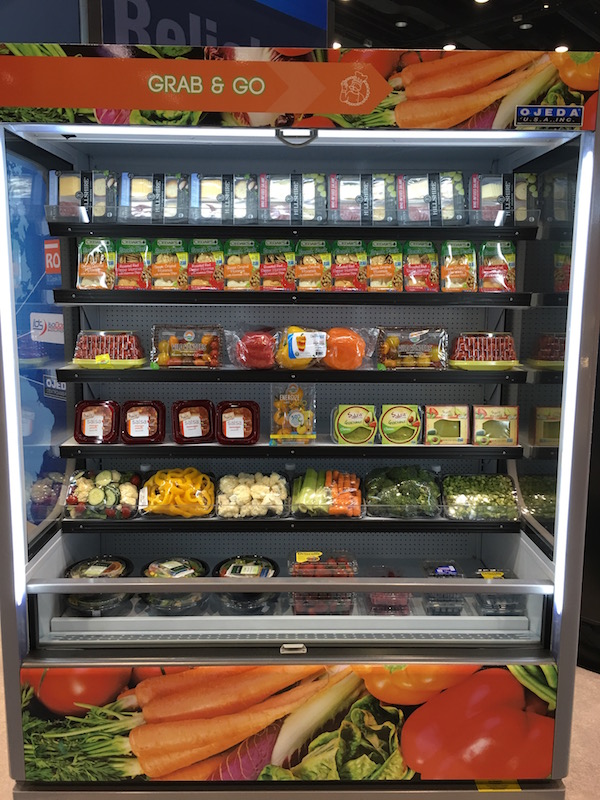 Convenience is something that most of us take for granted. In the world of "I want what I want and I want it now," new self-service, open air, grab-and-go refrigerators are now in most retail locations. More and more people want healthy, locally-sourced food but they still want the convenience of getting it at their local corner store, airport kiosk or gas station. We saw many refrigerator companies featuring various ways to display and sell these handy snacks with a minimum of resistance to the grab factor – like doors that need to be opened.
Speaking of convenience, ever try to juggle a hot dog, peanuts and a drink at your seat at a ball-game? Well Grub Tub is here to solve that problem. A handy bowl that fits over your drink while allowing your giant straw to come up the middle, Grub Tub lets you eat and drink easily at any venue. So clever – and you know how much we just love clever!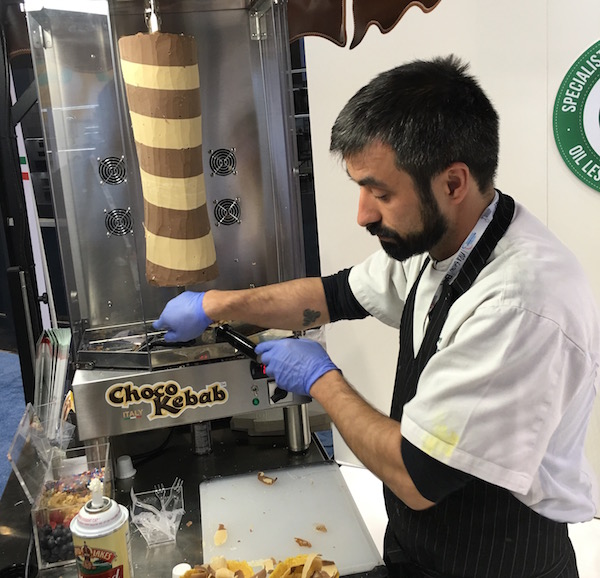 Speaking of clever, imagine a gyros cone made out of the finest Italian Piedmontese chocolate and Italian hazelnuts.  Then imagine someone shaving it off and placing it in a freshly made crepe and topping with whipped cream to make a luscious chocolatey dessert. You've just imagined Choco Kebab. With tasty, high quality ingredients from Italy, this is one idea we're hoping you get to see soon at fairs, festivals and street markets.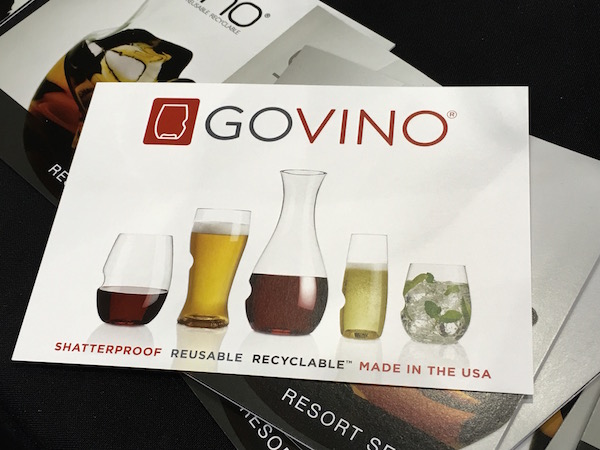 We've been fans of Govino for years, ever since receiving them as a gift by someone who knows that we love to entertain outside. Govino manufactures beautifully designed outdoor plasticware. They are not only lovely to look at but they're lightweight making them perfect for picnics and outdoor music festivals. They recently launched a new line that is dishwasher-safe, which makes clean up a breeze.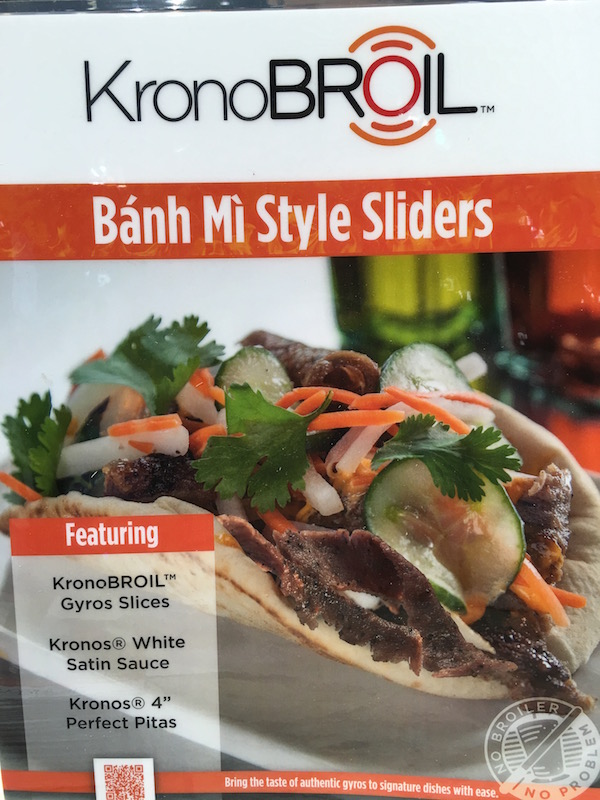 Kronos is a Chicago company that is famous for their gyros cones and Greek specialty foods. Every year at the National Restaurant Show they are terrific at extending their lines in innovative ways. This year, their KronoBROIL technique of pre-slicing the gryos while maintaining the crunchy edges had us intrigued. So, we had to give them a try. And, you know what? They did it! No soggy gyros here. Crsipity, crunchy edges – a true gyros experience. To add even more fun to the platter, they've come up with various other ways to use the meat in unique offerings. The KronoBROIL Bahn Mi Style Sliders and Loaded Gyros Fries were really tasty and different. We were impressed by its versatility. As one of the employees offered, "Gyros is the new bacon!"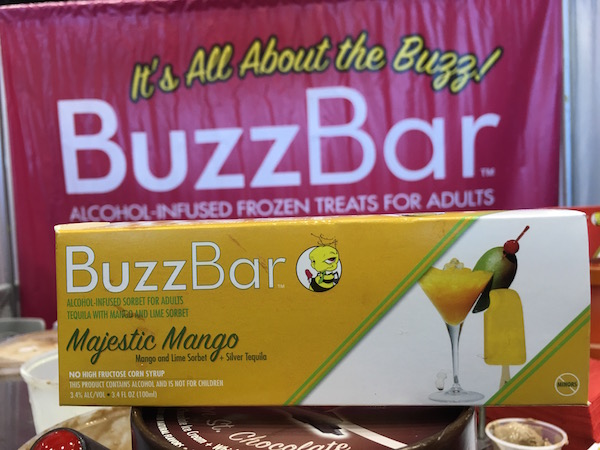 Last but not least, we made new friends at Buzz Bar creators of alcohol-infused frozen treats for adults. These treats are definitely 21+. They have many custom crafted all-natural boozy flavors like chocolate bourbon and vanilla cognac. We really loved the Majestic Mango bar, a refreshing popsicle with mango and lime sorbet laced with silver tequila. The plentiful mango bits really make this bar unique and delicious. They have limited distribution, but we're guessing you'll see these soon in a supermarket near you.
THE QUICK BITE: Here are our thoughts on highlights from the 2016 National Restaurant Show. Check out all the innovative & inspirational products you'll soon see at restaurants near you.