A Birthday French Barge Cruise To Remember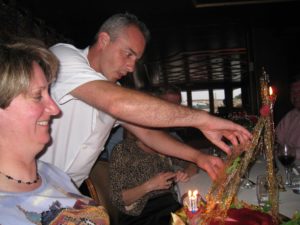 I make a big deal about my birthday. Always have. Years ago I saw a documentary on French barge cruising and thought it looked wonderful. I made it a goal to take one on my 50th birthday. As I got closer to the big date I enlisted the help of Ellen Zak "The Barge Lady" to help us with our planning. After very thorough research we chose French Country Waterways burgundy region barge river cruise.
Needless to say it surpassed all my wildest dreams.  For 6 days I was pampered, fed the most amazing food, drank delicious French wine & champagne, visited castles, chateaus, museums, vineyards, shops, villages and even a Michelin starred restaurant. The accommodations were far more plush and posh than you would expect on a barge. The Chef left the barge early every morning to bike to the local bakery in every port for fresh bread and pastries. The first guest to rise was sure to get the best selection. The pace was slow and relaxed you could take the days excursion or stay behind and slowly float up the river watching the lovely French countryside pass by while sipping wine, reading or napping.  A path along the river made it easy to either bike, walk or run to the next stop without fear of getting lost or left behind. The more adventurous of us biked through some of the small towns discovering what life in the French countryside was like for the locals. Stopping for a glass of wine or croissant was not only condoned but encouraged.
It was indeed a trip of a lifetime. Only 12 passengers were on board so the experience was intimate and friendly. By the end of the journey new acquaintances became good friends. The piece de resistance was scrumptious birthday dinner and a wonderful birthday cake topped with a spun sugar tower. It's certainly a trip I'll never forget. 
QUICK BITE:  If you're looking for a special trip for any reason a French Barge Cruise is definitely one to consider.