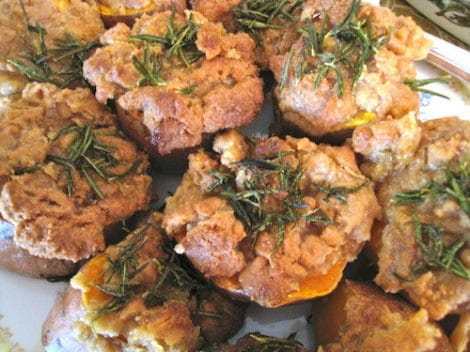 We love sweet potatoes around the holidays, but sometimes they get just too, well, sweet. Here's a different twist that strikes a wonderful balance between sweet and savory. They also serve as nice neat little individual servings so you don't end up with too much messy goo to clean up afterward!
INGREDIENTS
Sweet Potatoes
4 large fresh sweet potatoes (skin on) washed
1/2 stick (1/4 cup)  butter,  softened
1/4 cup brown sugar
Streusel
1 /2 cup old fashioned or quick-cooking oats, uncooked
1/3 cup firmly packed brown sugar, light or dark as you prefer
1/2 cup raw turbinado or demerara sugar
1/ tsp ground cinnamon
1/2 stick (1/4 cup) butter, softened
1/4 cup chopped pecans (optional)
3 Tbsp fresh rosemary leaves for garnish
1 Tablespoon olive oil
DIRECTIONS
1. Heat oven to 350 degrees F. Grease a baking dish with butter.
2. Slice the end tips off the potatoes so that they will stand flat and cut each across the diameter into 3-4 rounds (about 2-inches tall).
3. Mix brown sugar and softened butter together in a small bowl. Smear the tops and sides of the sweet potato rounds with butter and brown sugar mixture to coat.
4. Cover potatoes with foil and bake at 375 degrees F for about 40 minutes, or until almost tender. Poke with a fork to check. They should be softened, but not done.
5. While sweet potatoes are baking prepare the streusel by combining oats, flour sugars, flour, cinnamon in a bowl. Add the softened butter and mix well so that the mixture forms large crumbs. Add the pecans if using.
6. Heat olive oil in a small skillet. Add the rosemary leaves and cook until they crisp up slightly. Put on a paper towel to drain.
7. When sweet potatoes are soft, remove and turn up the oven to 400 degrees F. Top each one with a healthy bit of streusel.
8. Return to oven and bake until the streusel is golden brown and the sweet potatoes are soft. Top with crispy rosemary and serve.
THE QUICK BITE: Sweet potatoes are so good and so good for you. Don't just wait for a holiday to serve them. Here's a different twist that strikes a wonderful balance between sweet and savory, good any time.
Pin In!