Updated June 2022
When you think Florida you probably think sunny beach-filled days. And you wouldn't be wrong. Our last visit was filled with meetings but we did still get out to enjoy the sun, water, and, of course, the food.
It had been a while since our last visit and we couldn't believe how much St. Pete had changed! It was always a great place to visit on the quieter side of Florida but the recent improvements made us wonder why we waited so long to return.
Best Restaurants in St. Petersburg FL
One of the things that have really grown is the St. Pete food scene. Although we were just there for a quick visit we were able to check out many new spots and a few old favorites. Here's our list of places you should be sure to check out.
Seafood Is Still King in St. Petersburg
One of my favorite fish to eat in Florida is grouper. I wasted no time and my first meal was a lovely grouper sandwich at 400 Beach Seafood & Tap House. just one of the fabulous St. Pete restaurants. Grilled to perfection, it was just what I needed to get me in the Floridian spirit. The restaurant is located right on the main downtown strip of Beach Drive NE and steps from the Vinoy Renaissance Resort & Golf Club.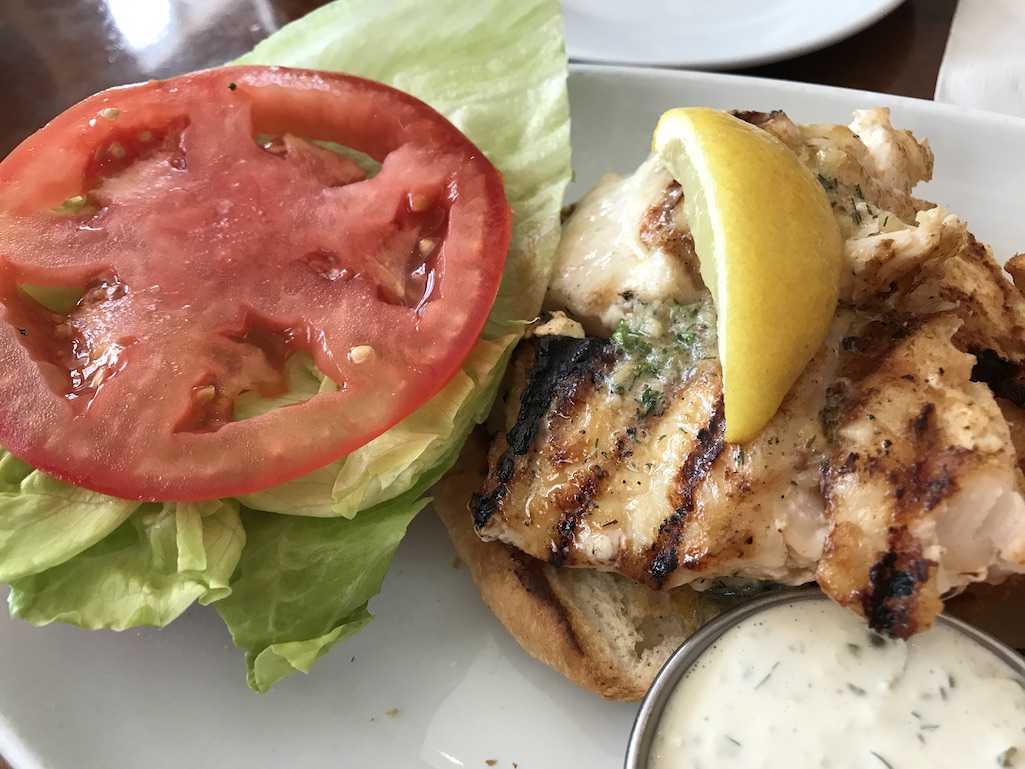 Their menu is loaded with plenty of seafood options including an oyster bar, salads, sandwiches, and fish tacos. They also have tasty steaks, chops, and chicken options as well. We had the joy of sharing lunch that day with our friend Sandi McKenna from MidLife Road Trip. She opted for the Seafood Louis Salad and it looked marvelous!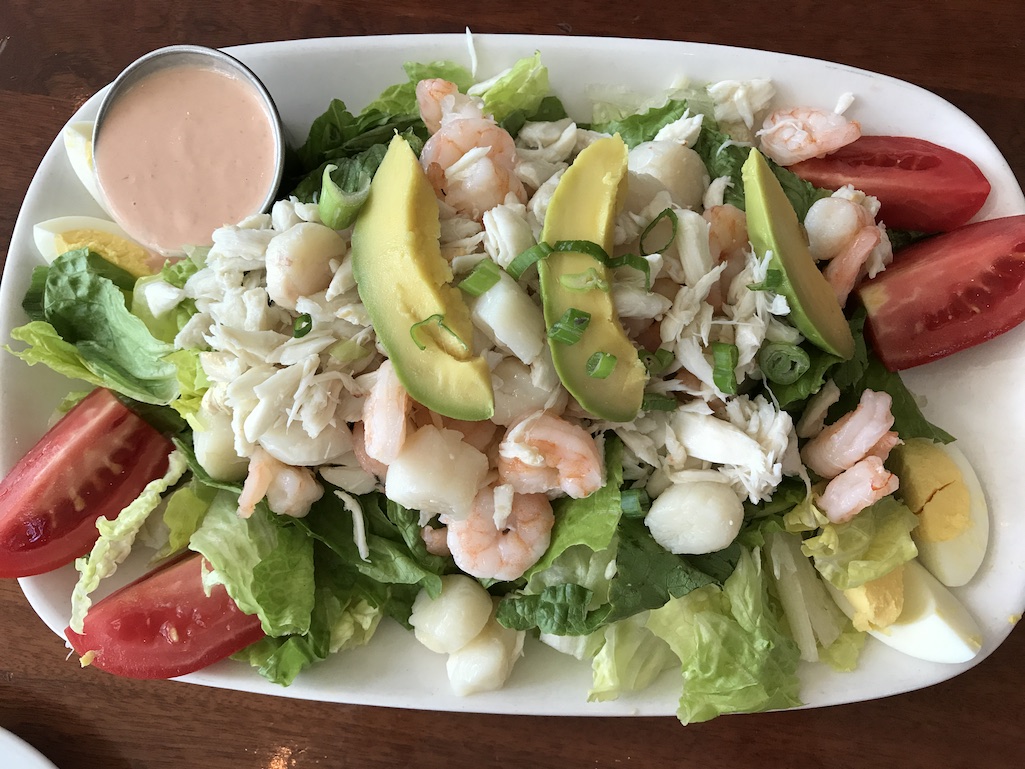 While we're on the topic of grouper, we had the chance to visit one of my old favorite spots the Harvey's Fourth Street Grill. Thankfully, it was just as I remembered it. One of the fun things about this place is that a lot of the decorations in the restaurant have come from many of the historic St. Pete hotels. The Vinoy, Soreno, Albermarle provided just a few upcycled pieces that you'll see.
What Food Is St. Petersburg, FL Known For? 
One of the things to keep in mind when ordering grouper is always to ask if it's fresh and local. Unfortunately, there was a bit of a problem a few years back and many restaurants were saying they were serving "grouper" and they weren't. Rest assured Harvey's and every place we recommend will have the real deal.
This old-school fish platter served with your choice of potato or salad and hot garlic bread made me smile from ear to ear.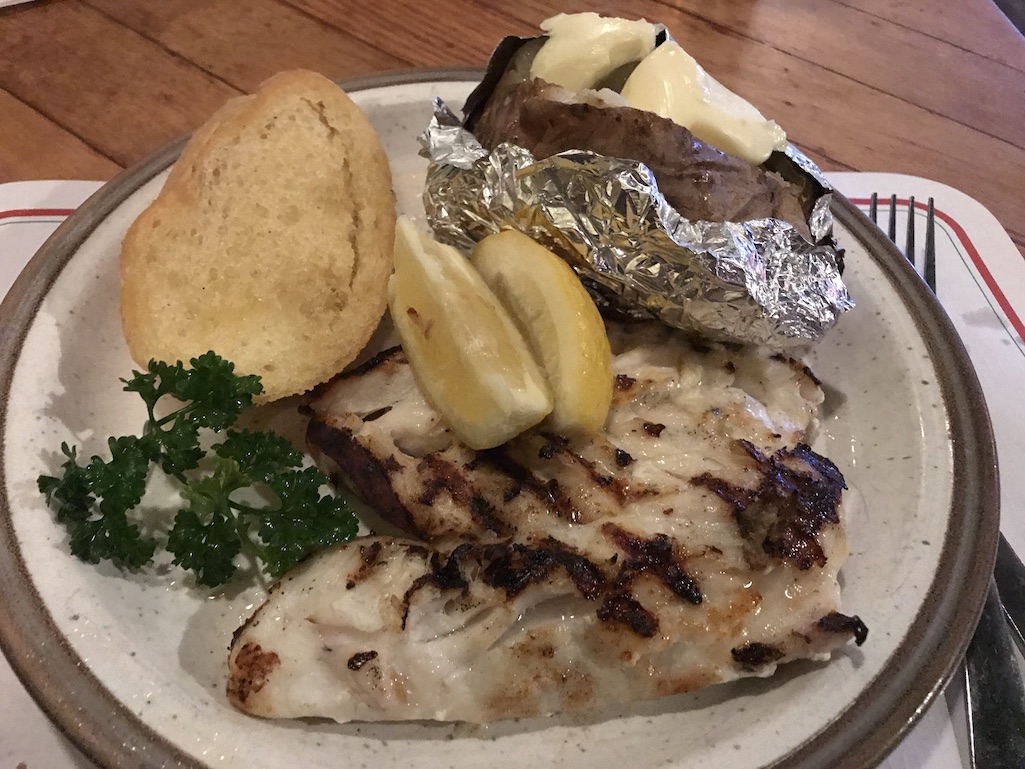 Diana loved the giant shrimp dinner with tasty jumbo shrimp. There's plenty of other seafood to choose from too. Just be sure to save room for their delicious Key Lime Pie.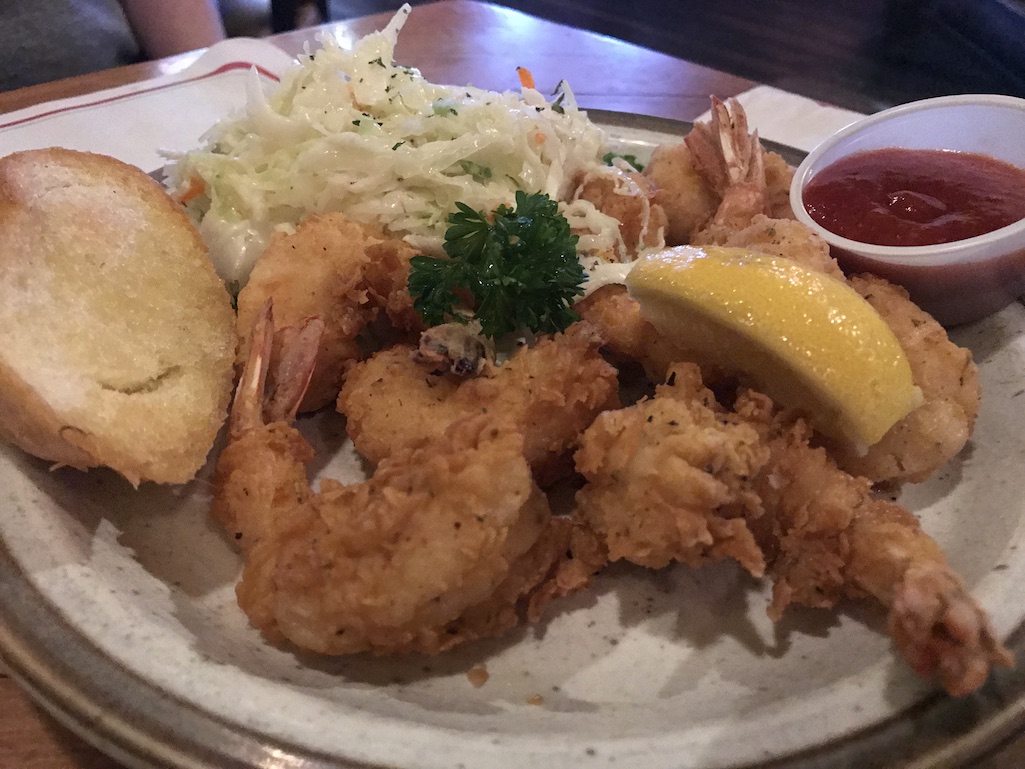 With all these great spots to eat it's a really good idea to check out the Coast rental bikes. Conveniently located around the city these bad boys will be sure you work off just a few calories before your next eating stop.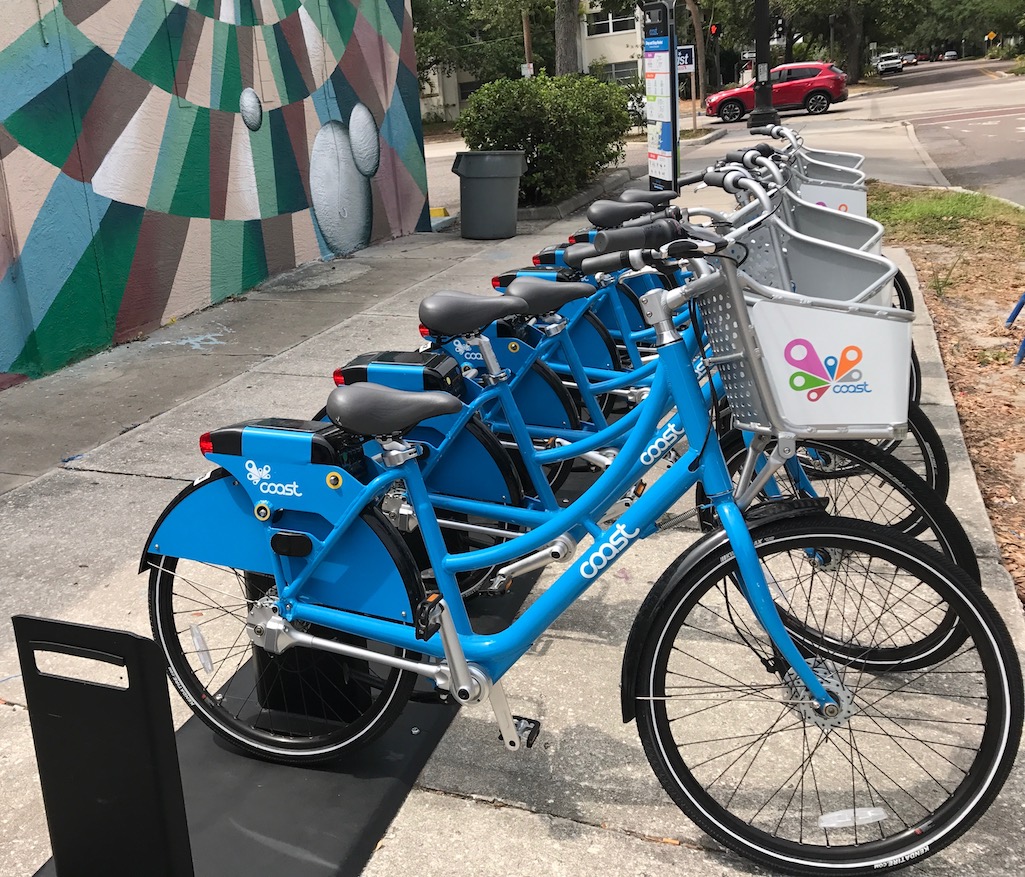 It's also a great way to see the over 45 street art and murals that have become such a beautiful part of St. Petersburg. For a complete listing be sure to check out www.visitstpeteclearwater.com.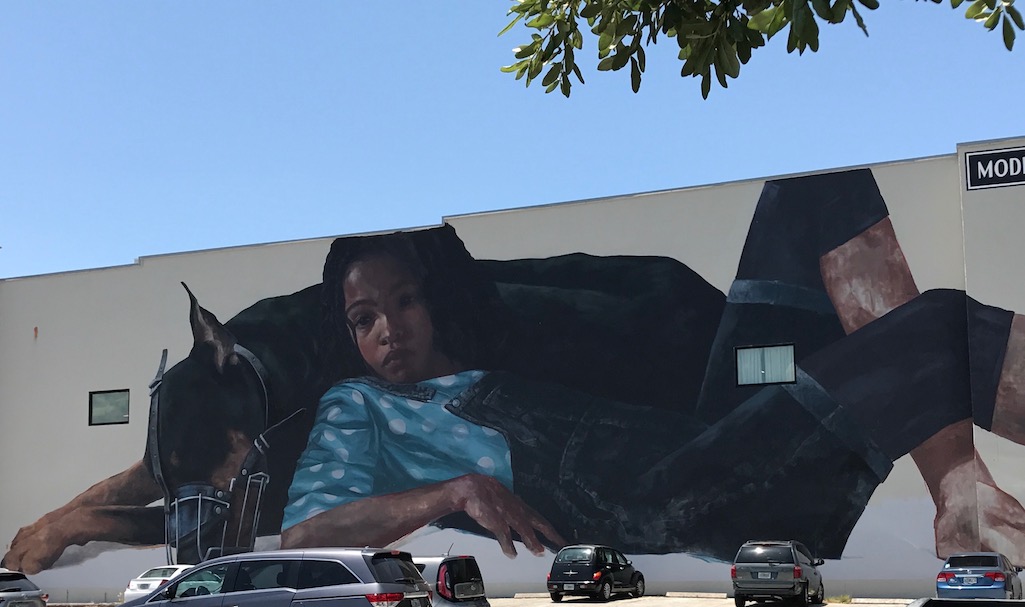 Back to eating. Everywhere we visit we have to try at least one cheeseburger and downtown St. Pete restaurants are no exception. We dropped by Stillwaters Tavern to check out their menu and cocktail list.
Burgers And More
One of their delicious burgers features a hand-formed short rib, chuck, and brisket patty topped with sharp cheddar (my favorite), thousand island dressing, caramelized onions on the softer than soft brioche bun was perfect.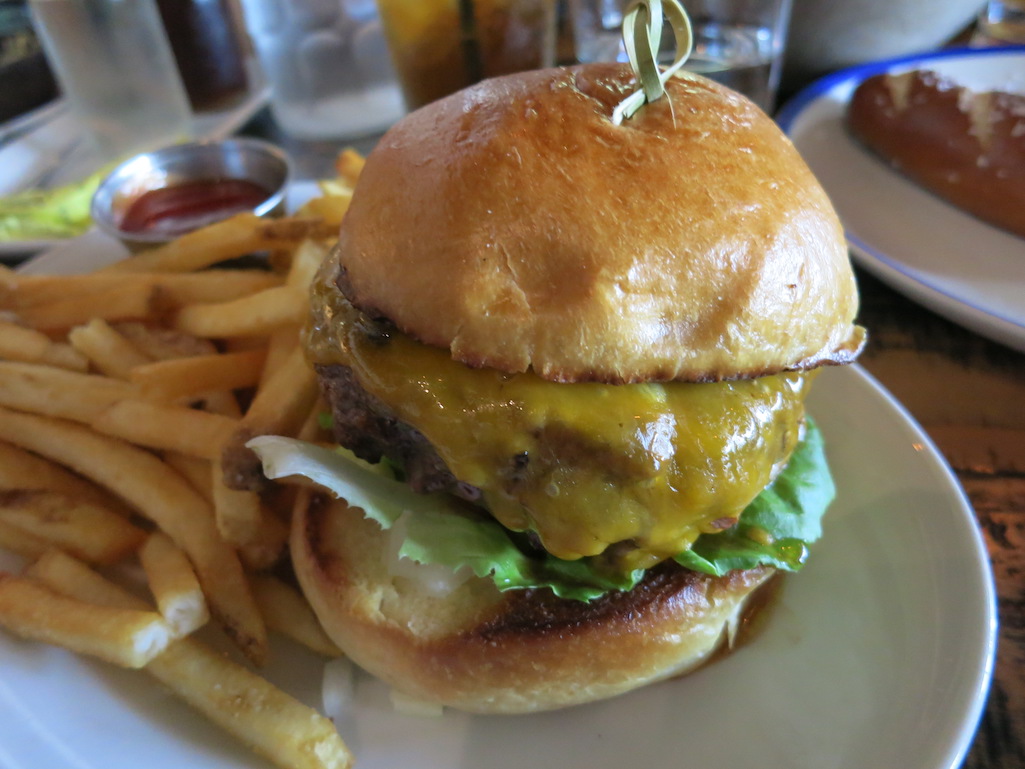 The fried chicken salad with buttermilk fried chicken, baby lettuce, romaine, sorghum pecans, blue cheese, apples, and celery, and green goddess dressing was another delicious find.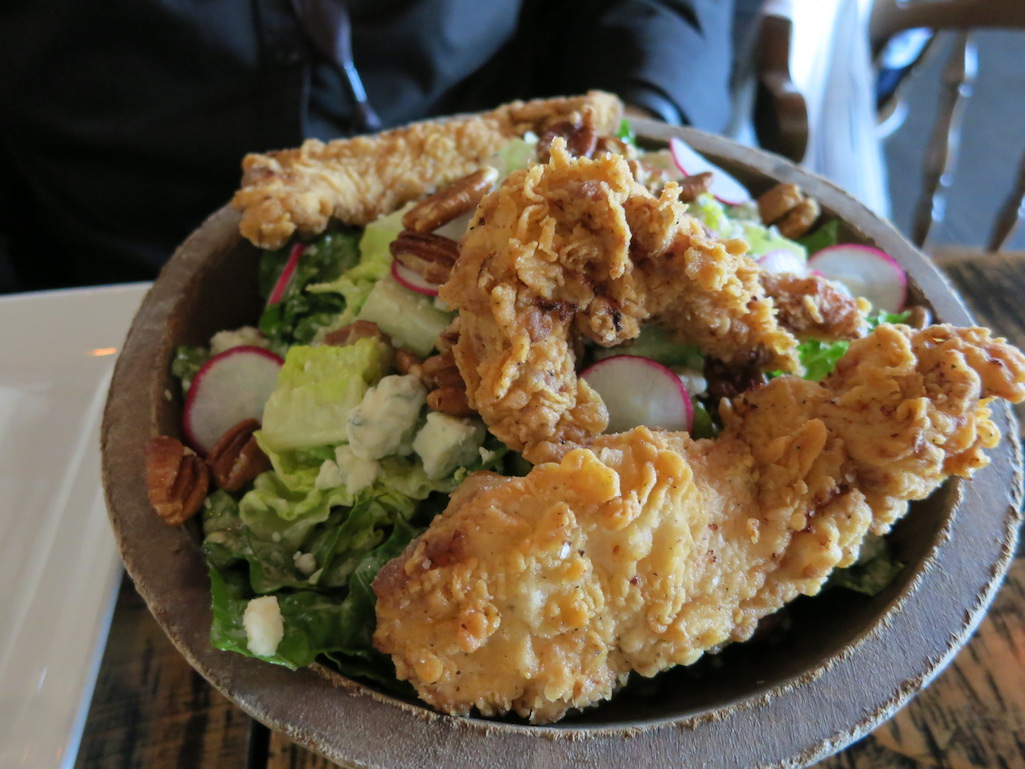 Another bright spot at Stillwaters, as a tea drinker, I adore iced tea. I especially love a spot that serves it with simple syrup or in this case two types of simple syrup. I'm in love!!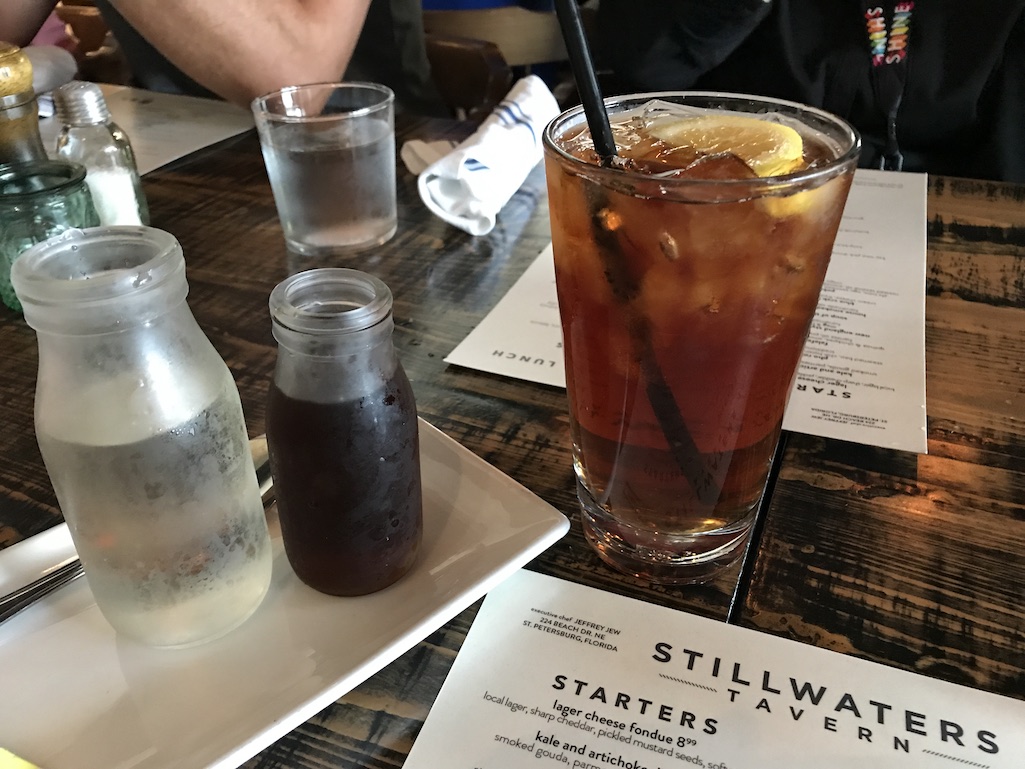 Are There Ever Enough Burgers?
Another great choice with tasty burgers just down the street from Stillwaters is the award-winning Park Shore Grill. One look at this juicy Mozzarella burger will have you drooling for a taste. It's made with fresh burrata, arugula, sun-dried tomato (loved the little kick these gave the burger), and balsamic caramelized onions. The beef is Niman Ranch all-natural, hormone and antibiotic-free. Be sure to check out their Parkshore Picnic lunch special, including your choice of small Caesar or Parkshore salad, entree, and mini dessert for only $18.00. All this while overlooking the beautiful St. Pete waterfront. They're open for lunch and dinner.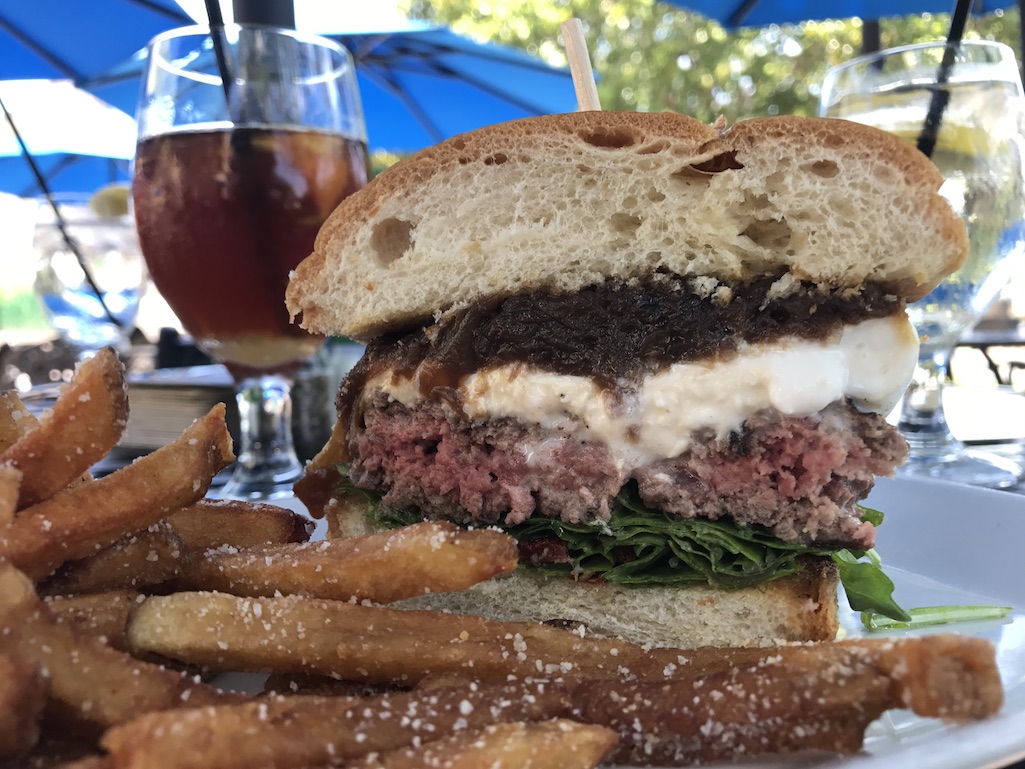 Another old stomping ground for me was The Chattaway. A bit on the outskirts of the main strip this charmer is one of the restaurants in St Pete that is a must-visit. They have a beautifully unique outdoor tropical garden to sit and enjoy yourself. Their bathtub gardens are legendary. In St. Pete since 1951, this is definitely a place that locals love.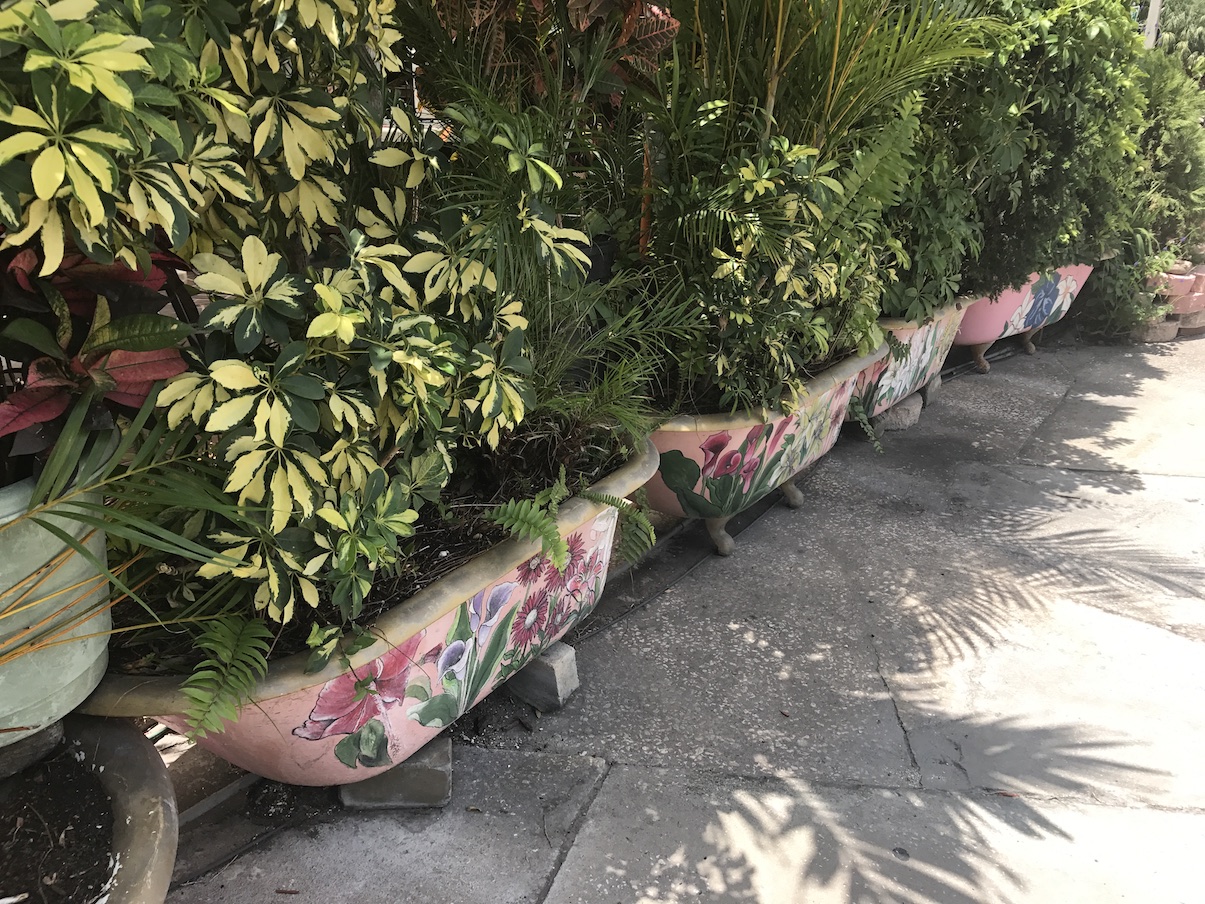 The Chattaway is known for their char-broiled burger that's delicious and the relaxing laid back atmosphere. You may be surprised to find a room inside set up for "high tea." If you're looking for that lovely experience be sure to make a reservation.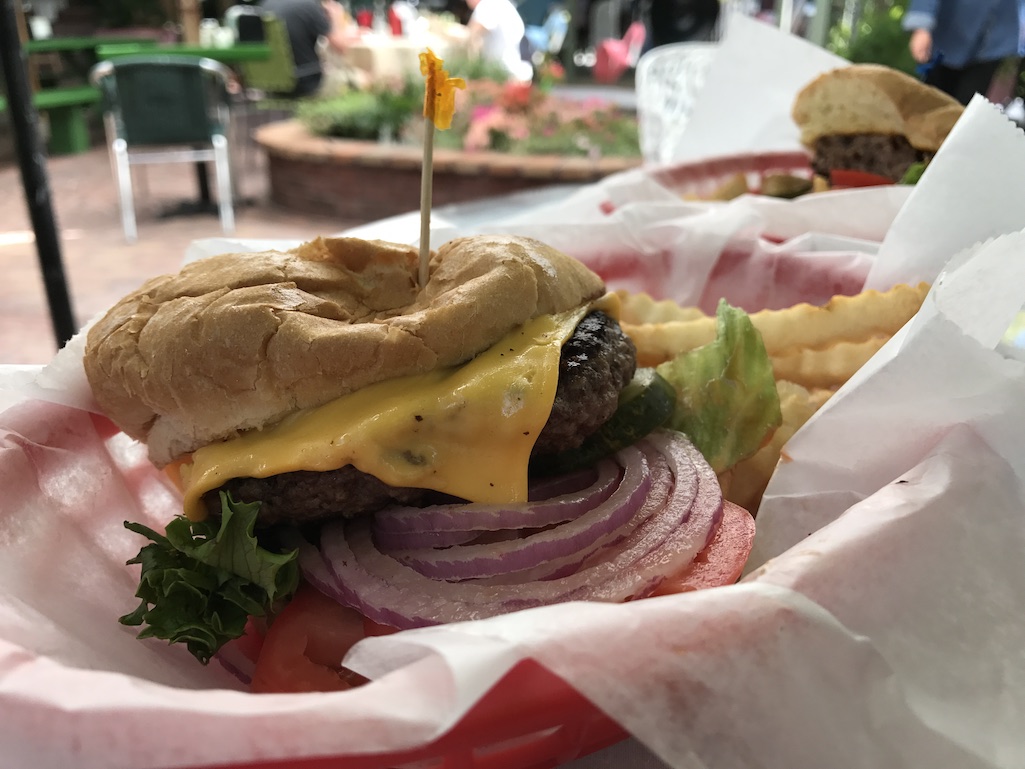 Cocktails and Snacks
If you want somewhere to have a few laughs, some quick bites, and great drinks try Punky's Bar & Grill. Right near all the great shopping on Central Avenue, this friendly spot is just what the doctor ordered. We loved the fried green tomatoes and the cocktails. We also love that they host many fundraisers for the overall St. Pete community and the LGBT community as well.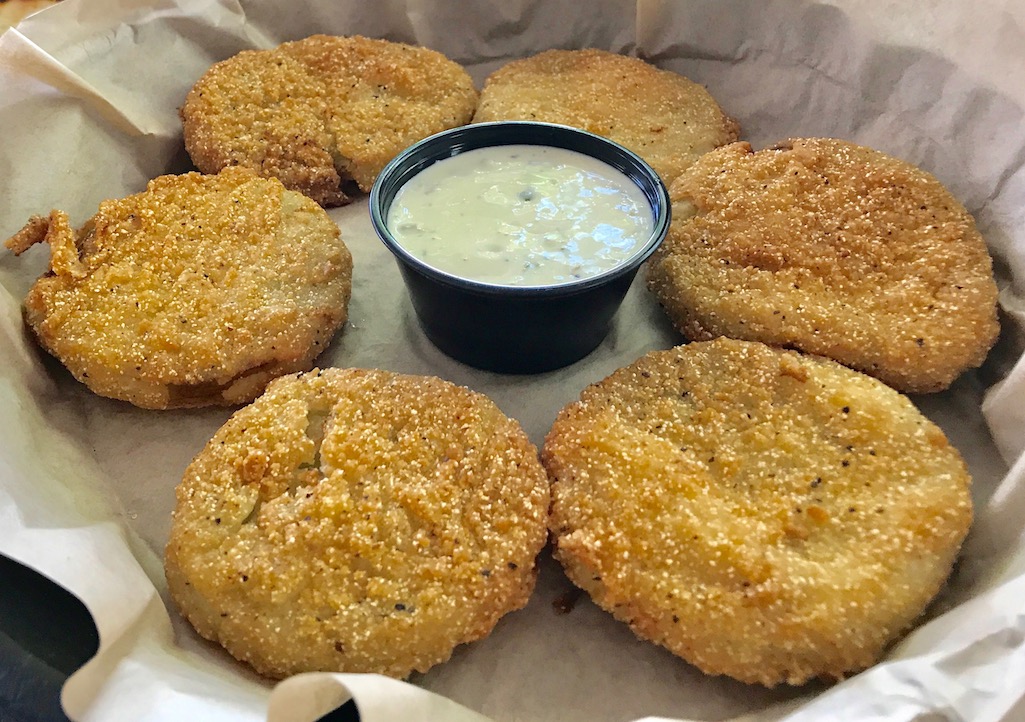 If you like cocktails, tasty bites and a terrific view of Tampa Bay check out The Canopy Rooftop Lounge atop The Birchwood. Here you can score private cabanas and comfortable seating.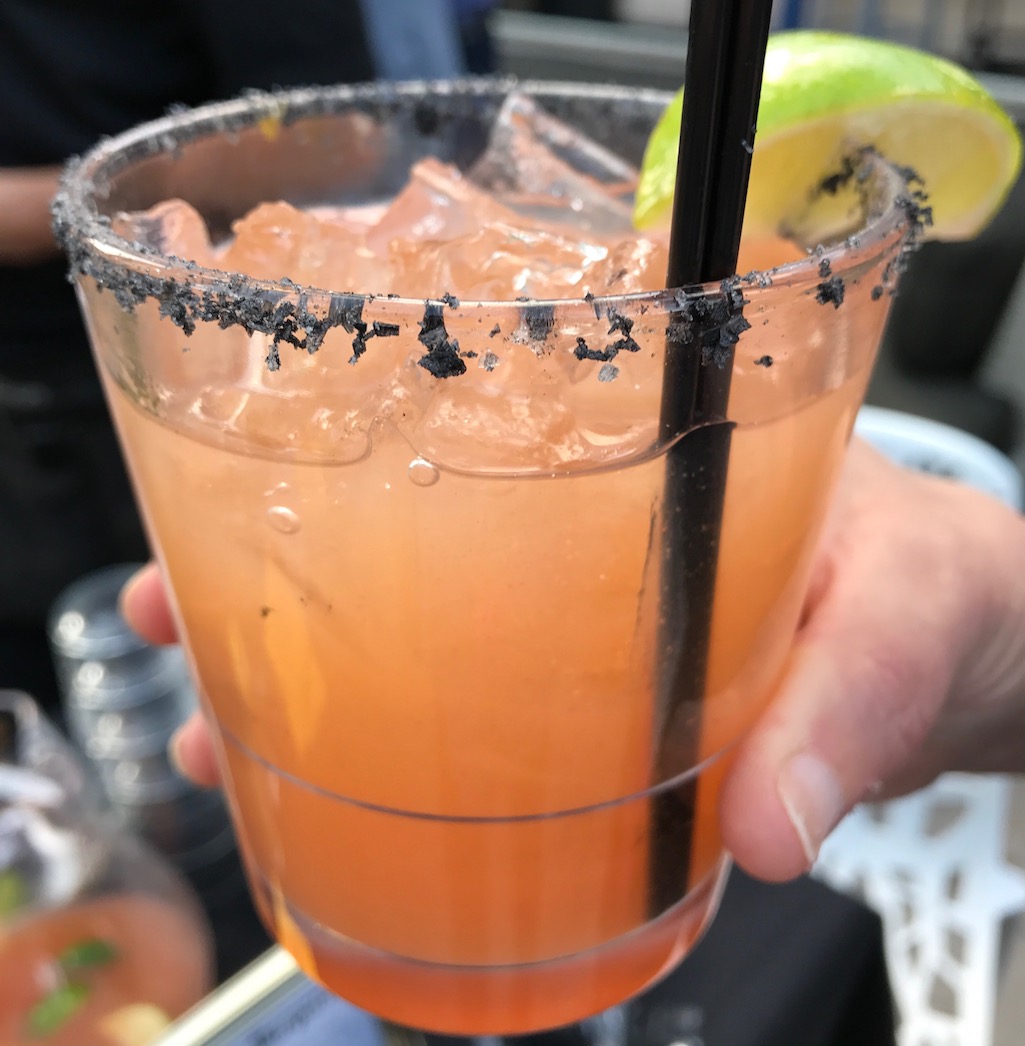 Whether you visit to watch a magnificent sunset or stay for the party crowd that comes alive at night you will have a good time. Lots of pretty bites to eat at a place that is definitely one to see and be seen. It's a really unique choice among the restaurants in St. Petersburg  FL.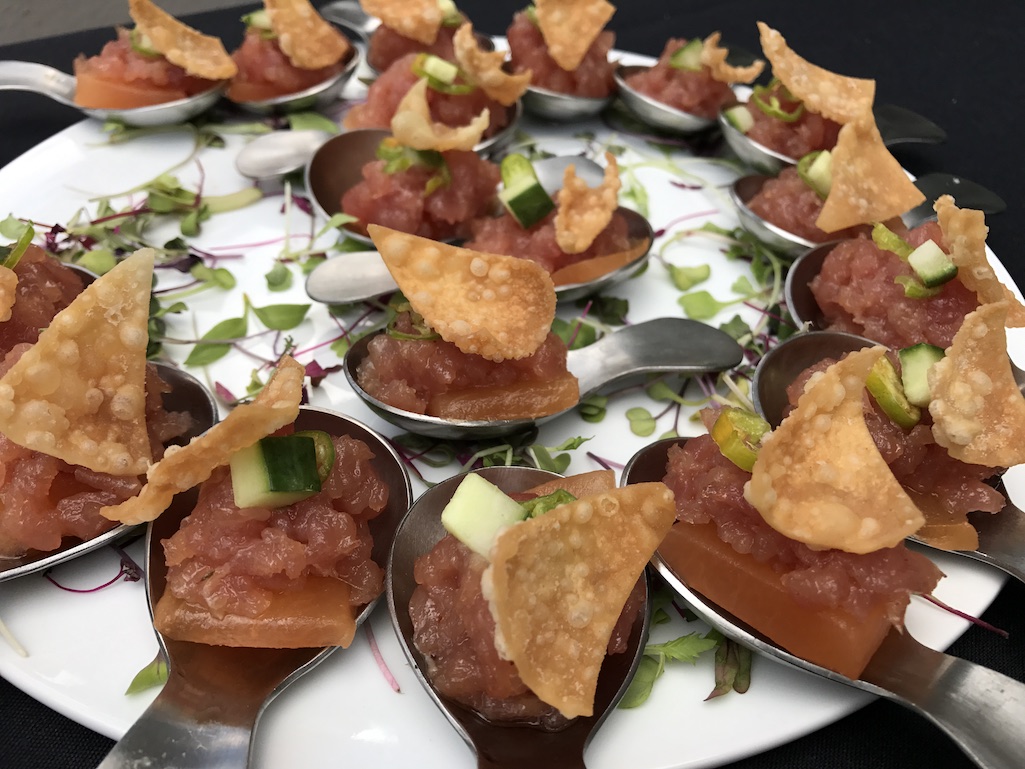 Fresh seafood appetizers at The Canopy in St. Petersburg Florida
Another iconic spot is the Don CeSar Hotel on St. Pete Beach. Locals and visitors call this landmark "the pink palace." Around since the 1920s, it's been a romantic and remarkable place to stay or grab a meal and a drink for many years. It's one of the best restaurants in St. Petersburg FL.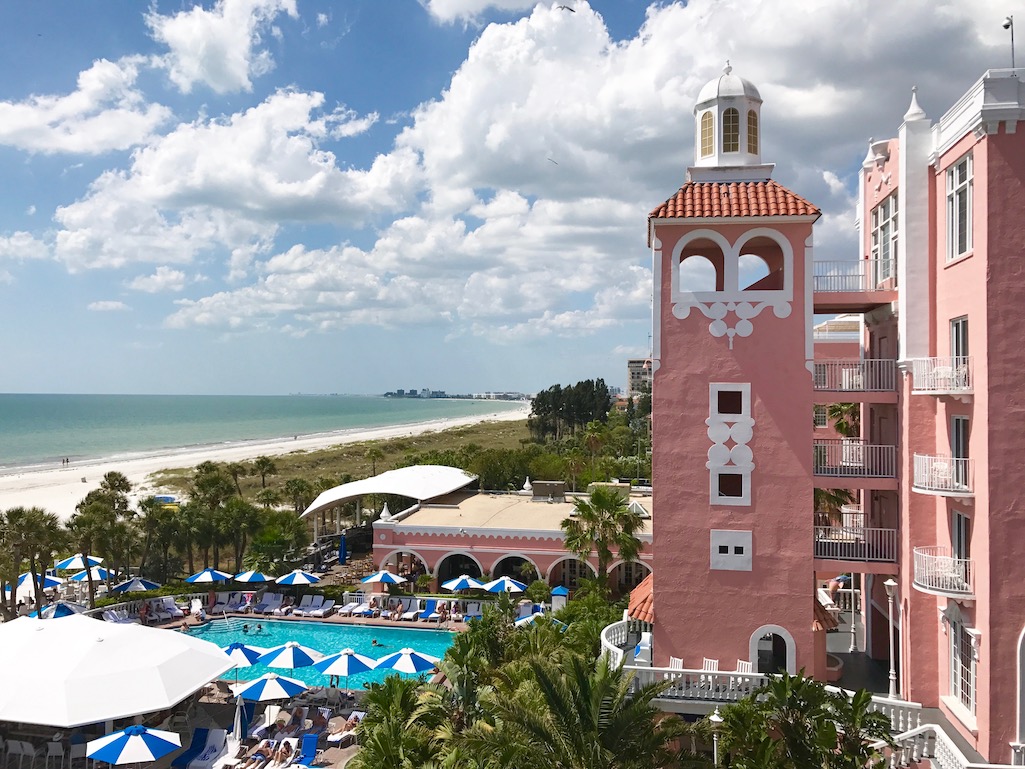 The bar on the beach at Don CeSar is one of my favorite places to grab a cocktail and unwind. It simply doesn't get much better than a visit to "The Don."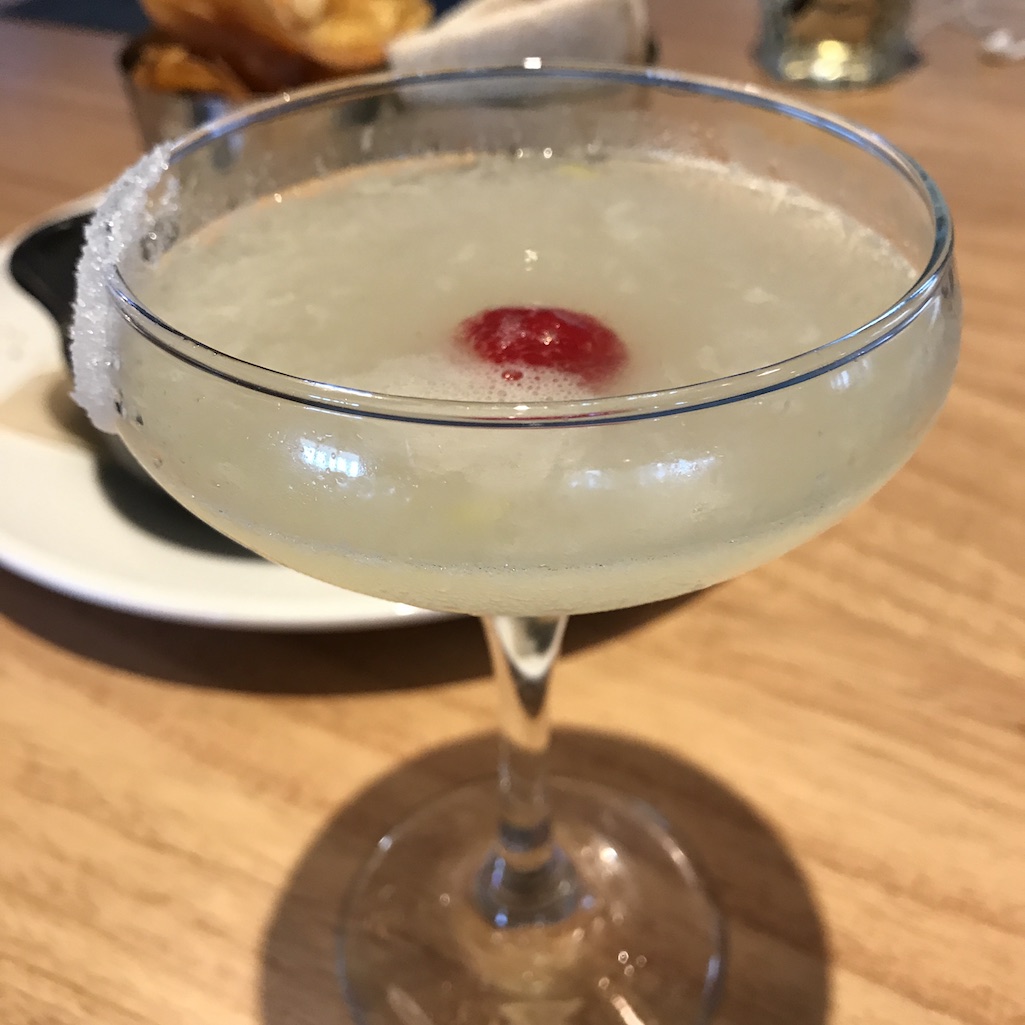 Unexpected Food Truck
During our visit, we stayed at a terrific Airbnb about a ten-minute walk from the downtown strip. One evening while we were wandering back to the house we smelled something wonderful. On a nearby side street, we spied a food truck. Our noses told us that we had to investigate.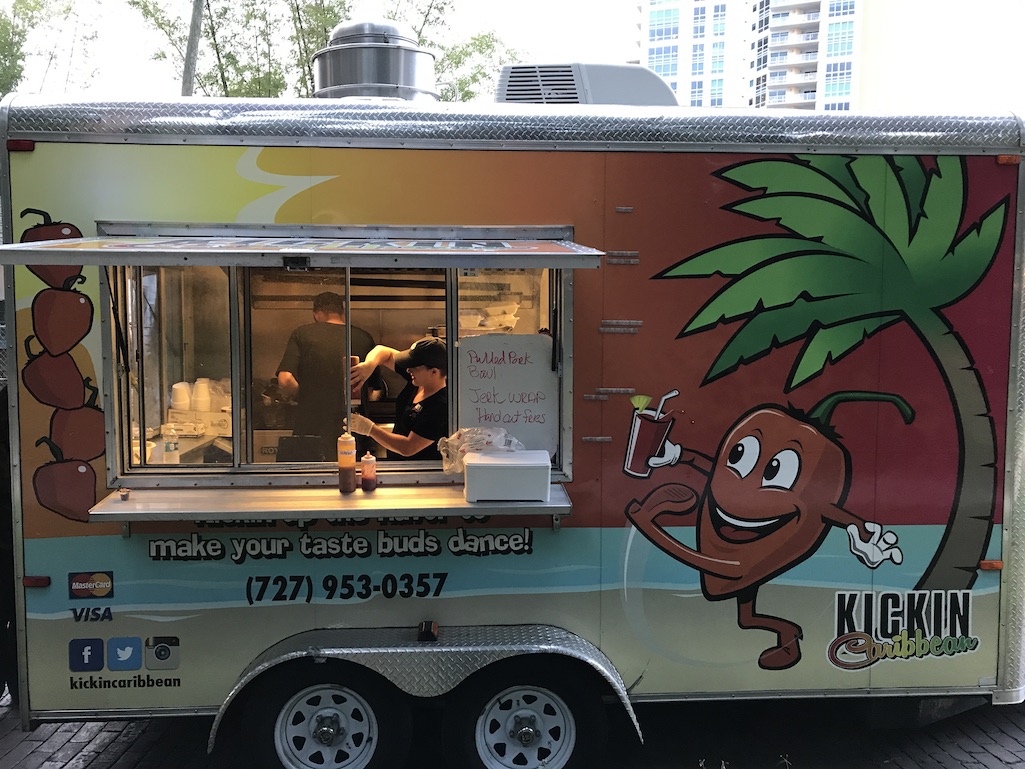 What we discovered was Kickin Caribbean. We were so glad we stopped. They were preparing food for a birthday party happening in a neighboring backyard. Although we had just eaten, the owner insisted we not only have a taste but that we take some food home.  Jerk chicken, mac and cheese bites, and more were piled into a container and we had a little Caribbean picnic with our Airbnb hosts. Although the hosts gave us a great rating (we gave them once too), they said we brought too much food into the house and laughingly joked we wouldn't be welcomed back.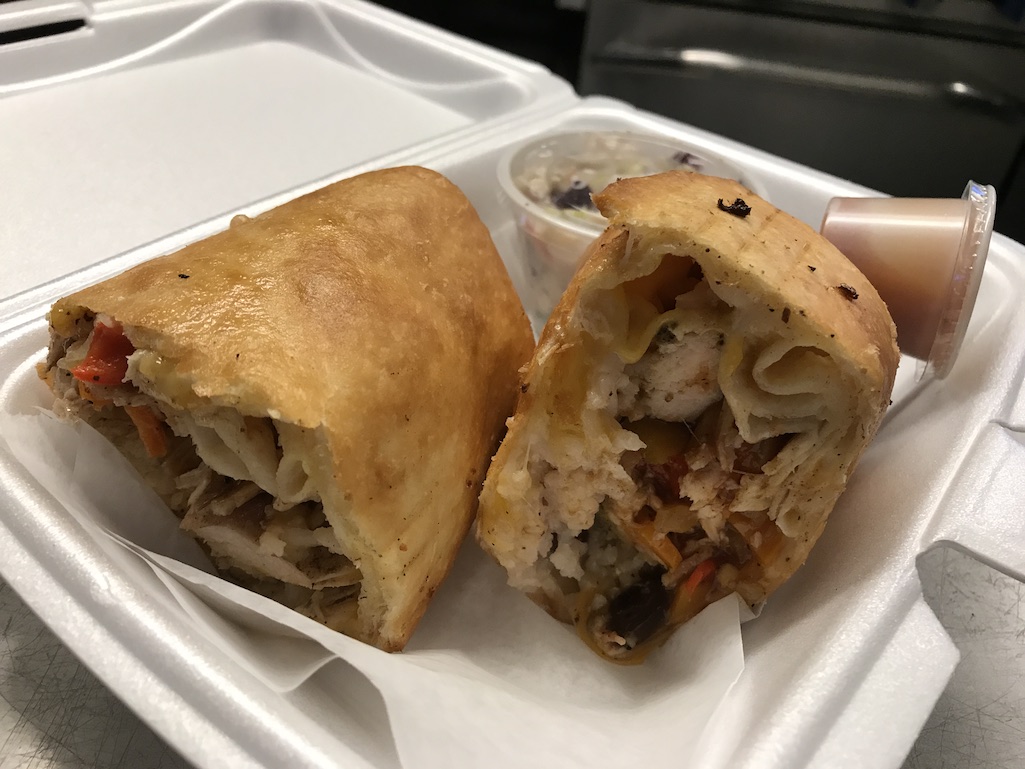 Drink With The Dogs
If you're animal lovers like us you will absolutely adore The Dog Bar. As the name suggests this bar welcomes owners to bring along their canine friends. The second location in St. Pete is modeled off their location in Charlotte, NC. All dogs and their owners must complete a membership form and show proof of vaccinations from a vet. They also require parvo/distemper as well. All dogs must be neutered, over one year of age, and well-behaved.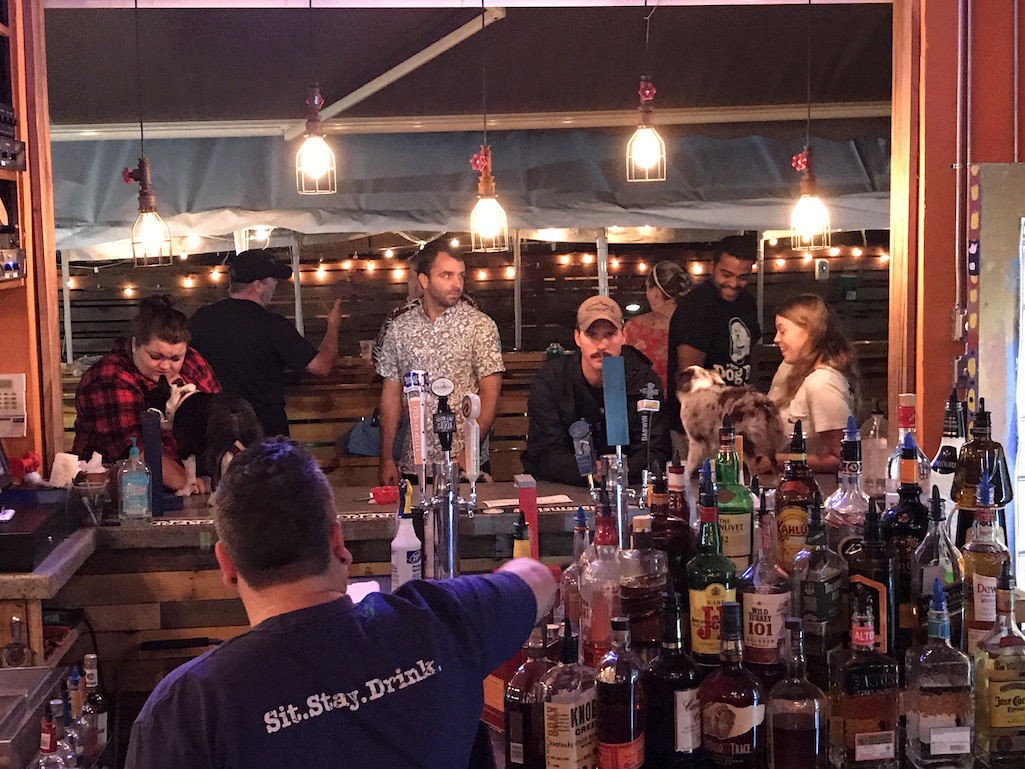 Dogs of all types and sizes were wandering around enjoying themselves as their owners sipped cocktails and beers and socialized with other dog-loving people. There's a separate area for the dogs "on-leash" and "off-leash" and an indoor area for people games like ping pong, corn hole, and more. So if you just want to watch the dogs that's ok too. We spent some time mingling among the pooches and it was great fun. They also have a really wide variety of local craft beers too!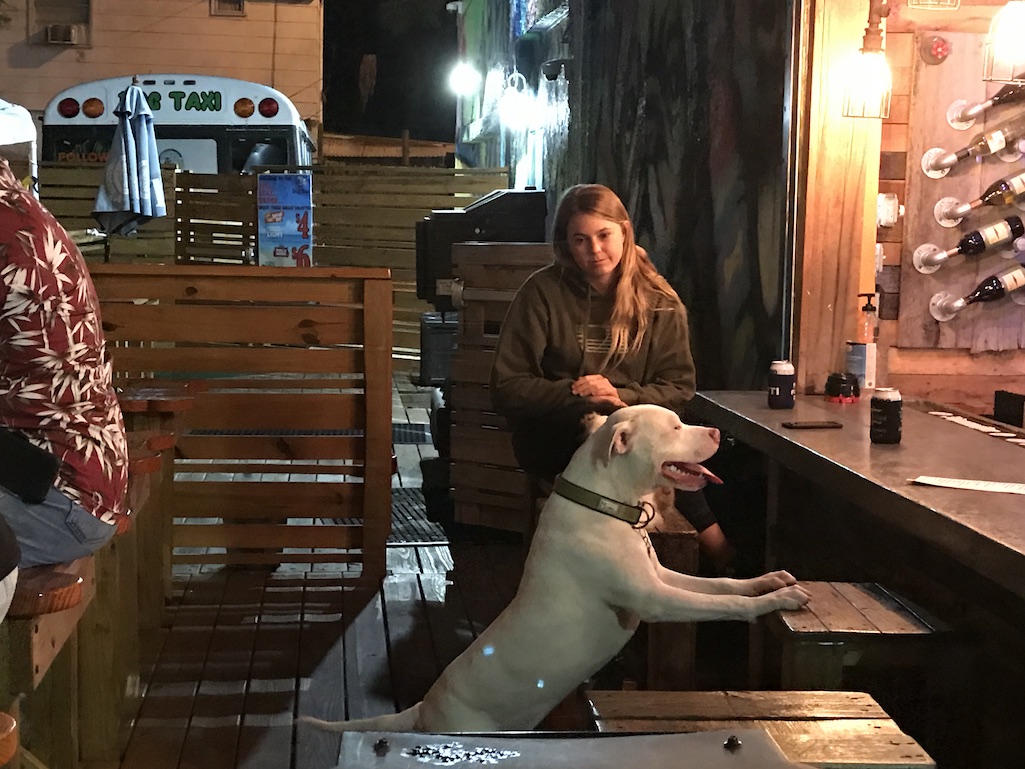 These are some of the food adventures we discovered in our short journey there this summer. We know this is just the beginning and that there's much, much more to eat, drink and do in sunny St. Petersburg.
Is St. Petersburg Florida Worth Visiting?
St. Peter restaurants and food scene is fabulous but while you're there don't miss the pristine beaches, world-class museums, and a vibrant community that heartily welcomes everyone, including the LGBT community.
If you have other favorite food spots in St. Pete please let us know in the comments below. If you want to learn more about restaurants in St. Petersburg FL check out their website at visitstpeteclearwater.com.
Special thanks to Visit St. Pete/Clearwater for all their help during our visit. Several of the restaurants mentioned in this post hosted us during our visit. As always, all opinions are our own and reflect our experiences. 
Pin This Post For Handy Reference For Your Next Visit to St. Petersburg, Florida