15 Best Cascais Restaurants
We have been living in the area of Cascais Portugal for over a year now. It's safe to say that we have had a lot of amazing meals here. Whether you want seafood, meat, or vegetarian, there are lots of phenomenal restaurants waiting to serve you the very best. It's fun to visit some swanky spots from time to time as well as enjoy cuisines from other countries. Many of our favorites are local "tascas" or family-owned and operated gems serving authentic local Portuguese fare.
People coming for a visit often ask for our recommendations. So, even though we're discovering new places all the time, we wanted to share some of the best restaurants in Cascais from our experiences so far. Here, in no particular order, are our 15 Cascais restaurants not to miss.
1. Flecha Azul
For a fantastic meal at a fantastic price on a side street just out of the touristic main drag, Flecha Azul is the place to go. This Cascais restaurant run by brothers who know how to keep you happy has become a favorite with those we have introduced it to as well. They offer traditional Portuguese meat, seafood, and vegetarian dishes. Every day also has a couple of specials, which are usually outstanding examples of Portuguese classics. They have omelets, salads, and pasta dishes too. Try the "pressed" wine here, which is a house wine that comes from a tap, quite pleasing and inexpensive.
There are tables outside as well as inside the simple restaurant with a humble ambiance. Service is fun and the brothers have a quirky sense of humor, best exemplified by when Diana asked for a small beer, and out came a beer in a tiny shot glass mug, which got a big laugh from everyone. This is one of those places you can always count on for ample portions, great food, and very reasonable prices.
2. Pizzeria Il Siciliano
There is no lack of Italian food restaurants in Cascais, and Pizzeria Il Siciliano is one of our favorites. The owner is from Sicily, knows how to make a great pizza, and has the oven to do it. The service is friendly and the menu offers all the hits. Pizzas, pastas, salads, and more. A fun way to start is with a delicious bruschetta. This is also a good place if you have a group because the food is easy to split and there is an extensive wine menu. It's again on a side street away from the main touristic area so you will find plenty of expats and Portuguese locals dining here.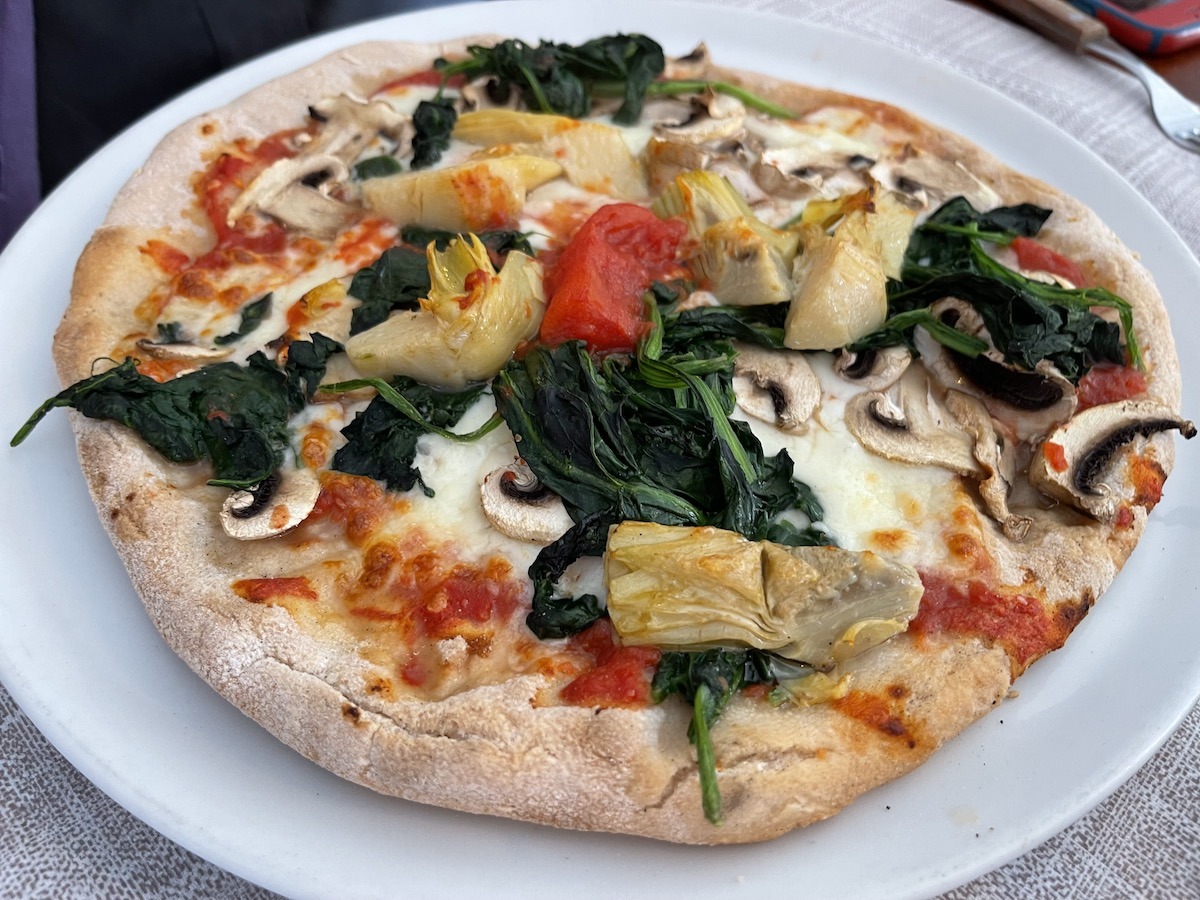 You're not cramped inside and there are a few tables out front when the weather permits. Desserts are highly regarded here too. For those who need a gluten-free option, they'll find it available and tasty here. The restaurant is popular, so go early or make a reservation to be sure you don't have to wait. They do a brisk takeaway/delivery business all over Cascais Portugal.
3. Hifen
For a delicious meal with a view of the water, Hifen is one of the best restaurants in Cascais. This hip restaurant offers an eclectic range of dishes that are great for sharing. Petiscos are like Portuguese tapas and make for a fun meal with a variety of tastes. Meat, seafood, and vegetarian options come with Portuguese, Asian, Mexican, Middle Eastern, and European influences. Tuna Crudo and tabbouleh, duck tostada, shrimp tempura, and veal tataki hint at some of the unique dishes.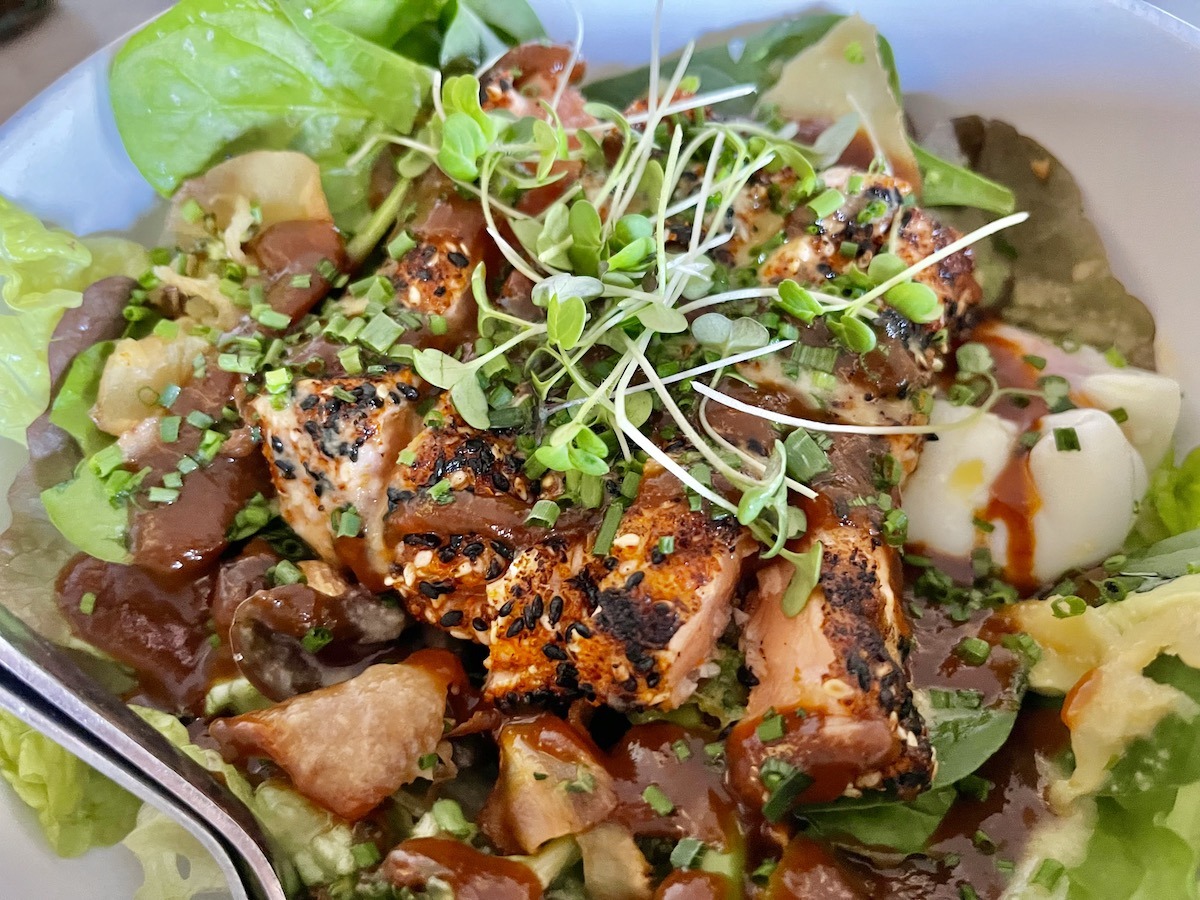 There are lots of veggie options "from the garden" as well as fun starters like chips from the world, featuring cassava, yam, and parsnip fries with a delectable dipping sauce. Add an excellent drinks menu and a beautiful view of Cascais Bay, and you're set for a fabulous time. Weekends may have music too, but every day is busy, so be sure to make a reservation at this trendy, popular spot.
4. El Caminito
We discovered El Caminito after walking through the side street where it sits quietly just out of the Cascais touristic fray. If you're a meat lover, then you won't want to miss out on this Argentinian grill that specializes in meats actually from Argentina. The wine list is good and reasonable and there's a lovely view from the top floor. Side dishes, seafood, and vegetarian choices are satisfying as well. A great option is the combo platters, different meats served on a platter together so you can try a few different cuts from picanha to entrecote. We went with a party of four and had more than enough meat with a few sides and starters so that we were too stuffed even to try dessert. Sangria and cocktails are available too.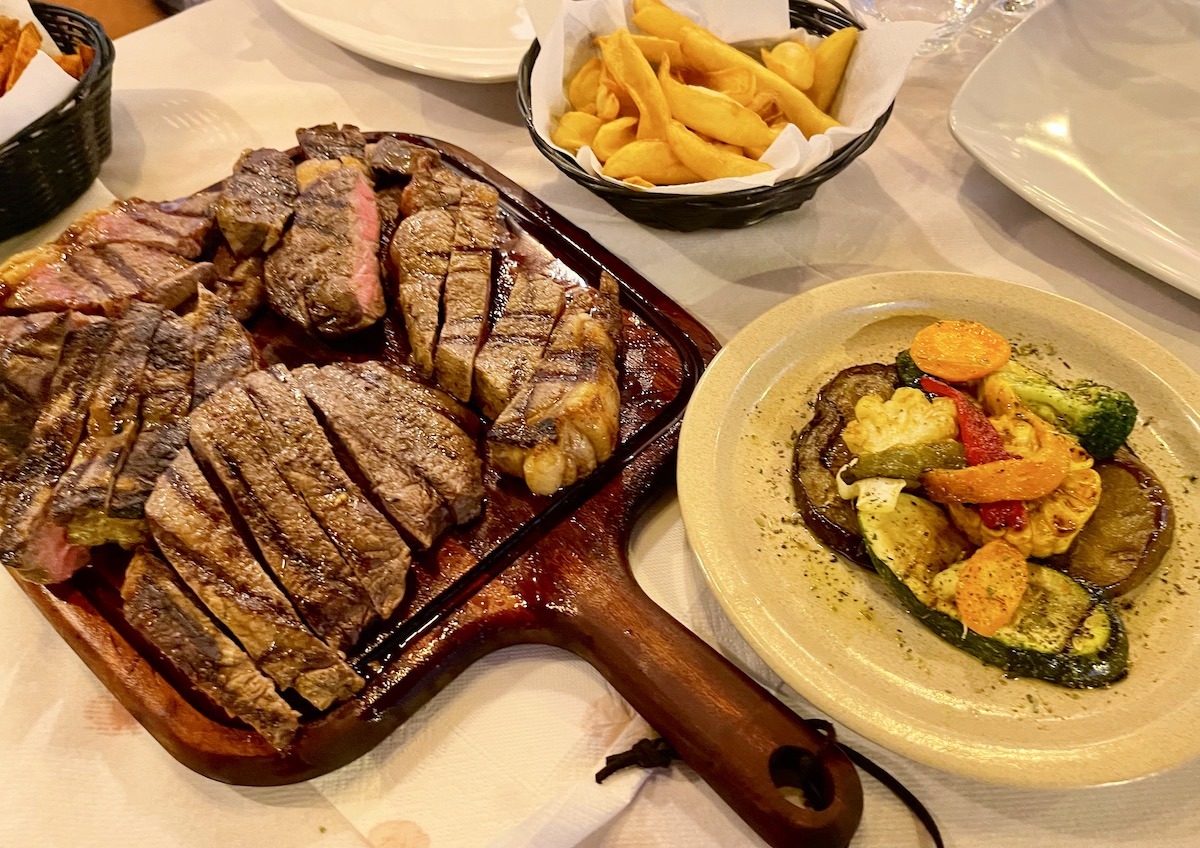 The service is delightful and the place is energetic but quiet enough that you can hear the people you are dining with, which in some places isn't that easy to do. Inside a house in the historic center, this Cascais restaurant is truly a hidden gem. But because the locals know all about it, make a reservation.
5. LovIt
LovIt is one of those places that you go and know you will never be disappointed. The  Cascais restaurant's outdoor dining area on the Casa da Guia grounds is large and that's a good thing – because it always fills up. There's dining inside too if the weather doesn't cooperate. But being outside with a view of the coastline makes it so special. As does the menu, which is ridiculously good for people who all want something different. Sushi here is offered in abundance, even up to a 40-piece platter.
We love the burgers and sandwiches, including the monster chicken "burger," which actually includes 2 large pieces of deliciously crisp-crusted chicken served burger style on a bun with fixings and fresh-made potato chips on the side. The salads are ample and delicious with chicken or shrimp accompanied by fruit, veggies, lettuce, and enhanced with a tasty dressing. Cocktails, wine, beer, and some seriously delicious sangria options round out the meal. We love going to LovIt for lunch to take advantage of the great scenery as well as the food. When you and yours want everything from a Portuguese prego to a barbecue burger to California rolls with fantastic service and an incredible view, LovIt has it all.
6. Furnas Do Guincho
Cascais offers more than just its historic center and downtown area. Heading up the wild western coastline, you'll encounter beautiful hotels, historical lighthouses, and gorgeous views of the rocky coast. There are plenty of spots to stop and enjoy the beaches or grab a snack. But for a special dining experience with spectacular views, we love the picturesque Furnas do Guincho. White linen tablecloths and attentive service punctuate the elevated menu and fabulous views. Meat and seafood are given equally upscale treatment. Fish lovers will find it hard to resist the fresh-caught selections served with flair. Meat lovers will enjoy top-notch choices like chateaubriand and filet mignon.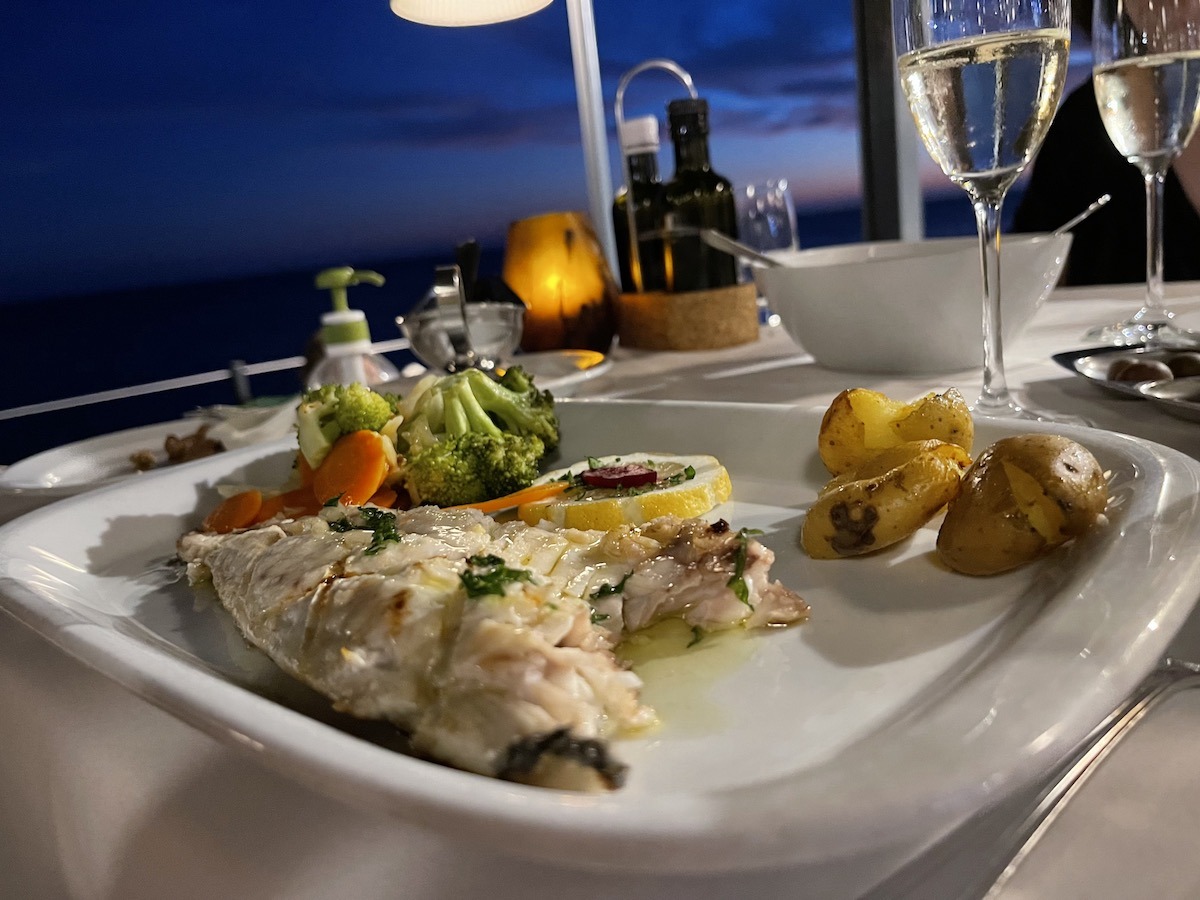 Watching the sunset from the terrace while sipping a cocktail or a glass of wine is the perfect way to celebrate just being alive. Enjoy the showy presentation of a large fish baked in a salted crust or taste local seafood stew with enough for two and feel the glow from outside and within. It's a little on the pricey side but worth the splurge. But, if you're watching your budget, it's the perfect spot to go for a drink, have an appetizer, and still enjoy the wonderful view.
7. Local
Local is one of those places that makes eating healthy foods look and taste like something special. Their focus is on taking fresh, high-quality, and nutritional ingredients and turning them into meals that taste like a treat. We love the approach that feels fun and colorful on your plate. Vegans will find a lot to love here, but you don't have to be vegan to get a great dish here. We had both falafel and octopus dishes for lunch and each plate was just as inviting and satisfying as the other. They offer diverse and global flavors like poke bowls and turmeric chicken with couscous.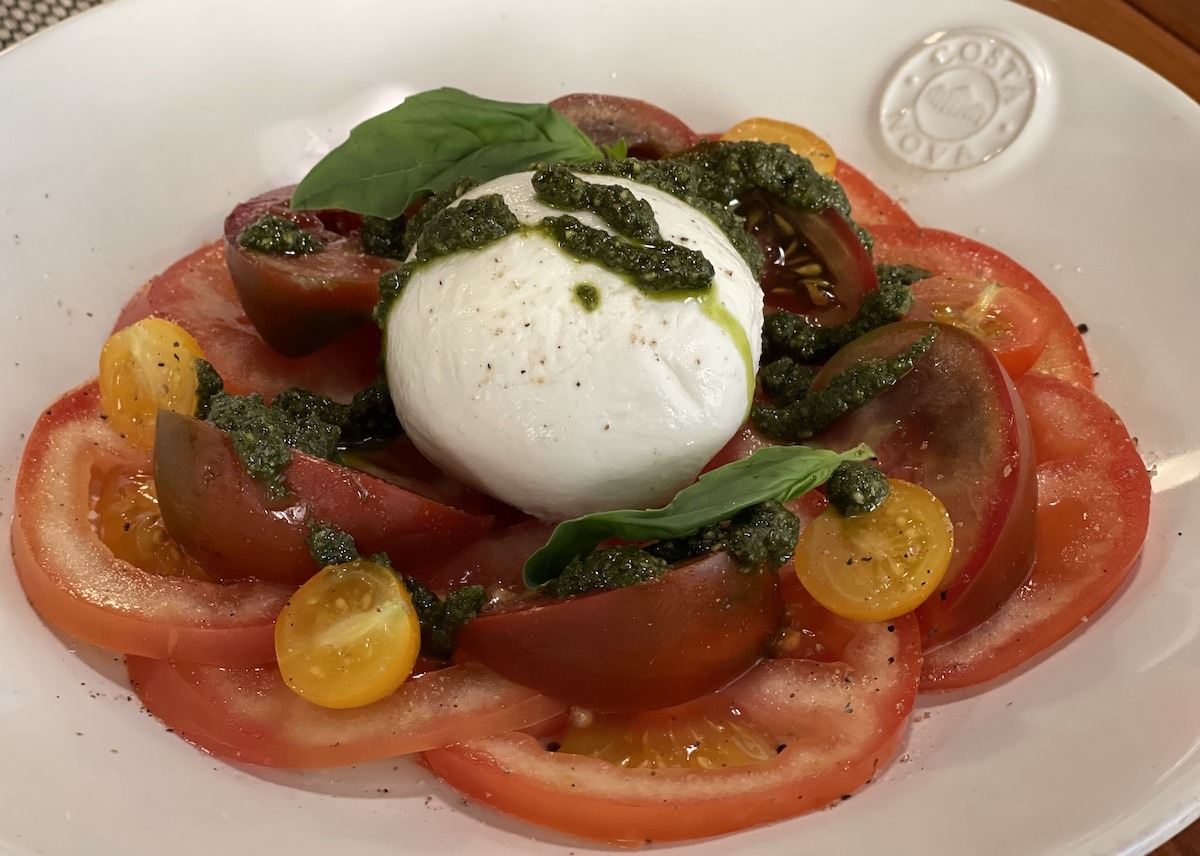 The service is friendly and fun too. They don't add preservatives or refined sugars to their foods, so what you get is naturally tasty. Devoted to working with local producers using sustainable practices, Local has a few locations including Cascais Mercado do Vila, all of which make seasonal eating of real food delicious. This is a place you can feel good about while you're there and after you're done because you know they're doing their part to be custodians of our planet.
8. Bullguer
When you just want to have a good burger, Cascais has got you covered. Among plenty of options, we pick Bullguer for its honest smash burger approach and really, really good prices. Located in the heart of the downtown square, Bullguer is rather new to Portugal. The concept comes from a phenomenal success in Brazil where it started in 2015 and now has 30 stores. Cascais is the first location in Portugal, but we're sure there will be others. The burgers are Angus beef, fresh never frozen. Add yummy brioche buns and crinkle fries – yes, we said crinkle! – which you can even get topped with cheese, and we're in hamburger heaven. Various options include bacon, cheese, lettuce, tomato, pickles, and a variety of sauces. They also have hot dogs, and veggie and fish burgers too.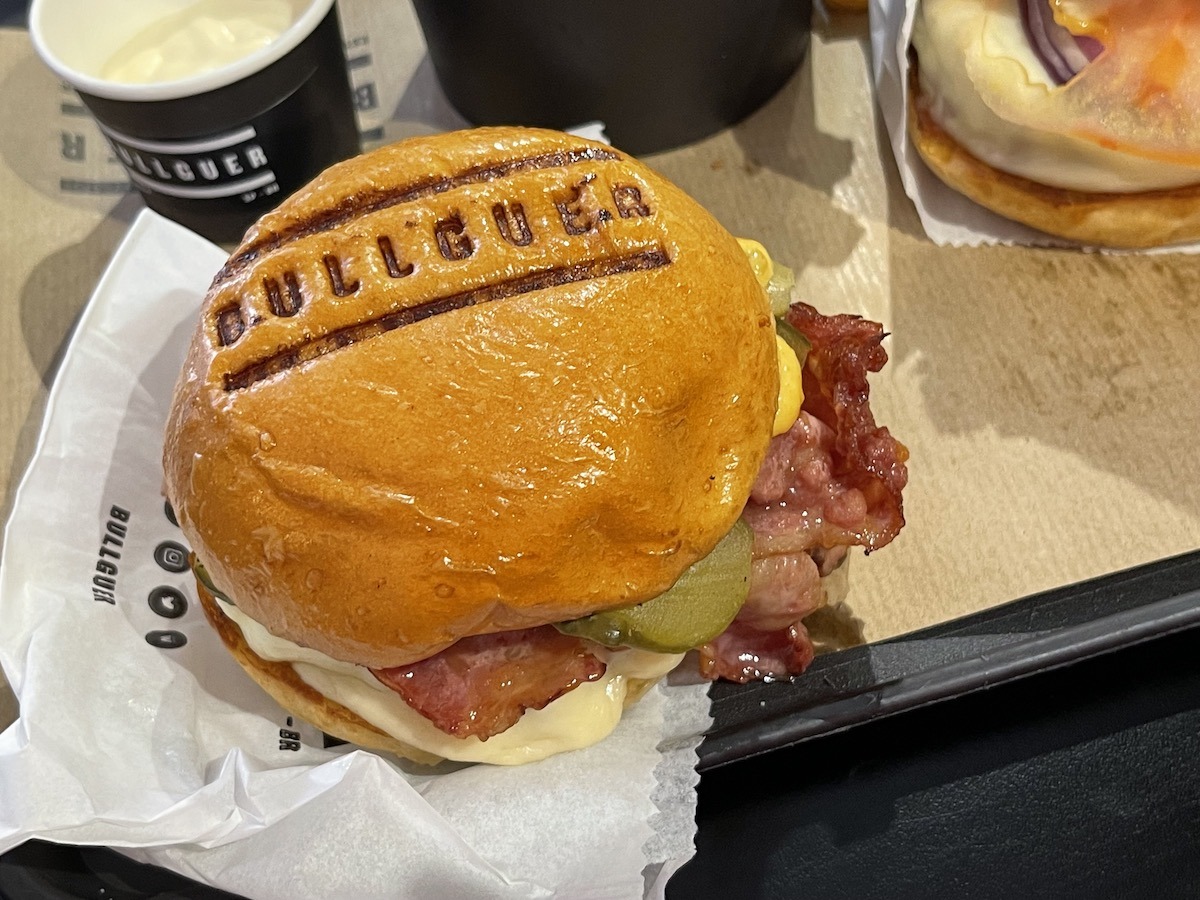 Inspired by the Shake Shack smash burger concept in the U.S., three young entrepreneurs started Bullguer, which is now selling about 3 million burgers a year. It's not a fancy place and is surrounded by the bustling action of Cascais downtown. But if you want a satisfying burger that doesn't disappoint, get one at Bullguer.
9. Marisco Na Praça
For the real seafood lover in you, check out Marisco Na Praça inside the Cascais Mercado da Vila. You can order some items off of the menu, but for the best fresh seafood there is, go to the display to look at what they have on view and order what you like. There are so many different types of shrimp, clams, and other shellfish, and for a special treat, slipper lobsters are only found right in Cascais Bay. Then you tell them how you want your catch cooked – steamed, grilled, sautéed in garlic and olive oil, whatever you want. Your wish is their command. Go back to your table and enjoy some delicious sparkling sangria, have a starter, and just kick back. Or stick around and watch the talented chefs prepare your dishes.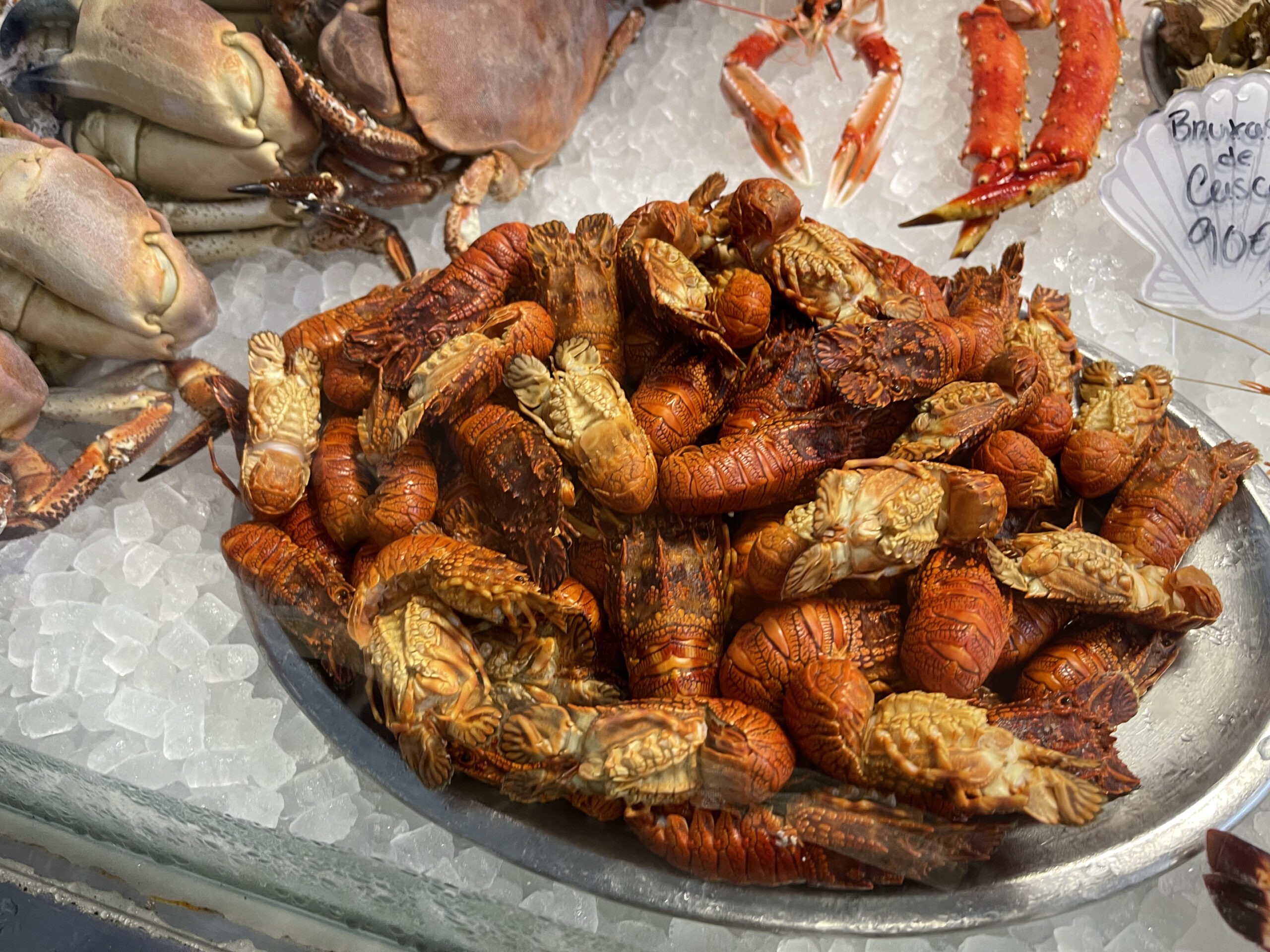 You can dine inside or on the patio aside the main floor of the mercado. Either way, you'll experience an explosion of flavors that remind you of why fresh seafood is so amazing. This is the place we learned that the beef sandwich called a prego is the preferred dessert of locals. Something about the simple bread and meat combination provides a sinfully satisfying finish to a seafood meal. If you're looking for more of a seaside view Marisco Na Praça also has a location at the Cascais marina.
10. El Clandestino
The new kid on the block El Clandestino is a fresh concept that combines Peruvian flavors with Asian influences and integrates some local twists. Peruvian classics like ceviche and lombo make their way onto the menu. That's no surprise as Peruvian chef Teófilo Quiñones worked in a Michelin restaurant in Lima. He decided to unite with family in Portugal and bring big, bold flavors to his sparkling new culinary home. The fusion-y menu includes osso buco and salmon bao, Vietnamese crepes, mushroom risotto, and dijon chicken, just to name a few of the soul-satisfying dishes. There are also some great drinks, not the least of which is the Peruvian pisco sour.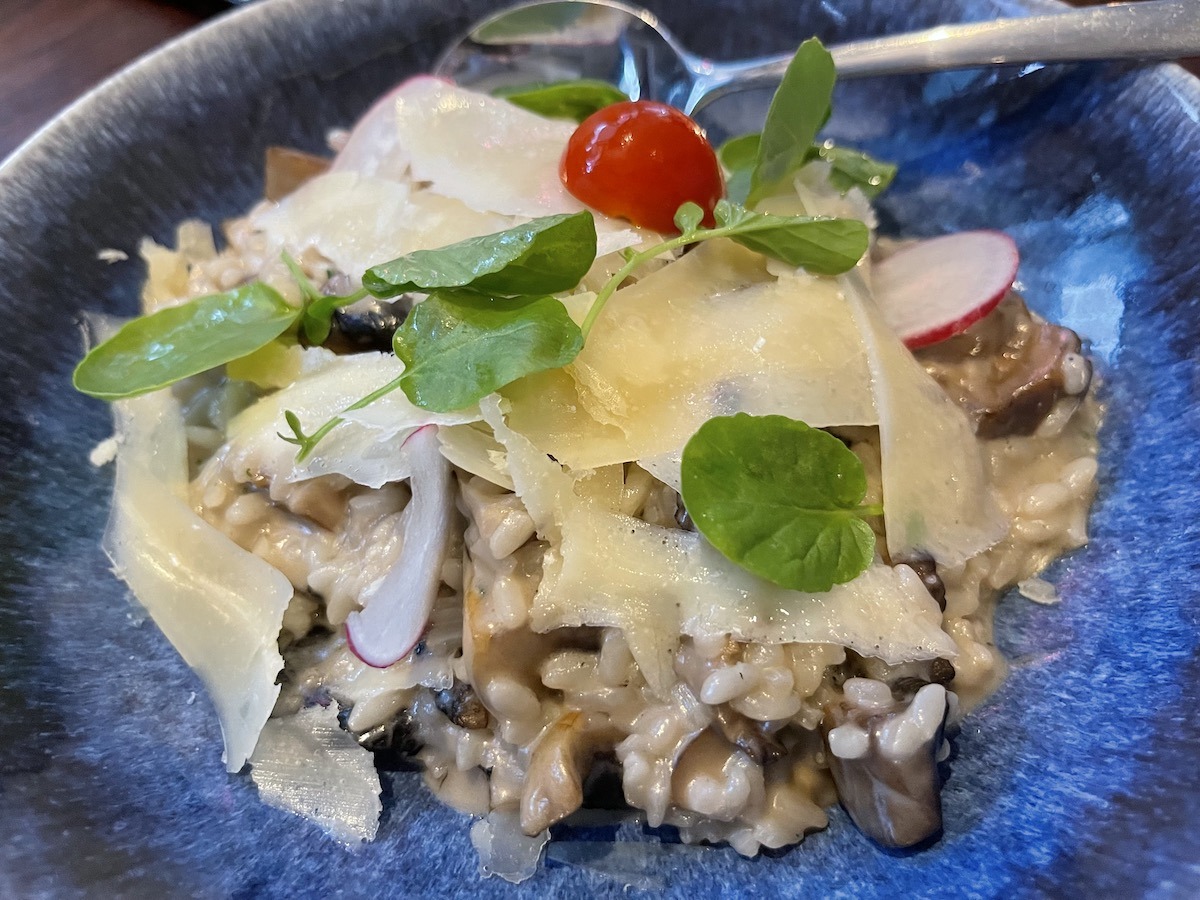 The place has a fun and funky vibe, from the very cool backlit cityscape art piece to the long bar and outdoor seating. Music adds to the lively atmosphere with a DJ on Friday and Saturday nights until the wee hours. For something unique both on the plate and in the air, we love the positive vibes and creativity flowing at this smile-making spot.
Pro Tip:

If you have a sweet tooth, stop by Sacolinha or Bijou for delicious bakery treats. Try the Jesuita, Noz, or Areias, all specialties of Cascais.

While we continue exploring the best restaurants in Cascais, we know that these spots are already ones we visit regularly and recommend to friends. We'd love to hear how you like them and others you discover when visiting Cascais Portugal.
11. Moules & Gin
If you're a fan of mussels, then you will be delighted with Moules & Gin, which as the name says, has lots of mussels. With so many variations in substantial portions, take your mussel-loving friends with you, share a few different choices, and have a feast. Of course, it doesn't hurt if you're a gin lover too. Tasty gin & tonics and creative cocktails featuring the botanical brew ensure that gin shares the spotlight with mussels in an oh-so-perfect combination. The moules or mussels are prepared in various sauces like classic French meuiniére, Thai, pesto, Mediterranean, beer, mustard, and more.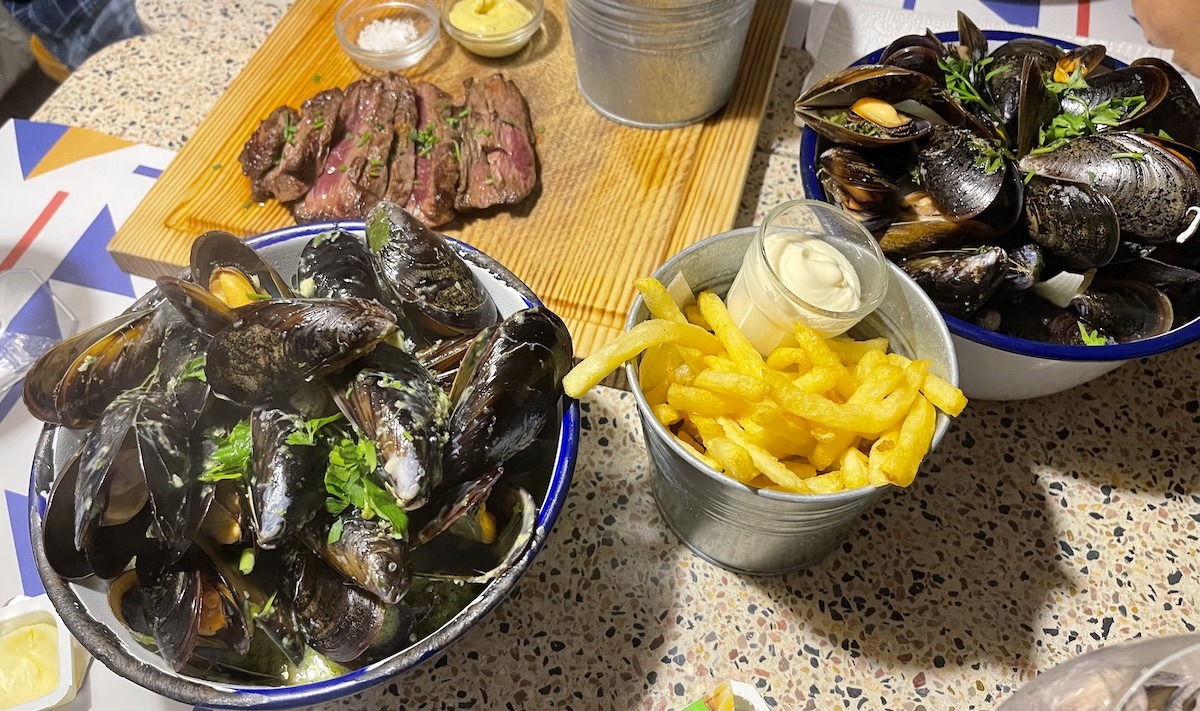 If you're not into mussels, don't worry. There are excellent beef options too. The crispy fries the perfect and worthy accompaniment. Enjoy a winning combination (or two) in a cozy place where the personable staff makes it easy to settle in and linger over a great meal. Be sure you bring cash or a Portuguese credit card as they don't take anything else. Reservations are recommended too.
12. Café Galeria House Of Wonders
Vegetarians will find their pot of gold at the end of the eating rainbow that leads to Café Galeria House of Wonders. This colorful, easy, breezy spot is so inviting that non-vegetarians cluster here too. There is a gardeny terrace out front and one with a smidge of ocean view on the roof. In between are levels of the cheeriest of Cascais restaurants full of fresh fruits on display and quirky artwork popping up everywhere. The menu is visual too. You don't get it on a piece of paper. Instead, you walk inside and see a veritable cornucopia of offerings right before your eyes. The person in charge explains to you what each dish is and all of its ingredients, what sides it comes with, and helps with any alterations or recommendations you may wish. You place your order then go back to relax in your cozy spot and wait for the magic to come to you.
It's even more fun to hang out if you do so with some of their fresh fruit juice combinations or a unique and tasty sangria. The creative dishes range from vegetable-stuffed tarts, veggie burgers, and shakshuka, to Buddha bowls, curries, wraps, and more. The bohemian vibe encourages you to slow down and relax awhile. Many of the dishes can be easily made vegan, and the staff seems to be having as much fun working there as you are dining. Go when the sun is out and there's a breeze. But be sure to get there before the crowds kick in, as they always do. When you're done, stroll around the fun ceramics shop on the bottom side of the building and get inspired with beautiful things to take back to your own kitchen.
13. Mar Do Inferno

When we arrived in Cascais and asked Portuguese locals where to get great fresh seafood, they often provided the same response – Mar Do Inferno. This icon of Cascais restaurants has been the go-to spot for seafood lovers in the area and has reached an almost iconic status. So when we went, it was no surprise that we saw the many reasons for the enchantment. Freshly caught seafood expertly prepared, a wonderful indoor/outdoor terrace overlooking the sea, funny and helpful waitstaff, and a relaxed but elegant environment all make for a deliciously memorable meal. There are plenty of meat and vegetarian items on the menu as well. Have your choice of lovely Portuguese wines or a few stalwart spirits for those wanting a stiffer drink.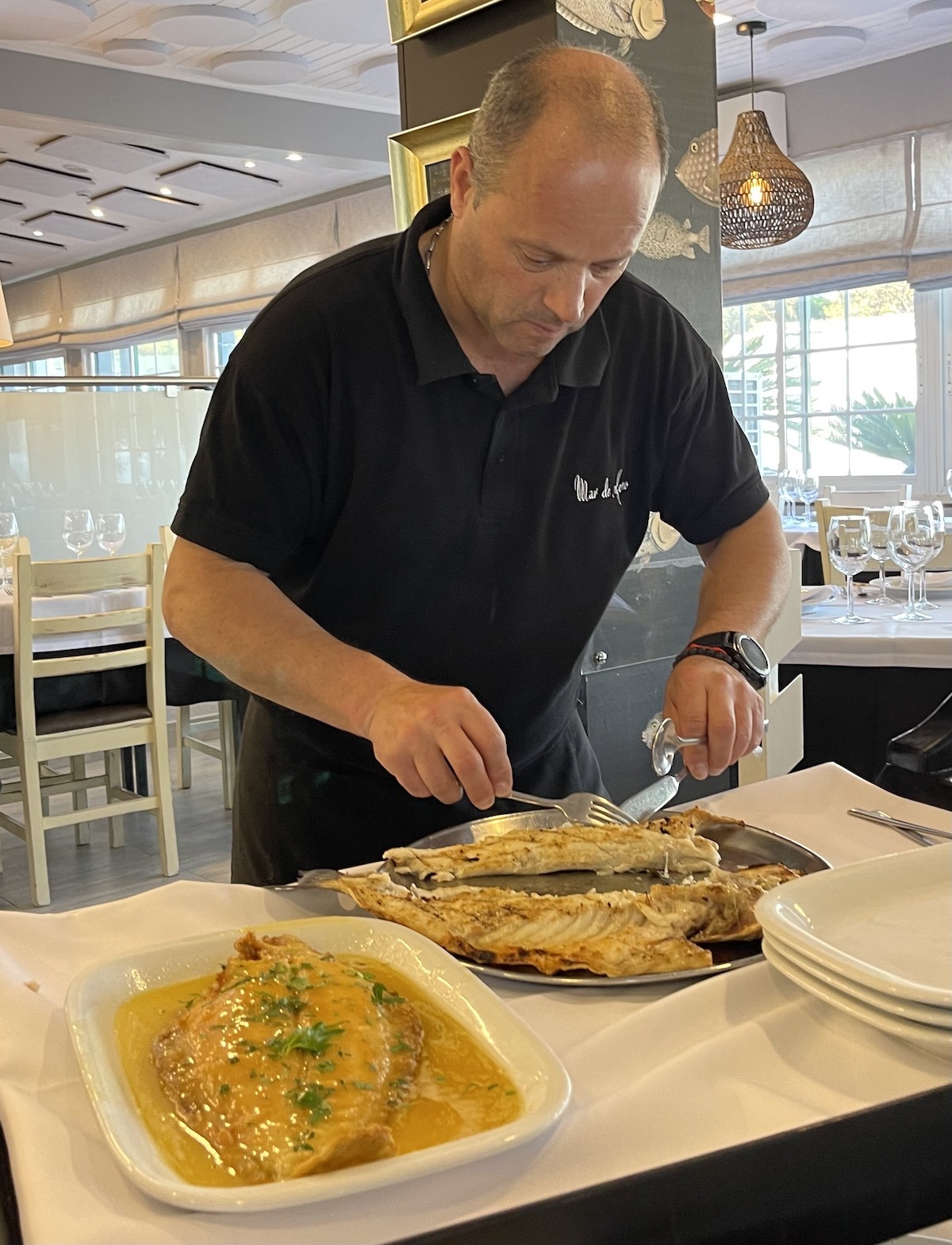 We tried several of the fresh fish offerings, including one sea bass that was big enough for two and a sole meuniére that was out of this world. Sitting on the terrace provides a cliffside view of the ocean near the famous Boca do Inferno (hellmouth) sea cavern. Finish it off with a crispy-topped crème brulée and Portuguese coffee. It's a pricey evening but provides a delicious meal and a fantastic view for those who want to experience excellence in fine dining.
14. Taberna Clandestina
Sometimes you just want to be in the thick of things. The "Yellow Street," so known for its yellow painted pavement punctuated with colorful fish and other bright images, is a central hub for dining in Cascais. When the weather is good, you hardly notice the painted street because it is covered end to end with people happily enjoying their outdoor tables in the middle of the pedestrian-only street. One of our favorite spots in the midst of all this merriment is Taberna Clandestina. Great for either lunch or dinner, the varied menu is conducive to dining, drinking, and chatting the time away with friends.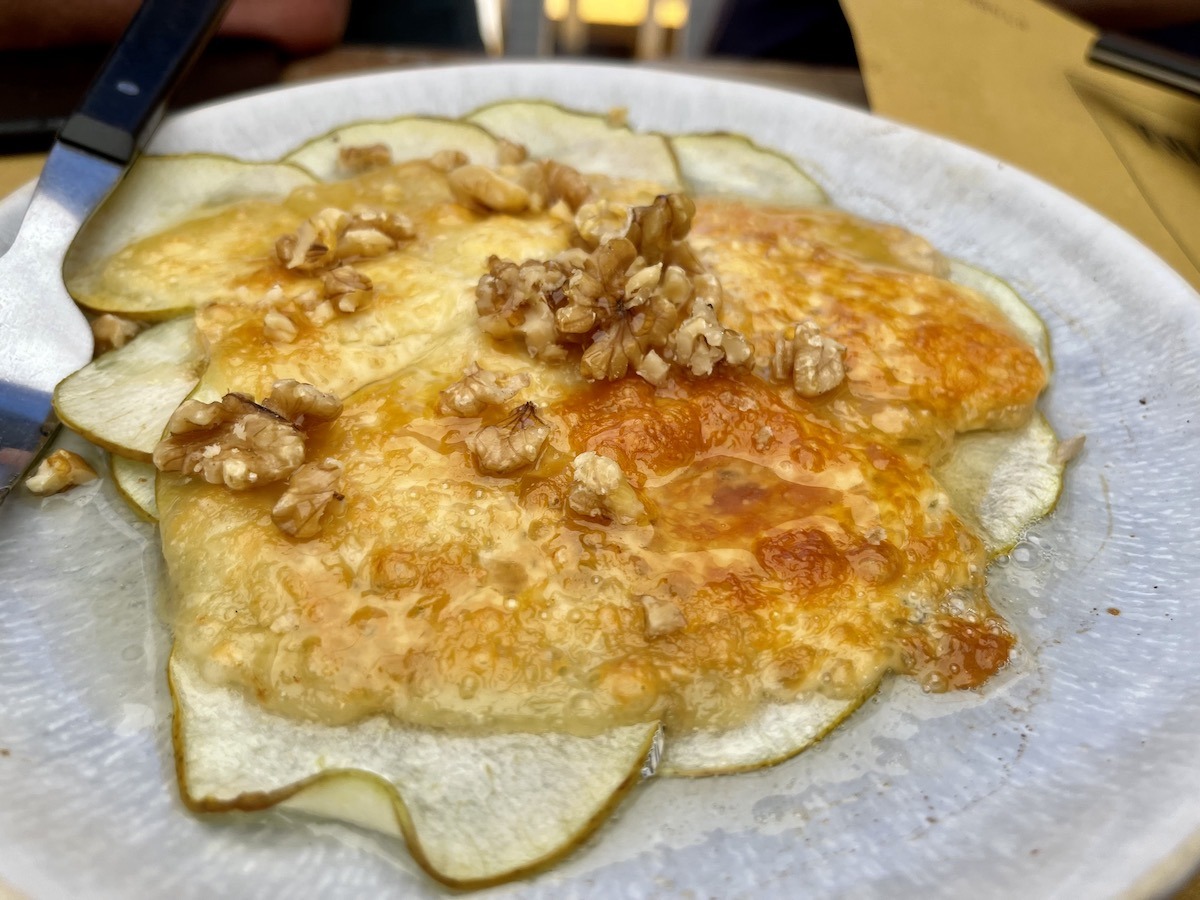 The menu is varied, with Portuguese and Italian influences. Focaccia, bruschetta, and burrata cheese make a great place to start. They also offer a variety of salads with fresh ingredients and interesting combinations. But what has us hooked are the platters offering charcuterie, cheese, fruit, and accompaniments in a variety of combinations, great for sharing around the table. Paired with an excellent gin and tonic, some lively sangria, or local beer or wine, this makes for the perfect meal to nibble while sharing stories and ideas among friends, old and new. It does take a short but steep climb to get to the yellow street, so wear comfy shoes and take your time if you plan to walk to it. Once you arrive, treat yourself to whatever looks good, and don't be afraid to start a conversation with other diners. This is one of the best Cascais restaurants where people love to share their good mood.
15. Manjar Da Vila
If you want to go for an authentic family-run "tasca" experience just a few blocks away from the main hustle of downtown Cascais, Manjar da Vila is just the spot for you. This is really a local's favorite among Cascais restaurants, which is easy to tell by the fact that it's always full. The menu is small and very Portuguese. There is a prato do dia or meal of the day, which is a great value as it comes with a starter, drink or dessert, and main course for one low price. We've had different meals such as lemony chicken, grilled fish, and pork and clams stew, all delicious and with a homemade feel. Typical Portuguese items are very common here, including soups that taste like a bowl full of comfort. House wine is great and affordable, and the service is friendly and attentive.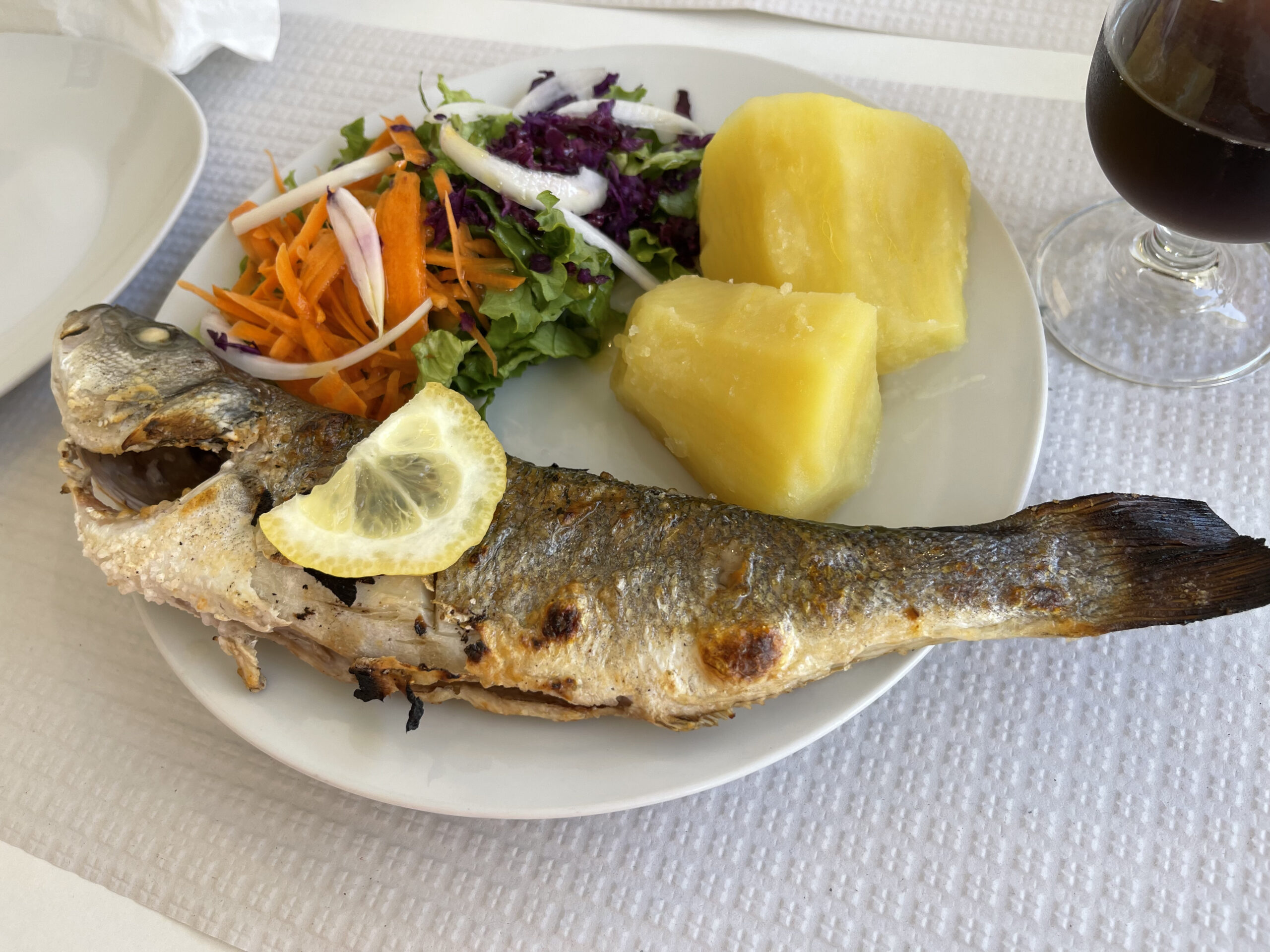 Customers are treated like family and with just a few tables inside and out, you feel special when you are invited to take a seat. They have been known to host live fado performances in the past but whether there is music or not, you will be humming a happy tune after dining in this welcoming, and an affordable gem.
Thinking of Moving To Portugal?

Check out our latest ebook "101 Tips For Moving to Portugal and Once You Arrive". We provide first hand experiences of our moving to and living in Portugal.
Pin It For Later