When visiting Amsterdam (Link) we fell in love with many of the local dishes, including these puffy little mini-pancakes. Poffertjes are a traditional Dutch treat that is perfect for breakfast, brunch, or even dessert. These mini pancakes are light, fluffy, and delicious. They're typically served with powdered sugar and butter, but you can also add other toppings like fruit, Nutella, or whipped cream.
Jump to Recipe
History Of Poffertjes
Poffertjes have a long and fascinating history in Dutch food culture. The exact origin of poffertjes is somewhat shrouded in mystery, but it's believed that they were first created in the Netherlands in the 17th century. At the time, Dutch bakers were experimenting with new types of pancakes, and poffertjes were born out of this culinary innovation.
Early versions of poffertjes were made by pouring batter onto the hot plates of a stove and flipping them with a fork. Over time, the recipe evolved to include yeast and other ingredients, and the distinctive poffertjes pan was developed to make them into the small, round distinctive shape we now recognize.
In Amsterdam, poffertjes are closely associated with the city's rich culinary traditions. They're a popular street food, sold by vendors at markets and festivals throughout the year. Poffertjes are also a staple of Dutch cafes and restaurants, where they're often served for breakfast or as a dessert.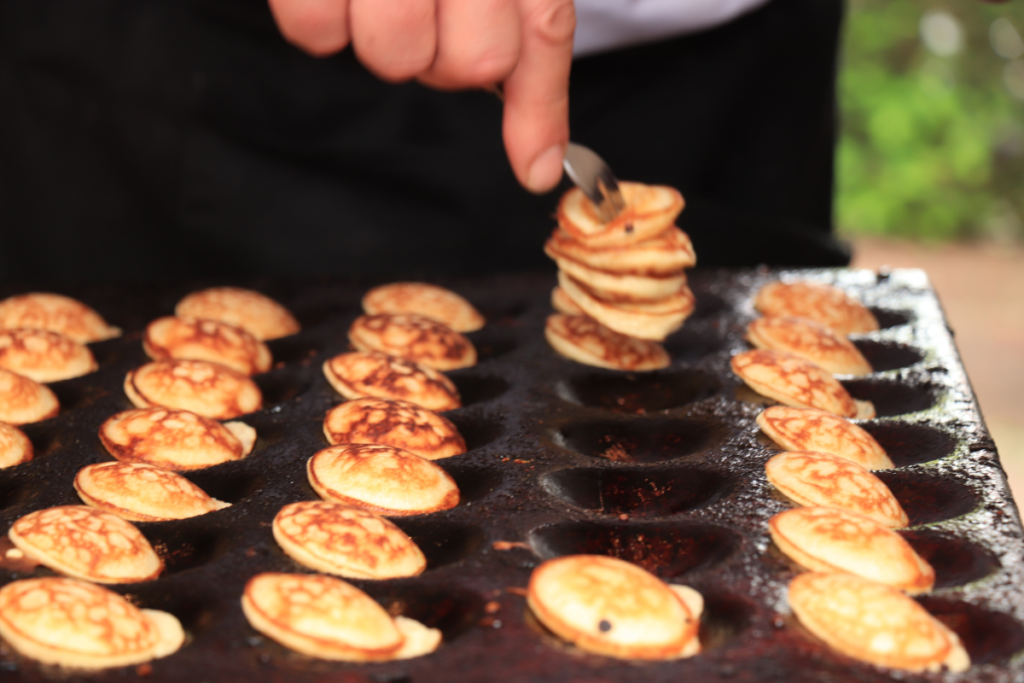 One of the most famous places to enjoy poffertjes in Amsterdam is at the Poffertjeskraam in the Albert Cuyp Market. This iconic food stall has been serving up delicious poffertjes for more than 100 years and is a great spot for anyone looking to experience the true flavor of Amsterdam.
Despite their popularity in the Netherlands, poffertjes remained relatively unknown outside of the country until the mid-20th century. However, with the rise of international travel and the growth of global cuisine, poffertjes have since gained a following around the world.
In recent years, Dutch expats have been introducing the treat to new audiences. Today, you can find poffertjes in cities from London to New York, often served with creative twists on the traditional preparations and toppings.
Whether you're enjoying poffertjes on the streets of Amsterdam or in your own kitchen, this beloved Dutch treat is a delicious reminder of the country's rich culinary heritage.
Poffertjes Recipe
To make poffertjes, you'll need a special pan that has small, shallow cavities. You can find these pans online or at specialty kitchen stores. To make poffertjes without a poffertjes pan, see our expert recommendations for alternatives below the recipe.
Here's our easy and delicious poffertjes recipe just for you.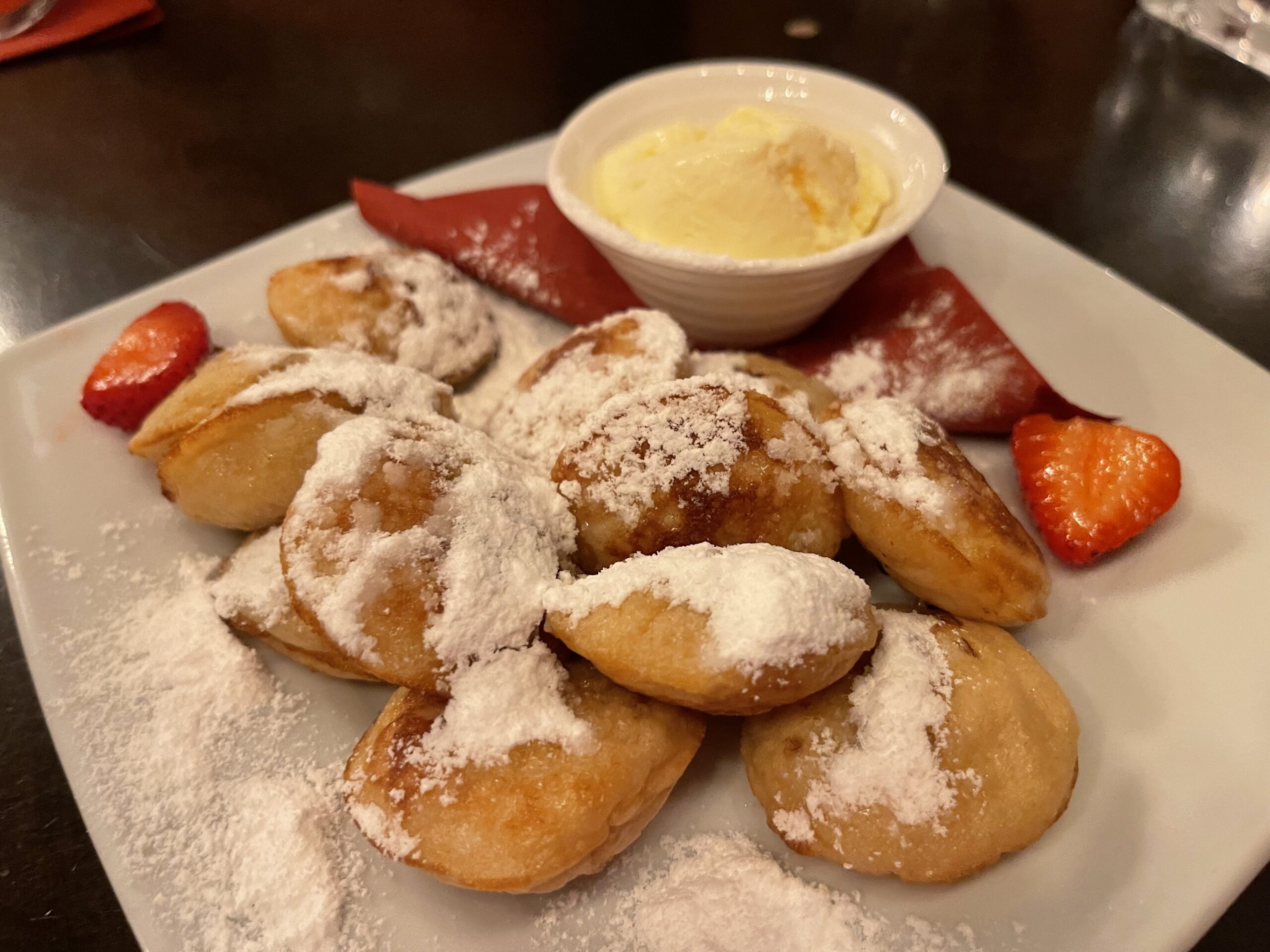 Poffertjes Dutch Mini-Pancakes
These delightfully small pancakes are delicious and fun to eat.
Ingredients
1

Cup

All-purpose flour

1

tbsp

Granulated Sugar

1/2

tsp

Salt

3/4

cup

Warm Milk

2

tbsp

Melted Butter

1

Egg

Powdered Sugar and butter.

(For serving.)
Instructions 
In alarge bowl, whisk together the flour, sugar, salt, and yeast

In a separate bowl, whisk together the warm milk, melted butter, and egg.

Pour the wet ingredients into the dry ingredients and whisk until the batter is smooth and free of lumps.

Cover the bowl with a clean dish towel and let the batter rest in a warm, draft-freeplace for about 30 minutes. The batter should rise and become bubbly.

Heat the poffertjes pan over medium heat. Brush each cavity with melted butter.

Use a small spoon or a piping bag to fill each cavity about 2/3 full with batter.

Cook the poffertjes for about 1-2 minutes on each side, or until they're goldenbrown and cooked through.

Remove the poffertjes from the pan and serve them hot with powdered sugar and butter.
Notes
Enjoy your delicious poffertjes! They're best served fresh and hot, so be sure to eat them right away. You can also experiment with different toppings and flavors to create your own unique twist on this classic Dutch treat.
No Pan? No Problem!
If you're craving poffertjes but don't have a poffertjes pan, don't worry! There are a few substitute options that you can try.
Mini Muffin Pan
One option is to use a mini muffin pan. While the shape won't be exactly the same, you can still achieve a similar size and texture. Grease the muffin cups with butter and fill them about 2/3 full with batter. Bake them in the oven at 400°F for 8-10 minutes, or until they're golden brown and cooked through.
Ebelskiver Pan
Another option is to use an ebelskiver pan, which is similar to a poffertjes pan but with deeper cavities. The ebelskiver pan will give you a similar shape and texture to poffertjes. Fill the cavities with batter and cook them according to the poffertjes recipe instructions.
Griddle or Frying Pan
If you don't have either of the above pans, you can use a griddle or frying pan and go for it free-form. Heat the pan over medium-high heat and melt some butter in the pan. Use a small spoon or piping bag to drop the batter onto the pan in small rounds. Cook for about 1-2 minutes on each side, or until they're golden brown and cooked through.
No matter which substitute option you choose, be sure to watch the poffertjes carefully as they cook, since cooking times may vary based on the type of pan you use. And don't forget to serve them hot with powdered sugar and butter for a delicious treat!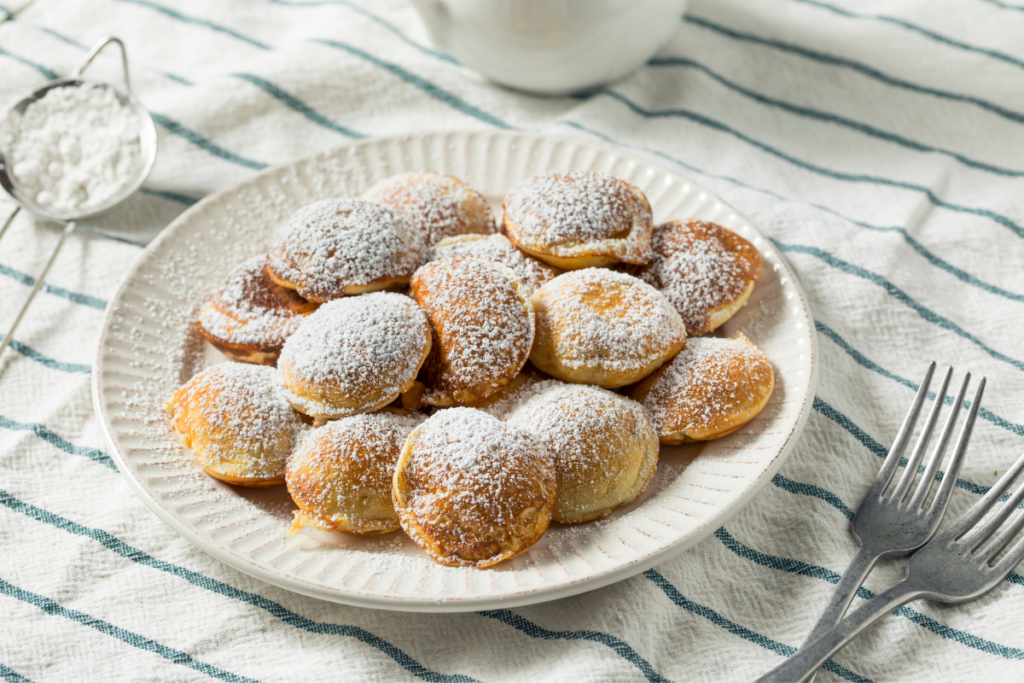 Recipe Variations
Poffertjes are often made with all-purpose flour and served with butter and powdered sugar, but there are also many delicious variations on this classic recipe. Here are some of our favorite suggestions to mix things up a bit.
Different Flour
One variation is to use different types of flour in the batter. Buckwheat flour gives the poffertjes a slightly nutty flavor. Try whole wheat flour for a healthier twist. You can also combine flours to get a unique texture and taste.
Sweet Variations
If you're a fan of poffertjes, you'll be delighted to know that there are many variations of this delicious Dutch treat to explore. You can make additions to the batter itself or change up the toppings. For something really different, go for both! Here are a few of our favorite creative suggestions. Try some of these  or come up with your own ways to enjoy poffertjes.
Chocolate
For a decadent twist on the classic recipe, add cocoa powder or chocolate chips to the batter. Top with whipped cream and chocolate syrup for an indulgent treat.
Apple Cinnamon
Add grated apple and a dash of cinnamon to the batter for a cozy fall-inspired version of poffertjes. Top with a drizzle of maple syrup or caramel sauce.
Lemon Poppy Seed
For a tangy and refreshing twist, add lemon zest and poppy seeds to the batter. Serve with a dollop of lemon curd and fresh berries.
Matcha Poffertjes
Add matcha powder to the batter for a trendy and delicious variation. Top with a scoop of green tea ice cream and a sprinkle of toasted sesame seeds.
Red Velvet Poffertjes
Add red food coloring and cocoa powder to the batter for a vibrant and decadent version of poffertjes. Top with cream cheese frosting and sprinkles for a fun and festive treat.
Coconut 
Add shredded coconut to the batter for a tropical twist. Top with sliced bananas and a drizzle of caramel sauce.
Peanut Butter
Swirl creamy peanut butter into the batter for a nutty and satisfying version of poffertjes. Top with chopped peanuts and a drizzle of honey.
Blueberry Lemon 
Add fresh blueberries and lemon zest to the batter for a bright and fruity variation. Serve with a dollop of whipped cream and a sprinkle of powdered sugar.
Pumpkin Spice 
Add pumpkin puree and pumpkin spice to the batter for a cozy fall-inspired version of poffertjes. Top with a dollop of whipped cream and a sprinkle of cinnamon.
Honey Lavender 
Infuse the batter with dried lavender and drizzle with honey for a fragrant and elegant twist on the classic recipe.
Savory Variations
While poffertjes are traditionally served sweet, they can also be made into a delicious and savory treat. Here are some ideas for savory poffertjes.
Cheese
Add grated cheese to the batter for a savory and satisfying twist. Top with a dollop of sour cream and chives for an appetizer that's sure to please.
Bacon
Add chopped bacon to the batter for a smoky and savory version of poffertjes. Top with a fried egg and a drizzle of hot sauce for a breakfast-inspired treat.
Spinach and Feta
Add chopped spinach and crumbled feta cheese to the batter for a Mediterranean-inspired version of poffertjes. Top with a dollop of tzatziki sauce for a refreshing finish.
Mushroom and Thyme
Add sautéed mushrooms and fresh thyme to the batter for a savory and earthy twist. Top with a dollop of crème fraîche for a luxurious finish.
Herb and Garlic
Add fresh herbs and garlic to the batter for a flavorful and aromatic variation. Serve with a dollop of herb butter for a rich and indulgent treat.
These are just a few ideas for savory poffertjes. You can even combine several ingredients like bacon and cheese together for fun. With their soft, fluffy texture and versatile flavor profile, poffertjes can be customized to suit your tastes and preferences. Whether you prefer sweet or savory, there's a poffertjes recipe out there that's sure to delight you.
Poffertjes For Special Diets
Even if you have food allergies, restrictions, or sensitivities, you can still make tasty poffertjes at home.
For vegan versions, substitute your favorite nondairy products for the milk, butter, and egg in the recipes. Almond and oat milk are popular choices.
If your diet is gluten-free, use a gluten-free flour blend to create a version of the dish that's suitable for your dietary restrictions.
Where To Try Poffertjes In Amsterdam
If you're visiting Amsterdam and want to try authentic Dutch poffertjes, there are many places where you can indulge in this delicious treat. Here are a few suggestions for where to try poffertjes in Amsterdam.
The Pancake Bakery
Located in the heart of Amsterdam, The Pancake Bakery is a popular spot for both locals and tourists. They serve a variety of sweet and savory pancakes, including traditional poffertjes. Their poffertjes are made fresh to order and served with butter and powdered sugar.
Albert Cuyp Market
This vibrant outdoor market is a great place to sample a variety of Dutch treats, including poffertjes. There are several vendors selling freshly made poffertjes, served hot off the griddle with your choice of toppings. Albert Cuyp Market is regularly open Monday through Saturday 9:30am to 5:00pm, and is closed Sundays and holidays.
Lanskroon Bakery
The historic Lanskroon Bakery has been serving delicious Dutch pastries since 1902. In addition to their famous stroopwafels, they have wonderful pastries and serve poffertjes topped with whipped cream and powdered sugar.
The Pancake Club
What started as a seasonal food market stall in 1993 has blossomed into a full-time family business. The Pancake Club serves a variety of Dutch specialties including little puffy mini-pancakes served with butter and powdered sugar. For extra indulgence you can order them with strawberries and cream. Or go for broke and order "the pancake club version" that adds ice cream as well.
Whether you're enjoying poffertjes while traveling in Amsterdam or bringing the tastes of travel to your table at home, we hope you have fun with our easy-to-make and even easier-to-enjoy recipe. Try some of the variations and let us know what flavors you like the best!
Check Out More Dutch Recipes!
If you are looking for some other fun recipes to try at home, check out our recipes for other traditional Dutch dishes like stamppot (LINK) (a hearty mashed potato and vegetable dish), pannenkoeken (LINK) (large, thin pancakes served savory or sweet), and bitterballen (LINK) (crispy little meatballs).
PIN IT FOR LATER