We love Toronto, a bustling city and lively hub of cuisine and culture in Ontario, Canada. The people are friendly. It's a beautiful city located on Lake Ontario. Coming from Chicago we just love cities on the water. A fabulous water view is something that we – like many other people – really gravitate toward.
Toronto is a Canadian city where multi-cultural neighborhoods thrive. Deciding where and what to eat can be a challenge because Toronto has an enormous number of food choices. This is a great advantage when you're looking for variety and cultural authenticity.
Here are just a few of our experiences of the best food in Toronto: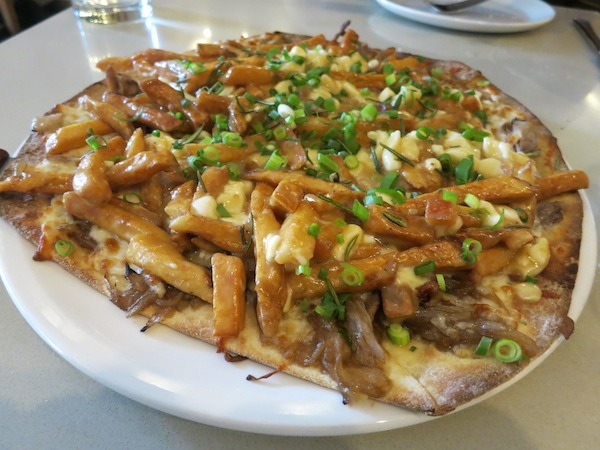 Must Eat Toronto Food
One could argue that you can't go to Canada without trying some poutine. We would agree. But why settle for your typical poutine fare when you can have roast duck poutine pizza at Bannock?  Admittedly, we were a little suspicious of this menu item. And you must be warned that it's big and the duck makes it quite rich. But that's what makes this uniquely Torontonian pizza great for table sharing. It's tasty and messy and filling and something you will not forget. So dig in!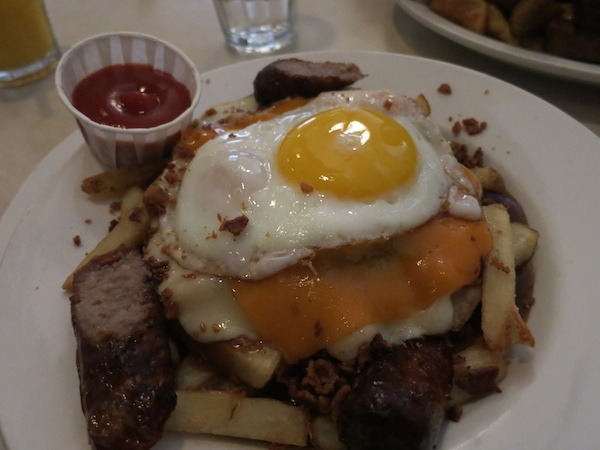 Diner Delights
If you're looking for a quirky "old school" diner stop by The Lakeview. In addition to some fabulous modern diner fare, they also specialize in hangover remedy foods. I tried the Disco Breakfast (sans hangover) and it was a tasty blend of a sunny-side-up egg, maple sausage, bacon bit, melted cheddar, and Havarti cheese over fries. Their menu and their staff have a great sense of humor which makes it even better.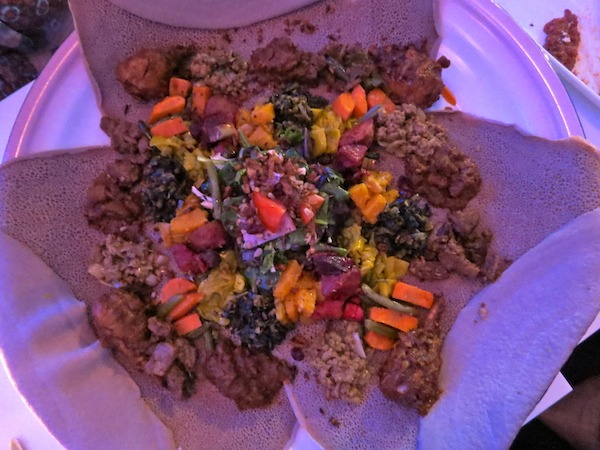 Ethiopian
We had never tried Ethiopian food so when a friend who lives in Toronto suggested Nunu, we had to try it. It's a small restaurant in the super-hip Queen Street West area of Toronto.  They import gluten-free injera bread directly from Ethiopia. The spongy texture of this sourdough flatbread is quite unusual, yet it pairs perfectly with the traditional flavors of Ethiopia. We had the Misto Misto tasting menu, which was a large platter covered in injera and topped with Ethiopian meat and vegetable dishes. It was huge and more than enough for four people. The menu states "substantial" and they're not kidding. It included lamb, beef,  and chicken all marinated in different spices including garlic, ginger, turmeric, and rosemary. There were also plenty of vegetables to round out the complete offering, which easily filled all four tummies at our table. They also have a full bar and feature freshly squeezed juices and a housemade tonic.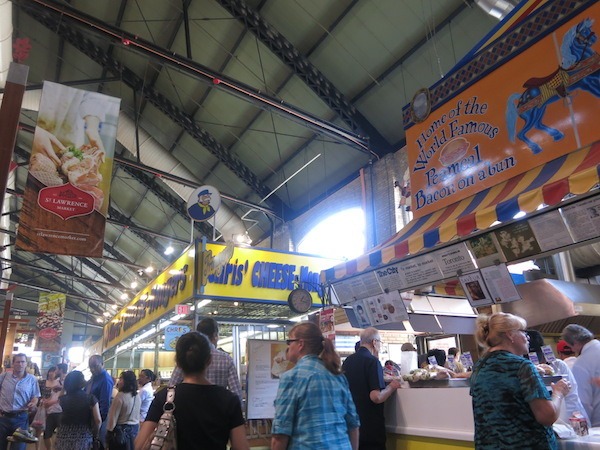 St. Lawrence Market
Frequently ranked one of the top markets in the world, this expansive market could easily provide you with an entire day of fun eating your way through it. It's loaded with fresh seafood, meats, cheeses, and deli. You name it they probably have it. One of the specialties you will find is the iconic peameal bacon sandwich at the Carousel Bakery in St. Lawrence Market. It's been tried and enjoyed by many celebrated chefs whose images and thoughts are posted all around the booth.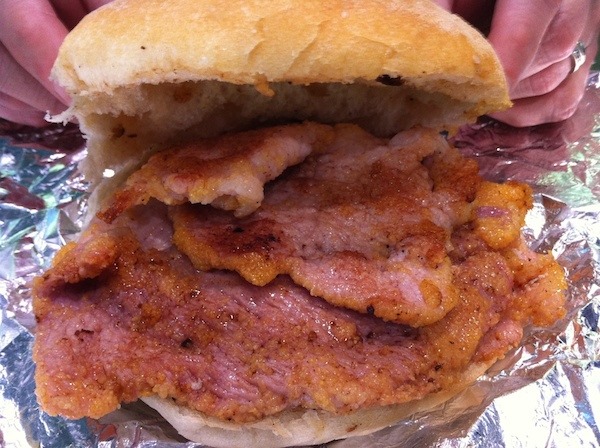 It's a substantial sandwich so go splitsy on it so you can enjoy some of the other goodies at the market. Want to read more about the St. Lawrence Market? Check out our Weird & Wonderful St. Lawrence Market post.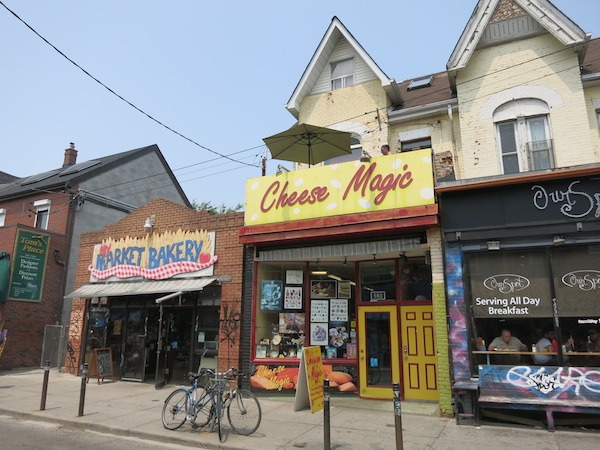 Kensington Market
A stroll around the centrally located Kensington Market is a perfect way to enjoy the weekend. Spend several hours walking the neighborhood markets and shops. The energy is palpable and the choices are endless. One of the things that we love about Toronto is that it's such a great walking town. The more we can walk the better.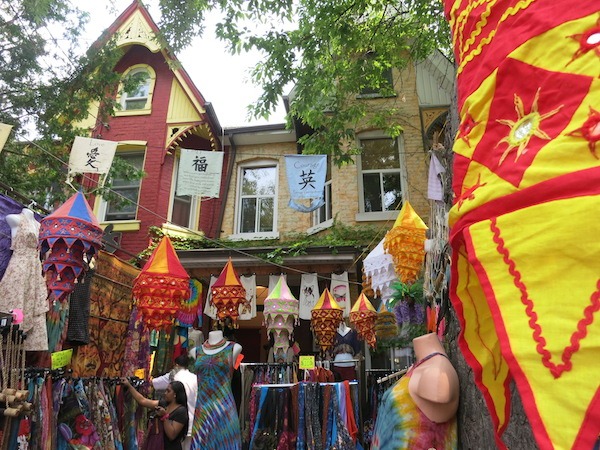 Plan on doing a lot of window and street shopping Kensington Market. The relaxed vibe of the neighborhood beckons you to stay all day.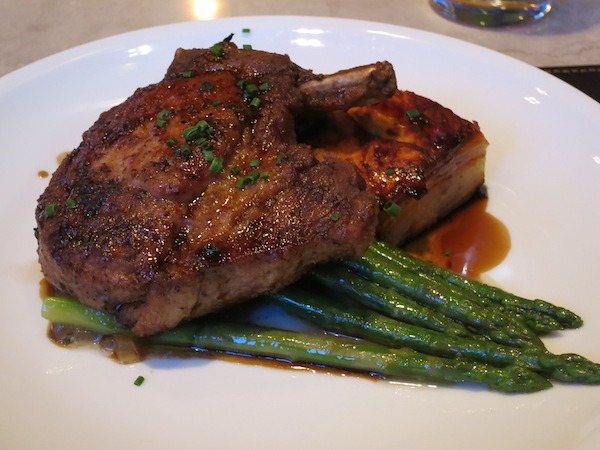 Victor Restaurant in the Hotel Le Germain
One of the best meals we had in Toronto was at the Victor Restaurant in the Hotel Le Germain located in the Entertainment district. Chef Lanny McLeod's Berkshire bone-in pork chop with sweet potato gratin, spring vegetables, and apple chutney was perfection. We really enjoyed the relaxed yet elegant dining room. The staff was attentive and charming. The Victor also offers Iron Chef-inspired dinners. Diners choose an ingredient and 5 courses are created by individual members of their kitchen team. The diners score the courses to determine a winner, who receives a bottle of champagne for their successful effort.  We observed a couple experiencing the Iron Chef Dinner featuring lemon as the "secret" ingredient. We can't wait to go back and try it ourselves and are thinking that garlic might be a fun ingredient to try.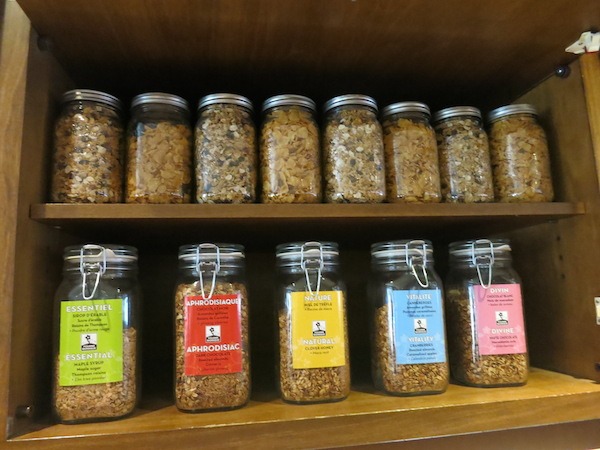 We also stayed at the Hotel Le Germain and would highly recommend it. The attention to detail in everything they do makes it a really special experience. There's a feeling of restrained elegance in the rich wood offerings, high ceilings, and impeccable service. You'll even enjoy sitting in the "library" where you can relax with free coffee. The hotel offers free Wi-Fi, and a continental breakfast is included. Don't miss the breakfast – it's full of freshly baked pastries, meats, cheeses, yogurts, fruits, and 5 different custom blends of granola.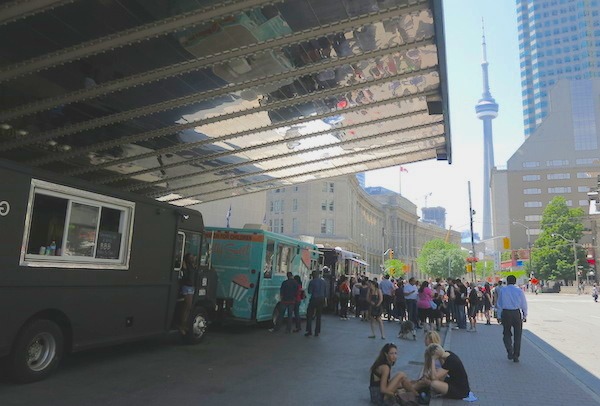 Food Trucks 
As you're walking around town you'll notice an abundance of food trucks in Toronto. Whether it's dumplings, ice cream, BBQ or coffee you'll find some tasty food trucks in TO.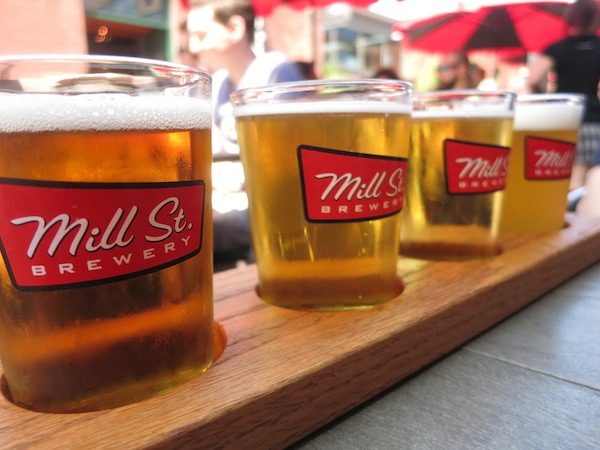 Historic Distillery District
Stop for a break and sample one of the many 100% certified organic beers at Mill Street Brewery. Better yet, try a flight so you can taste a variety of brews. Be sure to sample some of their sharable appetizers, salads or sandwiches and enjoy the fun ambiance at this well-respected and very local establishment.
These are just a few of the delectable delights we experienced in Toronto. For ethnic fare, be sure to check out their large Greektown, Little Italy, Chinatown (there are actually 3!), and Little India. If you decide to visit, bring your comfy shoes and make sure to leave plenty of time to walk through Tasty Toronto.
THE QUICK BITE: Tasty Toronto is full of many different cultural neighborhoods to explore. Here are just a few of the delicious food choices you'll discover in Toronto.